Several weeks before the official grand opening of the Hyatt Ziva Cancun, I traveled south of the border for a sneak peak of the newest all-inclusive resort to open in Cancun. Its January 12, 2016, opening followed an $85 million expansion and renovation of the former Dreams Cancun by owner-operator Playa Resorts.
This was my first time staying in Cancun's Hotel Zone, a concentrated area of 87 resorts, about 60 of them all-inclusive. The Zone begins soon after leaving Cancun's International Airport (CUN) and ends about 25-minutes later at the Hyatt Ziva Cancun, a 547-suite resort situated at the very end of a 17-mile stretch of beach in the area known as Punta Cancun—literally, on the point.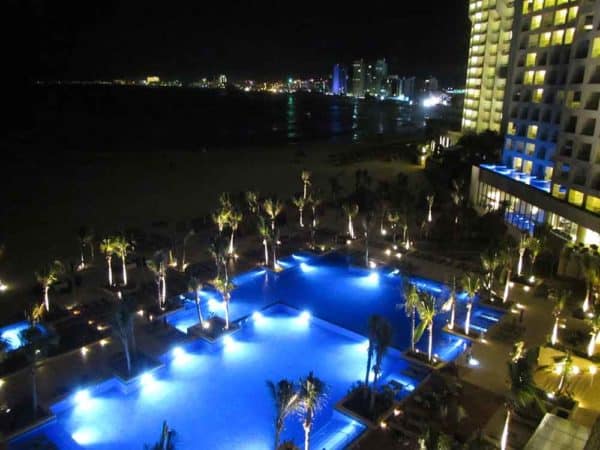 My Club Level room
My flight arrived just as the sun was setting, so by the time I arrived and was escorted to my room on the seventh floor of the Club Tower, I opened the drapes to reveal a magical nighttime view. Lights illuminated the pools below and extended beyond to the hotels on Isla Mujeres. I couldn't wait to wake up and see everything in the light of day.
Besides having a primo view, my oceanfront (463-square-foot) king room had all the amenities guests can expect throughout the resort, no matter what type of room is booked. These include a complimentary mini bar, Wi-Fi access, a satellite flat-screen HD TV, a private balcony, an iron and ironing board, a laptop-size in-room safe, a charging station for electronic devices, a robe and slippers, and more.
I loved the KenetMD bathroom amenities, which have replaced the White Ginger products Hyatt resorts formerly provided, including some out-of-the-ordinary items like lip balm (my new favorite), sunscreen and foot cream, all in addition to shampoo, conditioner, and body wash.
Choose Club Level and you're bound to feel more pampered. A long list of service upgrades with a Club Level stay at the Hyatt Ziva Cancun includes private check-in and check-out, personal concierge services, beach butler services at a pool exclusively for Club Level guests, complimentary domestic and international calls, and others too numerous to list.
I'm not a morning person, so having the Club Level lounge at my disposal on the ground level of the Club Tower was just what I needed for my first meal of the day. Instead of going to the El Mercado international buffet restaurant for made-to-order omelets and more extensive offerings (open for breakfast, lunch, and dinner), on most days I took the elevator to the ground floor's private lounge and chose from cold and hot breakfast items like yogurt, fruit, and granola, along with juices, coffee and tea, which I could enjoy in relative privacy while waking up from my usual morning stupor.
Tasty bites, both cold and hot, are available in the Club Level lounge 24 hours a day. After dinner, it was nice to be able to grab a pastry and cup of tea to take back to the room.
Other accommodation choices
In addition to the 18-story, 85-suite Club Tower where I was happily ensconced (formerly the Triangle Tower when it was part of the Dreams brand), there are two other towers. The five-story Pyramid Tower has 302 rooms and includes 17 swim-up rooms and 24 rooms that will overlook the soon-to-open Dolphin Encounter.
The newly constructed, 17-story, adults-only Premium Tower—along with the Tradewinds steakhouse—was still in final stages when I was there, but has since opened. I toured one of its eight swim-up rooms, which share an infinity pool with seven other rooms and feature private hot tubs.
Dining choices
1. Las Bastille — French cuisine is one of my favorites, so I chose to dine at La Bastille on my first evening. My travel companions hadn't yet arrived, so I had no distraction from savoring every course, from the salmon appetizer and asparagus cream soup to the macadamia nut-crusted sea bass. La Bastille is an adults-only restaurant open only for the evening meal.
2. Habaneros — The next day for lunch, I took a short stroll past the pools to reach Habaneros, an open-air, sand-between-your-toes eatery open for lunch and dinner that focuses on fresh fish tacos and ceviches made with fish, shrimp and octopus. It's far enough away from the main part of the resort that any hint of hub-bub vanishes. A pathway beyond Habaneros leads to a still-operational candy cane-striped lighthouse, a focal point of the resort both from land and sea.
3 & 4. The Moongate & Lorenzo's — During the rest of my stay, following the arrival of my traveling companions, I sampled Asian cuisine at The Moongate (open for dinner only) and Italian fare at Lorenzo's (open for lunch and dinner), and I was happy to have another dining experience at La Bastille on our last evening.
5. Chevy's — Chevy's, which features classic American diner food with a '57 turquoise Chevy as the focal point of its décor, was the place to chow down on burgers and sweet potato fries.
6. Pasteles — Sweet tooth cravings are not forgotten at dessert parlor Pasteles, featuring chocolate fountains, ice cream and other sweet treats.
If the dining options at Hyatt Ziva aren't enough to satisfy (or you'd like to get a closer look at the adults-only Hyatt Zilara Cancun, opened in late 2013), ask the concierge to make a dinner reservation for you at Hyatt's companion property, a short cab ride or a long beach walk from the resort.
On-site microbrewery, wine and 140 tequilas
Artisan beer lovers will want to check out Tres CerveZas, the resort's on-site microbrewery. The Hyatt Ziva is billed as the first all-inclusive to have its own brewery. I'm not typically a beer drinker, but I joined friends in a tasting of the two homemade brews that were currently on tap in the brewpub and are also served in all the resort's restaurants. A new batch takes 3-4 weeks to be ready to drink. For weddings and large groups, they'll even produce a custom brew (for an extra fee, of course!).
Chat up brewmaster Juan José García if you're interested in learning about the brewing process.
Tequila fans should stop by the Juana Margarita bar for a tasting of Mexico's traditional spirit made from the blue agave plant. Tequila Sommelier Eduardo Pérez says the hotel has 140 tequilas for guests to try (of the more than 1,500 types of tequila available in Mexico).
If you're (like me) into the fruit of the vine, ask the concierge about days, times and locations of wine-tastings scheduled during your stay. Linius wines from Spain are served as house wines throughout the resort.
Entertainment and cultural performances
In the evening, there was always some kind of musical entertainment or cultural performance going on poolside, while costumed performers and mariachi singers strolled through the hallways outside the restaurants. I was coaxed into joining in the mariachi fun after dinner one evening.
Catering to kids
The Hyatt Ziva Cancun is family-friendly and caters to children with its own KidZ Club, offering scheduled activities and a water play area for ages 4-12.
Spa and fitness center
Besides 13 treatment rooms and six palapas on the beach for massages, The Spa has incorporated massage waterfalls and a hydrotherapy circuit facing the sea. Morning yoga sessions can be scheduled through the fitness center.
Dolphin habitat
Five dolphins born in captivity at another facility are expected to arrive in February. During my visit, pools for the dolphins were still under construction. Completion of the habitat, involving pool depth, saltwater mixture and water temperature, followed to ensure conditions are right for their arrival. Encounters with these amazing mammals will be available at an additional cost (fee yet to be determined).
Watersports
Scuba diving and snorkeling trips can be arranged through the on-site Solo Buceo Scuba Diving and Watersports Center. After I had to miss a morning dive trip, I managed to hop aboard a boat going out for the final snorkel excursion of the day to a reef just minutes away. It was a joy to be able to "get wet" on my last full day in Cancun and capture photos of the underwater world—of schooling fish and colorful sea fans and coral.
Pool volleyball, stand-up paddleboarding (SUP), paddle yoga, water aerobics, and snorkeling are just some of the included non-motorized water sport activities available to guests.
The wrap-up
Although I visited the resort in the early stages of its opening, I was impressed at how smoothly everything was running, and at the knowledge and helpfulness of the staff. I hadn't previously experienced Hyatt Resorts' signature Service from the Heart™, which is displayed by staff members with a hand placed over the heart and a slight nod of acknowledgement, usually along with a "buenos días" greeting.
Anytime I had a question or request, it was answered with a smile and a show of interest in providing heartfelt service. Marcos and Jonathan were two of the many delightful staffers I encountered.
Special rates
The resort is having a 50% off sale with a fifth night free for bookings made by February 29, 2016, for travel through December 20, 2016. Check it out at hyattzivacancun.com.