When I think "summer getaway," I immediately conjure up images of warm water, sandy beaches and lazy afternoons sipping margaritas. Sure, it sounds lovely. But this summer, I craved something more.
You can imagine my surprise when I learned that picturesque Vail, Colorado—perhaps one of the world's most renowned ski towns, as written here—is also an incredible city for some good ol' fashioned "summering"—aka hiking, rafting and kayaking.
Starting this week: Epic Discovery!
This week, Vail Resorts launched Epic Discovery, a highly anticipated program that promotes "learning and play" through environmental education and outdoor recreational activities. In partnership with the US Forest Service and Nature Conservancy, they've developed a well-rounded and adventurous itinerary showcasing some of the best Vail Mountain has to offer.
So if you're looking for a fresh twist on summer, I highly encourage you to explore Vail's summer culture. It's an unexpected blend of outdoor excitement and idyllic charm coupled with an impressive culinary scene. Here are seven highlights from my visit:
1. Vail Village
Vail Village is reminiscent of a picturesque European town. Couples, families and singles are all out walking, biking and basking in the Colorado sun and breathing the crisp, clean air. With Vail Mountain and Adventure Ridge just steps away, you'll find people wandering around between lifts. The winding cobblestone streets take you by specialty shops, tastings rooms and fine-dining restaurants (more on which ones to check out below).
Tip: Make sure to pack layers at Vail's temperatures do dip at night.
2. Lodge at Vail (174 East Gore Creek Drive, Vail, Colorado 81657; 970-754-7810)
I had the opportunity to stay at the historic Lodge at Vail, one of the town's first hotels. Still very much a formidable fixture in the community, its desirable location affords guests easy access to and from the heart of Vail Village and the surrounding slopes. The warm decor is regal but not intimidating and the rooms can best be described as spacious and mountain chic. Each room has a lovely private patio, perfect for delving into a good a book and bottle of wine. Or two.
If your schedule allows it, stop by Lodge at Vail's RockResorts Spa. Conveniently located at the hotel, its oasis-like refuge and five-star services will break up your active, jam-packed itinerary. Your sore body will appreciate the much-needed R&R.
3. Cucina (174 Gore Creek Drive, Vail, CO 81667; 970-754-7872)
I suggest starting and ending each day at the Lodge at Vail's Cucina. In the morning, make sure to give yourself at least an hour to enjoy their well-made, delicious breakfast buffet (which I describe as a classy twist on comfort food) before hitting the slopes. Trust me: This is not a meal you want to rush through.
In the evening, pop by their laid-back outdoor common area to relax and enjoy a drink. Heads-up: If you're traveling solo, the Cucina patio is a great spot to mingle and meet both locals and tourists.
In the summer months: Open daily for breakfast only from 7 am to 11 am (weekdays) and 7 am to 11:30 am (weekends).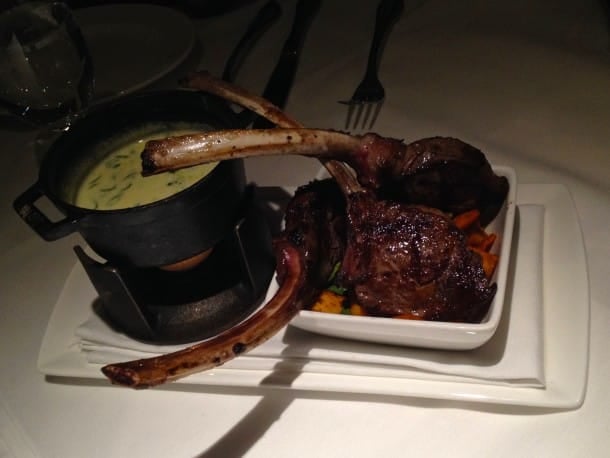 4. Elway's (174 Gore Creek Drive, Vail, CO 81657; 970-754-7818)
I'm happy to report that even if I wasn't a huge fan of Hall of Famer John Elway, I'd still recommend that you eat at his restaurant. As Vail's premiere steakhouse, Elway's has it all: a provocative, dimly-lit atmosphere, an award-winning menu and an extensive (over 350 selections) yet relatively reasonably priced wine-list.
Their USDA hand-cut prime steak is some of the best I've had, as were their uniquely concocted appetizers and martinis. Lucky for us, Elway's is the gift that keeps giving. Its ambiance and vibrant crowd lend itself to a fun night out, so you'll likely be there for a few hours!
5. The Remedy Bar (1 Vail Road, Vail, CO 81657; 970-477-8600)
Tucked in the Four Seasons, The Remedy Bar provides Vail's party-goers with a peaceful oasis to enjoy a drink or seasonally inspired, locally grown meal (think artisan flatbreads, meats, cheeses, and other small bites).
The bar boasts an inventive drink menu, a playful take on various cure-inducing concoctions, just as its namesake suggests. Remedy's fun theme is what brought me to check it out, but its cozy, casual ambiance is what made me stay and eventually come back a second time. Whether you've had a long day on the slopes or one too many martinis at Elway's, at night cap at The Remedy Bar is exactly what the doctor ordered.
6. Matsuhisa (141 East Meadow Drive, Vail, CO 81657; 970-476-6628)
If you're looking to switch it up, the communal-style Matsuhisa is a great option. Located in the Solaris building in the heart of Vail village, Matsuhisa's space is open, modern and hip, but most notably a labor of love by famed chefs Nobu Matsuhisa and Nobuko Kang. Every serving is a visual masterpiece. Centrally located and reasonably-priced (combo tempura, sashima and sushi plates for $34) with a chic bar? Done and done.
Tip: Matsuhisa was packed on my visit, and will likely remain that way especially in the summer months. Call for a reservation or book online.
7. 10th Mountain Whiskey & Spirit tasting room (227 Bridge Street, Vail, CO 81657; 970-470-4215)
If there were a way to encapsulate (in a physical space) what the mountain lifestyle and community is all about in Vail, it would be 10th Mountain Whiskey & Spirit. Inspired by the war heroes of the Rocky Mountains, the bar successfully captures that humble, masculine energy with its sleek and rustic vibe.
I'm not a big whiskey-drinker, but I stopped by for a tasting anyway. Considered to be one of Vail's premier distilleries, 10th Mountain's knowledgeable staff guides both pros and rookies to explore different liquor depending on their pallet. The tasting room is great spot, especially before a heavy meal or night out.
Tip: Call in advance, as space and seating is limited.
Honorable mention: Sunday Farmer's Market
I rounded out my Vail weekend by perusing the village's Sunday Farmer's Market. The plan was to do one quick loop, but 2.5-hours later there I (still) was. This is the event to check out in Vail this summer. Every Sunday from June 19th through October 2nd, the street fair hosts 135+ tents showcasing the very best of local culture in the form of food, arts and live music. Allow yourself space (both in your tummy and in your schedules) to experience and get lost in all things Vail, Colorado. Enjoy!
---
For more on Epic Discovery, visit vail.com/info/epic-discovery.aspx. For more on summer travel to Vail, visit vail.com or contact the very helpful Vail Mountain for help planning your trip. And as always, tell 'em Trishna sent you!