Here's part three and my final post of my trip to Connecticut to surprise my dad for his 93rd birthday. Here's part one and part two.
I left off on the way to JFK airport from Greenwich. It's only a 34 mile drive but you never know how long it will take as traffic congestion can get bad real quick.
While we drove across the Whitestone Bridge, the weather started turning just as meteorologists predicted. I seriously saw a lightning bolt strike the top of One World Trade Center.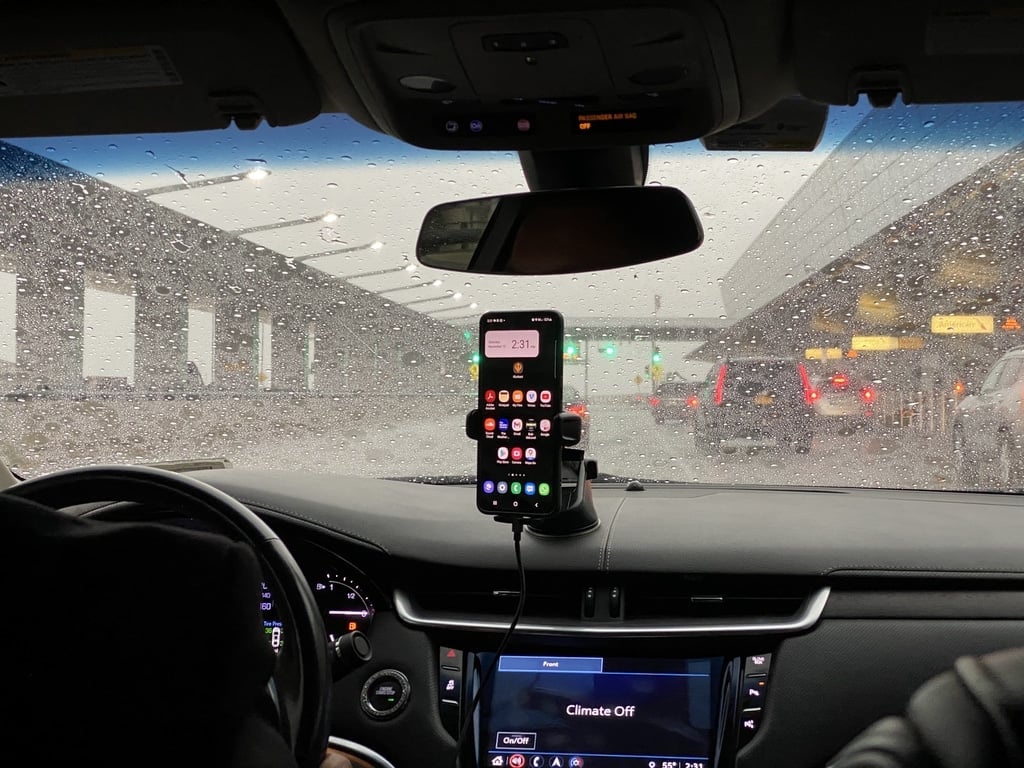 By the time we pulled up to JFK, the light rain turned into hail. My Blacklane driver was great and pulled up to a spot where the passenger side was covered, while he ran out in the pouring rain to retrieve my bags from the boot. I didn't even have to look at the American Airlines (AA) app as I knew my flight was going to be delayed especially since it was coming in from Boston.
Sure enough, it was. Turned out to be 3+ hours, which made for a long day but since I'd used an upgrade certificate to first class, my day was much shorter than most. It also gave me time to explore JFK since it's been a while and I was able to get my daily 10,000 steps in.
Since I was flying first class, I was able to check-in at the exclusive Flagship counter just beyond the entrance doors. Just like at LAX, there's an agent with a list of approved passengers like a bouncer at an exclusive nightclub.
I didn't need to check in since I already had on my phone and I wasn't checking bags but I went through because I could and to check it out. It's also a bit of a shortcut to the TSA PreCheck line, which was, surprisingly, empty. Seriously, there wasn't one person in front of me at 2:35pm on a Saturday.
From there, I went to the Flagship Lounge in their slow elevators and the four agents were all busy with passengers since the delays started rolling in. The Flagship lounge was packed with more people than I've ever seen before, including some guy who had his nasty bare feet on top of his luggage across from someone who was eating.
I went into the exclusive First Class dining part of lounge which requires … you got it, a first class ticket. I always wondered what it was like and it really was a nice escape since there were only two other couples in there.
I chose a table in the far corner away from everyone and asked if it was okay to use my computer and make a Zoom call (it was time for me to call into Leo Laporte's The Tech Guy Show, which I do every Saturday afternoon) using my headset. The server said of course. She seemed surprised I'd even asked.
The menu looked awesome but unfortunately, I wasn't hungry since I'd just eaten a big, chewy lobster in Greenwich.
However, I couldn't pass up the offer of hot cornbread and decided to try their butternut squash soup. Neither was memorable.
After my call, I roamed around and went back to First Class Dining a couple hours later when my hunger pangs returned. But it was so crowded that I was uncomfortable so I got up and left (I said I had to make a phone call). But thanks to all the delays, I did learn some great places to escape the crowds in the lounge.
The Flagship Lounge was 10 times more crowded than the Admirals Club (AC), which is right next door so I would grab food from the Flagship and eat in the AC.
But if you really want to stay in the Flagship, go into the Quiet Room. There were only two people in there and they were very quiet.

If you just want a place to escape, then go to the other Admirals Club across from Gate 42. It's really dated but it was empty.
Random JFK observations: 
-There were dozens of passengers in and out of the lounge not wearing masks, including an AA employee in their AC lounge (he had it around his chin as he walked around).
-In the main terminal, I was horrified when I saw a lady coughing and not covering her mouth. What is wrong with people?
-When my flight was severely delayed, I asked the agent in the lounge if she could put me on another flight and protect me by double booking. She said if she double booked me for the same day, it would cancel both reservations. I forgot that it had happened to me once so it's true. However, I was able to get double booked for a flight in the morning, just in case my original flight canceled.
-I saw our pilots grab food from Abitinos, which must be one  of the best places to eat in at JFK's T8 terminal.
-The boarding gate area was a zoo. And normally during COVID, I like to be the last on the plane but this time I went first because I had my Wynd air purifier. The flight attendants were much better on this flight than the day before as they had bottles of water in each seat and the headsets.
-There were a couple of celebrities in my cabin but I didn't recognize them. The only reason I knew they were well-known was when I saw other passengers start fawning over them.
-Surprisingly, taxi time didn't take long. We pushed back from the gate at 8:09pm and took off at 8:23pm
The menu didn't excite me. In fact, it had almost everything I didn't like as the main course (lamb cutlets, miso saba roasted sea bass, eggplant lasagna and stuffed chicken with goat cheese).
I had the latter and just picked around the goat cheese. I couldn't believe how much food AA served on this flight.
For an appetizer, I had Harissa Carrot Timbale, which was tasty.
Then came the soup, which was a classic beer cheese soup with roasted pretzel croutons. What the what?! I was so hungry but I asked the flight attendant if this was really the best choice of soup for passengers in the air? He laughed but it was actually light and not heavy like I'd thought. The pretzel roll had just come out of the oven and was delish. The second one not so much.
The mixed baby greens salad was huge and I chose the white balsamic chive dressing.
I wasn't hungry but who can pass up dessert when you're flying first class? Not me. There was a choice of a cheese plate, hot fudge sundae (what I really wanted but didn't think it would mix well with the soup) or gooey butter cake. I chose the latter as you can see from the pic above. It was excellent.
Flight time was 5:37 and when we landed at LAX at 11pm, I almost chuckled out loud when I heard one celeb say to the other – we made it! Like it was a rough flight.
LAX was packed at midnight and I couldn't believe how many little kids were in the gate area.
I didn't go to baggage claim but arrivals was a zoo. I wished I had told my Blacklane driver to pick me up at departures instead of arrivals as it would have saved twenty minutes. Always specify if you're checking bags or not and where you want to be picked up.
Overall, it was a fantastic day and flight and I felt like I finally got my mojo back. I'm itching to fly again.