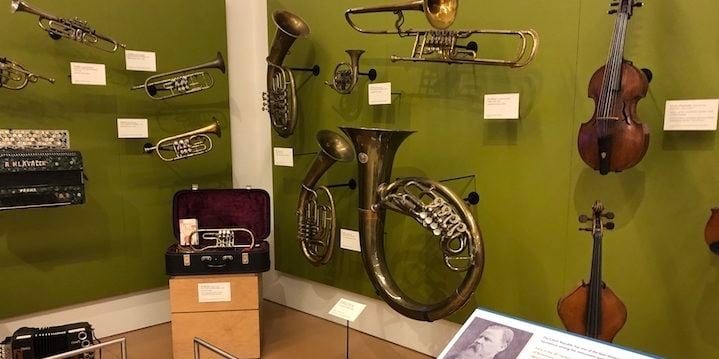 I'm not much of a musician, a fact that was underscored to me decades ago when I was on a reporting assignment for a Philadelphia newspaper, interviewing the "big-band"-era orchestra leader and trumpet player Harry James after one of his shows.
I told him that as a young trumpet player in school bands and orchestras, I always had great admiration for his playing, and tried to model my own playing after his—whereupon he did something professional musicians seldom do: He handed me his horn and invited me to play a little something. After I'd finished running through a short piece, proud that I had hit no "clams" or bad notes, I noticed that he was…well, he appeared to be trying not to wince. Then he shrugged and said, "Kid, it's a good thing you have newspaper work."
That memory came back to me recently when I was in front of a display of school band instruments at the amazing Musical Instrument Museum in Phoenix. I may not have been remotely good enough to work professionally, but those musical-performing experiences in high school and college, and later even in a Navy band, were among the happiest of my life. As I stood there, a busload of wide-eyed grade school kids and their teachers spilled into that gallery of the museum, and looking at them I thought, "Some of you are going to just have a grand time learning and playing music, and a few of you are even going to enrich our cultural world by playing professionally." I was also impressed by the racial diversity of the school kids romping through the museum. The kids seemed to reflect as much diversity as the instruments from 200 countries.
Diversity is a hallmark of the museum, which has more than 7,000 instruments and thousands of associated artifacts from all over the world on display in beautifully designed galleries throughout a sparkling 200,000-square-foot building, which opened on the edge of the desert in northern Phoenix in 2010. It was the brainchild of Robert J. Ulrich, who as the former chief executive of Target was the driving force behind the expansion and marketing elan of that retail giant. Ulrich, who had about as impressive a musical background as a youth as I did (which is, not all that much), put a lot of his own money—some reports say well over $100 million—into founding the museum, which cost an estimated $250 million to build.
Around the world, there are numerous other collections of musical instruments in art museums, and a few world-class museums specifically devoted to musical instruments. The most famous of those is the Musical Instrument Museum in Brussels, Belgium, which dates to 1877 and features about 8,000 instruments, mostly of European origin. The Brussels museum was a major inspiration for Urlich, whose spree of acquisitions stemmed from his collecting in African art, which included items like ancient carved drums and horns.
He quickly expanded his focus to include musical instruments from all over the world, hiring museum experts, musicians and ethnomusicologists to curate the collections and scour the world for new acquisitions. Some were acquired from other collections and some, the museum's media relations manager Raj Dayal told me on my most recent of several visits, come from family and regional community sources across the world.
The museum attracts a wide range of visitors, from those simply interested in seeing such a vast array of instruments to music educators and amateur and professional working musicians. The items are displayed in a range of galleries reflecting various world cultures. Most feature audio-visual programs that play when you approach the displays on headphones you can rent at the ticket desk. As word has spread, it has become a popular tourist attraction in Phoenix. Last year, attendance was over 326,000, up over 12% from the year before.
One gallery that's especially popular has a fascinating display of mechanical musical instruments, including player pianos, a steam-operated circus calliope, and the gallery's piece de resistance, the giant "Apollonia" dance organ, an elaborate mechanical band that takes up an entire wall and is still in prime working condition, with 680 organ pipes, two accordions, two saxophones, and a set of mechanical drums.
But a stroll to other galleries can take you to the more rarified world of violin-making, or of jazz and country music, of mariachi and opera and the symphony, of marching bands and swing bands and unusual instruments for making music such as Polynesian nose flutes. Zithers, drums, pipes, flutes, fiddles, French horns, tubas and their Sousaphone cousins, Javanese gongs, trombones and double-bell euphoniums? All there, with intelligent textual and audio-visual background that places the instruments in historical and musical context.
Of passing interest to me, given my birthplace, is a display of traditional instruments and colorful costumes from the Philadelphia Mummers Parade. On a somewhat higher musical level, you can also see (and even play) a Steinway piano that John Lennon used composing "Imagine." There's a custom Yamaha guitar with inlaid Buddhist motifs used by Carlos Santana, as well as an array of guitars and other artifacts that belonged to Elvis Presley.
One of the newer innovations is a room where the science of acoustics is explained, including the effects on hearing of high-decibel music, which of course is something to consider now as young people especially walk around with music pumping from their earbuds.
Visitors can play some of the unusual instruments, like a vintage electronic theremin, which the kids soon discover was the source of those weird, warbling "outer space" themes from old TV shows and cartoons. That's popular in a gallery where children can let loose, including to pound on a collection of drums. But also in the interactive category is the Steinway grand piano in the lobby. Every time I've been to them museum, I've found someone with obvious piano skill playing it. I have yet to hear anyone banging out the insufferable-to-real-pianists "Chopsticks," and we can all be glad for that.
In general, the instruments in all of the galleries are openly displayed, with none of that "don't-get-near-the-works" attitude you find at many museums with security vigilantly making sure the visitors stay back. "We make a point of trusting the guests to respect the museum experience," Dayal said.
---
For more on the Musical Instrument Museum, visit mim.org. Admission is $20 for adults, $15 for teenagers (13-19), and $10 for kids four to 12 (those under four get in free). A current special exhibit tracing the history of electric guitars from around the world costs an extra $7 and runs through September 2019. The museum also has a popular concert series at its 300-seat theater. Here's the winter schedule.