Monograms is an international travel company and part of the award-winning Globus family of group travel brands. Check out more on the company in Arthur's introduction here.
Accommodations
Hotel Bonvecchiati is one of the Monograms selected hotels for Venice—and now I understand why. Located in probably one of the most romantic settings I could imagine, the 4-star Hotel Bonvecchiati is in the Calle Goldoni and situated right alongside the Rio del Scoacamini. It's an 18th-century palazzo that offers 122 rooms that are elegant, yet very comfortable and constructed in traditional Venetian style. Its great central location means that it's a three-minute walk to Saint Mark's Square and only five minutes to the Rialto Bridge.
The hotel is conveniently accessed by water taxi or gondola through a water landing located right in front. My room made for great people-watching as I gazed out my bedroom window looking down and taking in the sights, smells and sounds of Venice. There's also a well-situated restaurant out front called the Restaurant Terrazza. Terrazza offers a large patio with great views and dishes that are typical Venetian, traditional Italian and some international dishes to satisfy guest from around the world. Wi-Fi access is located throughout the hotel.
Our stay at Hotel Bonvecchiati in photos:
Transportation
Transportation is the bane of travel for me. Sure, the Eurorail system is easy enough and quite enjoyable when you get it down, but nothing beats the door-to-door service that Monograms provides. After joyfully reuniting with my luggage and making my way through the controlled chaos that is every airport, that old bothersome question returned: "Where am I and how do I get where I want to go?"
As I followed the signs pointing toward the airport exit, I saw the beacon of hope. A very pleasant women holding up a Monograms sign gave me a feeling of comfort that could only be compared to a hug from your grandmother. I knew from this point on the technicality that is transportation would be taken care of for the rest of my time abroad.
My transportation—including a water taxi to Venice, gondola rides and a water taxi to Murano—in photos: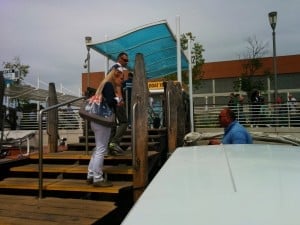 Here's a quick video of the water taxi:

Sightseeing
All sightseeing with Monograms is provided by local guides and in some cases, your Local Host—which was fine by me because Igor our Local Host in Venice was amazing. Your local guides accompany you on all sightseeing and provide you with an insider's view that only a resident can provide. It was very clear to me that both Igor and Marco (our local guide at the Doge's Palace) enjoyed their work and were great educators. Both spoke with a passion and a wealth of knowledge that made them a joy to listen to. Marco bore an uncanny resemblance to Leonardo DiCaprio and had no trouble holding the attention of the ladies in our group, but I was impressed with his historical perspective on this great city whose wealth at one time rivaled that of the richest cities in the world. I like to take guided tours and walk in like I own the place. If you're like me, then VIP access is for you. No more wasting your precious time waiting in lines, which means time to fit in another "must-see" attraction or more time to do what I like to do: relax!
A walk through St Mark's Square and a tour of the Doge's Palace led by Marco on our second day in Venice in photos:
Our second day in Venice included a guided tour with Igor to the islands of Murano and Burano. On Murano we had the opportunity to watch the glassblowers at work fashioning world-famous Murano glass.
For lunch Igor took us over to the fishing island of Burano. We sat down at a great little spot called Osteria Ai Pescatori con Cucina. Our after-lunch walking tour, led by Igor, not only let us walk off some of those risotto calories, but also took us through some beautiful little neighborhoods for a real insider's perspective.
Our third day of sightseeing in Venice with Igor included the discovery of a bookstore locally known as one of the "top 10 bookstores in the world," which contained an outdoor staircase made entirely of books. Monograms also builds in time for exploring, so we took a couple hours to get lost (on purpose) and discovered a gem as we found ourselves surrounded by the bustling activities of the Rialto Market for lunch. A trip to Venice without singing in a gondola would be a travesty, but with the help of Igor we learned how to get the most of our gondola experience.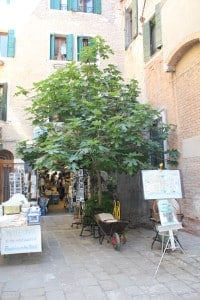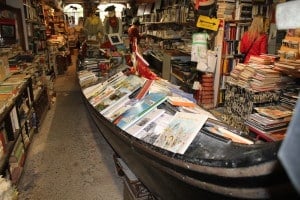 Time to explore…
I'm on a boat…
Local Host
What I feel makes Monograms unique is their Local Host service. I imagine it's difficult to appreciate this concept prior to actually having experienced it. Igor, our Local Host in Venice, greeted us at our hotel the day of our arrival. He discussed all of our included sightseeing and any excursions or activities we chose to custom tailor our trip. Igor went so far as to give us his private cell number to use (within reason) in case we needed him. Most Local Hosts maintain lobby hours during which they are conveniently available to you.
Your Local Host also provides you with a guide that contains a ton of useful information including city maps, local host picks, practical information and helpful hints. He or she is available to you if you have questions about museums, discount shopping, most efficient walking routes, cultural events and much, much more.  So save yourself from those those pricey data charges doing Google searches overseas. Monograms has a Local Host waiting to meet you—and from then on, all you have to do is ask.
Here's a clip of Igor doing what he does best. Speaking about his home city of Venice Italy…
Ciao Venezia!!
Stay tuned for Part 2 as I travel with Monograms to Stresa Italy and the beautiful Lake Maggiore. And check out the series home here.