In May of 2018, I embarked on my second Lindblad Expeditions sail aboard the National Geographic Explorer, this time to enjoy the fjords of northern Norway and Arctic Svalbard (a Norwegian territory). The 17-day/15-night journey ("Norway's Fjords and Arctic Svalbard") departed out of Bergen, Norway, and headed north along the coast until we reached the Svalbard archipelago, land of the polar bears (also home to the city of Longyearbyen).
Here's that trip, in words and photos:
The first five days of the trip included daily hikes to glaciers, through sleepy coastal towns, national parks, and—my favorite—journeys into the mountains separating northern Norway from Sweden around Tysfjorden (in Norway). Each opportunity included a long hike, a moderate hike, a nature walk, and when possible a zodiac tour to provide something for guest of varying interests and fitness.
On one extremely picturesque morning, I walked with shipmates to the Briksdal Glacier and then rode a cable car to the top of Mt. Hoven. The view from the top was spectacular, and a group of base-jumpers running off the top added to the fun (not something I would be inclined to try but it was an incredible sight).
Tysfjorden is one of the largest fjord systems in northern Norway. Our six-mile excursion through it yielded views of waterfalls, rushing rivers, frozen, and flowing glacier waters, all of which made the tough hike completely worthwhile.
Not only were we handsomely rewarded with blue skies, 65ºF temperatures and spectacular views for our efforts, but we also enjoyed a barbecue afterward on the sun deck of the ship for lunch. Burgers and a beer never tasted so good!
Later that same night, we visited Bleik to view sperm whales and were not disappointed. The water in the Bleik channel is very deep, and its currents flow in such a way as to provide a consistent source of food for male sperm whales. It's one of the few areas of the world where you're basically guaranteed to see these creatures.
The females and their calves don't travel this far north, but on this evening the men put on quite a show for us as a slowly setting sun provided spectacular lighting for the many whale-tail pictures that were taken.
In addition to our hiking adventures, we had the opportunity to visit the fishing village of Reine in the Lofoten Islands. Cod fishing is an important industry in Reine, as was evidenced by the numerous racks of drying cod throughout the village.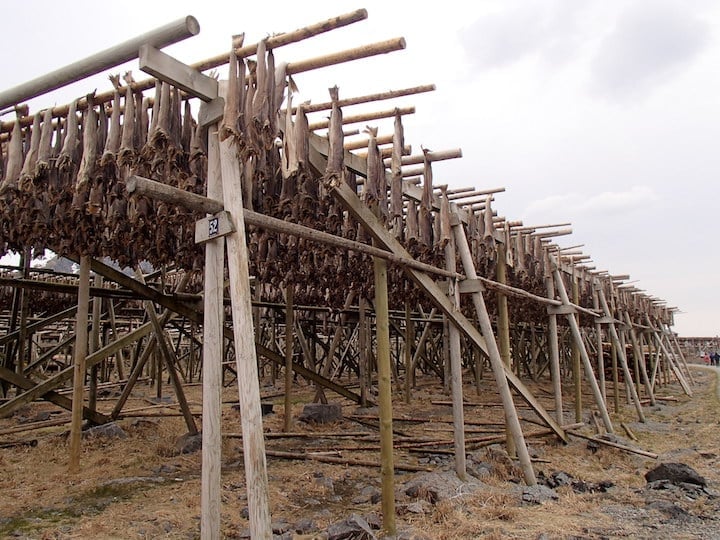 Our guide informed us that the fish is salted and hung to dry for 2-3 months. Eventually, the fish heads are sold to Nigeria, where they're considered a delicacy, while most of the bodies go to Italy and Spain. It was incredible to see the quantity of fish hanging from the drying racks. As you can imagine, they did not smell very good. Thankfully it was a cool and rainy day, which kept the smell to a minimum.
Traveling through the fjords provided some truly incredible views. A standout for me was Trollfjord, which was extremely narrow—barely wide enough for the ship to pass through, in fact. As we cruised in, a crew member shared the story of the troll believed to stop ships as they approached and demand a young maiden be presented to be his wife. If the ship declined, all aboard would be doomed. The only way around this, per the legend, was if the maiden could pick a leaf from the fjord.
Later on in the trip, we re-enacted this story, and guess who was chosen to be the maiden? That would be me, the youngest female guest on the ship. And yes, I managed to grab a leaf and save myself and the rest of the guests from the troll. It was a lot of fun.
Our last stop on mainland Norway was in the city of Tromso, where we visited the Arctic Cathedral (also known as Tromsdalen Church) and the Polar Museum and walked around the city. The Arctic Cathedral is very modern from the outside and was constructed to resemble an iceberg. Inside is a beautiful wall of stain glass.
The Polar Museum, meanwhile, presents the hunting history of Norway, which includes pursuit of seals, polar bears and arctic foxes. I didn't enjoy this subject as much, but I understand that hunting is a big part of Norway's past.
For the next four days, it was all about searching for polar bears, walruses, arctic foxes, and anything else the great Arctic wild had to offer us. On our first morning in the snow-covered wonderland of Svalbard, we were greeted by pod of beluga whales, and later that same day a young male polar bear.
We watched the bear from our zodiac as he walked along the shoreline and eventually found a sunny spot to nap—but not before he wandered up the glacier a bit and slid back down on his belly. It was hysterical! Our wildlife adventures continued later that day with a walrus sighting. Overall, it was an excellent first day of wildlife.
One of the many opportunities a Lindblad expedition offers is the ability to explore your surroundings in multiple ways, including via kayak. In Svalbard, we enjoyed a spectacular morning kayaking in Hornsund under bright blue sunny skies that made the ice and water sparkle like diamonds. It's hard to describe the sense of inner peace a moment in this setting can bring. How I wish it could be bottled!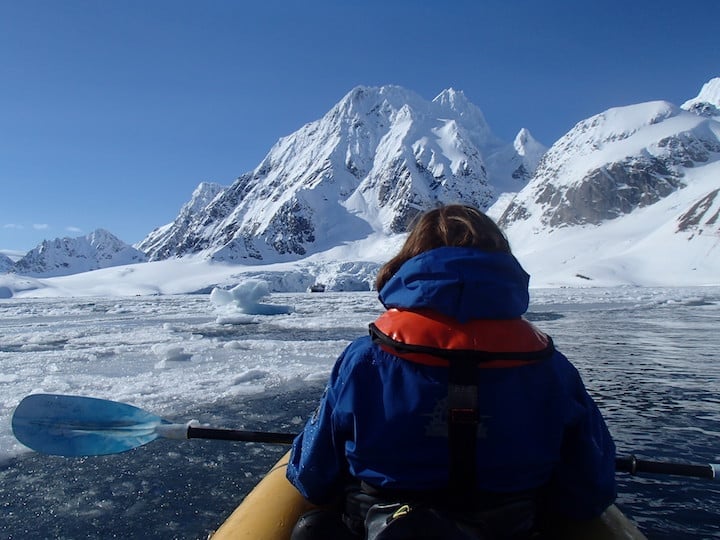 On day two, we were treated to quite a show from a female polar bear, who did some swimming followed by a good roll in the snow to dry herself off. At one point I thought she was doing a combat crawl across the ice, but it turns out she was struggling to stay on top of the soft ice and her hind legs were falling through. The reality of this bear's environment became very real to us visitors, and as magical as watching her was in whole, it brought some sadness, too.
The naturalists onboard shared with us the unfortunate truth that these incredible animals could disappear within our lifetime. I truly hope we can this prevent this from happening and will always be grateful that I was able to watch at least two of them in their natural habitats.
For photographers: Lindblad offers access to an onboard B & H Photo locker, which allows you to test out the latest gear. The feature enabled me to take some fabulous pictures of the female polar bear we spotted on day two with an incredible lens that had significantly more zoom than my own camera did.
Day three of our wildlife adventures took us back out in the zodiacs in Krossfjorden, where we spotted king eider ducks, reindeer, barnacle geese, and an Arctic fox. Our fox was starting to shed its winter coat and so looked a little rough around the edges, but it was still beautiful and apparently hungry. We watched it chase a few pink-footed geese and then finally snatch a kittiwake out of the air. It was really something to see.
Through our remaining days aboard the National Geographic Explorer, we were treated to sightings of walruses, sea birds, seals, beautiful glaciers, and a few more bears that were quite far from the ship. We traveled as far north as the 80th parallel—1,200 nautical miles from the North Pole—and ended our Arctic expedition in Longyearbyen, Svalbard, where we boarded a charter flight south to Oslo.
In reflection: The Arctic vs. Antarctica
Hindsight being 20/20, I wish I'd visited the Arctic before I saw Antarctica, South Georgia and the Falklands. The wildlife in northern Norway was spectacular but not as abundant as I found it in the Southern Hemisphere, and it was hard not to compare the two experiences. Nonetheless, I'm thankful I've now been able to experience both ends of the Earth and I wouldn't trade a single minute of my experience in either.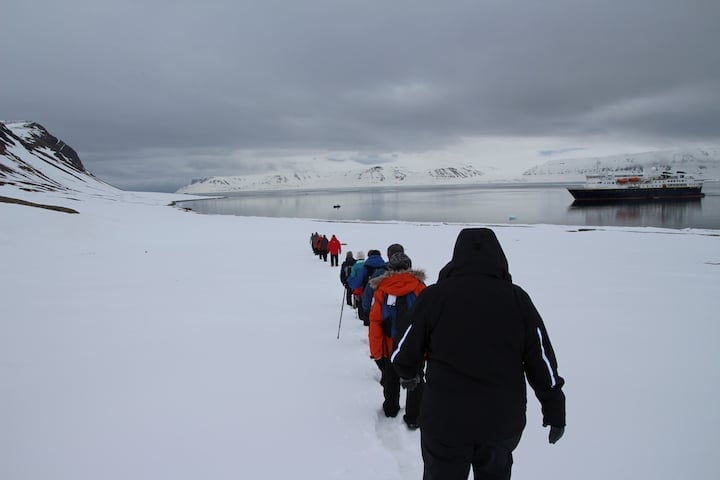 Overall, it was an incredible journey. My time in the Arctic aboard the National Geographic Explorer was not just about the wildlife; it was also about making new friends and enjoying the company of old friends I'd met on the same ship in Antarctica. Seeing familiar faces among the staff and crew made me feel like I was home (actually, the accommodations and the food were better than anything I get at home).
Looking ahead
In planning this trip, I coordinated with my friend Christine, who I'd met on my first expedition. What a fantastic time we had reminiscing about our last trip and making more memories with our wonderful new friends. We now have our sights set on a new expedition aboard the National Geographic Endurance, which hits the seas in 2020. The Endurance will be embarking on several Arctic expeditions, including the one I took through northern Norway.
Our goal is to embark on the 35-day "Epic Antarctica Voyage," which includes a visit to a remote area of western Antarctica and the ice shelf of the Ross Sea region as well as a chance to see emperor penguins. I was thinking about purchasing a Jaguar F-Pace this year, but looking at the cost of the trip—it starts at $48,800—it looks like my 4Runner is going to have to hold on a little longer so I can save my money to go see the penguins again!
---
For more on travel with Lindblad Expeditions, including to northern Norway and the Arctic, visit expeditions.com.