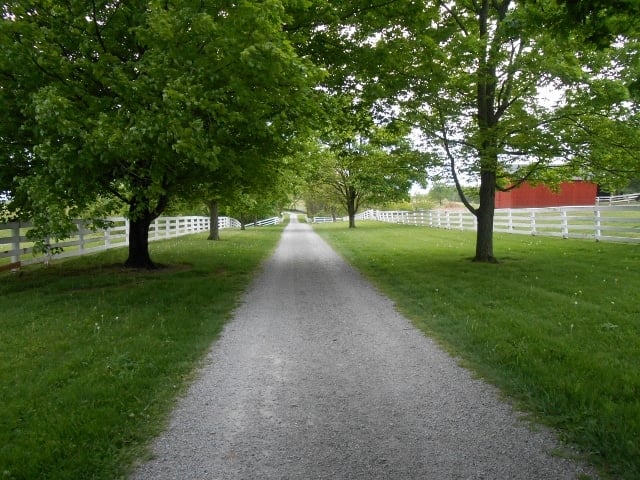 Shaker Village of Pleasant Hill
Only 25 miles outside of Lexington, a stay at Shaker Village is the antidote to a stressed-out citified life.  Though the Shakers are no longer in existence, they left behind a legacy of tranquility and simplicity.
As I often do while traveling, I went for a run the morning after a night's stay in the village. I've found some great treasures on my travel runs and this time it was having the footpaths that run for 40 miles into nature all to myself – well, save for several song birds, a donkey, and a few lounging sheep. It was one of those morning runs I could've gone on forever, just taking in the clean air, bright smells of spring, and rolling landscape.
So, what's a Shaker? They were a religious group most well known for their distinctive, no-frills style workmanship with furniture and devotion to God that includes celibacy and a belief that men and women should live in equality.  What you'll find at the Shaker Village is serenity. My king bedroom was attached to a living room that would have easily handled a family of four. Everything is simple, but also a reminder that frills are, well, unnecessary. At no time was I uncomfortable, just the opposite – being woken up by ducks carousing around under my window was such a nice change to the city commotion so many of us have become accustomed to in our daily lives.
The village is a host to several events throughout the year and the property is enlivened by examples daily Shaker life.  When I strolled
along the gravel roads and through the sweeping lawns I came upon a hoop lesson for children. The amazing thing is the children were captivated by the idea of rolling the hoop only using a stick – a real hoop, with a real stick, across a real green meadow (no computer required).
Shaker Village is a great family travel choice. There are animals to meet, forest paths to adventure down, trips to the past through the living museum and there's even a steamboat. Though you're swept into the past, you don't have to be completely devoid of technology – one of the buildings has Wi-Fi and the rooms have television. I would suggest forgoing all of that if you can and put your energy into taking in the complete peacefulness of the property.
The Inn at Shaker Village rates range from $100 per night for a double bedroom, to $180 for a private cottage suite – with several other room options in between. Dining is available and eating a Garden Side Supper is a great way to close out your day with candlelight and Kentucky-style cuisine.