In celebration of the US National Park Service's 100th anniversary this year, the Postal Service has revealed 16 National Park-inspired Forever Stamp designs over the past three weeks. Yesterday, the last of the 16 stamps was revealed, depicting Yellowstone National Park to celebrate the country's first National Park!
Stamps will enter circulation on June 2, and dedication ceremonies will take place the same day at or near the National Park showcased on each stamp. There will also be a first-day-of-issue ceremony in New York City as part of the World Stamp Show NY-2016.
Below are all 16 designs, and all 16 are just stunning. Have a look and tell us which stamp you like best or which National Parks you've visited in the comments below!
1. Yellowstone National Park, Wyoming
This picture of two bison silhouetted in Yellowstone National Park in the winter morning sun was captured by Art Wolfe of Seattle, WA. Art describes it as "perfectly backlit bison standing on a small rise in Yellowstone's Lamar Valley."
At Yellowstone one can see the beauty of the volcano rising up in colorful hot springs, mud pots and geysers. You can also explore mountains, forests and lakes and discover the history that led to the conservation of our national treasures.
2. Acadia National Park, Maine
This stamp depicts Acadia National Park's Bass Harbor Head Light. Crowds love Maine's rugged coast because of its beauty and diversity. The park is home to the tallest mountain on the US Atlantic coast. People come to enjoy a hike on granite peaks, bike historic roads or relax to take in the views.
3. Haleakala National Park, Hawaii
This stamp showcases a rainbow forming over the crater in late afternoon sun in heavy rain at Haleakalā National Park, Maui, HI. This special place takes about two hours to reach via a twisty road, but it's worth the trek to see the special Haleakala sunrise or the hike to see the volcanic landscape and endangered species.
4. Arches National Park, Utah
This photograph represents the iconic Delicate Arch in Arches National Park. The Arch is one of more than 2,000 stone arches in Arches National Park, which contains the greatest density of natural arches in the world. In the park you'll find colors, landforms and textures with thousands of natural stone arches, pinnacles, massive fins, and giant rocks.
5. Kenilworth Park & Aquatic Gardens, Washington, DC
Crowds flock to the sacred lotus (Nelumbo nucifera) at Kenilworth Park & Aquatic Gardens during its blooming period between late June to early September. The plant is just one of the hidden treasures tucked away by urban neighborhoods in the nation's capital. The park's wetlands also provide a home for many animals including fox, mink and otter.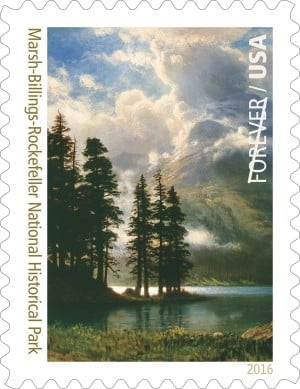 6. Marsh-Billings-Rockefeller National Historical Park, Vermont
This stamp features an ionic Hudson River School of Art landscape painting from the park's collection. This painting is linked to the conservation movement that supported creating the National Park system.
7. Mount Rainier National Park, Washington
This beautiful star trail photograph is made from 200 images to celebrate Washington's Mount Rainier. Mount Rainier, an active volcano, stands at 14,410 feet above sea level and is an icon in the Washington landscape. It's also the most glaciated peak in the contiguous United States and feeds more than six rivers.
8. San Francisco Maritime National Historical Park, California
This stamp showcases a photo of the three-masted sailing ship to commemorate the San Francisco Maritime Historic National Park. The park is located near the Fisherman's Wharf neighborhood and highlights Pacific coast maritime history and features five National Historic Landmark vessels.
9. Theodore Roosevelt National Park, North Dakota
This stamp features the Little Missouri River winding through the Badlands of North Dakota. Young Theodore Roosevelt began an adventure out west here.
Theodore Roosevelt National Park contains several cattle ranching sites of historical significance from the late 1800s. Most significant is Theodore Roosevelt's Elkhorn Ranch, the main ranch site where he spent most of his time and pondered conservation.
10. Assateague Island National Seashore, Virginia and Maryland
The stamp pictures wild horses of Maryland's and Virginia's Assateague Island National Seashore. Horses roam freely here. At Assateague Island National Seashore you can relax on sandy beaches or explore salt marshes and forests.
11. Bandelier National Monument, New Mexico
The Bandelier stamp features a 1930s painting by artist Helmuth Naumer depicting the Pueblo Revival-style visitor center. Bandelier National Monument protects over 33,000 acres of canyon and mesa country. There's also evidence of a human presence here dating back more than 11,000 years.
12. Carlsbad Caverns National Park, New Mexico
This stamp reveals the elaborate cave decorations hidden beneath the surface of Carlsbad Caverns National Park. Carlsbad Cavern is one of more than 300 limestone caves in a fossil reef that dates back some 240 million to 280 million years.
13. Everglades National Park, Florida
The Everglades stamp celebrates the nation's largest subtropical wilderness. Everglades National Park is home to many rare and endangered species. Crocodiles, alligators, manatees, flamingos, herons, and turtles can be seen here. Located in the south Florida peninsula from Miami to Naples and south to the Florida Keys, the park is 1.5 million acres of prairies, tropical hardwood hammocks, pine rocklands, mangrove forests, and marine and estuarine waters.
14. Glacier Bay National Park & Preserve, Alaska
The Glacier Bay stamp showcases the park's mountains, glaciers, coastlines, and fjords, which together cover 3.3 million acres. Glacier Bay is part of a 25-million acre World Heritage Site—one of the world's largest international protected areas.
15. Grand Canyon National Park, Arizona
This stamp depicts a painting of one of the seven natural wonders of the world: the Grand Canyon. The canyon is 277-river-miles long, up to 18-miles wide and one-mile deep. The unique colors and erosional forms are truly stunning and make for a special trip (like this one).
16. Gulf Islands National Seashore, Florida and Mississippi
This stamp shows a long-legged water bird with a wingspan that can exceed six feet to highlight Gulf Islands National Seashore. There are many activities to explore here and each of the seashore's areas in Florida and Mississippi offers unique experiences.
Many people make it a mission to visit many of the National Parks in their lifetime as each one tells such a significant story. If you're planning a visit to one, some or all of the National Parks, National Geographic has developed a helpful guide to them all, which you can check out here.
Don't forget to share your favorite stamp or National Park below in the comments section!