This is the second part in Caitlin Martin's three-part MINI roadtrip series exploring KOA campgrounds. Check out part 1 here and part 3 here.
After our trek to Santa Cruz, we came home for a night to rest in LA and then hit the road (this time) west toward the Grand Canyon in the MINI Convertible! I'd always wanted to see the Grand Canyon and in speaking with many people, it seemed as though the Grand Canyon is typically on the travel list. On the second part of our grand roadtrip, my boyfriend and I decided to make this beautiful area in Arizona a two-night stop.
When making our plans, the first thing we realized was that we had to be realistic. There are several great things that visitors can do at the Canyon that would be once-in-a-lifetime experiences. Things like helicopter tours and the train from Williams would fit into this category. While both of those experiences are highly recommended, we simply didn't have the time for them, and the prices seemed a bit high. Instead, we decided that hiking the Canyon would be the best way to experience it, as it would allow us to explore on our own and stumble upon a spectacular sunset from a very special place.
Grand Canyon hiking trails
Grand Canyon National Park offers tons of options when it comes to hikes. Trails like the Rim Trail offer visitors a (mostly) paved and level walking path at the edge of the Canyon. This is great for people who may have trouble getting around or families with small children. And while the views are spectacular, this trail shows off an overview of the canyon but doesn't give hikers an opportunity to experience it from within. Not being ones to gaze from afar, we chose to set off on a hike that would place us in the middle of the stunning canyon rock. We chose two trails that offered great day hikes: Bright Angel Trail and South Kaibab Trail.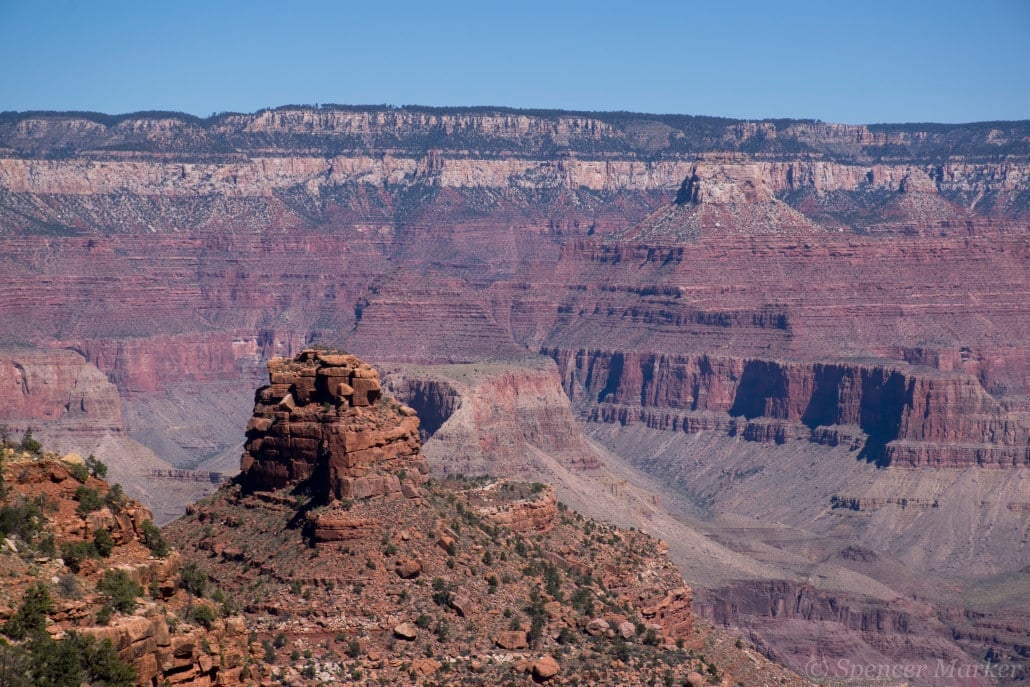 1. Bright Angel Trail
Bright Angel Trail is one of the most popular hiking trails at the park. Located near Grand Canyon Village, the trail descends down into the Canyon until it terminates at the Colorado River, where it crosses the Silver Bridge and continues to the North Rim as the North Kaibab Trail. We opted for a three-mile round trip hike: 1.5 miles in and 1.5 miles out. There is parking near the trailhead, though since the trailhead is in a busy area it can fill up rather quickly. We were able to do the hike in roughly three hours. We loved looking at the stone arches that passed over the trail. I also found myself turning around in awe of how far we'd walked, looking straight up! Also the view from the 1.5-mile resthouse was spectacular, but then again, I'm not sure there's a bad view there.
Tip: Pack plenty of water and snacks for the hike. The grades are pretty steep and since day hikes are roundtrips, the hike back to the top can be rather strenuous if you're not prepared!
2. South Kaibab Trail
Although Bright Angel Trail is very popular, our personal favorite was South Kaibab Trail. Since you have to take the park's system of buses (which are free), South Kaibab Trail was a little more challenging to get to, but less busy. (There's a water fill-up station at the trailhead but no water once you set off, so it's important to fill up.) We set off from the trailhead to Cedar Ridge, a three-mile round trip. The views were so cool! Since the trail isn't as crowded as Bright Angel Trail, we were able to take in a bit of solitude, as well. What a way to connect with nature! We even had an encounter with a bighorn sheep. Luckily we didn't panic and were smarter than that sheep!
The Desert View Watchtower
When the sun starts to dip low on the horizon, load back into your car and drive east down Desert View Drive to the Desert View Watchtower. The 70-foot-tall watchtower was designed by Mary Elizabeth Jane Coulter in 1932 under the employ of the Fred Harvey Company. Its design was inspired by ancient pueblo watchtowers, but was much grander in scale. Located about 22 miles from the Visitor Center and on the eastern end of the South Rim, the journey by car takes 30-40 minutes. The rock outcropping provided my boyfriend and me a spectacular view of the setting sun. And although we weren't able to view the show from the tower itself (they close it at sunset), the view was still breathtaking.
Our final destination: Grand Canyon/Williams KOA
Accommodation choices can be rather sparse near the Canyon. Other than the lodges inside the park and the handful of hotels just outside the entrance, most towns with any appreciable number of hotels are nearly an hour away. We stayed at the Grand Canyon/Williams KOA, located just north of Interstate 40 on State Route 64. The KOA is located about 45-miles south of the main entrance to Grand Canyon National Park and just outside the kitschy Route 66 town of Williams, AZ. We felt this area provided us easy access to the park, and to the unique Williams downtown area. The drive wasn't too bad coming or leaving the park.
We checked into our deluxe cabin, the largest of KOA cabins, for our stay. I was so excited for my first stay in a tiny house! (Check out my story on tiny houses here.) And wow, it was so awesome! Of course it was smaller than a full-sized house, but I'd say it had more living space (complete with a kitchen) than a hotel.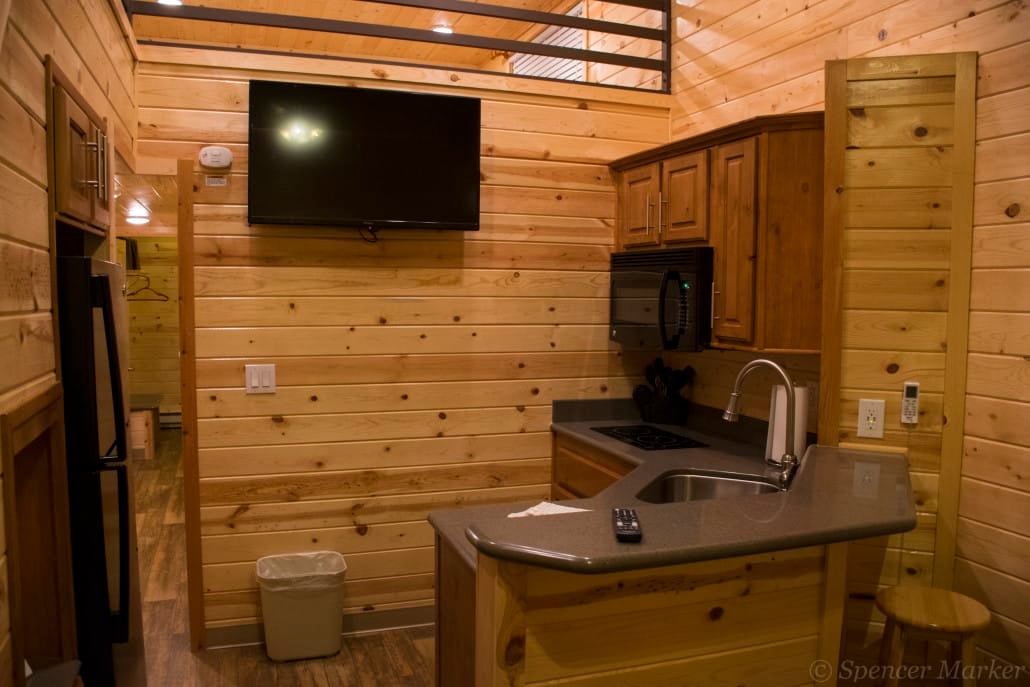 We were surprised to see that our small unit somehow had room to sleep eight comfortably with two bedrooms, a pullout sofa and a loft space with a queen bed. The main bedroom contained a comfy full-sized king bed. We used the full kitchen for storing beverages and snacks for our Canyon hikes (I can see how it would be very useful for a family vacation). We liked the little touches like the Keurig coffee maker and also enjoyed the fact that the kitchen had everything we expected it to. Seating at the counter was a little limited, but with the great outdoor patio area and table, there wasn't much need to eat inside anyway. We used the patio for our morning breakfasts before setting off into the park.
We were told the deluxe cabins were new to this KOA, and we found them to be very clean and comfortable. Since it was just the two of us, we had plenty of space to stretch out and relax after tiring hikes around the Canyon. The upstairs loft would be a great space for kids, and the second bedroom's bunk beds also provide an ideal place for little ones. The cabin's rustic décor and natural wood throughout underlined its western charm. This was something we both found really appealing.
KOA supplies a gas barbecue, picnic table and firering outside of each unit. This is the kind of glamping I could get used to!
Beyond our amazing deluxe cabin, the KOA complex itself includes standard things you'd expect at a KOA, including RV campsites, tent sites and a couple different offerings of cabins. Our deluxe cabin was the largest of its cabin options. I thought the tent lodge was unique in providing travelers a "roughing it" option, but without requiring that you pack your own tent!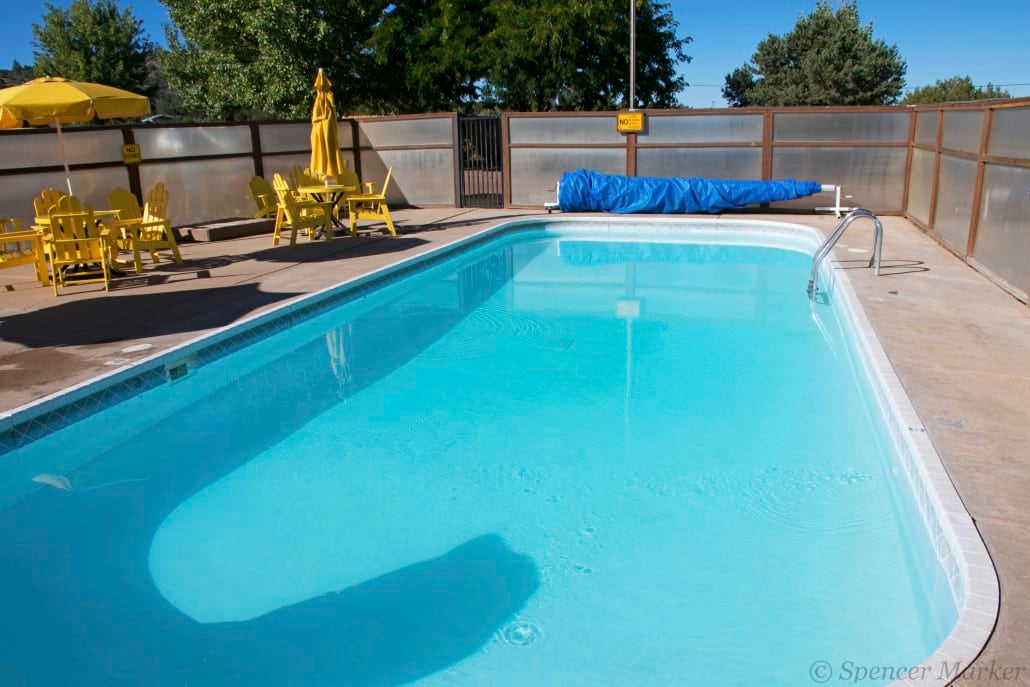 In addition to these different accommodations, the KOA store offers guests a coffee bar, a convenience store and bike rentals. There's also a pool. Grand Canyon/Williams KOA also offers its guests a tour concierge that handles booking adventures at the Canyon. We were able to get great suggestions on hikes and where to view the sunset from the desk. The staff really couldn't have been friendlier or more helpful. Grand Canyon/Williams KOA truly has tons of space and with budget-friendly rates, its cabins provide a great alternative to a traditional hotel room.
A deluxe cabin that sleeps eight at Grand Canyon/Williams KOA starts at $175/night.
---
Whether you're seeking an outdoor adventure, or you're more of a history buff, the Grand Canyon provides an experience that's sure to leave lasting memories. And our "tiny house" stay made everything even more unique and special.
Caitlin Martin's three-part roadtrip series continues here.
Photos credited to Spencer Marker.