You may or may not have heard of the tiny house movement—in which people permanently move into a tiny house and simplify their lives with fewer belongings and well, less square footage to live in. As Wikipedia notes, a "small house" is considered between 400 square feet and 1,000 square feet and a "tiny house" is considered less than 400 square feet. Yep, that's pretty small and tiny.
Well, on the heels of this trend, a tiny house vacation trend is taking off, perfect for those who might want to try but not commit to life in a tiny or small house. We at JohnnyJet.com find trying out a tiny house on a vacation to be an interesting concept. There are some great benefits. A tiny house could save you money and, hey, you get a unique experience out of it—like, maybe, sleeping in a super cool treehouse.
You might be wondering about the quality and materials used in building a tiny house. At least some tiny houses—like Wheelhaus cabins—are built with high standards and quality craftsmanship. Wheelhaus builds rolling cabins that look rustic, modern and beautiful! And they're durable, energy-efficient and just look really innovative especially for such a small house.
"Our Wheelhaus cabins have a big glass factor that helps bring the outside in, so the space feels larger than it really is," said Jamie Mackay, founder of Wheelhaus and owner of Fireside Resort in Jackson Hole, Wyoming. "We concentrated our efforts on the spaces of the home that really get used, like the living room and kitchen and we use a high level of finish and furnishings. Our cabins are built-well and have top-notch finishes—you're not skimping on quality."
Whether or not you think it's crazy to LIVE in a tiny house permanently, what about sampling this tiny house idea by staying in one for a vacation? Yep, that's right: your very own tiny house for a week.
If you;re so inclined to give it a whirl, here are some options that look pretty cool to us:
1. Fireside Resort — Jackson Hole, WY
This resort offers tiny house cabins made by Wheelhaus for rent just a few minutes away from downtown Jackson, Wyoming, and Grand Teton National Park. The 400-square-foot cabins are priced at $259 a night and offer one bedroom with a king bed, a living room with a hide-a-bed, a bathroom, and a kitchen with additional covered deck space.
"A tiny house vacation is a great way to test the water and see how it feels," said Mackay. "Staying in a Wheelhaus tiny house cabin at Fireside Resort is like a tiny house test-drive."
And, if you fall in love with this place, you can purchase a Wheelhaus cabin for yourself and have it delivered to you (seriously)!
2. Out'n'About — Cave Junction, OR
The "Treesort" offers treehouse accommodations on 36 acres next to Oregon's Siskiyou National Forest. Choose from more than 15 different types of tiny treehouses ranging from $130 to $290 a night. The Serendipitree Perch sleeps two (and also two small children) for $130 a night. This little treehouse took several years to build so it could fit two adults and two small kids. The loft is all one bed, which is longer than a queen and wider than a twin. The downstairs has a seating area, which is almost the size of a queen bed. It has a fridge but no bathroom. (The closest complete bathroom is about 100 feet away in the main house.) Here's a rough video of what it looks like inside.
You can also zipline, take a horseback ride or go river rafting during your stay at Out'n'About!
3. Canoe Bay Resort — Chetek, WI
Each Canoe Bay Resort option is a cozy, stand-alone cottage (400 square feet of interior space) on a hilltop on the resort grounds. It rents for a more pricey $398 a night but features private valley views, vaulted ceilings, hardwood floors, a wet bar, a fireplace, a large screened porch for lounging or sleeping, a queen bed, and a master bath featuring walk-in tiled shower, separate toilet room and heated floor.
The cottage is built by ESCAPE Classic Cottage and if you like this one so much, you can also buy one for yourself here.
4. Armadilla — Winchester, England
HomeAway.com shows off a cabin called Armadilla in England, 25 minutes outside of the city with a large garden and unique exterior.
You can rent it with a double bed or two single beds. It also comes with a kitchenette, a shower, heating under the floor, and TV entertainment center. And you get a continental breakfast too.
The listing says it has a rustic, boat-like appearance from the outside and clean modern appearance inside with all you need for a pleasant, comfortable stay. Rent this cabin for £60 or about $94 a night.
5. TreeBones Resort — Big Sur, CA
TreeBones Resort offers a lodging experience on California's Big Sur coast with expansive views in all directions. The 16 collapsable-style tent houses, called yurts, have queen-sized beds, a small table and chairs, reading lights, and hooks to hang clothes and gear.
There is a sink vanity with hot and cold running water in each yurt. Other amenities include a restaurant and spa with ocean kayaking and hiking. A yurt with a queen bed with a mountain view will cost you $263 for two guests.
6. Cottage in Noe Valley — San Francisco, CA
If you're a HomeExchange.com fan and have a dwelling to trade, there's a renovated early-1900s cottage available in the heart of San Francisco from which to easily explore the city.
The 650-square-foot small, one-bedroom, one bathroom house has lots of light, french doors and high ceilings. It also has a brand new kitchen, bath, shower, living room, indoor fireplace, and separate bedroom. The owners are even willing to exchange cars (ah, the beauty of HomeExchange.com)! They can offer a 2012 Fiat 500 Sport or 2005 Toyota Prius for exchange to use yours. Hello, exploring Wine Country or a drive along the Pacific Coast!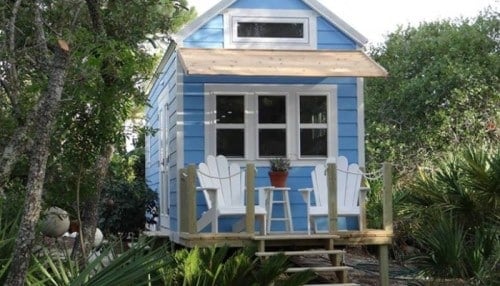 7. Tiny Hammock Cottage — Flagler Beach, FL
This tiny, 200-square-foot cottage is on the ocean in Flagler Beach, Florida, which means sunrises and dolphins galore! In fact, there are 12 tiny houses new and ready to be rented this fall. The place serves organic coffee and vegan options and they boast a mean burger. Rent it for $175 a night.
We're anxiously waiting for someone to try out the tiny (or small) house vacation and tell us how it goes. Who knows, you may fall so deeply in love that you want Wheelhaus to build you one!