I mention this tip often in media interviews and presentations at travel shows (remember those?) but I don't think I've ever written about it.
I see this foolish mistake made often by friends and family, where they're splurging for a first class ticket but before they plop down the cash, they don't check the aircraft, the type of seat or other airlines. It's not always best to stick to your preferred carrier.
Here's an example: In 2017, I made a quick trip to Hawaii so I could partake in United Airlines' final 747 flight. The farewell flight was from San Francisco to Honolulu (here's the trip report and my photos). Normally, I would have spent at least a night in Hawaii but I had a previous commitment to attend a conference the next night in Nashville, Tennessee. I couldn't cancel and I had a 10am LAX > BNA flight booked the following morning with my wife and my then one year old son.
Because I didn't want to miss out on the historic flight or burn a work bridge, I could only be in Hawaii for a few hours, just enough time to go for a swim and get some dinner and a shave ice.
With all that flying, I didn't want to be stuck in coach and although I normally fly American Airlines, I wasn't going to pay the same price for a first class ticket when their seats on a HNL > LAX flight didn't even recline more than a few inches. Meanwhile, Hawaiian Airlines, which in my humble opinion is the best carrier to and from Hawaii (the flight attendants are super friendly, they wear Aloha shirts/leis, offer local food and drink and most importantly, have lie-flat seats on their A330 planes) was a much better bet . I made the smart decision of forgoing earning AA miles and money towards achieving elite status for comfort.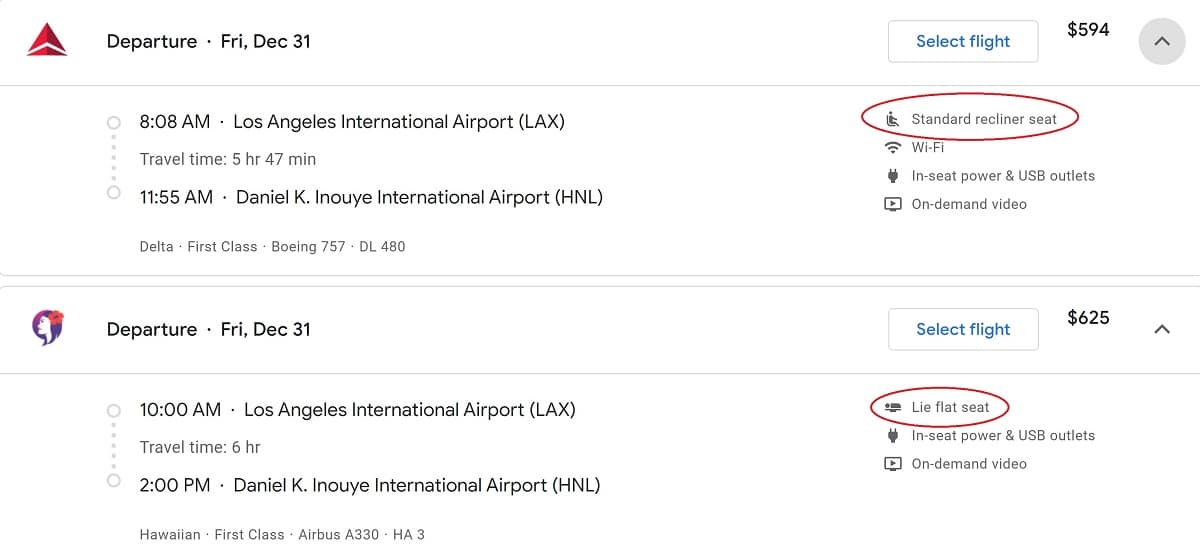 Above is a recent screenshot of a LAX > HNL first class flight. As you can see, the price difference between Delta and Hawaiian is only $31 so most people would probably grab the cheaper flight. But if you didn't look at the details of the type of seat, then you would be making a rookie mistake. As you can see from the screenshot above, Delta is offering a standard recliner seat while Hawaiian is offering a lie-flat seat.
According to Seatguru.com, the specifics for Delta First Class on this flight is seat pitch (legroom or to get more technical "the distance from any point on one seat to the exact same point on the seat in front or behind it") is between 37-38 inches. But Hawaiian's flight the seat pitch is a whopping 76 inches. Which one would you rather have?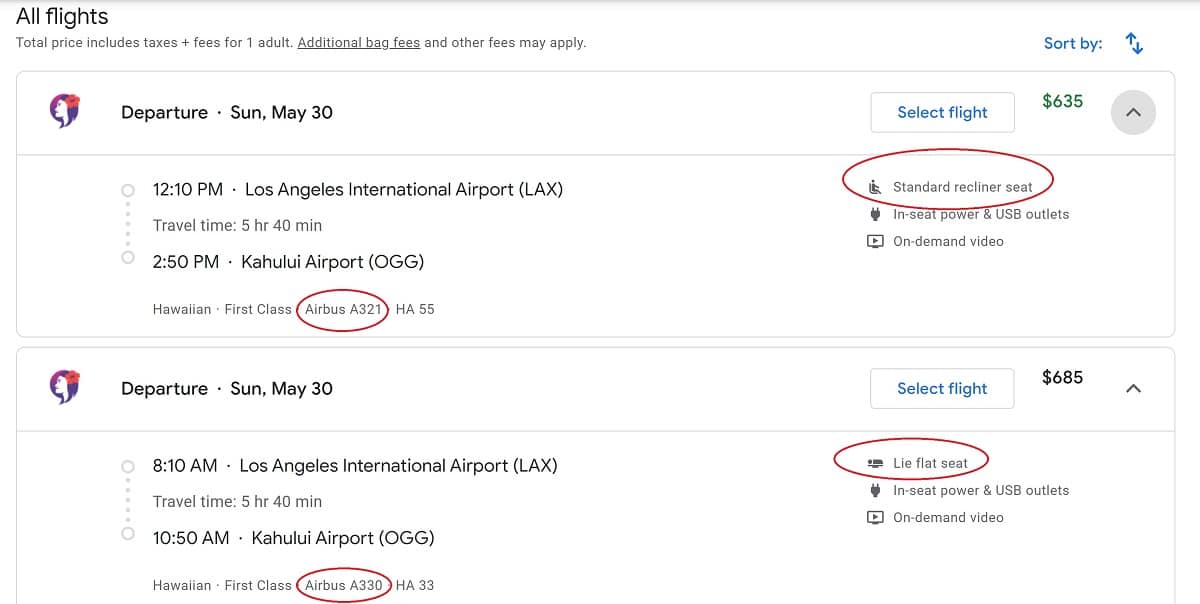 But wait. Before you go, you have to understand that not all aircraft are created the same. Keep in mind, Hawaiian and other airlines could have multiple aircraft on the same route. And in Hawaiian's case, the A330 is far superior to their A321 in first class. See the screenshot above. For the same LAX-HNL flight, Hawaiian has both their A330 and their new A321s flying. For $50 more, you definitely want the A330 because their A321 only has 39 inches of pitch.
Bottom line: It's worth spending the extra two minutes to look up other airlines to check the type of seat and aircraft.