As we twisted and turned through over the windy mountain highway, I looked out the window just in time to see a picturesque Colorado landscape begin to unfold. Purple-hued peaks set the backdrop for the quaint mountain town of Silverton in the valley below, no more than three blocks wide and a half-mile long. As we got closer, the town began to resemble a scene from an old western film with historic buildings dating back to the old mining era of the 1800s lining the streets. Silverton, the historic silver mining camp and now a National Historic Landmark District, would be my home base for the next couple days as my group set out on an epic journey exploring off-road trails on the state's Alpine Loop and the ridiculous scenery of the Million Dollar Highway with Polaris Adventures.
Polaris Adventures is the first-ever national network of ride-and-drive experiences. Now with over 40 locations, the company launched in November of 2017 with a mission to make outdoor adventures more accessible to couples, families and adventure groups. To accomplish this, Polaris partners with and aligned premier adventure outfitters across the country, all of which it vets against its own rigorous standards (experience, industry-best practices, customer satisfaction, and safety record). Each partnering outfitter must also offer the newest models of Polaris toys/machines, whether snowmobiles during winter months, RZRs for off-roading, or Slingshots for hitting the highway.
On my first Polaris experience, the hosting outfitter, via Polaris, was Rock Pirates Adventures, based in Silverton. Here's how my group spent two incredible days exploring Colorado's San Juan Mountains—on- and off-road—as part of a tour that anyone can now book:
Day 1: Off-road on the Alpine Loop
After breakfast at our hotel, The Bent Elbow, we made our way to Rock Pirates Adventures's shop in town to begin our first adventure, exploring the Alpine Loop. Winding through the spectacular scenery of the San Juan Mountains, the 65-mile loop allows visitors to experience the old mining history of the area dating back to the late 19th century. In addition to the main loop, there are many side trails that lead to abandoned mines, mills and mountain peaks ripe for exploring, so it's worth building in a couple days to experience all the sights. Since we only had a single day, our route took us along the Animas River to explore Minnie Gulch and Eureka Mine, then up a side trail to the old Sound Democrat Mill on the mountain with the same name.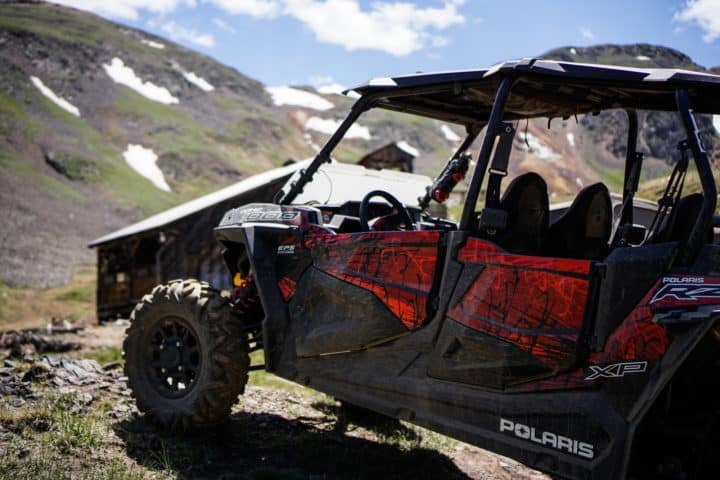 Our chariots for the day's ride were three members of the RZR family, Polaris's off-road side-by-sides, including the two-door RZR S 900cc, the four-door RZR 1000cc, and the General, a two-door beast that can tackle nearly anything you put in front of it. I chose the RZR 1000 since it was described by our guide as the Ferrari of the three due to its extra power. I made the right choice. Once we were on the trail, the RZRs handle like a dream. Rocks, bumps, rivers…whatever's in your path these things will conquer it, and with a surprisingly smooth ride. The 1,000cc engine was more than capable to get us up the mountain and get sideways when you felt like it (which for me, was often.)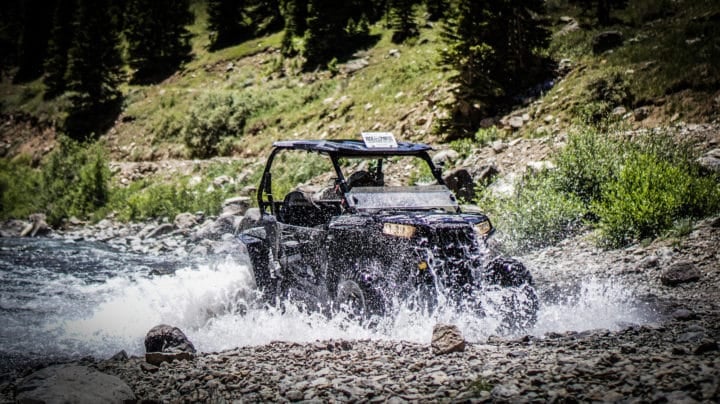 The day was full of breathtaking views taken while flying up and down rugged terrain. These surpassed my lofty expectations on their own. But for me, the most memorable highlight of the ride was when we came across a shallow part of the Animas River that we could hit full throttle with our RZRs. It was a hot July afternoon and we all welcomed the chance to cool off, so each member of our group took turns driving full speed into the frigid waters, returning some spectacular photo opportunities and a refreshing rinse. When we returned to town around 3pm we were dusty, dirty and grinning ear to ear. A successful first day.
Day 2: Priceless views on the Million Dollar Highway
The second day began much like the first, with breakfast in town and the group making its way to the shop for our next ride. While I was still on cloud nine from the thrills of our off-road tour the day before, I'm a speed demon at heart and was excited to see what the Slingshot, Polaris's open-air roadster, was like to drive. The guides described the Slingshot as a mini Batmobile, and I think that's a good way to describe it. The Slingshot has no doors, three wheels, a five-speed manual transmission, a steering wheel, and a massive sound system…everything you need to feel like a giddy kid again behind the wheel.
After our safety tutorial and a brief explanation of where we were headed, we set off on the open road. The Slingshot was built for Colorado's twisty mountain highways, handling tight corners easily with its sport-tuned suspension. The manual transmission, paired with a 174-horsepower engine and lightweight frame, made for some fun, aggressive passing along the way. With the exception of a few road construction sites briefly slowing us down, the drive was as exhilarating as it was beautiful.
We drove from Silverton to Ouray, which is dubbed locally as the "Switzerland of America" because of its steep mountains covered with beautiful greenery and wildflowers. From there, we continued up the highway to Telluride for lunch, a town that deserves a trip of its own filled with posh hotels, great restaurants and a world class ski resort. We didn't have time to explore the town much, and soon after lunch we were back on the road on our return to Silverton. The Slingshot—like night to the RZR's day—holds its own as a recreational vehicle. I'm already looking for places near home to rent one.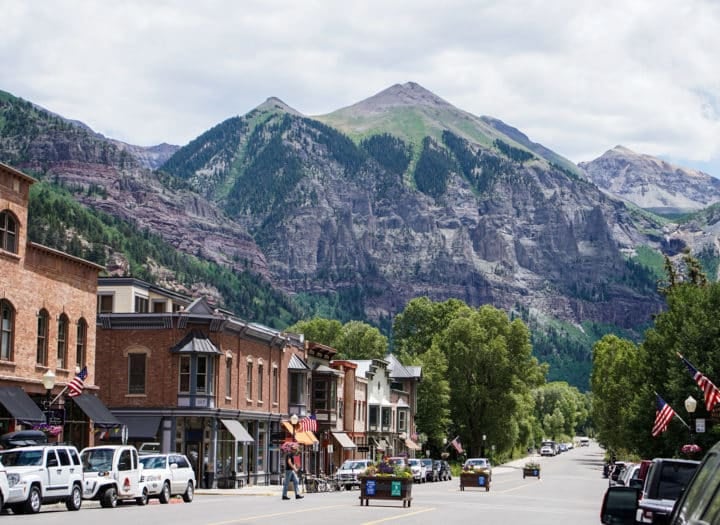 Wrapping up (and how to get to get to Silverton, Colorado)
Overall, we had a fantastic trip. I would highly recommend the new Polaris Adventures, as well as Rock Pirates Adventures, to anyone looking to get outdoors and get the adrenaline pumping. The San Juan Mountains act as the perfect host for those looking to hit the trail but don't want the full camping or RV experience.
Getting to Silverton was relatively easy. I flew into Denver and then transferred to a regional flight to Durango, CO, which is roughly an hour's drive from Silverton. The town of Silverton, with its own history dating back to the mid-1800s, is a great home base (particularly for families) with its western flare. The hotels are old, so don't expect all the modern amenities you might be used to, but they're clean and most staffs are warm and welcoming. There are a few solid restaurants in town like Eureka Station, and Golden Block Brewery is a good spot for after dinner drinks. There's not much nightlife as most bars close around 10pm, but the lack of modern hotels and chic bars add to Silverton's charm.
---
For more on Polaris Adventures, visit adventures.polaris.com.