As you can see in the pic above, I was fortunate to be invited on an exclusive flight aboard an E190-E2 jet featuring a distinctive shark livery. The E in the jet's name stands for Embraer, which is a Brazilian aircraft manufacturer that sells commercial and corporate jets all around the world. The E190-E2 is the largest plane Embraer has ever made.
Whether you know it or not, you've most likely been on an Embraer, as the company provides most of the regional jets that the mainline carriers use. I learned from Embraer's presentation at their Fort Lauderdale-Hollywood International Airport (FLL) facility that one in three planes at Washington's National Airport (DCA) and New York's LaGuardia (LGA) is an Embraer. That's quite impressive.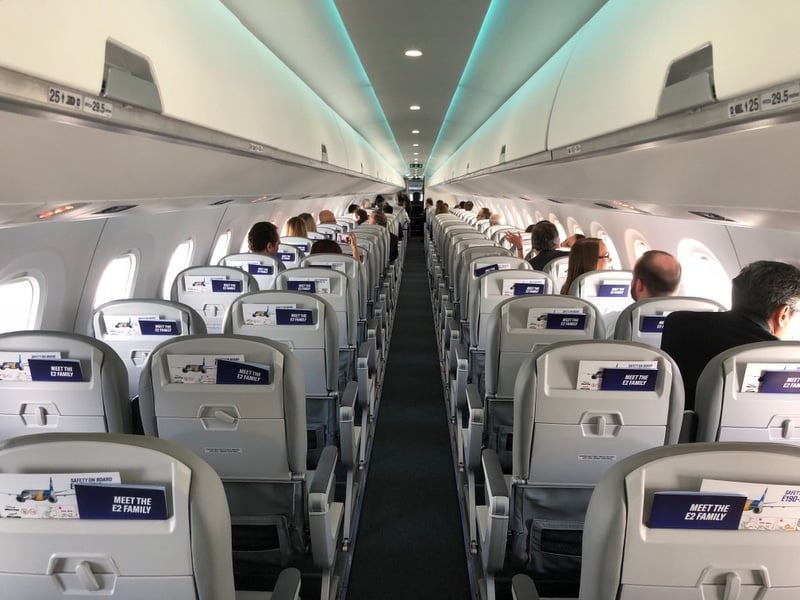 The E190-E2 can hold between 97-114 passengers, depending on the configuration. The plane is notable for its quieter cabin, fuel efficiency, low maintenance costs, and improved cabin space. Currently, the only airline that flies this specific jet is Norway's Widerøe Airlines, but there will be U.S. carriers flying it in the distant future.
I welcome that news, too, since the E190-E2 is comfortable, as I found on my media group's fun, 49-minute flight around south Florida. With its 2×2 configuration, there's no middle dreaded middle seat. And that's not all: It's quiet, it has enough overhead bin space for every passenger's roller bag, it has plenty of floor space to accommodate your smaller bags at your feet (there's no IFE or chair frames preventing taking up space), there are electrical outlets by your knees so you don't have to bend awkwardly looking for them, and the bathroom has touchless toilets and faucets.
If all regional jets were like the E190-E2 there would never be a need to dread them. See gallery below for more pics from the flight.