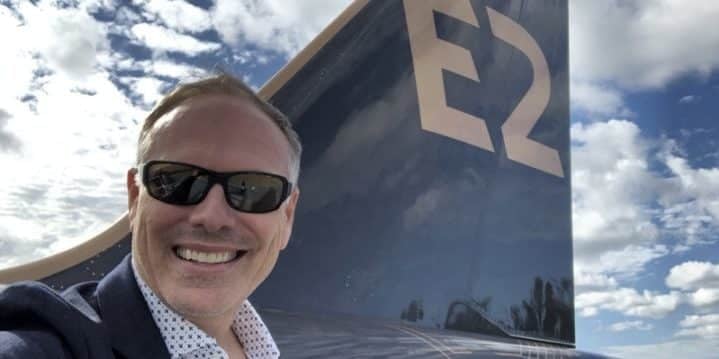 Last week, I got on a plane for the first time in two months. It was the longest I've been grounded in 25 years, and it felt really good. It was actually quite difficult to get on the plane because I now have two little ones at home and I don't ever want to leave them. Not even to go to a lunch meeting across town, let alone across the country to Florida, where I was heading. The good news is that once the plane took off, it felt great being back in the air.
The flight to Miami
I flew LAX-MIA on American's 777-300, which is a great plane. Since I have Executive Platinum status with AA, I can get Premium Economy seats for free on domestic flights for the time being. Those seats are as good as, if not better than, the first class seats on AA's A321S and 737s.
I was hoping to get upgraded for free (another perk of being EP), but my upgrade didn't clear. That wasn't that unusual, but I was surprised that a better seat in Premium Economy didn't open, either. When the ticket was booked for me ahead of the Embraer trip, I quickly snagged the last seat in the Premium Economy cabin, which happened to be a middle seat. I set a seat alert using Expert Flyer so I was monitoring it 24/7, but sadly no bulkhead, aisle or window seats opened up. I also checked multiple times manually just in case the seat alerts weren't working.
I ended up sitting in the middle seat for four hours and 21 minutes. It wasn't too bad thanks to the two-inches-extra-wide seat, but I don't like feeling like I'm a hostage in a middle seat. I can't keep getting up like I like to when I fly. I was at the mercy of my seatmates, and one of them was working and the other was sleeping so I felt bad bugging them.
Embraer Media Day and Kennedy Space Center
I was in South Florida for two reasons: to see my 90-year-old dad (I try to go every month), and to attend Embraers Media Day. Embraer is a Brazilian aircraft company that was founded in 1969. I used to dread going on regional jets like theirs, but I don't anymore. With all the recent advancements, they no longer feel so cramped. Actually, the main reason to like regional jets is that they have no middle seats.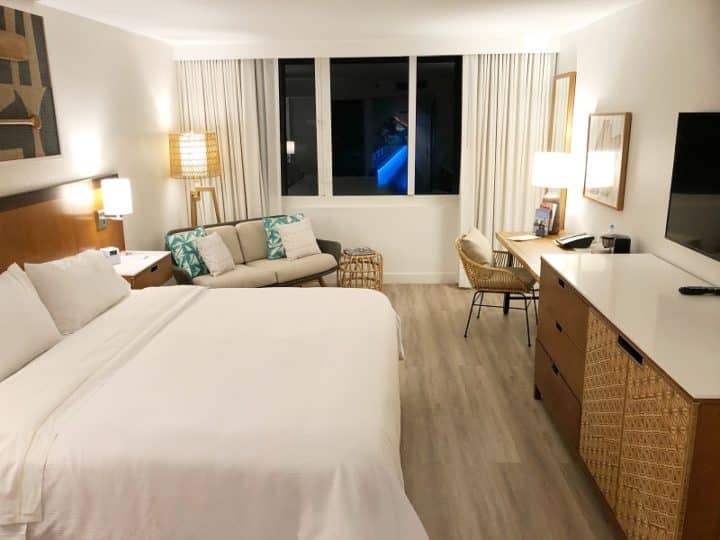 My tiff with the hotel over a $44.07 resort fee
Full disclosure: Embraer paid for my travel including one night in a the Westin Fort Lauderdale. I arrived at the hotel 10pm and checked out at 8:30am. I was pissed when the front desk clerk told me at checkout that I owed a separate $44.07 resort fee. Even though I knew the client would pay for it, it just didn't seem right. The fee wasn't disclosed at check-in, and I didn't leave my room. When I asked to speak to the manager, I was told that the fee is disclosed at booking. I didn't book the room, so I don't know it that's right or not, but still: Why didn't they mention it at check-in? More importantly, how can they charge someone a resort fee when they obviously didn't use any of the amenities? The manager wouldn't waive it, so I promised him I would shame them online just on principle and warn others. So here I am. It's too bad because as you can see from the photo above the rooms are stylish and comfortable.
Resort fees in Fort Lauderdale: See the hotel's fee listed on ResortFeeChecker.com's Fort Lauderdale page (it's actually listed at $39, lower than what I was charged).
After my little tiff with the front desk, I boarded the shuttle bus to Embraer's U.S. headquarters, which are at the Fort Lauderdale airport (FLL). The ride was probably 15 minutes, but I can't remember for sure because I was too busy writing Tweets, Instagram posts and Facebook posts to shame resort fees. Speaking of resort fees, there's a website called KillResortFees.com that has all kinds of useful information to help people combat the resort fees. If you ask me, nothing is more important than not staying at hotels that charge them (it's getting more and more difficult).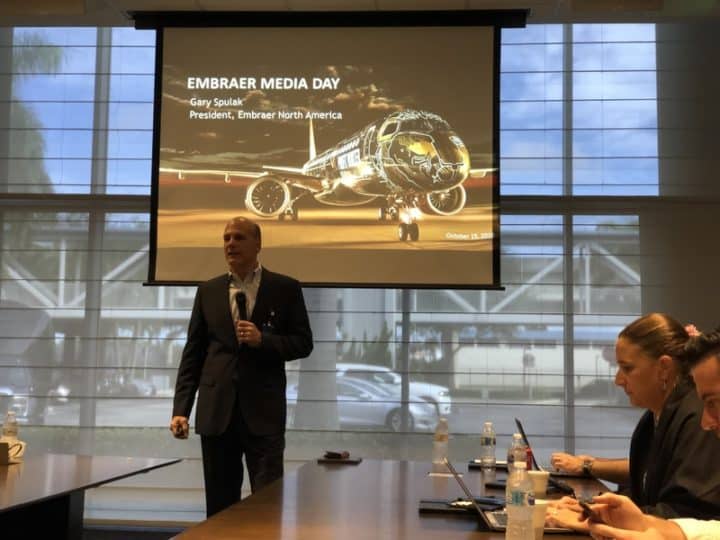 The main event: Embraer Media Day at FLL
At Embraer Media Day, a group of about 25 journalist from mostly the U.S. and Brazil convened to listen to the company's executives talk through some numbers and Embraer's newest plane, the E195-E2.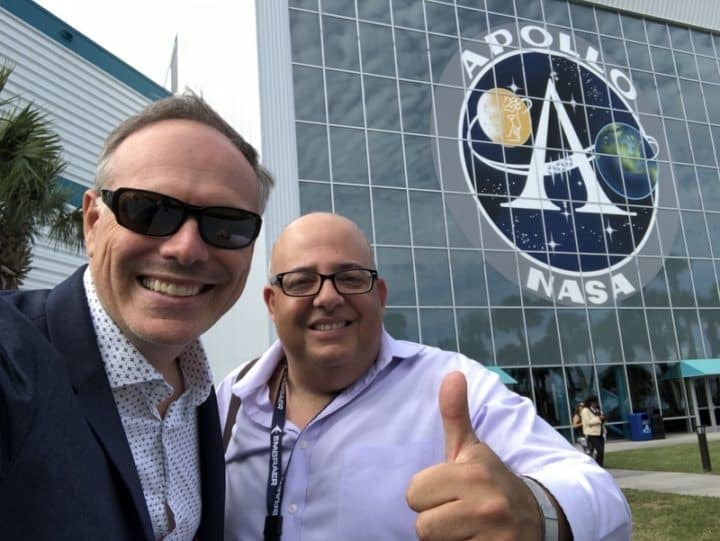 My buddy Chris Sloan who owns AirwaysMag.com did an amazing job covering it all so I encourage you to read his long-a*s detailed post that I'm not even going to attempt to compete with.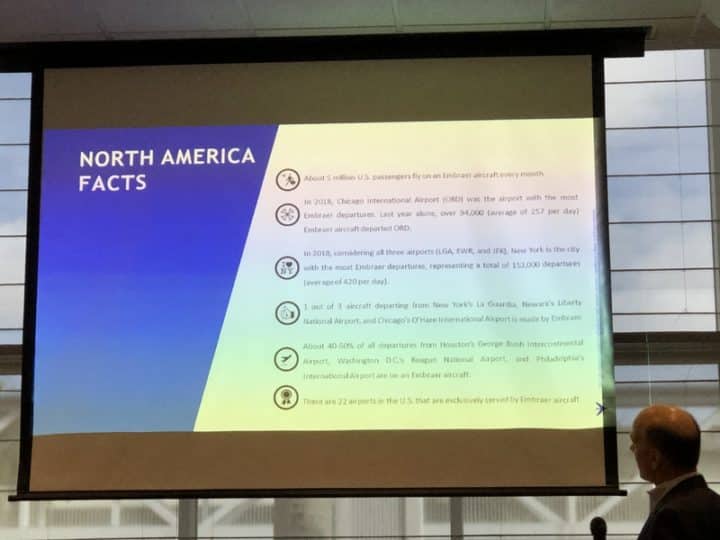 Interesting facts about Embraer regional jets:
Embraer has been in the U.S. for the last 40 years
About 5 million U.S. passengers fly on an Embraer aircraft every month
In 2018, the three NYC airports (LGA, JFK, EWR) averaged 420 departures a day on Embraer aircraft
There are 22 airports in the U.S. that exclusively fly Embraer planes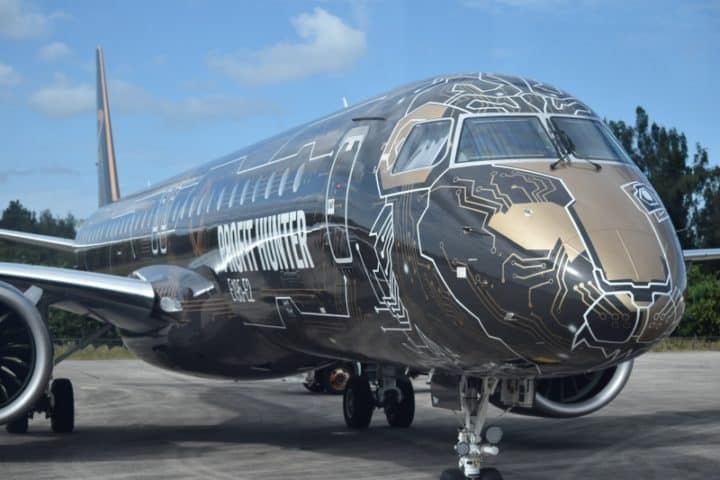 The E195-E2
The highlight of the day was going for a spin on a E195-E2 plane painted like a tech tiger (you got that right), and has "Profit Hunter" written on it, which Embraer's sales people came up. The E195-E2 has 10% less wing area than its predecessor so it's lighter. The plane has -10% fuel burn per seat. The plane is really quiet with 20 EPNdb, and according to the CEO it doesn't need as much scheduled maintenance as other planes do.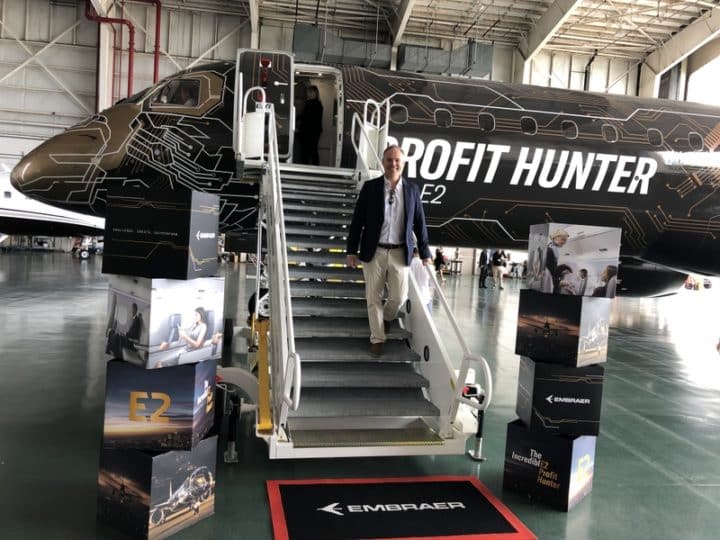 Our private flight was from FLL to TTS, an airport code that I had to look up, as well. TTS is "Space Florida's Launch and Landing Facility." I'd always wanted to go there, but I never thought I'd get the privilege of landing on its 15,001-foot runway, which is where the space shuttle lands when it returns from space.
We took off from FLL at 12:10pm and touched down at TTS at 12:48pm.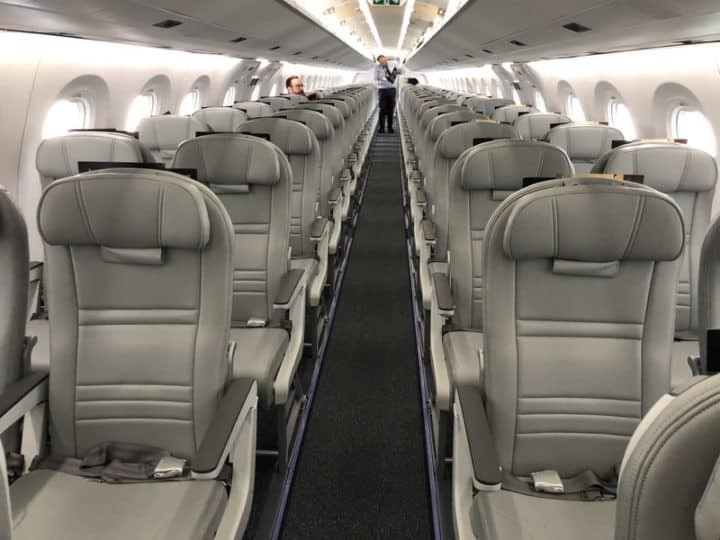 The 38-minute flight was open seating, so I had no seat assigned. Since it was a sales plane, Profit Hunter had all different configurations onboard, from 29″ in economy all the way to 54″ of pitch in a unique, staggered first class.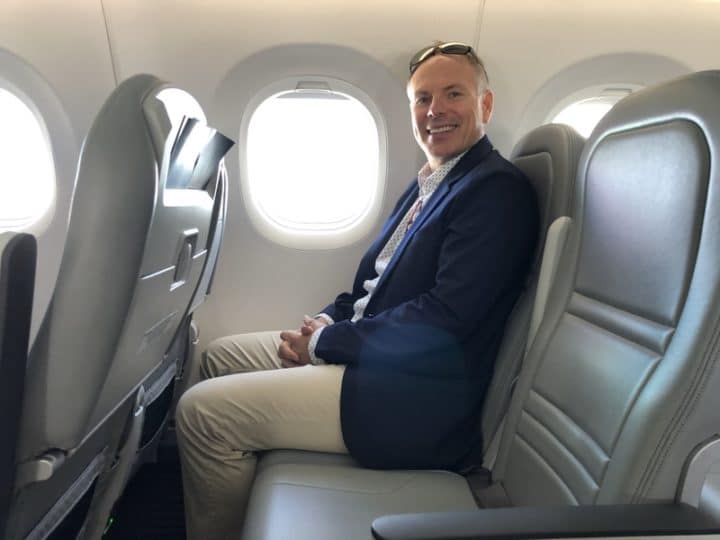 There's even a single row with 29.5″ pitch, which didn't feel as tight as I thought it would. I wisely chose the bulkhead going up and sat in the row with 34″ going back.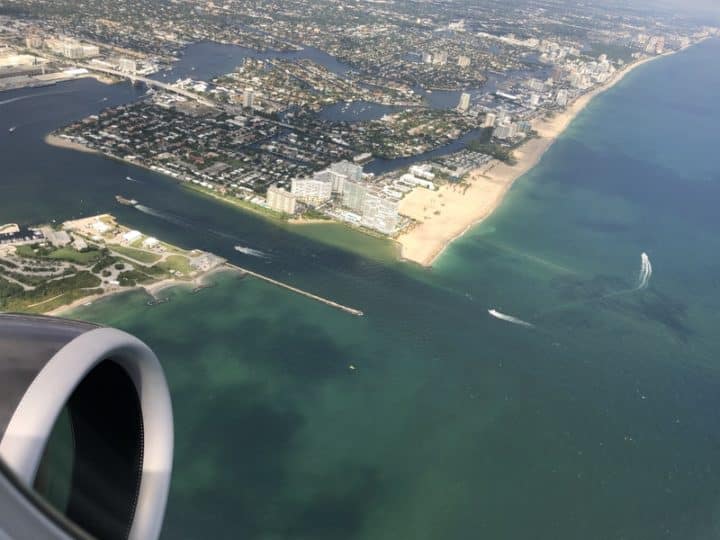 Our Kennedy Space Center tour
Here are some pics of our Kennedy Space Center tour:
On the runway at Kennedy Space Center, there's a space shuttle next to the control tower.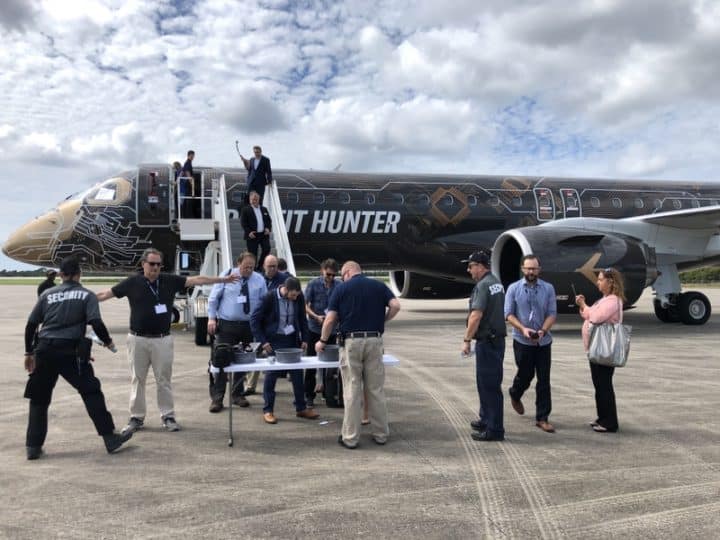 Once we'd landed, we had to go through a security screening! And that was after we'd all provided two government IDs (passport and driver's license) a week before. That was a first, but these guys were quick and friendly.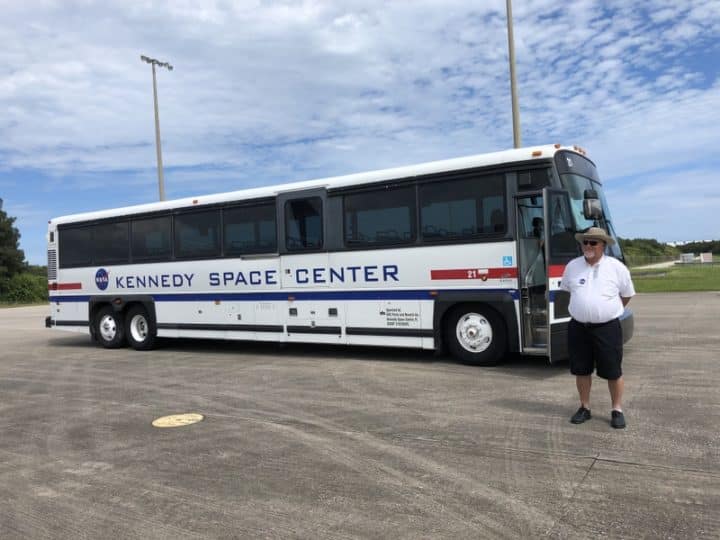 We then boarded a bus for the five-minute ride to Kennedy Space Center.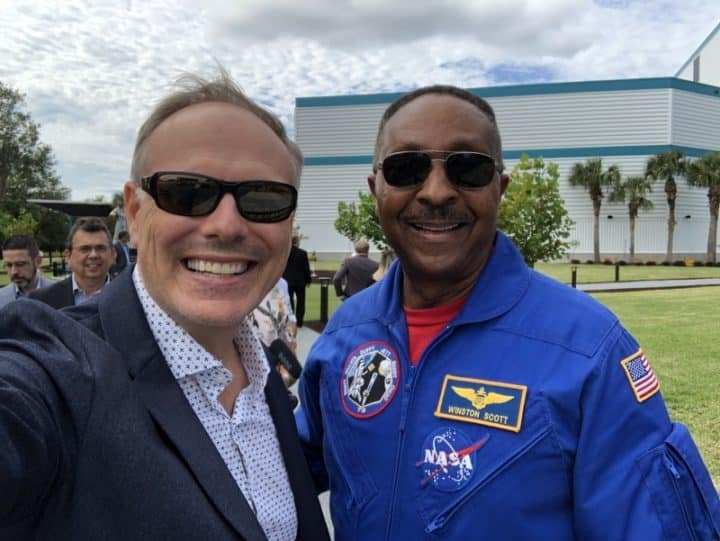 There we were greeted by astronaut Winston Scott. According to Wikipedia, "Winston Elliott Scott is a retired United States Navy Captain and former NASA astronaut. He served as a mission specialist on STS-72 in 1996 and STS-87 in 1997 logged a total of 24 days, 14 hours and 34 minutes in space, including three spacewalks totaling 19 hours and 26 minutes."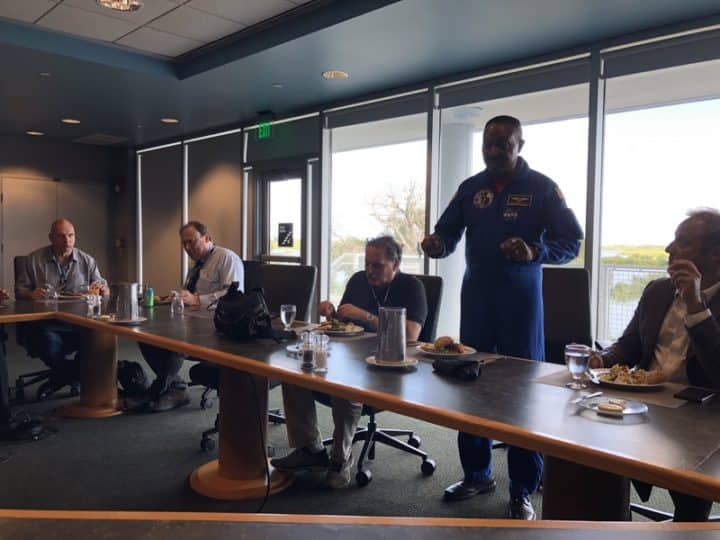 Winston was amazing and answered all of our questions during our private tour and lunch.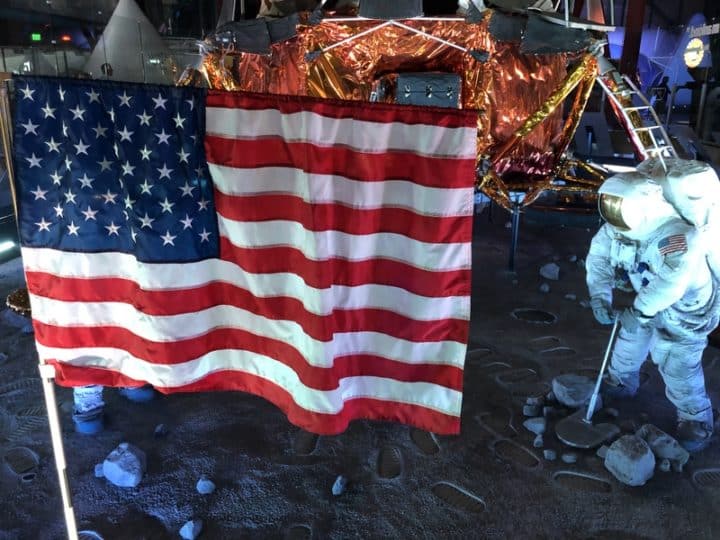 It was a thrill to learn about the Apollo missions especially since the Apollo 11 moon landing was on the day I was christened.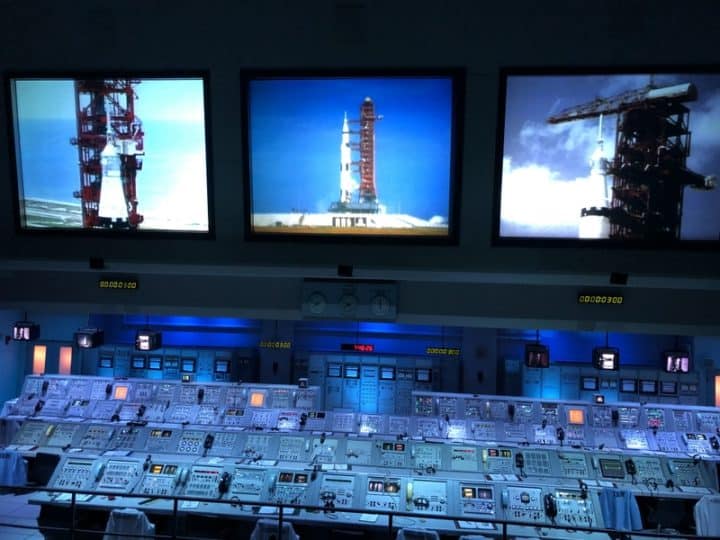 We watched a video first and then moved into the actual control center. It's open to the public, so my media group were with the general public for part of the three-hour tour.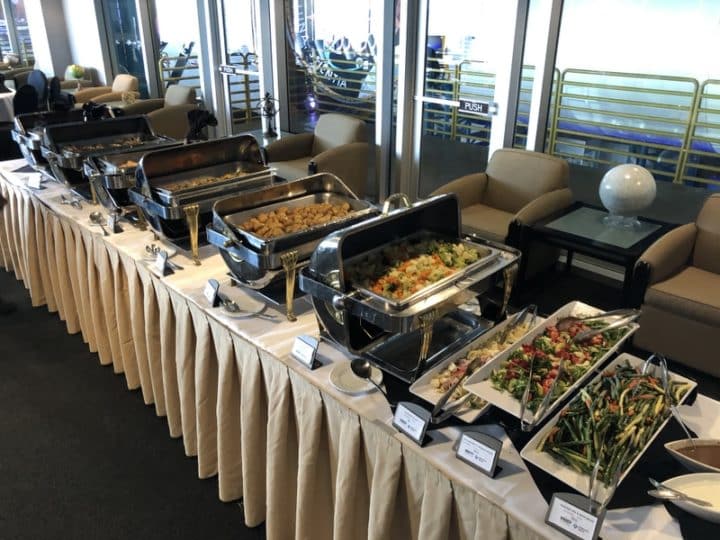 We then had lunch upstairs in a private dining room that can be rented out for special events like ours or corporate meetings.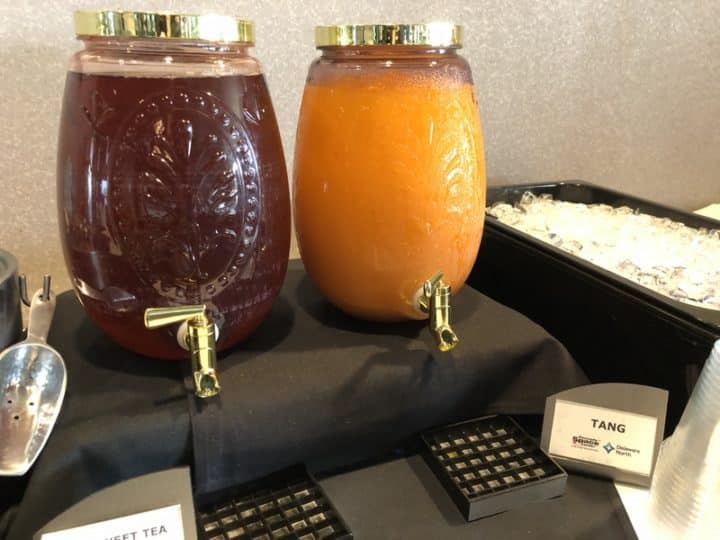 Of course, they serve Tang here. When we asked Winston if astronauts really drink Tang, he said that they do. Everything up in space is made from powder (they just add water), including the coffee, which Winston said is quite good.
The launch pad is three miles away from the control center for safety.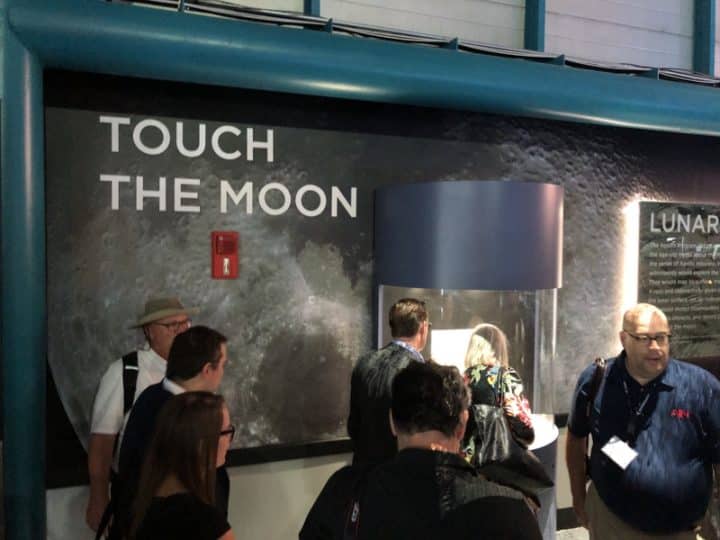 As expected, the Kennedy Space Center is a really interesting place with so much to see. We were there for almost three hours before we went back to the plane.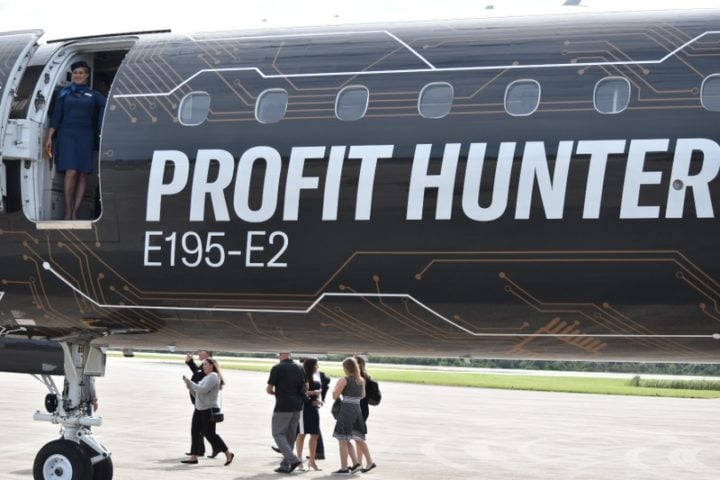 This time we pushed back at 3:49pm, departed at 3:55pm and touched down in FLL at 4:38pm. The 178-mile flight was smooth and scenic at times.
Surprising my 90-year-old dad
After Embraer Media Day, I surprised my 90-year-old dad at the senior home he's living at. He was thrilled! I spent 31 hours with him before flying back to L.A. with AA. My MIA-LAX 777 flight departed at 6:05am! It's early, but because that plane is so much nicer than the A321, I think it's worth getting up for. My dad can't comprehend getting up so early (I had Blacklane drive me the one hour to MIA) since he's not a frequent flier and would rather have his sleep. But I slept on the plane, since this time my upgrade cleared!
AA's new app feature
It just so happened that American Airlines just began offering boarding notifications to those who download the free AA app and allow notifications. The day of my MIA-LAX flight was the first day they rolled it out, and it worked great. United and Delta have been offering this service for a while so it's a welcome enhancement. Now, passengers don't have to worry about showing up to the gate late and agents deciding to board early (it happens often), leaving no overhead bin space available.