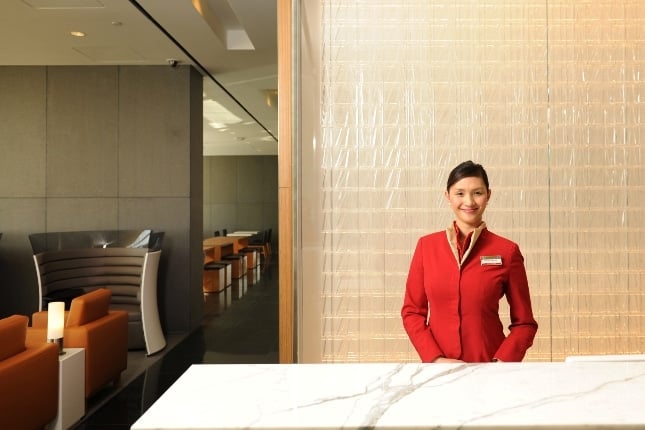 May 9, 2012 (San Francisco, CA) – This summer, Cathay Pacific Airways invites Klout users to experience the airline's First and Business Class lounge at the San Francisco International Airport. Klout, the standard for influence, analyzes engagement across social networks to help users understand and unlock their influence. With Klout's brand new mobile application, all San Francisco travelers passing through the "A" boarding area at SFO's international terminal simply need to show their score to the lounge receptionist using their Klout for iPhone app to enjoy the amenities and food offered at the lounge.
Modeled after its flagship lounges at the Hong Kong International Airport, the luxurious lounge in San Francisco is Cathay Pacific's only branded lounge in the US. It boasts a comfortable seating area, an I.T. zone featuring seven workstations as well as three shower suites. Visitors to the lounge can also enjoy the airline's signature noodle bar service, serving up a tantalizing bowl of hot wonton noodle soup or dan dan mien.
"At Cathay Pacific, we pride ourselves in providing exceptional products and services on the ground and in the air," says Dennis Owen, the airline's vp of marketing, Americas. "By partnering with Klout, we have the opportunity to invite travelers who typically may not fly with us to experience our ground products and services, in hopes that they may one day choose to visit us again."
"We recently unveiled Klout for iPhone to give our users instant access to their influence wherever they go. Getting a pass into one of the most luxurious first class lounges in the world is a great example of how they can benefit from that," said Matt Thomson, vp of business development and platform for Klout. "Cathay Pacific is the first partner to make a major offer like this to our mobile users. It's great to work with a brand that has the foresight to understand the power of online influence."
The promotion starts today and runs through July. The lounge is located on the 4th level of SFO's international terminal at boarding area "A" right after the TSA security checkpoint. Travelers already holding a boarding pass simply need to pass the TSA security check-point, walk to the lounge and show the lounge receptionist their Klout for iPhone app with a score of 40 or higher to gain exclusive access. The lounge is open 4 hours prior to Cathay Pacific's flight departure, between the hours of 9am – 1pm and 9pm – 1am. The Klout for iPhone app can be downloaded from iTunes. More details on the lounge can be viewed on the airline's YouTube channel.