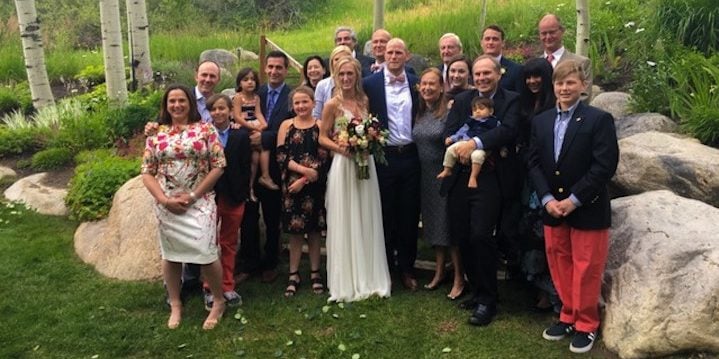 If you're following me on social media (handles listed at bottom), you know that my wife, my son and I were in beautiful Beaver Creek last weekend to celebrate my cousin Bea's wedding. It was a gorgeous outdoor ceremony and it was so amazing to introduce Jack to some more relatives (I'm half-Italian and come from a big family). It was like a mini-reunion.
LAX-DEN on AA
Beaver Creek is 132 miles from Denver Airport and only 10 miles from Eagle Vail Airport. Sadly, there are no nonstop flights between LAX and Vail in the summer like there used to be but American Airlines (AA) does have one in the winter. I didn't want to make a connection and jump on a small plane, especially with Jack since those flights are often delayed, canceled, bumpy and more expensive. So instead, we flew from LAX to Denver on one of AA's A319 planes (the bathrooms were really beat up and one was out of order). I'm so glad they don't use a regional jet on this route. Surprisingly, the flight attendants and gate agents were not friendly at all. This is the first time I've encountered such rude service with Jack by my side. The good news is that we weren't delayed, it was a relatively smooth flight and the flight time was a quick 1:45. Jack was a champ and made friends with a toddler behind us.
AA baggage claim a circus as usual
As per the norm with American Airlines, baggage took a while (I'm really not sure why they can't get their act together) and their Denver ground crew gave everyone on the plane the wrong baggage carousel number. However, I kept my eye on the baggage carousel they announced and stood by the one that the AA app and the email from TripIt listed when we arrived.
FYI: The AA app is helpful since it shows when your bag was checked in, loaded on the plane and unloaded off the plane, although, it didn't show that in Denver. Then right when the bag hits the carousel, it shows it has arrived. I knew not to rush and we were hungry so we grabbed some KFC since they had the fastest moving line but our bags took so long we could have sat down at the Denver Chop House, like we did on our return. It was our first time eating KFC in years, possibly decades and it hit the spot.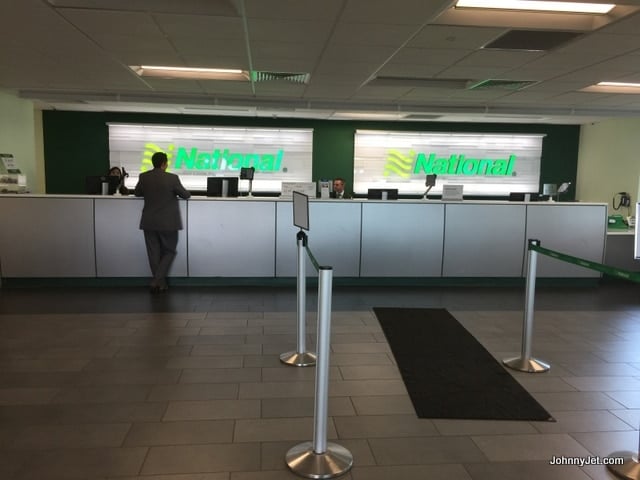 National Rental Car
Like our previous trips (to New York City and New England) I rented a car using Autoslash, since they were offering the best deals via Priceline.

Once again, National Car Rental was by far the cheapest and they run a really smooth operation at DEN. We paid $45 a day for a standard car. I downloaded their app and on the shuttle bus (they come every. five minutes), I priced out what a last-minute rental would be and to my delight, it was $90 a day. When I walked up to the counter, I asked the agent what they were charging for a walk-up and she said that midsize cars were going for $145 day. It made me feel good to know that I did indeed find a great deal.
 A few days prior, I signed up to National's rewards program and I somehow became an executive member. Not sure how since I didn't contact anyone, but it was nice to hear the agent say that I could just go outside and pick any car. I was going to pick the closest one but Natalie wanted to check them all out and we ended up with a sweet and spacious Jeep Grand Cherokee with leather interior.
FYI: You just show your license and rental agreement that's hanging from the mirror to the agent in the exit booth. Stupidly, I chose the gas option thinking that we would be almost empty from the long round-trip drive but the Jeep only used a third of the gas for 270 miles. National got me on that one!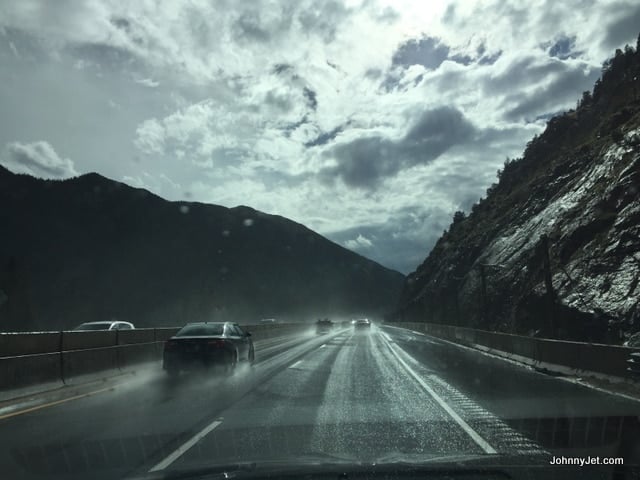 Denver to Beaver Creek
Since bags took a while, we caught Friday afternoon Denver traffic so the drive that would normally take 2.5 hours took almost four. Damn you, American Airlines! However, it was a beautiful drive and it was great to have my family in the car. Jack slept most of the way.

Ritz-Carlton Bachelor Gulch
Most of the wedding guests stayed down at the Beaver Creek Village but we booked the Beaver Creek Ritz-Carlton—aka the Ritz-Carlton Bachelor Gulch—since we've always wanted to stay there and experience it (full disclosure: they hosted us). As you can see from the photo above, it's a beautiful property and here's everything we loved about it…

-It's family-friendly. Practically every guest had kids.

-It's located at the base of Bachelor Gulch Mountain. The chair lift in the backyard doesn't operate in the summer but it must be amazing in the winter to have this ski in/out access.

-The views are jaw-dropping. Rooms either have a valley view or mountain view and we tried both. The latter is much better and more expensive.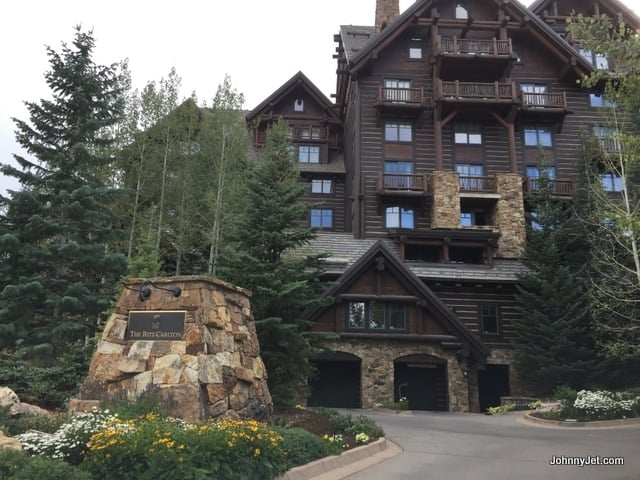 -The décor is like an upscale ski lodge which I loved!

-Beds are comfortable.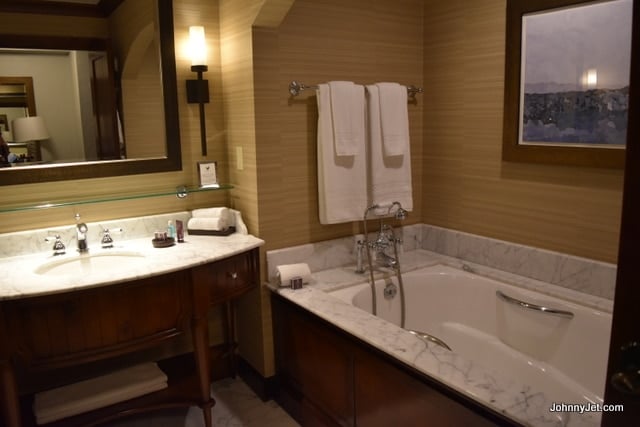 -Rooms have a huge tub that fills up quickly.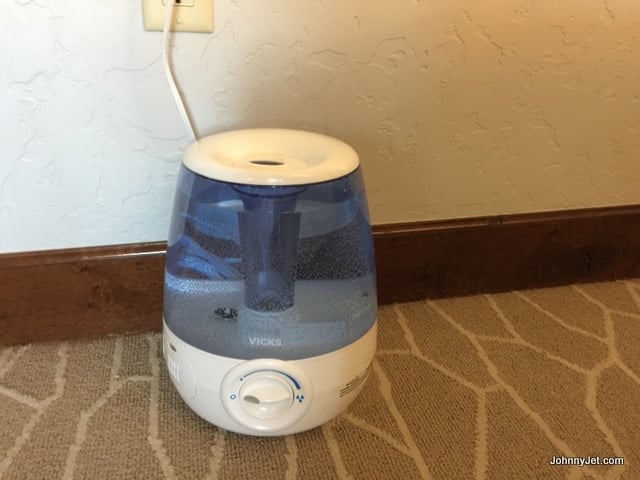 -Rooms have a humidifier, which really helps with the altitude (8,125 feet)

-There are a couple of restaurants. We only dined at the casual Wyld. Their food was really good and the must-have baked potato didn't disappoint.

-The hotel spa is on the third floor (lobby is on the fourth) and there's a separate elevator for it so you can wear your robe down. The therapists are top notch and we each had the Miner's Mineral Mudwrap, which lasted two hours. First you get scrubbed, then you soak in a hot tub for 20 minutes, then get a 45-minute massage. It felt so good my shoulders are wishing I was getting a rub down as I type. Here's the official treatment description: "Our mineral inspired experience uses indigenous ore that is hand mixed during the treatment, to take you on a rejuvenating journey. Foraged from the depths of Colorado's mines, activated charcoal mud is renowned for its powerful detoxifying properties. When coupled with amethyst oil, rose quartz salt, and shea butter, you will leave with a calm mind and uplifted body. Includes full body exfoliation, body wrap, scalp treatment, hydrotherapy bath, and full body massage."

-The hotel has an outdoor pool and two hot tubs, which everyone seemed to enjoy but we didn't have time to try out ourselves.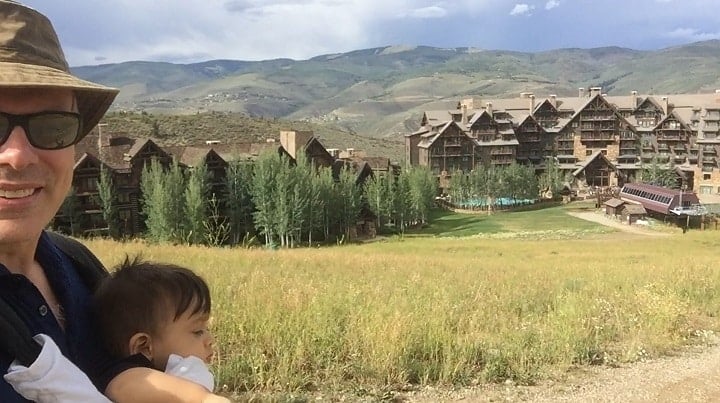 -Jack and I went on a short hike up the mountain, while Natalie got her treatment. The flowers and scenery was remarkable.

-The Ritz-Carlton Club Room is on the eighth floor and like every Ritz-Carlton I've been to, they do a fantastic job with the lounge. There are 5 food presentations each day so there's really no need to go out to dinner. And they have a selection for kids like mini grilled cheese sandwiches or PB&J.
-The hotel staff is super friendly!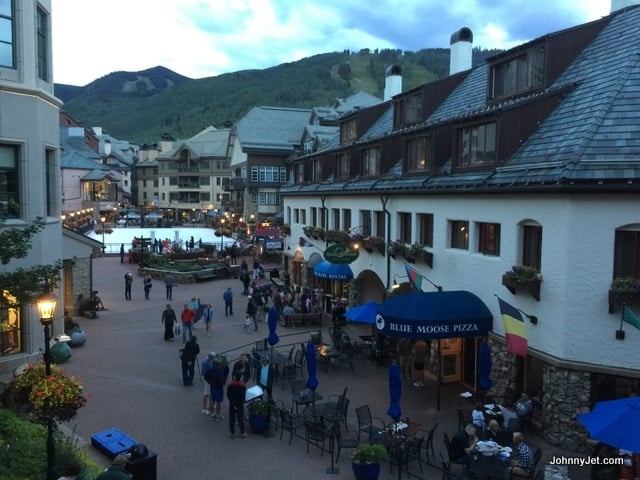 -There's no parking down at Beaver Creek but there's an awesome on-demand free shuttle service. It usually takes about 10-15 minutes and it's just a 10-minute ride to town.
Good to know:
The hotel is dog-friendly. I love dogs and grew up with them but don't love hotels that have them since you can usually hear them barking. I heard a couple and one was so bad that the hotel personnel was pacing back and forth in the hallway trying to find out which room had the culprit. It appeared the owners had snuck it in and we didn't hear that dog bark again so I'm not sure what happened.
There are no electrical outlets by the bed, which is probably a good thing for health and safety reasons, but bad if you like to work in bed.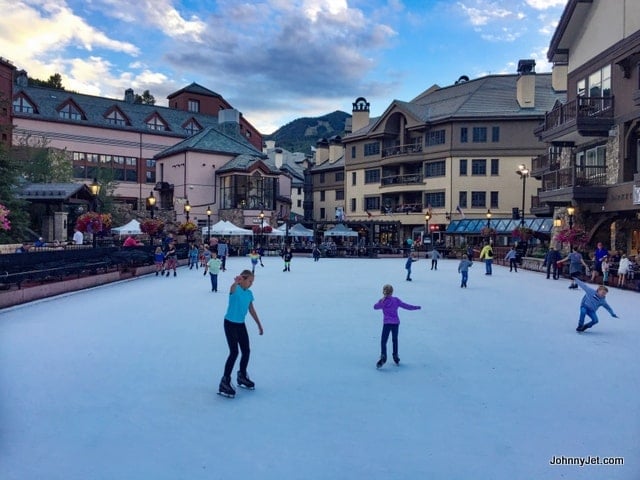 Other trip highlights included going to the rehearsal dinner at The Dusty Boot in Beaver Creek Village. The village has beautiful brick-lined streets, high end shopping, restaurants and kids parks and also has an outdoor ice rink that's open even in the summer evenings from 6pm to 10pm. Admission is $5 with your own skates, $10 for kid rentals and $15 for 13+ rentals.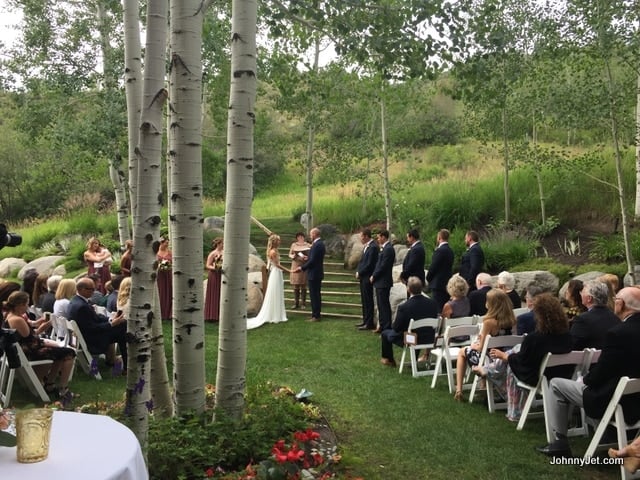 Wedding at Saddleridge, Beaver Creek Village
Bea and Luke picked a gorgeous venue to have a wedding. If you want to get married in Colorado, check out Saddleridge.
Denver to L.A.
Although our flight wasn't until 8:05pm, we left the hotel at 1pm. There was some traffic with construction but we still arrived to the car rental drop-off at 4:00pm. We had dinner in the airport at the Denver Chop House, then checked out the Tattered Cover bookstore and went to the Admirals Club Lounge. Our flight was delayed 90 minutes because the inbound flight was diverted to Colorado Springs due to thunderstorms in Denver and then a passenger needed immediate medical attention. Since we showed up to the airport so early, the delay felt like 10 hours. But the agents in the lounge were friendly and I couldn't help but notice that AA now puts out a huge blue tub filled with snacks (granola bars, chips and mini bottled water) next to the gate agents for passengers on delayed flights. One of the agents told me that American Airlines rolled this customer service policy out about six months ago for all airports, not just Denver, for flights delayed an hour or more. That's a step in the right direction. I wish I could say the same about American's baggage operation at LAX. Our bags took about 45 minutes to come out. I need to go back to carry-on only!
Follow us on social!
You can also follow us on social media. My handles are Facebook | Instagram | Twitter | Pinterest and Periscope and my wife's are: Pinterest | Instagram | Twitter and Facebook.