This week, Airbnb invited me to their 2023 Summer Release in New York. Full disclosure: Airbnb paid for my airfare, transportation, meals and my one-night stay at the Arlo Soho. RELATED: 10 Best Airbnb Rentals in New York City
The highlight of the trip was meeting Airbnb's team and listening to CEO and co-founder Brian Chesky tell us about their 50+ upgrades based on user feedback. Brian admitted that he spends way too much time on Twitter reading customer complaints and showed multiple examples of tweets where the company was getting called out and showed how they're listening.
Below is a list of all 53 additions Airbnb is introducing and below that are the five I'm most excited about:
Here's the full list of 53 features and upgrades

1. Total price display
2. New mini-pins on maps
3. Redesigned wishlists
4. Improved monthly search
5. Transparent checkout instructions
6. Pay over time
7. Faster maps
8. Persistent pins on maps
9. Smarter search autocomplete
10.…

— Brian Chesky (@bchesky) May 3, 2023
The 5 New Airbnb Changes I'm Most Excited About

1. Total price display
Most consumers, myself included, found it a real turn-off when you search for a place to stay on Airbnb (and other lodging apps/website) and the price looks great at first glance but after getting your hopes up, you find out upon checkout that there are all kinds of additional fees (and rules – see #2) which hikes the price considerably up. Airbnb has fixed that with a toggle that shows the total price from the beginning. I hope other companies follow suit.
2. Transparent checkout instructions
Another sore spot for guests and hosts is when homeowners require a whole laundry list of chores, which you don't find out until you read the fine print. I think most guests can understand taking the trash out, shutting the lights off, turning down the heat or AC and locking the doors but for some, stripping the bed and doing laundry, vacuuming and etc. was a real sore spot. One example tweet Brian showed was a guest asking, "What's the point of cleaning fees?" That's why they've now made it clear for hosts to show what guests have to do before booking and they will even send push notifications the day before at 5pm local time to remind them. Airbnb states on their site, "Guests can access checkout instructions directly on their Airbnb Trips tab. They'll find them alongside directions to your place, house rules, wifi info, and other important details. Like your house rules, guests can read your checkout instructions before they book your place."

3. Priority customer service on a trip
One of the reasons I haven't booked that many Airbnb's is because I've heard too many stories of consumers not being able to get ahold of customer service in a timely manner, especially on arrival. Not being able to find the keys to the place, the entry code not working or the host canceling at the last minute is very nerve racking for a traveler. Brian says they've fixed all of this by creating "a dedicated 24/7 support team for priority access when you're on a trip, with a goal of answering 90 percent of calls in English in two minutes or less." I asked what happens if there's a major problem and I was told they can rebook you at a similar property or even get you a hotel thanks to them acquiring HotelTonight (an app I use often).
4. All New Take on Airbnb Rooms and Host Passports
Airbnb's core business and the reason Brian started the company in the first place was to connect people with locals. It wasn't renting out vacant houses but just an extra room. The owner would either give local recommendations, show the guest(s) around the neighborhood, or invite them for a meal. Many guests and hosts became friends from around the world.
Brian said, "With Airbnb Rooms, we're getting back to the idea that started it all – back to our founding ethos of sharing. He also said, "Airbnb Rooms are often more affordable than hotels, and they're the most authentic way to experience a city. This is the soul of Airbnb."
With the economy expected to tank, they've really started to focus on Airbnb Rooms. This new category features a curated set of 1 million private bedrooms and "listings include access to shared spaces, like the kitchen, living room, or backyard."
They also want you to feel like you know the host before you stay by creating a Host Passport. This is exclusive to Airbnb Rooms. "Simply tap the Host Passport to view a larger photo and details Hosts have shared about themselves, including where they went to school, what they do for work, a fun fact about themselves and much more."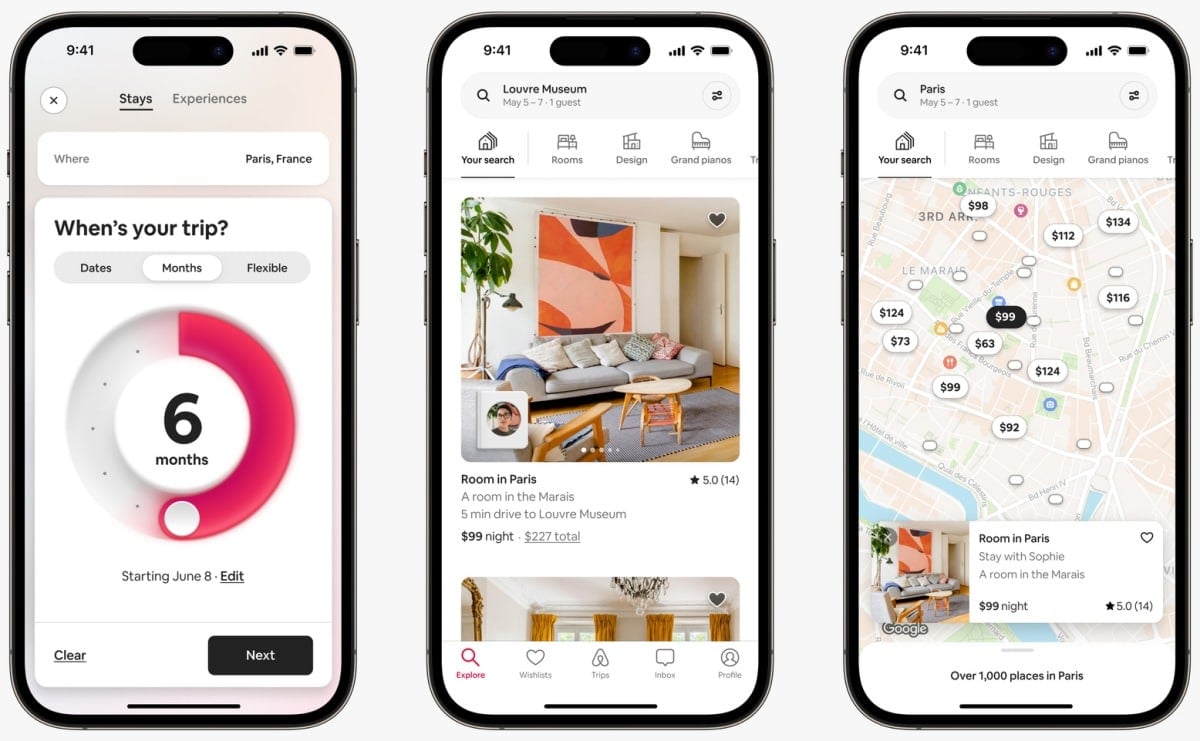 5. Improved monthly search
It's a dream of mine to hit the road for a year, spending a month in a different foreign country. Unfortunately, my wife's not into pulling the kids out of school and homeschooling them. I can't blame her so the compromise would be to spend a month or two over the summer or school holidays somewhere, so we could live like a local. What better way to experience a city and show kids how others live than actually spending a month in a different country?
I didn't get a chance to meet Brian but when he spoke off the cuff, he seemed like a great guy. You can really see his passion for Airbnb, connecting people to create a possibly lasting friendship but definitely a better local experience but he also brought his mother and his two Golden Retriever dogs to the intimate press event. On top of that, he occasionally rents out a room in his own apartment in San Francisco and he bakes cookies from scratch for his guests.
Two decades ago, I couldn't even imagine renting someone else's house or apartment. Like most people, I pretty much exclusively stayed in hotels. But once I broadened my horizons and then had kids, I realized how renting a house, apartment or any space that has a kitchen and at least one bedroom, makes our trips 100% better.
For more information see: Airbnb 2023 Summer Release or Airbnb 2023 Summer Release or: 
Meet Airbnb Rooms — an all-new take on the original Airbnb pic.twitter.com/SMN8frTWMJ

— Brian Chesky (@bchesky) May 3, 2023
KEEP READING:
Want more travel news, tips and deals? Sign up to Johnny Jet's free newsletter and check out these popular posts: The Travel Gadget Flight Attendants Never Leave Home Without and 12 Ways to Save Money on Baggage Fees. Follow Johnny Jet on MSN, Facebook, Instagram, Pinterest, and YouTube for all of my travel posts.