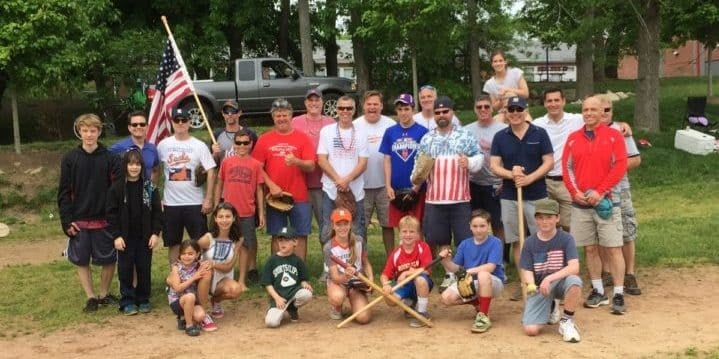 I almost always spend Memorial Day Weekend and my birthday (May 31) in Connecticut, where I grew up, with my East Coast friends and family. However, I didn't think I was going to make it to this year's festivities because my wife, son and I were in the Nutmeg State just the week before. We returned home early after my pregnant wife's doctor recommended she not fly after 24 weeks since her pregnancy is high-risk.
Natalie knows how much I love playing in the annual Memorial Day stickball game with my friends and she said, "I hope you're going back to Connecticut this weekend." Since I waited until the last-minute, fares skyrocketed so I wasn't planning on it.
Since I'm in bed with American Airlines's (AA) loyalty program, I wanted to fly AA. Economy class tickets were over $800 (see screenshot above) for the non-stop and to use miles to fly business class to JFK (44 miles away from Norwalk, CT) was over 100,000 miles (see screenshot below). Way more than what I wanted to dish out.

I don't like to be away from my family so I looked into going to Connecticut just for the day. I planned to take the redeye Saturday night, then head back to JFK in the late afternoon to fly home. When I told my siblings, they thought I was nuts but I've done way shorter trips, like going to Hawaii for dinner.
I know a lot of people rag on American Airlines (and I'm usually one of them) but there really are some great AA perks for elite frequent fliers. I'm Executive Platinum, which means I fly at least 100,000 miles with them and their partners in a calendar year.
One of their sweet spots is allowing customers to hold tickets without a credit card for 24 hours. FYI: All airlines that fly out of the U.S. are required to let passengers cancel their reservation within 24 hours as long as the flight is seven days or more away. But with most airlines, you have to pay and then cancel. With American Airlines, you don't have to worry about canceling, as their system does it automatically. Related: 17 Ways to Find Cheap Flights.
Since this trip was within three days, American wouldn't let me hold the tickets. I kept checking flight loads and debated whether I should pull the trigger. I need to spend at least $15,000 a year to retain my EP status, with which I get all kinds of great American Airlines perks including free upgrades when space is available on domestic flights.
I didn't want to do that trip unless I was flying business and I picked flights that had a good amount of inventory (I use ExpertFlyer; see screenshot above or click this link to learn more about it).

American allows customers to hold frequent flier tickets even if it's within the seven-day window. I kept pricing out mileage tickets because rates often change close to departure, but I put an economy ticket on hold just because I could.
I also wanted to make sure that if I did decide to fly coach, I had the best seat possible, which is in the exit row (row 15) on the A321T.
On Thursday night, I put the 12:30am flight (arrives JFK at 9:15am) and the 8:30pm flight for the return (it arrives just before midnight) on hold. A few hours later, I received an email from American stating that my upgrades had gone through in both directions!
I had totally forgotten that American Airlines allows elites to upgrade for free even when using coach mileage tickets. That's awesome. I almost never use AA miles to purchase tickets for myself since I'm tangled in the airlines program. I always use miles for friends and family and they don't have status so that's one American Airlines perk I never see.
Being upgraded to lie-flat seats really changed my attitude about going because it would make the trip so much easier. I booked the tickets the next day for a total of 40,000 miles and $11.20. I then booked a car service via Blacklane (I'm one of their brand ambassadors) and the trip really became a breeze.
Everything was going as planned. I arrived at LAX on Saturday night around 11pm. There was no traffic or line at TSA PreCheck (there was a hefty one at regular security). I zipped through, went to AA's swanky Flagship Lounge, which passengers flying business or first to JFK can use. Premium international customers can, too.
The lounge closes at 12:45am and was fairly crowded. I ate dinner and went to the gate 30 minutes before departure, which is when they usually begin boarding the JFK flight.
The gate agent announced that the plane had landed but was sitting on the tarmac because another airplane was blocking the alley to the gate. After 15 minutes, the agent said they were still waiting. This is what drives me batty about American Airlines and LAX. You sometimes have to wait an hour just to get a gate or to pushback for departure.
By this point, I was tired, it was late so I couldn't call any friends or family, and I didn't feel like working on my laptop, so I just sat there and did nothing. That's when my mind began to wander. I started calculating how much time I would now have on the ground thanks to the delay and I started thinking maybe my brother and sister were right, that I was nuts to fly across the country just for a few hours.
I went to the gate and asked if I could get my miles back if I didn't go. The agent said, "Of course, but you will have to call the 800 number. But just let me know so I can give away your [plush] seat."
I thought: If the plane was an hour late that would mean that the highway to Connecticut would most likely have traffic and there'd be a good chance I would miss much of the festivities and then it just wouldn't be worth it. So I handed him my ticket and went to the Admirals Club to see if they could issue a refund there, to avoid calling and to just get it done. The agent in there said they couldn't and I had to call. So I called while walking to the Uber pickup and the agent gladly refunded my miles and the $11.20. It took just three minutes.
It turns out I made the right choice because in the morning, my wife started experiencing crazy pain and could barely get out of bed. A couple of days later, Natalie's doctor sent her to the hospital because she had developed an infection. She's fine now (I don't know how women go through pregnancy) but I'm so thankful I didn't get on that plane. Sometimes life works in mysterious ways. My wife needed me and home was exactly where I needed to be.