I'm an outdoorsy kind of guy. Maybe not as rugged as some, but I love being outside, being active, and enjoying the sun. My wife, on the other hand, is a self-proclaimed indoorsy kind of girl. She likes books. Scratch that. She LOVES books. She likes to spend her free time reading and drinking tea. I guess it's true that opposites attract.
That's why the idea of glamping appeals to both of us – it offers a little something for everyone. Glamping is 'glamour camping' and just to be clear, we're not talking about sleeping bags tossed on the ground in a tent you broke a sweat trying to erect. Glamping takes camping to new levels of luxury and has quickly become one of the hottest trends in eco-luxe travel and more and more destinations are offering these upscale camping experiences. I've never been glamping in the United States before (although I've been fortunate enough to stay at Richard Branson's tented camp Mahali Mzuri in Kenya) but it's definitely on my list of things to do. If, like me, you're exploring your glamping options, here are 5 places to consider:
1. Fireside Resort
Fireside Resort is Jackson Hole, Wyoming's first nature lodging experience. Open year-round, it's an all-season destination that's located minutes from the ski slopes and Grand Teton National Park. There are both cabins and tents, but whichever you choose, you can count on the accommodations being plush. There are 20 cabin rentals that provide luxury linens, flat screen TVs and of course, as the resort's name suggests, a cozy fireplace to spend your evenings in front of. The tents on the other hand, combine the most luxurious aspects of the cabins (king size bed, luxury linens, and cleaning services) with the outdoors, meaning guests will enjoy all the resort's amenities while sleeping under the stars, listening to the surrounding sounds of nature. There's even a bathhouse, which boasts rain showers, heated floors and luxe bath amenities. There's WiFi throughout the resort but this might be the place to really disconnect and trade in your smartphone for s'mores around your own private campfire.
2. The Ranch at Rock Creek
The Ranch at Rock Creek in Philipsburg, Montana (the site of Kate Bosworth's celebrity wedding, by the way), offers visitors an escape to a spot that's surrounded by nature's bounty and features luxury accommodations and endless ways to enjoy the outdoors (fly fishing, anyone?) There are a variety of accommodations, depending on what you're looking for. If you're traveling with a family, there are four Family Canvas Cabins that feature two rooms separated by a curtain, plus a comfortable reading nook (you know my wife is sold on this option!) The Sweet Grass Tent is a luxury, two-bedroom tent that's also ideal for families or even two couples traveling together. The Classic Canvas Cabins are perfect for couples, offering private baths and a spacious living area. And for the ultimate in romantic seclusion, try the Trapper Cabin, a 600 square foot suite situated on the banks of Rock Creek. Whatever you decide, The Ranch at Rock Creek, which received the Forbes 5-star Travel Guide award earlier this year, offers up an experience that's both luxurious and in touch with nature. From the serene spa to the private yoga sessions, a nature escape to The Ranch at Rock Creek is one that's sure to revitalize and rejuvenate. End your days here riding a horse off into the sunset. Literally. Sounds pretty perfect.
3. Westgate River Ranch
When you think of traveling to Florida, it's a safe bet that you're likely thinking sun and sand. Maybe even Disney World. But glamping might not make it onto the list. So you might be surprised to learn about Westgate River Ranch in River Ranch, Florida. It's located in the middle of the state, between the Atlantic and the Gulf coasts in Polk County (about an hour south of Orlando) and offers an outdoor experience that families and couples will love. The ranch features a 10-unit glamping spot where fully furnished, air-conditioned canvas tents are set on platforms in a wooded area. The tents are kitted-out with a comfortable bed, power, a refrigerator, ceiling fans and wood floors. Guests are even treated to the personal attention of a concierge who will make sure that the tents are tended to as if it were a hotel room, provide extra blankets on chilly nights, light nightly campfires and deliver tea, coffee and juice in the mornings. Sounds like the only thing you'll have to do is sit back and relax.
4. Mustang Monument
There's camping. There's glamping. And then there's sleeping in a tipi under the stars in Nevada. Mustang Monument is a wild horse eco-resort that sprawls across 900 square miles, just outside of Wells, Nevada. It's a sustainable resort and preserve for wild horses and offers guests a real American safari experience. Majestic mountains provide the perfect backdrop to the accommodations at Mustang Monument. Guests will stay in 300 square foot tipis that feature hardwood floors, leather chairs and custom-made beds. During the day, there are plenty of adventure activities to participate in, including horseback riding excursions, guided hikes, Native American beading and moccasin classes, roping lessons and more. And no luxurious getaway is complete without a spa experience so be sure to indulge in an in-tipi spa treatment.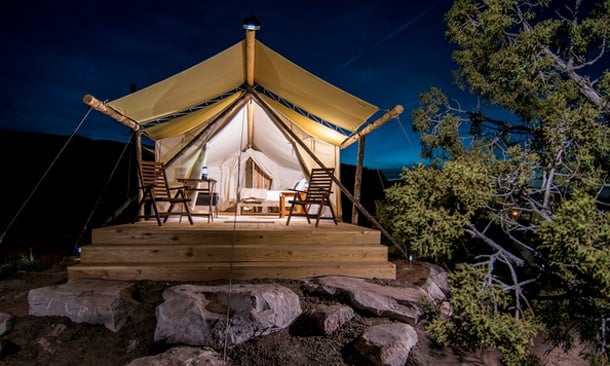 5. Moab Under Canvas
Moab Under Canvas is located about seven miles north of Moab, Utah and is conveniently located near to Arches National Park and Canyonlands National Park. The camp is situated on 40 acres of desert land and offers guests an authentic and unique desert camping experience – all without sacrificing creature comforts. Moab Under Canvas features a variety of tented accommodations at varying price points to suit your budget. A basic safari tent includes full bed linens and towels as well as furniture including, beds, rugs, safari chairs, a coat stand, a chest of drawers, bedside tables and a lantern. The suites are the most luxurious option, which, in addition to the safari tent offerings, provide guests with a private ensuite bathroom, a bedroom wing and lounge area, complete with a sofa bed. Be sure to pack your adventurous spirit because while you're there, there are lots of activities to try during the day, including hot air ballooning, rafting on the Colorado River, Hummer tours, rock climbing, and mountain biking.
* This is a sponsored post.