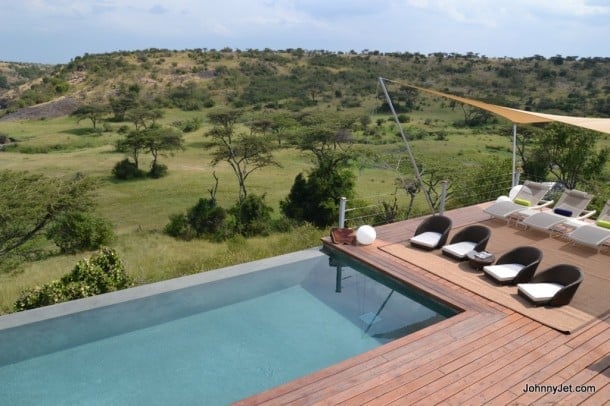 The safari hotel Mahali Mzuri belonging to Richard Branson has been named Best Hotel in the World by the Travel + Leisure Awards 2021 and I can attest to the fact that it's a truly special place. I had the great honor of being among the first guests to ever stay there when it first opened in 2013 and it was an unforgettable experience. Here's my trip report from that amazing stay:
From June 2013
Jambo! I have the honor to be among the first guests to stay at Sir Richard Branson's Mahali Mzuri Kenya Safari Camp. It's located in the Motorogi Conservancy in the Masai Mara in Kenya. The 12 unique tents sort of resemble the shape of a spaceship … and are making ordinary safari lodges extraordinary. Not surprising since Richard Branson is anything but ordinary. The tents were designed and constructed by Kenyans and the general manager says it's a testament that things can get done in Africa.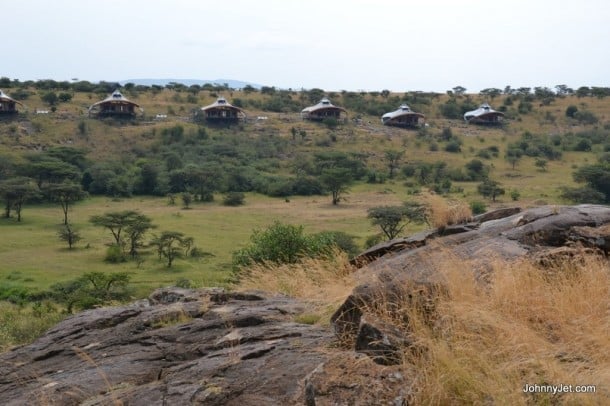 What's interesting is that each tent is named after one of the 12 Masai tribes located in the conservancy. Mahali Mzuri has a jaw-dropping backdrop, set on the ridge of a valley. Sprawling plains can be seen as far as the eye allows. Like most safari lodges, all the rates include all meals and drinks (including alcoholic beverages), daily game drives, unlimited access to the exclusive Olare Orok and Motorogi Conservancies, transfers from the Mara North airstrip, guided bush walks, visits to the local markets, complimentary laundry service (dry cleaning not available) and all taxes. Mahali Mzuri also has a spa treatment room, an infinity pool and free Wi-Fi in throughout the property.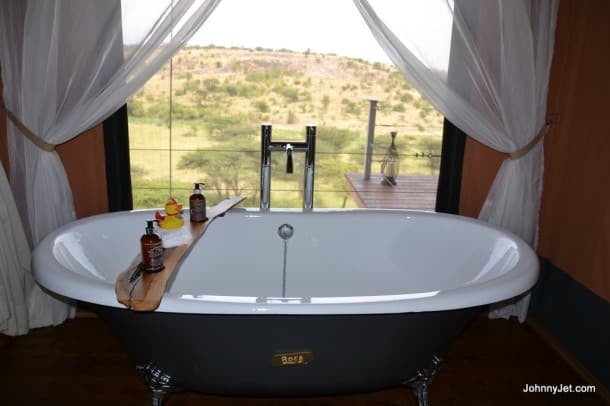 GOOD TO KNOW
Rack rates starting from $945 are quoted per person, per night and are priced in US dollars. But you can probably find cheaper rates through a travel advisor/agent
Sir Richard Branson's Mahali Mzuri Kenya Safari Camp doesn't officially open until August 1, 2013.
Mahali Mzuri is 45 minutes from the commercial airport.
It's 20 minutes from a private landing strip.
Due to conservancy rules, only 24 guests can sleep at Mahali Mzuri a night. That means that if the two family tents (#7 & 8) have two children each, they can't sell two of the other rooms.
Children under 8 are not allowed.
Tent #1 and #12 are the furthest away from the lobby tent, which is smack in the middle of all the tents.
Tent #3 is closest to the valley floor, tent #7 is highest and closest to the lobby.
There's 41 staff members; only three are expats. The rest are locals.
Altitude is 1,700 meters above sea level.
Log on to Mahali Mzuri's website and you'll find that it's informative and that their "Things To Do" page is hilarious!
There are iPads for guests to use.
Guests are welcome to grab drinks from the bar fridge anytime, really  making you feel at home.
Electrical outlets are on the ground and not easy to get to, nor do the bulky battery chargers/universal plugs always fit. Best to bring an extension cord and UK adapter.
Internet is a decent speed and you are able to Skype, which is amazing – especially when you remind yourself you're in the middle of the African savannah.
Game drives depart at 6:30am and 4:30pm.
Afternoon tea is served at 4pm.
There are electrical outlets in the safari jeeps.
In the spirit of conservancy, they don't use plastic bottles; water is filtered.
You need to be escorted to/from your room at night by a Masai carrying a spear or bow and arrow. There's also security with machine guns. They are most worried about lions.
The rooms do come with keys but I never locked our door.
The 'do not disturb' sign is a spear – you stick it in the hole closest to the door for privacy.
You have a choice to keep the curtain 'flaps' zipped up at night or keep just the screen setting.
The chef is the GM's brother. They are both originally from Australia. He used to be Sir Richard's cook on Necker Island. The two have been camping on the site's location for about five years.
The food is very good.
There are mini bars in room – everything is included in price.
Towels are long and soft and they encourage you to use one to conserve water.
Pillows are long and soft, comforter is heavy.
Since it's so close to the equator, things stay relatively the same year round. Sunrise is around 6:30am and sunset is at 7:30pm.
Meals will be at a communal table unless guests want to eat alone or in room.
There's a 136 steps down to the spa treatment room
They offer guides and protection to go on a walking safari.
Having lunch outside and watching a herd of elephants walk by down below through the green lush field felt like I was in a Steven Spielberg film.
Below is a selection of photos that I took within the first hour of arrival. I hope you like them!
If you're interested in planning a trip like this or exploring other high-end vacation options, please contact my travel agent partner, Royal Travel & Tours by contacting Kendra Thornton at kthornton AT royal-travel.com or call 800-747-7695 ext. 108.
Note: This trip sponsored by Micato Safaris