It's Veterans Day and although I've never served in the military, there's not a day that goes by that I don't think of all the sacrifices our brave soldiers have made to allow me and the hundreds of millions of people in the USA and abroad, to live the lives we live. I try to show my gratitude as often as possible, including either giving my upgrade to soldiers or upgrading them next to me using my miles and points. READ: Travel Tip: Give Your Upgrade to a Soldier

I wrote a tip about one of my experiences upgrading a soldier all the way back in 2012 and six years later, I got an anonymous comment (on this post) from that very soldier. It makes me cry every time I read it.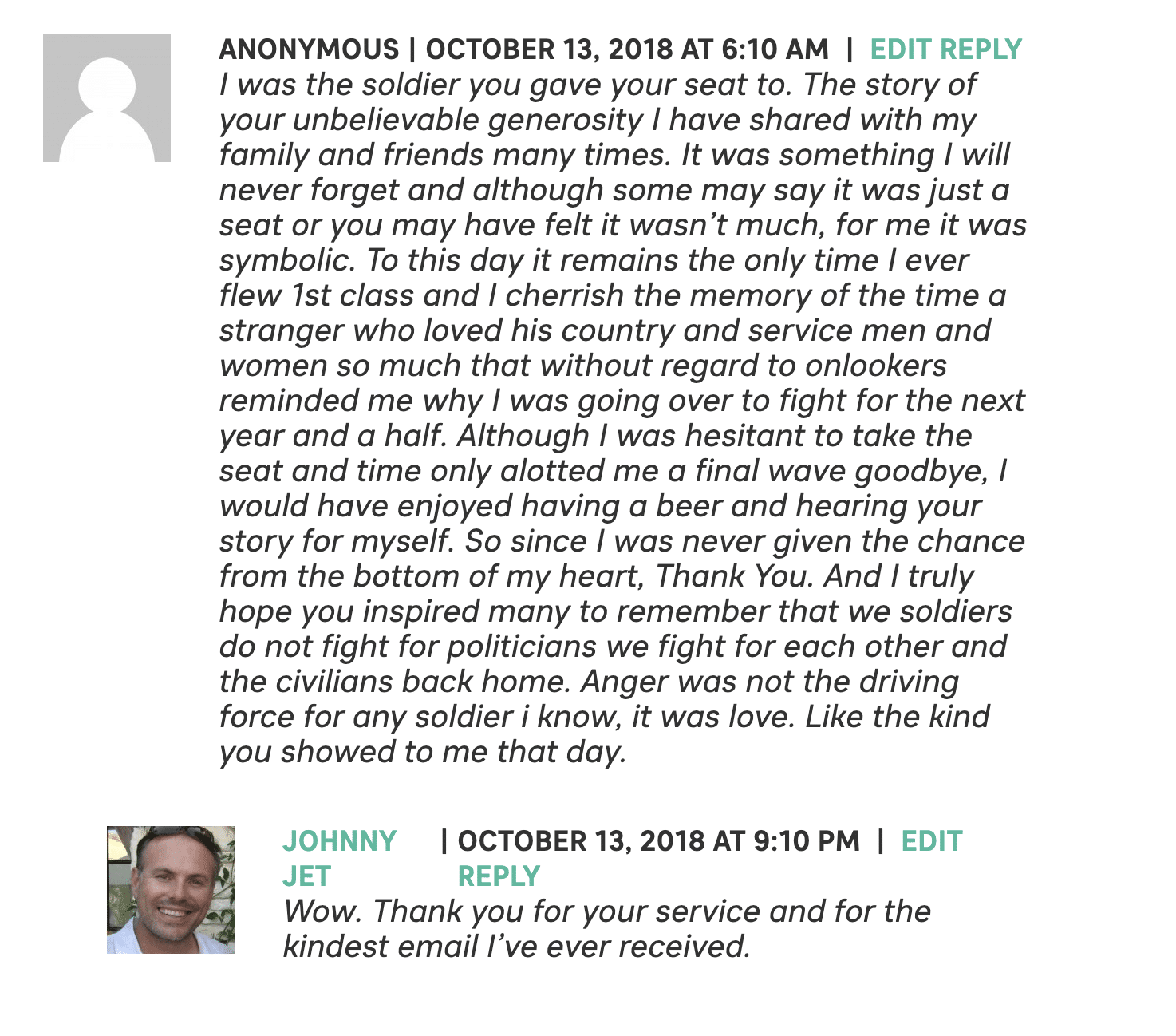 Another comment that makes me cry is one that was left on Yahoo when they published my story about a fallen soldier on my flight. Yahoo has since removed all the comments so I'm glad I took a screenshot of it.
I've been on two flights where we have escorted fallen soldiers home and they are very somber, emotional flights. My first one was on a Delta Air Lines Atlanta to Los Angeles flight and we didn't find out there was a fallen soldier onboard until forty minutes prior to landing. The captain made an announcement and when we landed, the plane was greeted by a water cannon salute. It was the most emotional flight I've ever been on. You can read that story here and watch the video below:
The second time was on an American Airlines flight from Honolulu to Los Angeles and the captain told us during boarding so we wouldn't be alarmed if anyone saw a casket being loaded onto the plane. All the passengers' happy Hawaii smiles quickly turned to tears as that puts things in perspective real quick. I don't think I heard any passenger complain about anything for the entire five-hour flight.
So in honor of Veterans Day, here are some ways to honor Veterans and active military, including when you travel:
1. As, I mentioned above, upgrade a soldier to say thank you.
2. Pass your extra drink vouchers to a soldier.
For the rest of the tips, my thanks to the Behavioral Health staff at the Spokane VA Medical Center for creating a list of ways you can honor a Veteran. The US Department of Veterans Affairs website no longer contains the full list but you can read them all below. This information is so important and I hope you'll share it as well. We all have a shared responsibility to never forget our Veterans and to honor them all year round, not just one day in November.
1. Attend a Veterans Day event.
2. Ask a Veteran about their time in the military, and really listen to the answer.
3. Hang a flag in your yard.
4. Ask an aging Veteran to share with you the song that most takes them back.
5. Visit the gravesite of a Veteran.
6. Visit a homebound Veteran in their home, talk with them, and thank them for their service.
7. Visit a homeless Veteran under a bridge and do the same.
8. Take a Veteran out to dinner.
9. Take dinner in to a Veteran.
10. Tell someone (your family, a friend, a neighbor) about an experience you had serving a Veteran at the VA.
11. Take flowers to a Veterans memorial.
12. Write and send a letter to someone who's currently serving in the military.
13. Ask a neighbor about their deployment.
14. Call a Veteran family member.
15. Thank a Veteran co-worker for their service.
16. Take a private moment to be proud of your country.
17. Teach someone (a child, a friend, a neighbor) what it means to be a Veteran.
18. Share pictures of a Veteran with someone.
19. Say a silent prayer for those who are serving.
20. Learn about a current or past war/conflict (this will make you a better helper).
21. Look up your ancestry and learn about someone in your family who was a Veteran.
22. Hug your family and tell them that it's thanks to Veterans that you get to.
23. Observe a moment of silence with family and friends.
24. Read something a Veteran wrote about their experience.
25. Wear your favorite "Pro-Vet" T-Shirt. (Examples: Free Hugs for Vets; Remember Our Fallen Veterans; Freedom is not FREE…; Thank a VETERAN; I Heart Veterans!).
26. Buy a Buddy Poppy. Wear it all day, attach it to your purse or bag and keep it there until it falls apart. When people ask what it is, tell them.
27. Read and share the poem "In Flanders Field the poppies grow".
28. Make sure your children and grandchildren know who the Veterans are within their own family and share the family stories with them.
29. Do a project about Veterans with young children or grandchildren. For example, let them make their own Veteran flag and plant it in a pot of flowers in front of the house.
30. Write on your blog about your appreciation for Veterans.
31. Help young children or grandchildren make a thank you card and post them in the window or at a grocery store bulletin board or library or some other public place.
32. (Good for any day:) Stand out in front of the VA greet Veterans as they are being dropped off at the door. Some older folks even need a hand getting out of the car.
33. Tell a loved one why you enjoy serving Veterans.
34. Buy a homeless Veteran a cup of coffee.
35. Donate time or money or supplies to local Veterans Day drives.
36. Volunteer to help a Veteran's Service Organization (there are lots!).
37. Take a moment to reflect on what it means to live in America.
38. Gather with friends and family and watch a patriotic movie.
39. Go to a Veterans Day parade.
40. Write in your journal how thankful you are for the service of Veterans.
41. Take a quiet moment and imagine hearing "Taps" played in your head. Think about what it means.
42. Thank a Veteran of his/her service while doing errands.
43. Shake a Veteran's hand.
44. Send an email that tells a Veteran's story to the people on your contact list.
45. Pick one or two of the activities listed above and resolve to do them at least one time every month this year when it's NOT Veterans Day.
Lastly, donate to a Veteran charity to assist injured troops and their families. Here's a list of 10 charities that have big impact via Military.com.
Remember: Without these brave men and women protecting our beautiful country, we wouldn't be able to live the lives we lead. We are forever indebted to them. My deepest thanks to all members of our military and to our Veterans.
Want more travel news, tips and deals? Sign up to Johnny Jet's free newsletter and check out these popular posts: The Travel Gadget Flight Attendants Never Leave Home Without and 12 Ways to Save Money on Baggage Fees. Follow Johnny Jet on MSN, Facebook, Instagram, Pinterest, and YouTube for all of my travel posts.