Indigo—a four-month-old puppy—and I went on a visit to southern Vermont in early February. It turned out that this was an excellent time to go. The quintessential New England town of Manchester had a coating of snow and the temperatures were unusually mild. The best part was that the normally crowded town was pretty quiet, giving us all of the attention of gallery and shop owners.
Glass-blowing
Our visit to Manchester Hot Glass, where I did my first glass-blowing lesson ($100) under the tutelage of owner Andrew Weill, proved to be a fun experience and a great introduction to glass art. Andrew opened Manchester Hot Glass in 2000. With his smooth directions and sardonic sense of humor, I turned out a beautiful wavy glass bowl in the colors of my choice (indigo of course, with a deep aqua blue). Studio mate Rebecca walked Indigo while Molly assisted in the lesson. Molly also makes delicious honey.
Andrew has had five-year olds making paperweights! Next time, I'll go back with a friend for a two-hour private lesson for $350 and really learn the fundamentals of this ancient skill. 
To the art galleries
As Indi and I continued to walk the historic part of Manchester, she sniffed out Pets Etc, where she picked up a favorite toy. We walked into adjacent Tilting At Windmills (pet-friendly), a traditional art gallery. Gallery owner Terry Lindsey was so nice, even telling us where the local dog park is.
Next was a meeting with owner John of John Zaccheo fine art gallery. John's portraits and landscapes hang in many museums and he gets his inspirations from his extensive travels. Other talented and innovative artists are also exhibited here.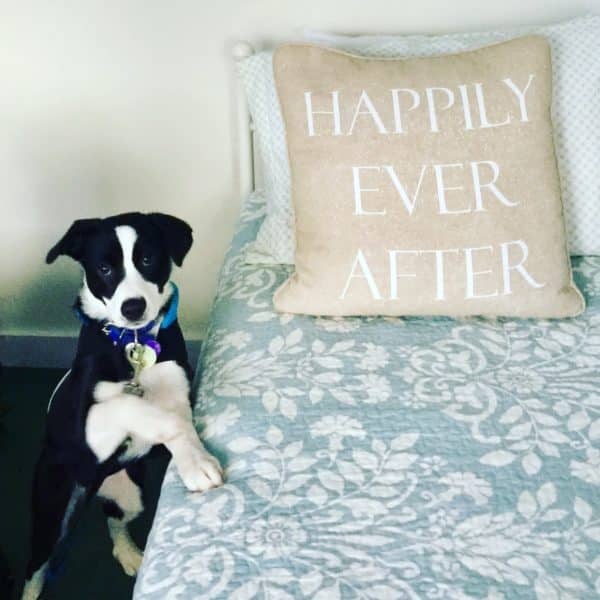 Home for the night: the Wilburton Inn
After our long drive, glass-blowing lesson and visits to art galleries, it was time to check into the Wilburton Inn, a classic, iconic mansion with several outbuildings. Indi and I were in a pet-friendly cottage, decorated in chintz that reminded me of my days at New York School of Interior Design in the 80s when Mario Buatta's chintz curtains and sofas were all the rage. The comfortable king bed and jacuzzi tub made this a relaxing spot. The Inn is located on a private hill top with breathtaking views of nearby mountains.
The mansion's rooms are pictured in the gallery and below and decorated in traditional colonial New England style and has an amazing collection of antiques through out. Outdoors, I let Indigo off the leash to get her Ya-Ya's out while we walked the dome-shaped property and enjoyed the incredible 360-degree views. It would be great to rent the entire mansion and outbuildings for a family reunion. Or better yet, a murder mystery weekend!
The grounds are interspersed with very large sculptures, and right outside my cottage there were 16-foot tall gold men lit up in the night. The sculpture garden is spread across the entire property and fits with the founder's philosophy of working out conflict through art. If you're interested in his teachings you can go to his Museum of the Creative Process in Manchester. 
Dinner and breakfast
Later, I went into Manchester on the way up to Stratton for dinner at the cozy Perfect Wife, known for fresh ingredients, great wine and really good food.
The next morning, Indigo and I walked (I snowshoed; she hopped) the spacious snow covered grounds, and I was treated to a wonderful home-cooked breakfast (prepared by Michelle) of country bread baked by the owner's son, a Texas omelette with spinach, fresh fruit cup, and a box of dog biscuits (for Indi!).
After breakfast I visited the Northshire Bookstore, a quirky bookshop with over 10,000 square feet dedicated to books and the best espressos in town at their homey café.
More art!
On the way out we stopped by the Southern Vermont Arts Center, an arts center started in the 1920s by the artistic summer community and surrounded by a large outdoor sculpture park. In the summer, this place is bustling with art, patrons and a café. The outstanding landscape and paintings make it a high priority. And a wonderful place to leash-walk the dog.
Our final stop was the Bennington Center for the Arts, off the beaten trail on Gypsy Lane but totally worth visiting. It was like a trip to Cody, Wyoming, with fine oil paintings of coyotes and other animals from the western U.S., a collection of Native American art, fine impressionist paintings, and a section devoted to the covered bridges of Vermont. Bennington has 5 of the 103 still standing.
Next time you're planning a trip to Vermont, make sure to include time for the mountains of art. You'll be happy you did.
---
For more: Check out vermontartscouncil.org and vermontartscouncil.org/blog/arts-and-alpine to see upcoming events.