Last spring, on a midweek getaway sponsored by Ski Vermont, I was fortunate to ski at Killington and Pico resorts, both in the town of Killington, Vermont. Together, the resorts have nearly 2,000 skiable acres, but each has its own feel. Killington is two great winter opportunities in one town.
Here's how we spent our days there:
Settling in
Killington Resort, known as the "Beast of the East," is massive. It's the largest ski and snowboard resort in eastern North America, but don't let that keep you away from this friendly snow park. The newest accommodations are at the Killington Grand Resort Hotel (from $173/night), which is right on Snowshed, Killington's beginner mountain. It's accessible by a snow bridge that can be skied over or walked over depending on weather conditions.
Because we decided bring our dog Indigo, we opted to stay off the resort at the pet-friendly Inn at Long Trail (from $100/night), an historic inn right on the Long Trail complete with friendly innkeepers, great rooms with fireplaces, hot tubs, musical instruments, and jigsaw puzzles. I loved the homey whiskey bar with Guinness on draft being a favorite (poured with shamrocks on top like hearts on cappuccinos!).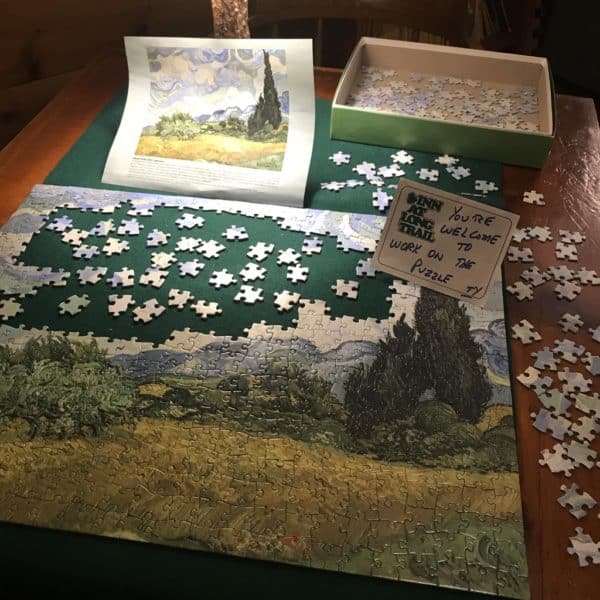 The inn's restaurant is built into a huge boulder and offers good views of nature from the back of the inn. For dinner we had the Guinness beef stew at the bar. Hearty and always good.
Tip: Check out the Inn at Long Trail's guest book with all of the signatures of the Long Trail thru-hikers and their trail names!
On the mountains at Killington and Pico
Our favorite places to ski at Killington are Big Dipper, Needle's Eye and Bear Mountain. Needle's Eye has a cute beer-and-brats place (outside only), and you have to eat at Jerk at the bottom. It's really good Caribbean.
We had lunch at the Peak Lodge, which was absolutely beautiful and right off the fast, eight-seater K1 Express Gondola.
Skiing Killington, we experienced the new covered six-seater chairlift, which is awesome. The Snowdon Six Express bubble chairlift zooms you up 1,100 vertical feet fast! We loved being inside the blue dome. It was cozy on the inside, no matter what was going on on the outside.
Killington is also making a commitment to the environment by reducing its carbon footprint by 50% over the next 10 years using solar-powered snowmaking devices and new energy source called biogas from cows!
After a long day of skiing it was fun to visit the Ledgewood Yurt, tucked in the woods off Killington's Snowshed Quad. We enjoyed Vermont maple drinks with Vermont-distilled vodka served by adorable bartenders inside the cozy and fairytale-like yurt.
Pico Mountain, the home of the other resort in town, is a pretty big mountain but more of a family resort than Killington is. It's the ski spot for many of the locals. There was a cool rain on the day we went, so while Cam skied I enjoyed the pool and sauna at the fitness center. He really loved his time on Pico, even skiing to the graves of Olympic gold medalist Andrea Mead Lawrence's parents, who founded Pico in 1937.
Vermont Adaptive, an organization that assists people with disabilities ski or snowboard, is also located at Pico at the Turtle Ridge Center.
Vermont, we'll be back!
Before saying goodbye to Killington and our friends from Ski Vermont, we stopped at Preston's at Killington Grand Resort Hotel. It's a great place for hors d'oeuvres and cocktails from Vermont. We also stopped at one of my favorite coffee house/art galleries, Liquid Art, which serves authentic espresso drinks, homemade food and inspired cocktails.
Our midweek spring getaway at Killington and Pico and the Inn at Long Trail gave us a chance to appreciate the last of winter and avoid the crowds. And now, the winter skiing season is upon us again. Both resorts are awaiting snow and ready for visitors. You can see trail reports for each below:
On a final note, Killington is once again hosting the Audi FIS Ski World Cup on Thanksgiving weekend. Mikaela Shiffrin has won slalom the last three years and will be back once again this year. General admission is free!