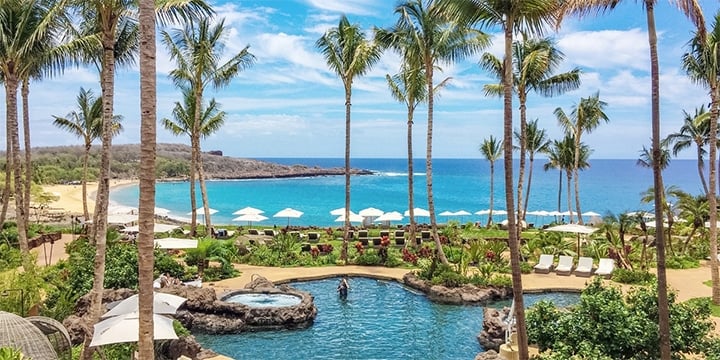 If you've been following my travels on social media, then you know that my wife and I were in Hawaii for an epic babymoon. Our first stop was the Four Seasons Resort Oahu at Ko Olina (Full disclosure: Four Seasons Oahu and Lanai sponsored most of our trip).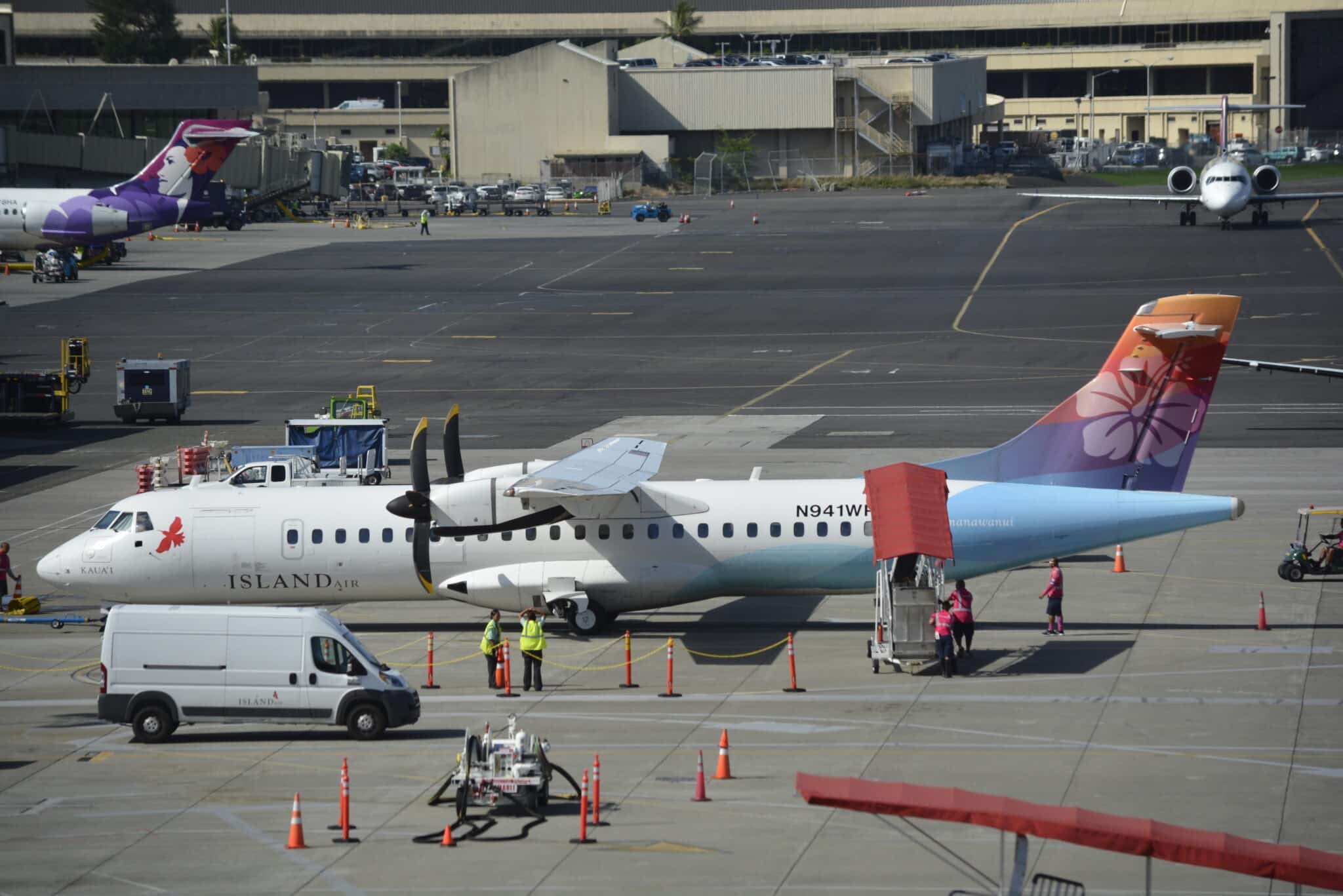 Ohana by Hawaiian
After four nights at the Four Seasons Resort Oahu on the western side of the island, Natalie and I reluctantly checked out and drove 25 minutes back to the Honolulu Airport. There, we checked in for our Ohana by Hawaiian flight; they offer five flights a day to Lanai City. Since we had packed light as we normally do, we didn't have to pay the $25 baggage fees. TIP: If you are a HawaiianMiles member, it's $15 to check a bag (a good reason to sign up for the program since it's free). Ohana by Hawaiian flies ATR 42 aircraft; since they are small (48 seats), you will need to gate check (free of charge) any oversize carry-on bags you went through security with.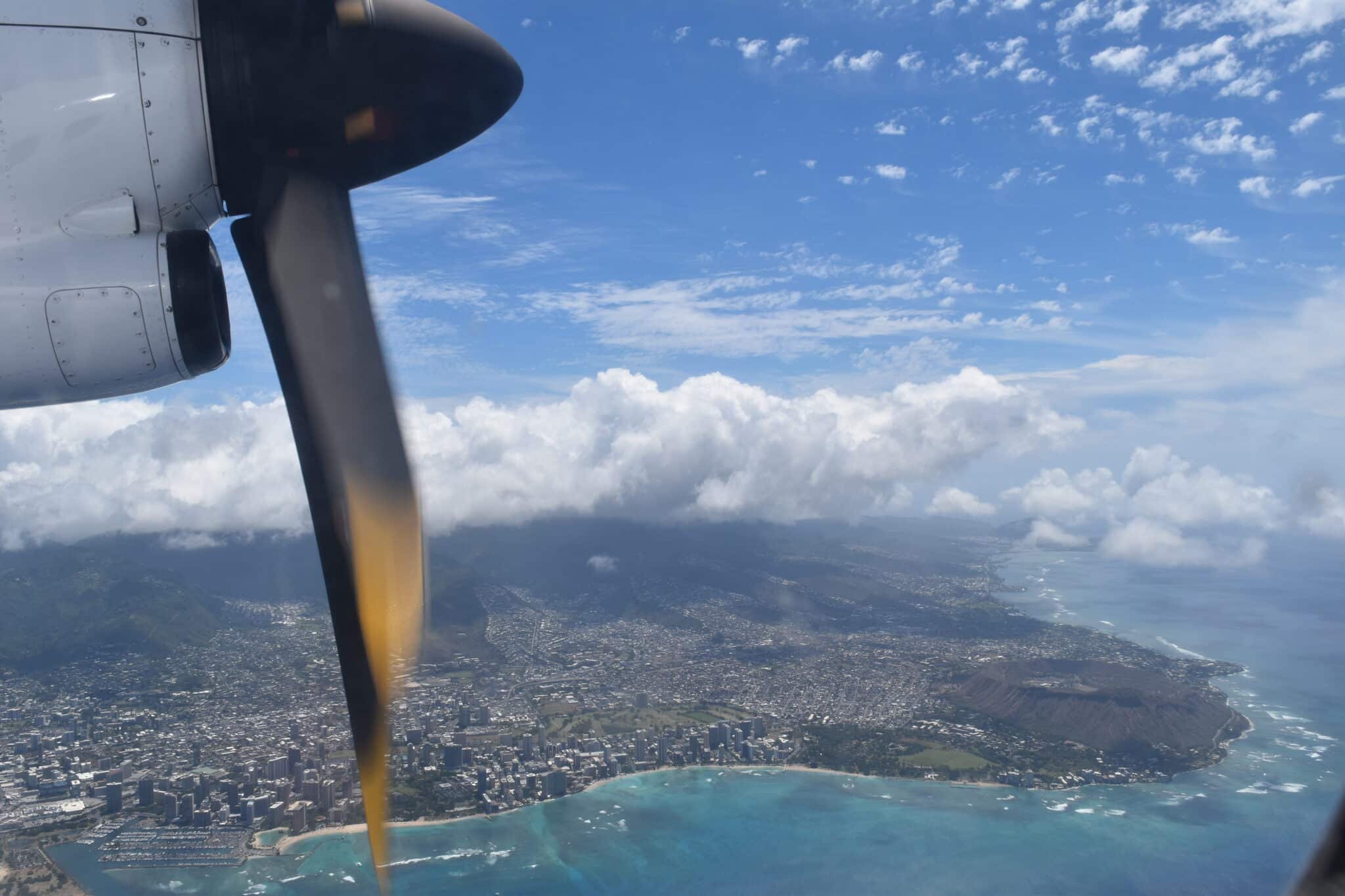 Honolulu to Lanai City
Flight time is just 21 minutes (give or take three minutes) and our ATR 42 must have belonged to the Czechs at some point because the emergency door handle instructions were written in both English and Czech. The flight is so short, it's surprising the flight attendants offer POG or water once in flight. What's even more surprising is that Ohana by Hawaiian offers the most unique form of in-flight entertainment that I've ever seen.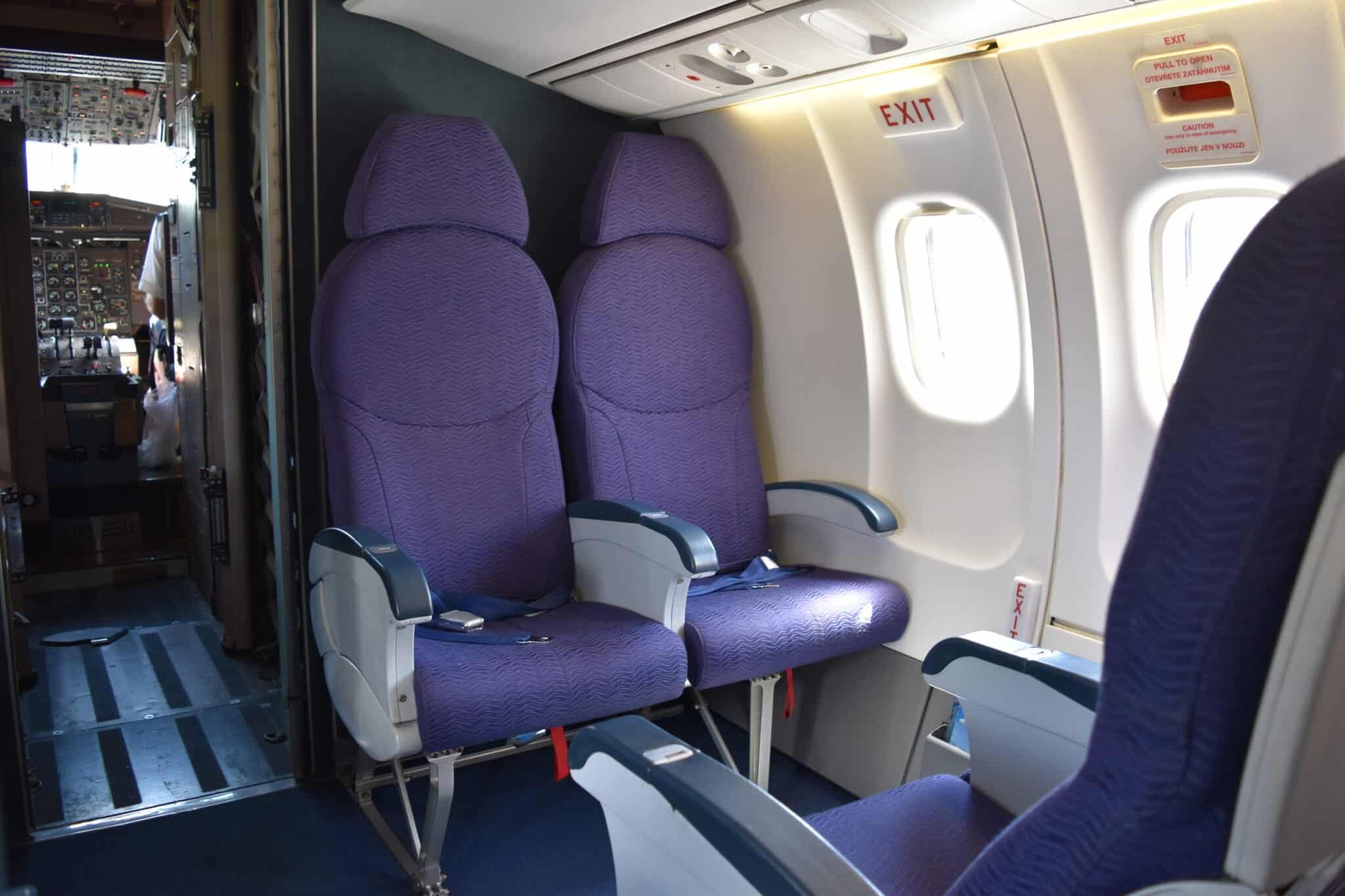 Good to know: If you're traveling as a family or group of four, reserve the first two rows on the right side (1C,1D and 2C, 2D) since they are face-to-face (row 1 sits backwards).
Lanai
It was Natalie's first time to the island of Lanai so I was excited for her (and me) to see parts of this unique island. Lanai is officially spelled Lānaʻi and it's the sixth largest of the Hawaiian Islands. It's 140 square miles and has a population of just over 3,000. There are a number of things that makes Lanai feel like you're living in another time period and one of them is that there are no stop lights or even traffic, for that matter. There are just three hotels and a few bed-and-breakfasts. The whole island is now owned by Oracle billionaire Larry Ellison, whom the locals really like and respect. He not only saved most of the jobs on the island but he made some smart moves by rebuilding the town's movie theater and public pool. Good to know: My first trip to Lanai was in 2010.

Mr. Ellison (or Larry, as I like to call him!) also owns the two Four Seasons hotels on the island and he pumped millions of dollars into them to make them special again. One of them just reopened after a major renovation and the other, The Lodge, is still being remodeled.
Here are 20 reasons to stay at the Four Seasons Lanai at Manele Bay.


1. Airport transfer is seamless
After walking off the plane, a Four Seasons representative will be waiting for you by their small baggage claim with a Four Seasons sign. The bags come out within five minutes so you have just enough time to hit the loo. If you arrange for their roundtrip airport transfers ($150), then your driver will take your bags and you hop in a private Mercedes to the resort.
Tip: Always have your camera ready in Lanai. Here's why.
2. It's out of the tsunami zone
The drive from the LNY airport to the hotel is 20 minutes and you will descend from 1,200 feet above sea level to 500 feet where the hotel is located on a cliff. Not that there are a lot of tsunamis in Hawaii (at least 85 tsunamis have hit the islands since 1813) but it's comforting to know that the hotel is situated high enough that it's out of the tsunami zone.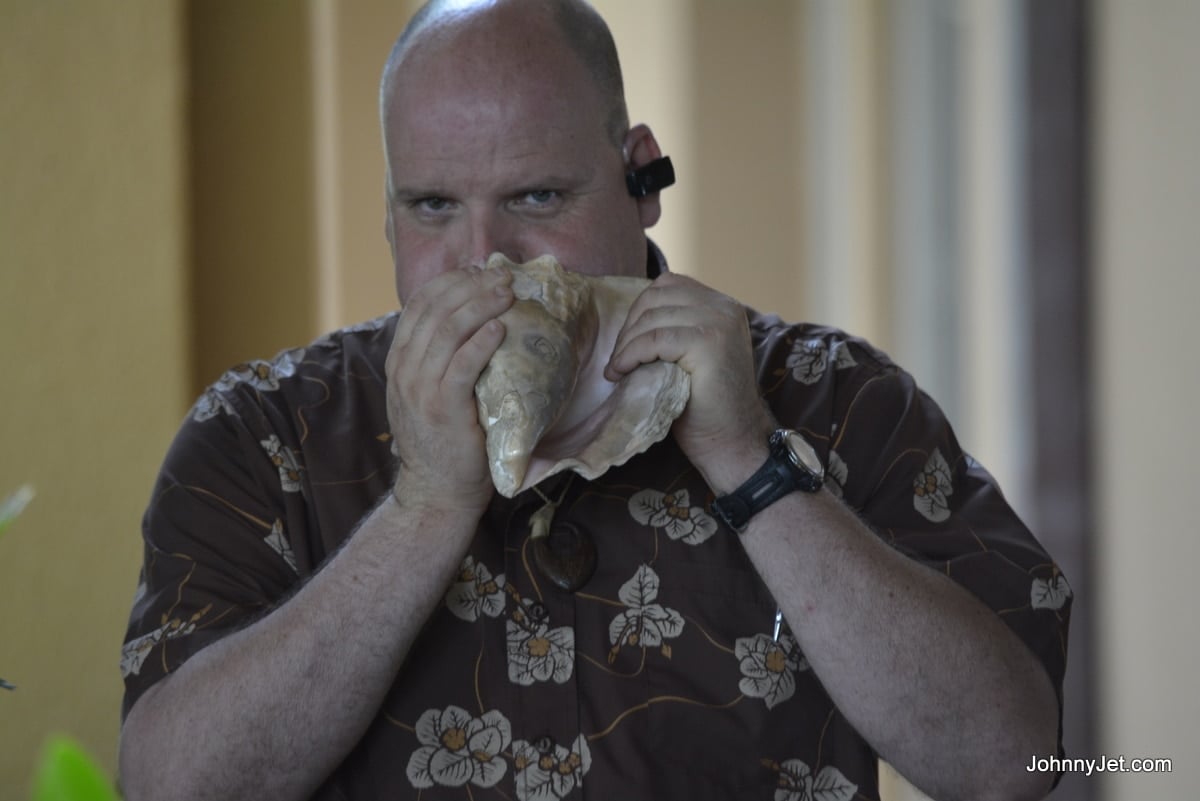 3. Welcome
Just like the Four Seasons Resort Oahu, each guest here has a lei greeting, a chilled towel and a welcome drink. The Four Seasons Lanai steps it up a notch as they offer a shot of pineapple juice with a pinch of jalapeno. It taste really good and when the bellman blows into a conch shell to signify your arrival, you will feel even more special.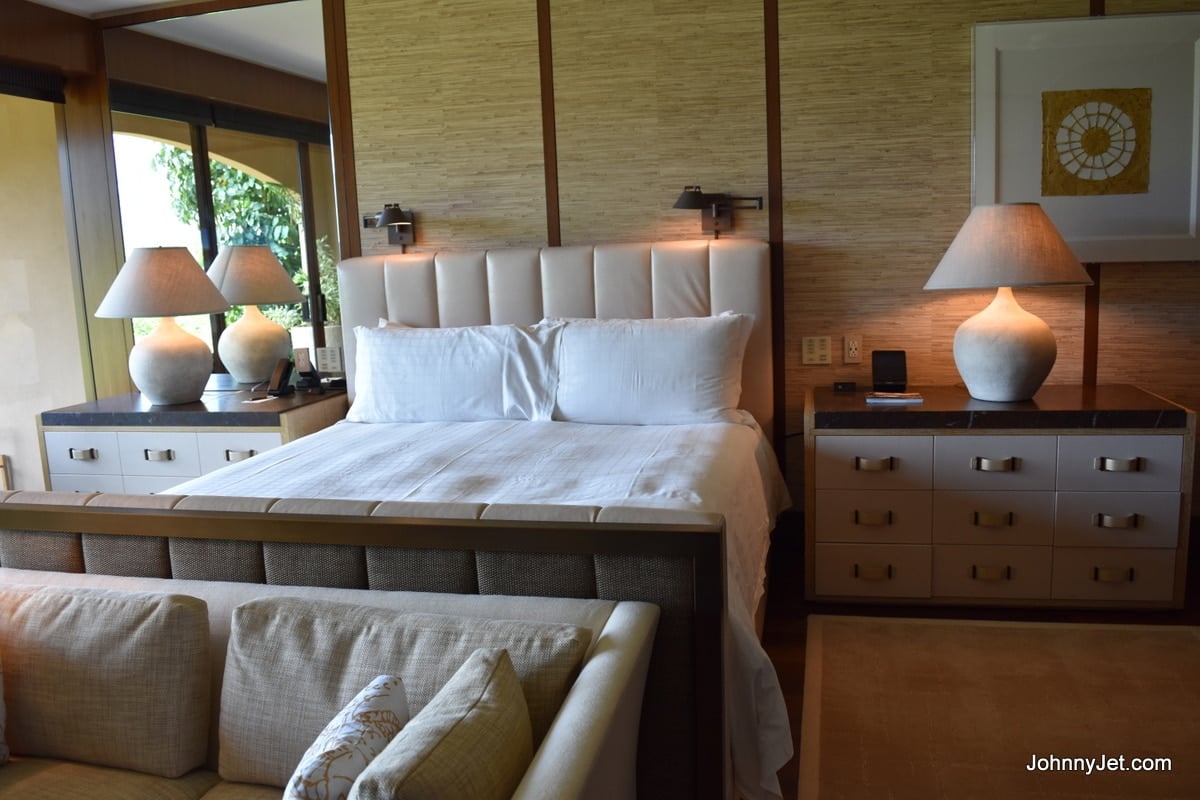 4. The rooms are plush
The resort has 213 luxurious guest rooms and suites. Each room averages a spacious 700 square feet (65 square meters). The interiors are inspired by the island's diverse and storied Polynesian influences. The walls are made of teak and the wood floors are made with mahogany and have wool hand-woven area rugs. The furnishings boast rosewood, leather, iron, and linen and combine both contemporary and historic influences.
5. Fully customizable beds
You have to love a resort that has the first fully customizable hotel bed. In partnership with Simmons Bedding Company, Four Seasons Hotels allows guests to choose three different bed toppings. Signature, Signature Plush and Signature Firm. According to this website, they are easy to remove or change based on your preference. Select from one of the following:
-Signature—Every bed is set with this topper, designed for optimum firmness and offering classic Four Seasons comfort.
-Signature Plush—Request this topper if you prefer a softer mattress.
-Signature Firm—Request this topper for ultimate support.
I didn't know they offered this until I read about it afterward so I can't tell you how different they feel.
6. State-of-the-art technology
With Larry as the owner, you shouldn't be surprised that the resort also has state-of-the-art technology, including fully integrated and intuitive lighting, temperature, service, and privacy controls, including remote control blackout shades. Another unique feature at this hotel is that guests are given a waterproof wristband instead of a typical key card to get into their room. You won't ever have to make the long walk to the front desk because you forgot your key card since you won't lose this room key. You really can leave the room and not carry anything.
7. Huge TVs
Not that you are going to Lanai to watch TV, but if you do decide to kick back, relax and watch a movie before bed, it's pretty amazing to have a 75″ platinum bezel LED television panel.
8. iPads in each room
Each room has an iPad Air, allowing guests to connect to a variety of hotel services, including complimentary access to more than 3,000 newspapers.
9. Bathrooms
Not surprisingly, my favorite part of our room was the bathroom. I wish we could have the exact same bathroom in our house! one in our house! It has slate floors, teak paneled walls, and artisan tiles. The shower features double-wide rain showers and there's a seriously luxurious deep soaking bathtub.  Vanity consoles with leathered and carved stone tops are fitted with custom fixtures, dimmable lighting and in-mirror televisions to deliver an opulently stylish bath. Plus, the his-and hers vanities are across from each other, not side by side, so there's no fighting over counter space!
10. Toto toilets
You would think this would be included in reason number nine but trust me: After you use their Toto toilet, which opens, shuts, sprays and flushes on its own, you will know why it's listed as a separate reason to love this hotel!
11. WiFi
I'm sure you will be relieved to know that the resort doesn't charge more for WiFi and that the signal works all around the resort. So you can share your photos while your laying out by the pool or stream the sunset using FaceBook Live and/or Periscope like I did.
12. Lushly landscaped gardens
The resort must employ dozens of landscapers as their grounds make you feel like you're in a tropical dream. It's pretty much perfect and at night, the tree-tops and slate paths are lit by the glow of tiki torches. There are also five gorgeous botanical gardens, complete with waterfalls and koi ponds.
13. Sounds of birds
If you like the sounds of birds in the morning, then you will love staying on Lanai. Before the sun even pops its head up, the birds are singing. It's a pretty impressive sound and I'm sure any orchestra conductor would love to work with them.
14. The pools
The resort has a lagoon-style central pool that features a cascading waterfall and two hot tubs. Since the resort is very family-friendly? They also have an adults-only pool and retreat (it's near the lagoon). Throughout the pool areas, you will find sublime sanctuaries and a collection of secluded chaises and daybeds.
15. The beach
If you prefer the beach to the pool, there's a path that heads down to the stunning Hulopo'e Bay. It's a public beach so you will most likely find campers on one end along with daytrippers from Maui. But the Four Seasons has their own idyllic stretch of the white sand beach and clear blue ocean for their guests and there's no extra charge for beach chairs, umbrellas, or snorkeling gear (including prescription masks). What's amazing is that the waters of Hulopo'e Bay are a protected marine preserve and I hear it's common to see spinner dolphins (and humpback whales further afield during the winter months) on a daily basis. They weren't there during our visit so let me know if you've seen them in the comments section.
16. Sweetheart rock
If you walk the length of the beach and follow the foot path above the tide pools (be sure to stop off and admire the sea life), walk around the bend until you get to Sweetheart Rock. It's about a 10-to-15-minute mellow walk to the top of the cliff that overlooks the rocks and the island of Maui. It is literally a killer spot as legend has it that a beautiful young princess from Maui was captured and married by a young warrior from Lanai. He brought her back to Lanai and he was so struck by her beauty that he was afraid to let other men see her so he confined her to a sea cave near the rock. One day, while the warrior went fishing, the weather suddenly changed and by the time he rushed back to her cave, she had drowned. He was so heartbroken, he took her body and climbed the steep 80-foot rock island with the help of the gods and buried her in a tomb on top. He then leapt off the cliff to his death.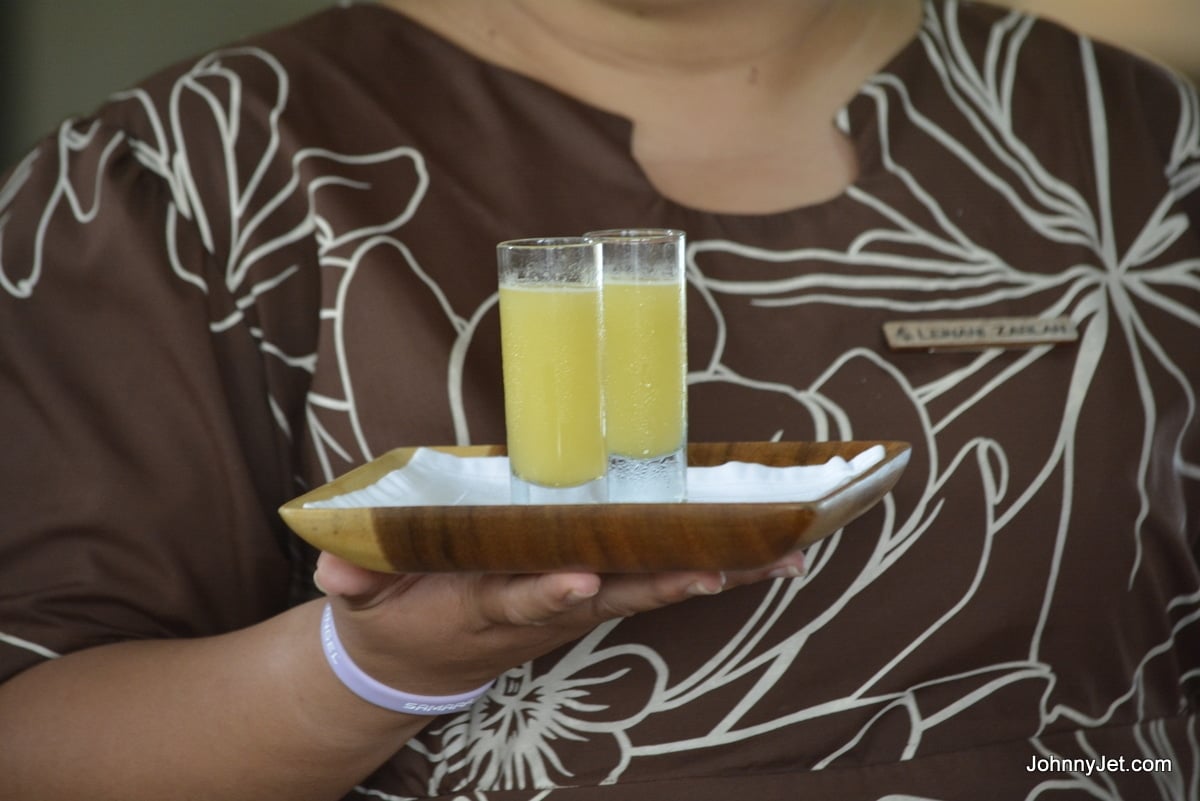 17. Service
As you would expect at any five star hotel, the service here is friendly and attentive. They also go the extra mile as pool attendants regularly stop by to offer treats like agave lemonade, frozen grapes or pineapple, fruit or coffee smoothies, magazines, complimentary personal-sized sunscreen and water coolers. Many of the employees remember your name, which is impressive.
18. Dining
There are five restaurants on property and while we didn't get to try them all, the ones we did exceeded expectation. We went to Malibu Farm for breakfast and lunch. Try their enormous acai bowls ($14) for breakfast or their fresh fish tacos and watermelon juice at lunch. The breakfast buffet is great if you want a lot of food since they have all kinds of offerings.
But no doubt the real star of the resort is Nobu Lanai. It's located on the second floor of the main building so you can overlook the pool and the coast. The outdoor breeze and the panoramic views make it stunning but the food makes it outstanding. There's obviously an extensive selection of sushi options but there are other hot dishes if sushi isn't your thing. We had the edamame and the crispy brussels sprouts; you won't be disappointed! Chef Nobu Matsuhisa made the right move opening up one of his restaurants here.
19. Spa
There is spa is excellent and if you are going on a babymoon, then be sure to get the Hapai prenatal massage ($190, 50 minutes), which Natalie had. It's specifically designed to nurture and pamper mothers-to-be. She had the massage inside the spa in one of the 11 spacious and cool treatment rooms but some services are available poolside so definitely inquire about that option.
20. Free shuttle to town
I doubt you will get bored at the hotel but if you do, then getting into town is not difficult or expensive. The hotel offers a free shuttle twice a day (9am and 4pm, I believe). But if that's not convenient for you, the local taxis will take you for $10 per person. It's a 20-minute ride each way.
As you can see from the pictures above and below, this resort is special and it's not surprising that it's already been awarded the AAA Five Diamond rating. But really, you know Lanai is special if Bill Gates, one of the richest men in the world, got married here.