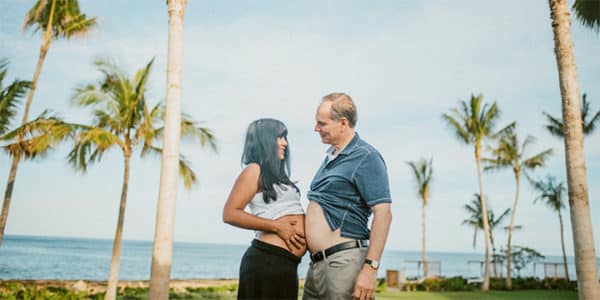 Aloha! If you're following me on Facebook, Instagram, Twitter, and/or Periscope, then you know that my wife and I were recently in Hawaii for a babymoon! I believe 'babymoon' is defined as the last peaceful trip couples go on before their world is turned upside down. At least that's how I define it … LOL!
AA Lounge at LAX
We flew LAX to Honolulu on American Airlines Flight 31. There was no line at TSA PreCheck (I've never waited more than 10 minutes at LAX) so we arrived nice and early for our 8:28am flight. Since we had some time to kill, Natalie and I went to the Admirals Club Lounge, which is currently being remodeled. I had forgotten my Citi® / AAdvantage® Executive World Elite™ Mastercard® for the first time but I quickly learned that primary cardholders can get in using their AAdvantage number. Natalie had her card but since she's a secondary card holder, she needs her card every time to get in. Using her mileage number doesn't do the trick.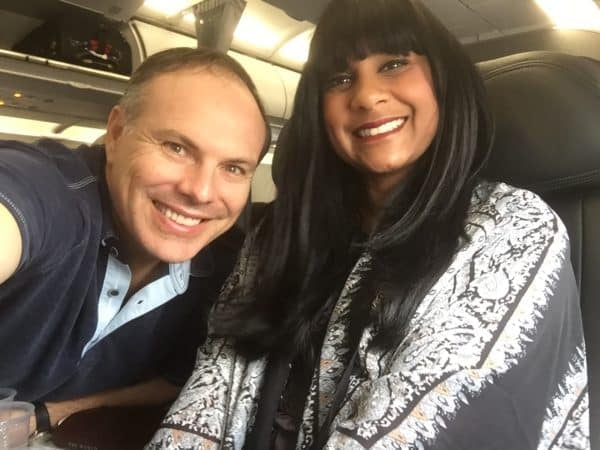 LAX-HNL on American
The flight to Honolulu was 5 hours and 29 minutes. American flies their new A321 but they aren't the same as the A321T they fly to JFK, with the plush lie-flat business and first class seats. To make sure Natalie didn't have to endure the long flight in coach (she was about seven months pregnant at the time!), I paid an extra $75 and used 15,000 miles for her upgrade when the tickets were purchased. I rolled the dice since I have Executive Platinum status and thankfully my upgrade cleared the day before so it didn't cost me anything extra to sit up front. FYI: Our round-trip tickets cost $930 and the Four Seasons Oahu paid for my ticket and the Four Seasons Lanai paid for Natalie's, as they both hosted us.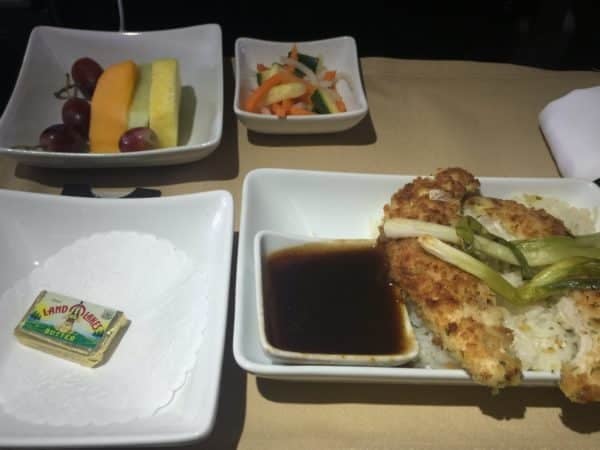 Upgraded to First!
What's weird is that American Airlines serves lunch on this morning flight, which would make sense if we were heading east but since we were flying west, it didn't. Eating either chicken katsu or a Maui onion, goat cheese quiche at what was equivalent to 6:30am (the time change in the summer is three hours and they served the meal about an hour after takeoff) is a little early for most but not me. I love chicken katsu any time of day. FYI: There's no WiFi on these flights so make sure you have plenty of entertainment or reading material just in case you don't like what the entertainment systems have on offer or if they don't work.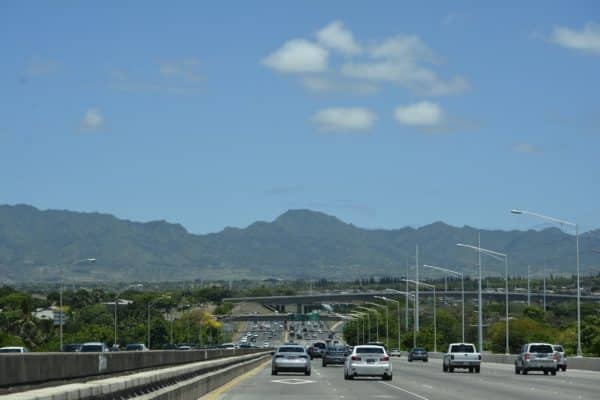 Honolulu Airport to Ko Olina
Usually, when we land in Honolulu, we head straight to Waikiki, which is about a 25-minute drive (without traffic) from the HNL Airport. This time, we went in the opposite direction (towards Oahu's western shore) and drove 25 minutes to Ko Olina. That's because we were there to check out the brand spanking new Four Seasons Resort Oahu. It's the former JW Ihilani, which we'd stayed at a few times before and it's right next to Disney's Aulani Resort.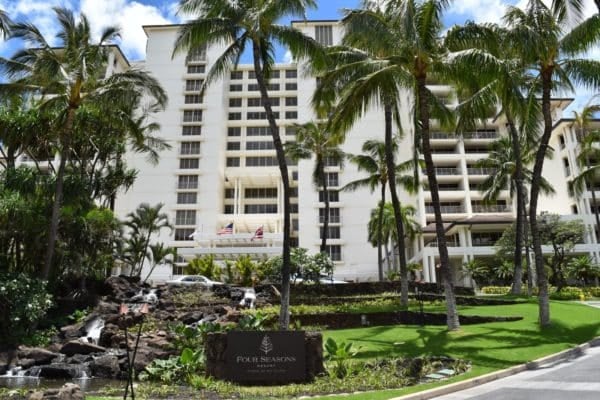 The Four Seasons Resort Oahu at Ko Olina
The 371-room Four Seasons opened in May, 2016 after it underwent a $500 million renovation. The most noticeable change, besides the design and furniture, is that they blew out a wall in the lobby so guests can enjoy the incredible panoramic views of the white sand beaches and the turquoise lagoon even before they check-in.
There's a lot to like about this property. Here are the top 12 reasons why you should visit the new Four Seasons Resort Oahu at Ko Olina: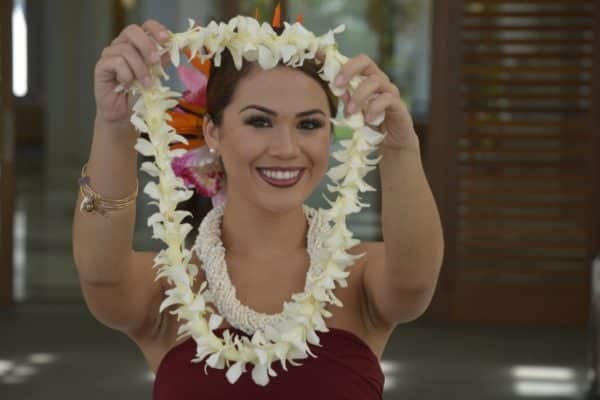 1. Welcome
I guess when you are paying a minimum of $350 a night for a room, you better have a great welcome and the Four Seasons Resort Oahu doesn't disappoint. They have friendly bellmen to help with the luggage, beautiful Hawaiian locals to give you a traditional lei and then later, chilled towels and a non-alcoholic welcome drink. Good to know: Since the hotel is so new, they are offering a complimentary fourth night with every three consecutive paid nights.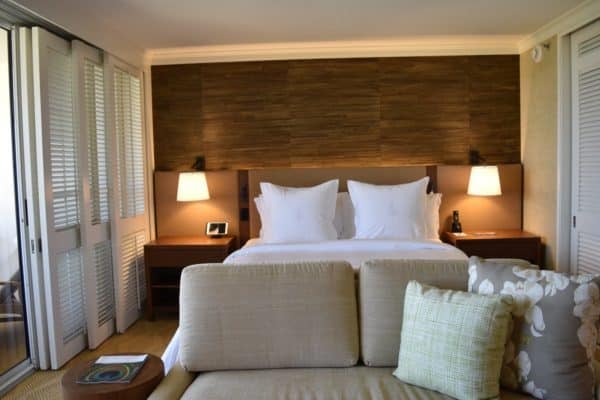 2. Rooms
Rooms at the Four Seasons Resort Oahu average about 640 square feet in size so they are way above average. They also have spacious private balconies, which are perfect to sit out on when the sun rises (or sets depending on which side you're on). I love that the balcony doors have screens so you can hear the ocean and feel the breeze instead of being forced to blast the air conditioning. The remodeled design combines modern elegance with touches of Hawaiiana, which you'll see in the use of traditional local woods and the banana leaf headboards. There are monster (I'm guessing about 60 inches wide) HD flat-screen televisions but they hung them too low so you don't see the whole screen while you're in bed. No doubt, you will appreciate all of the electrical and USB outlets by the desk and the side of the bed. There's also a bedside master switch so you can turn all the lights on or off without getting up. Why don't all hotels do this?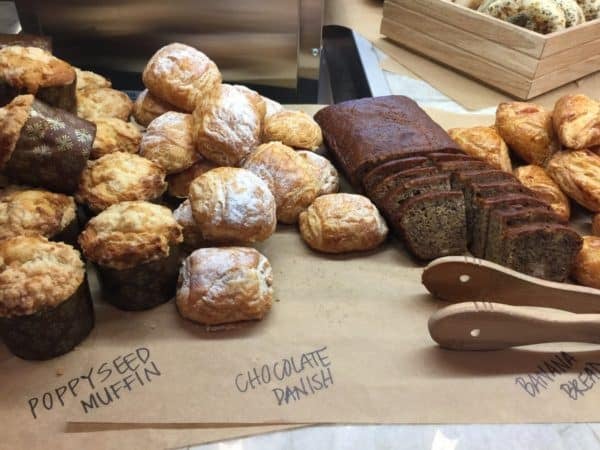 3. The food
As expected, the food isn't cheap at the Four Seasons but it's darn good and they offer a wide variety.  There are four restaurants and a café on property so you don't need to go far. My favorite was La Hiki, which is where you can get an extensive breakfast buffet that has everything from eggs to beef stir fry. I loved the fresh fruit juices, pastries, and tropical fruits like mangosteens. Then at night, guests can go back for Pan-Asian-inspired meals. If you are into seafood, be sure to dine at Fish House, which offers seafood towers and Hawaiian-style lobsters, and the best ocean view. The other restaurants are Noe, described as 'Capri meets Oahu' and Waterman Bar & Grill, which we didn't have time to try.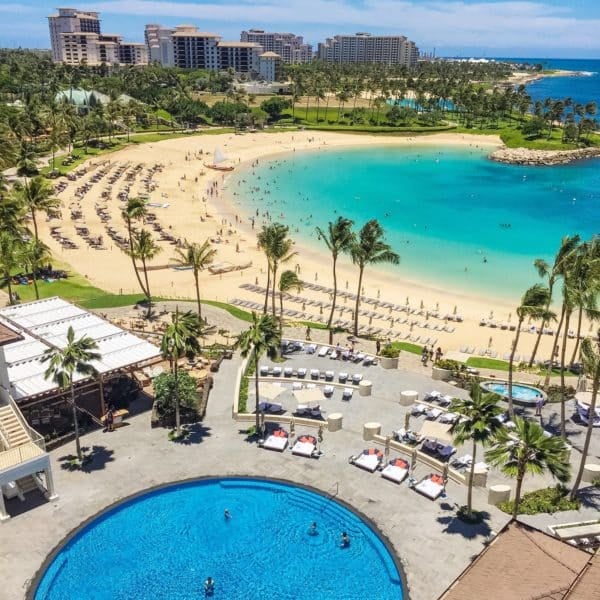 4. Lagoons
What's nice about Ko Olina is that the beaches are alongside shallow man-made lagoons so the water isn't rough, making it much safer to swim in, especially for kids. The hotel doesn't charge anything extra to use their ocean equipment or beach chairs and umbrellas but you do have to share part of the beach with the Disney Aulani hotel next door. Their side can get really crowded. I didn't know this at the time of our visit but I just read that the Four Seasons has a secluded, adult-only beach section behind the adult pool.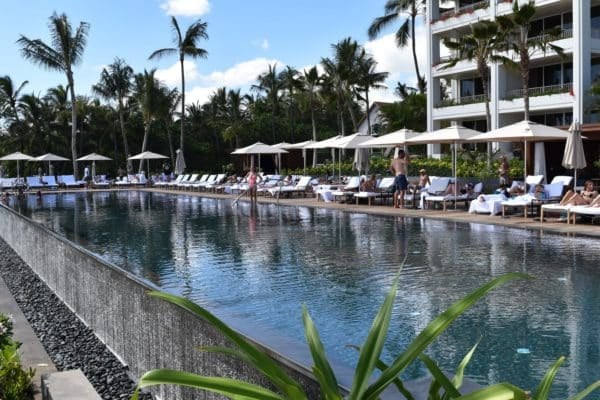 5. Pools
Speaking of pools, the Four Seasons Resort Oahu has three of them. One's a circular family pool, the other two are rectangular in shape. One's a spa and wellness pool to swim laps (adjacent to the Jacuzzi) and the other is the adult pool, which offers a serene surrounding. It was the perfect setting for our babymoon photo shoot with Flytographer! You can read more about that on Natalie's site, Oh! Travelissima.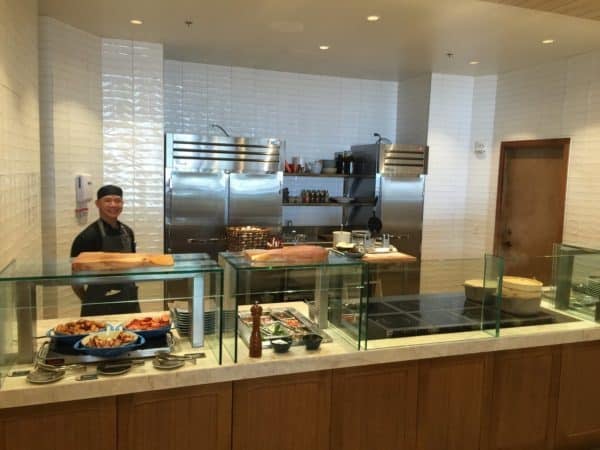 6. Friendly staff
No doubt you will notice the staff at the Four Seasons Resort Oahu are super friendly and seem to be genuinely happy.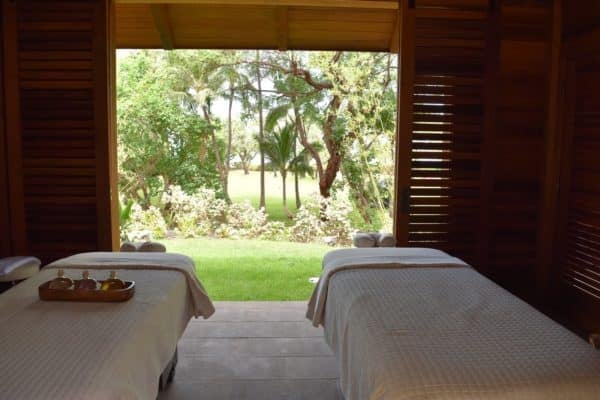 7. Spa
The Naupaka Spa & Wellness Center is over 35,000 square feet in size and has both indoor and outdoor treatment facilities. Guests can choose from a range of services (facials, body treatments, and massages), many of which are performed using local, indigenous techniques. Natalie and I had a couples' massage. She had the Hapai Massage ($180, 50 minutes), which means 'to carry' and is specially designed for expectant mothers. This therapeutic prenatal massage is performed in an outdoor cabana so you can hear the ocean waves and feel the breeze along with the soft Hawaiian music, making it complete bliss. On the way out of the spa be sure to grab one (or two) slices of homemade banana bread or a quinoa bar with dates and cashews.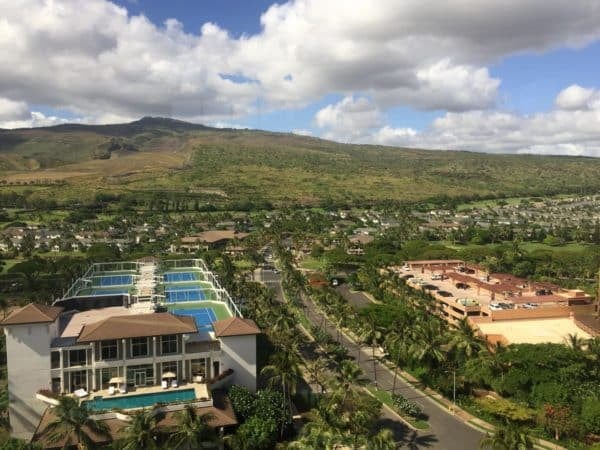 8. Tennis/Golf
In the same building as the spa but on the sixth floor is a terrace for the Jim Courier Tennis Center. There are five courts and you don't need to bring your equipment since they have it all there, including personal instructors in case you can't get your partner to hit with you. Across the street is the Ko Olina Golf Club, designed by Ted Robinson and features a challenging 18-hole course with stunning ocean views.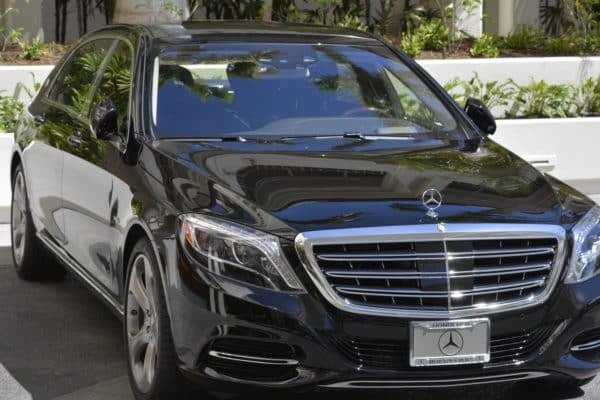 9. Mercedes-Maybach S600
The Four Seasons Resort Oahu has a Mercedes-Maybach S600 (which costs about a cool $200,000!) on standby to give guests a complimentary ride on a first come, first serve basis around Ko Olina. You should've seen heads turn when Natalie and I popped out of it when we went to check out the Marriott Ko Olina Beach Club!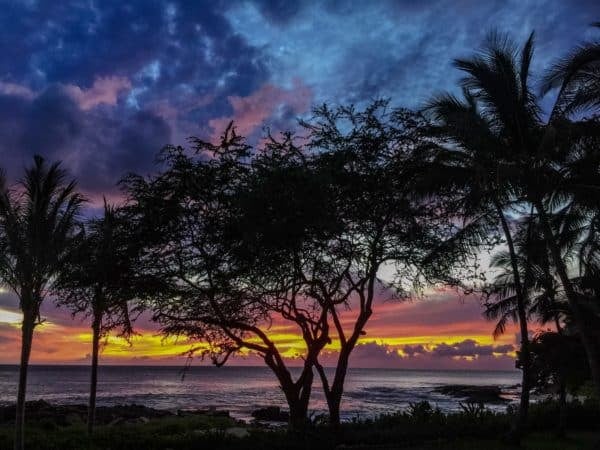 10. Sunsets
I'd heard from countless locals that the west side of the island had the best sunsets and after spending multiple nights here, I can't argue with them.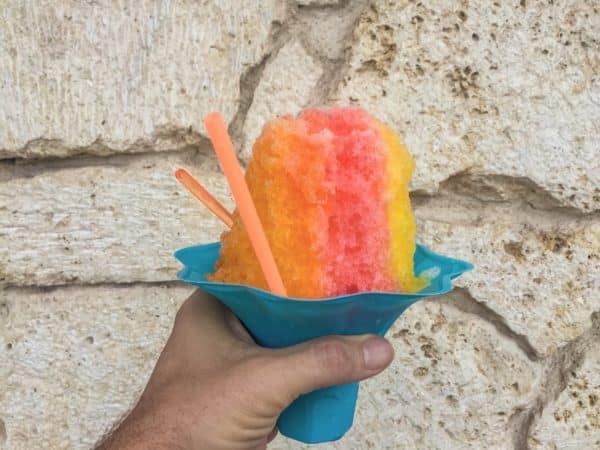 11. Ko Olina
Ko Olina has changed a lot since our first visit there 10 years ago. Back then, they didn't have a lot of dining options so you were forced to either eat all of your meals at your hotel or drive somewhere far. Since then, the area has expanded and there are a variety of places to eat, all just a few blocks away. You can choose from Hawaiian BBQ, sushi, tacos, pizza, and American food. My favorite is Monkeypod Kitchen and Island Vintage for their acai bowls. There's also an ice cream shop called Two-Scoops that sells tasty shave ice for $5.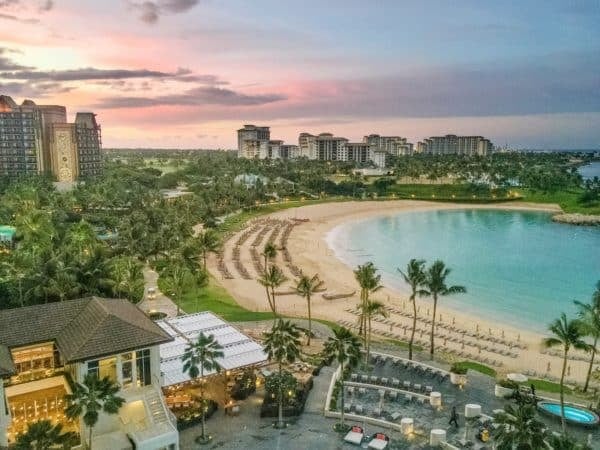 12. Aulani
In addition to the restaurants in the plaza across the street, you can dine at the other hotels, including Aulani. We dined one night at AMA'AMA, which offers contemporary island cooking and was excellent. In addition to Aulani's restaurant, we checked out their spa, which has a 5,000 square foot garden (bring a bathing suit to enjoy the coed hydro therapy pools). I loved their wishing well and all of the treats including gummy bears, chocolate covered pineapple, green tea cupcakes, and a variety of flavored waters without sugar. FYI: On entry, everyone gets to pick a stone to throw in the wishing well. There are six different types but Natalie and I both reached in to the pile with our eyes closed and each picked one that said 'pono'. On the other side was the English translation, which in our case was 'balance'. Then we tossed them gently into the wishing well in hopes we will have 'pono' when our boy arrives into this world.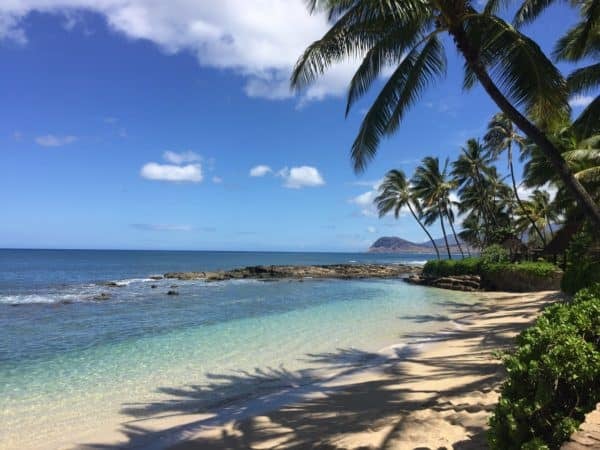 Good to Know:
As you can see, the Four Seasons Resort Oahu is a gorgeous hotel but there were a few opening kinks to work out which I was told they have been. They included:
-This wasn't a big deal to me since I don't have a lot of hair but Natalie said the water pressure in the shower wasn't strong, making it frustrating and time consuming to wash and condition her hair.
-I loved the fact that Ko Olina is on the flight path to HNL but not everyone might, especially if you're a light sleeper. Occasionally you can hear the train pass through.
-If your room is on a high floor, you can see the electrical plants in the distance, which are an eye sore by contrast to the rest of the beautiful views.
-The house cleaning crew didn't clean our room until the afternoon, even though we put the 'make up room' sign on our door at 7:30am. I would call if you want service earlier.
-Maintenance knocked and then walked into our room to fix a drain as I had requested, despite the fact that the privacy button was on.
-People can camp on the private property (Lanikuhonua Cultural Institute) next door on the weekends if they have permission. It might have the best views in all of Hawaii (see photo above).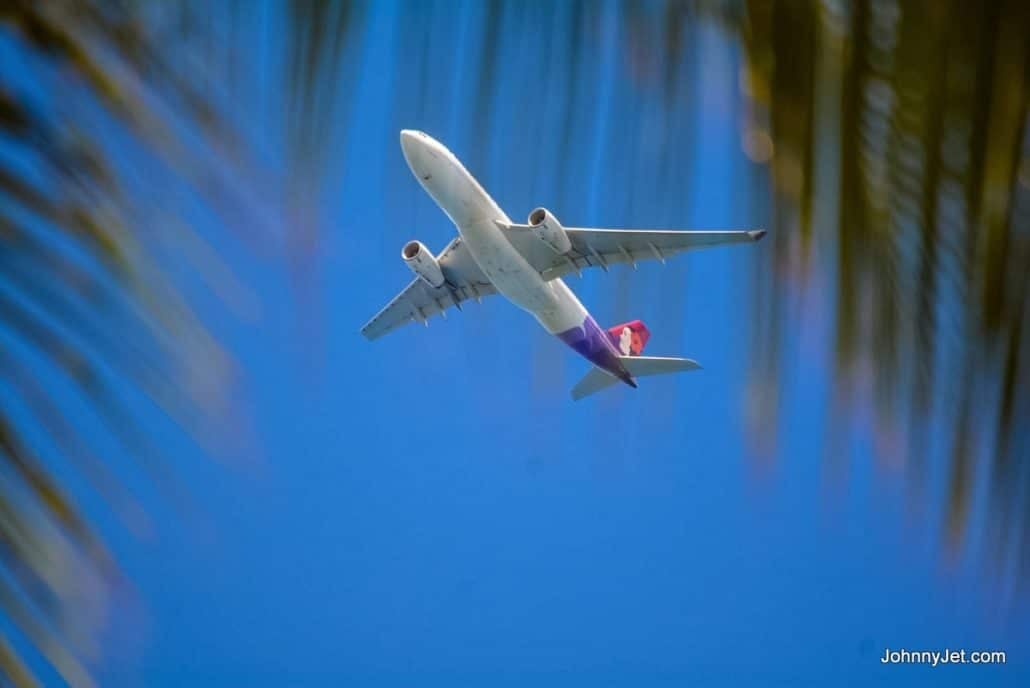 Save
Save
Save
Save
Save