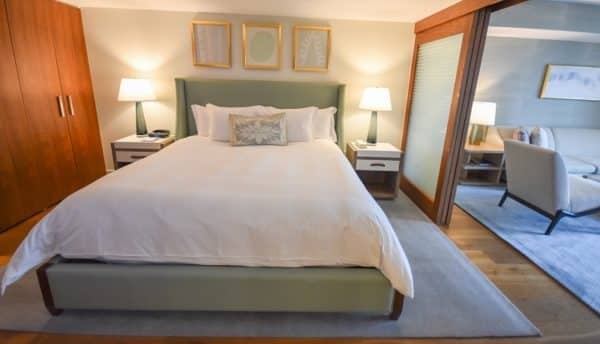 Back in November, when I flew to Hawaii for just a few hours so I could take part in United's last 747 flight, I had the chance to check out the new 38-storey Ritz-Carlton Residences, Waikiki. I only spent a short time there but I was able to arrange a four-night stay for when I returned with my family in early January. Suffice it to say, we loved it – so here are 16 reasons to stay at The Ritz-Carlton Residences, Waikiki.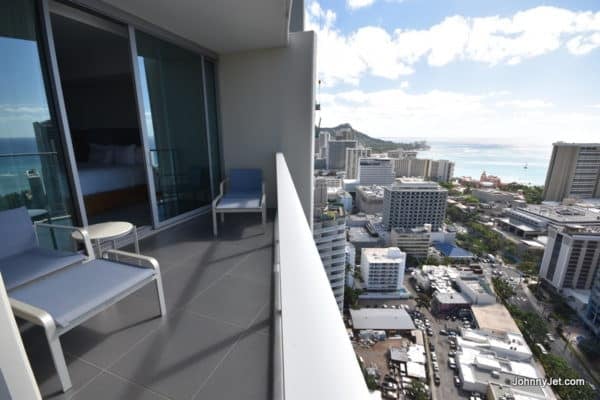 1. The location
If you're looking for a hotel that's not in the heart of Waikiki but just a very short walk away, then the Ritz-Carlton is for you. My favorite location in Waikiki is the Royal Hawaiian or the Moana Surfrider (the island's two oldest hotels) but it's nice to be away from all the busy-ness that's right in the center of Waikiki.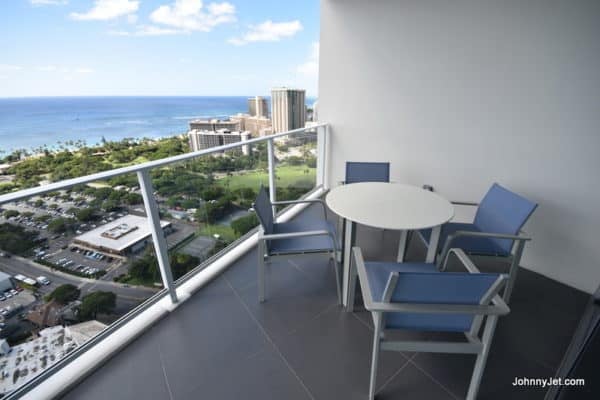 2. All rooms face the ocean
Don't you hate it when you check in to a Hawaiian hotel and your room overlooks a parking lot or garden instead of the ocean? That has happened to me one too many times, probably because I always book the hotel's cheapest room. But you don't have to worry about that at the Ritz-Carlton Residences, Waikiki because all the rooms are ocean-facing.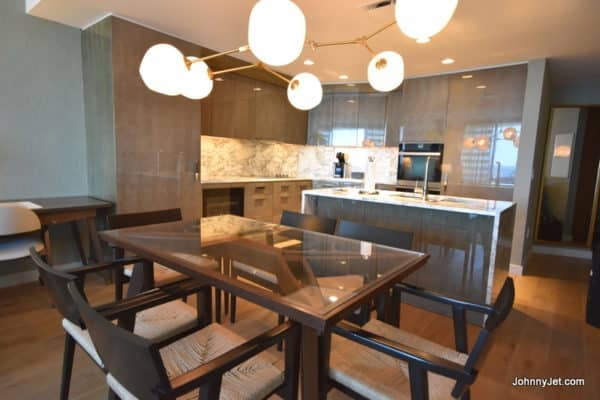 3. The rooms are actually apartments
The best part about The Ritz-Carlton Residences, Waikiki is that they're actually residences. That's right. All 307 stylishly-appointed studio, one-, two-, three- and four-bedroom residences are individually owned (90% by Japanese) so they're full on apartments. Each room has a fully-stocked kitchen/kitchenette including a dishwasher.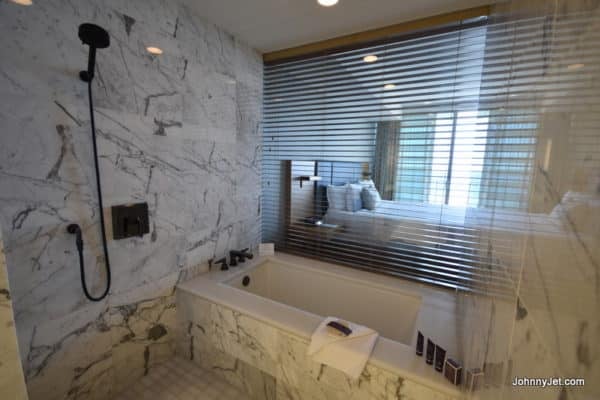 They're so nice that Natalie and I actually dreamed about living there … until we found out how expensive they are to buy! Our two-bedroom suite (1,262 square feet) goes for a cool $6 million.
4. Washing machine and dryer
Having a washing machine and dryer when you're on vacation is a treat – especially when you're traveling with a little one who's a little Tasmanian Devil. Since I knew we'd have a washer and dryer in our room, we didn't have to pack as much clothing as usual. On top of that, the hotel supplies as much detergent as you like. It's worth noting that the machines aren't that easy to operate so definitely spend the two minutes to read the user manual first.
5. The staff is super-friendly
At any five-star hotel, you'd expect that the hotel staff would be friendly but that's not always the case. The staff at The Ritz-Carlton Residences, Waikiki are almost all super-friendly and some of them even remember your name. The friendliest we encountered were the housekeepers.
6. The welcome
When you arrive at The Ritz-Carlton Residences, Waikiki, you'll feel special. When you first pull up, there's a bellman to open your car door, greet you, and then whisk you to the lobby, which is on the 8th floor. The bellman radios up your name so the front desk crew are waiting for you and address you by name. Then, you're given a traditional welcome with a flower lei for the women and a kukui nut necklace for the men (there's even a small necklace for kids), welcome drinks, and chilled towels.
7. It's kid-friendly
When we arrived to the hotel, there was a high-chair waiting in our room with a couple of toys on top, including a miniature bucket and shovel for the beach. When the housekeepers saw that we had piled a bunch of pillows on one side of the bed so Jack wouldn't roll out, they asked if we would like bed rails. Of course we did and that's the first time any hotel has ever had or offered them. And earlier in the day, a knock came at the door and it was a hotel employee who said the housekeepers had asked him to bring rubber corner bumpers and attach them to the bed and night table corners since they were sharp. They used the same ones we have at home and before they showed up, we were disappointed that we hadn't brought them with us. Turns out we didn't need to – the hotel provided them without even asking. Also, almost every time we went to the hotel restaurant, the waiter, hostess or barback would bring a stuffed toy for Jack.
8. The little things
I mentioned some of the little things above, like how they took care of Jack with bumpers and toys but they also looked after me proactively. It seems the one thing I always forget or run out of when I'm traveling is toothpaste and when the housekeeper saw that I was using a real mini tube of toothpaste (I'm talking a half an inch long tube) that I got in the dental kit in the room's amenity kit, she replaced it with one of the travel toothpastes you would find at Target. It was such a nice surprise.
9. Smart TVs
I don't watch a lot of TV but Natalie does, which means we subscribe to every streaming service out there. Her eyes lit up when she saw that the LED smart TVs (located in both the living room and bedroom) offered guests access to Netflix, Hulu, Crackle, Pandora or YouTube. Good to know: If you forget to log out of any of your streaming accounts, you'll be automatically logged out when you check out of the hotel.
10. The elevators
One of my pet peeves when I travel is slow elevators. I'm always in a hurry so I loved the hotel's state-of-the-art elevators and the fact that they were always quick.
11. Walk to the beach
One of the things I loved about staying at the Royal Hawaiian a few days earlier is that it's right on the beach so it didn't take long to go for a swim. The Ritz-Carlton however isn't on the beach and it's about an 8-minute walk to get there. But what I loved about it is that if you take a right out of the hotel, go one block and then walk to the beach (instead of taking a straight shot), you get to walk through the peaceful and beautiful Fort DeRussy Park. I did that every day with Jack since he loved checking out the birds and the plants. Good to know: Just tell the hotel staff that you are going to the beach and they will give you a canvas tote bag with towels, water, and fruit, as well as beach toys for kids. They can also arrange beach chairs and an umbrella for you (for a fee).
12. Pool chairs
If you read my Royal Hawaiian hotel review, then you know that one of the things that really irked me about the hotel is that they allow guest to reserve pool chairs early in the morning simply by throwing a book on it (then the guests go back to bed or go have breakfast) until they're ready for their chair. It's ridiculous to allow that and definitely doesn't add to what should be a luxury experience. At the Ritz-Carlton, the policy is they can only hold a pool chair for 15 minutes. That's perfectly fair and reasonable.
13. Sunset flower experience
Every Friday night just before sunset, the hotel staff shoots pieces of flowers from a machine about 10 floors above the pool so it looks and feels like it's raining flowers. The only other time I experienced something similar was in India at the Taj Falaknuma Palace in Hyderabad.
14. Friday night fireworks
Thanks to the Hilton Hawaiian Village, every Friday night (usually around 7:45pm) they shoot off fireworks for about 10 minutes. It's free for everyone and since all rooms at the Ritz-Carlton face the ocean, you can get a great view of them. Photo was taken with a zoom.
15. Food options
The hotel has a few food options including the most exclusive and expensive Japanese restaurant in town. Sushi Sho is Tokyo's famed sushi master Keiji Nakazawa's and they only have a handful of seats a night for the $300 per person multi-course dinner, chosen by the chef. The others are the more affordable BLT restaurant, which I wasn't too impressed with except for their Taro French Toast, which was off the hook.
There's also a Dean & DeLuca, the gourmet New York deli, on the ground floor and they've got excellent soup and super friendly workers.
16. The spa
The hotel's spa isn't huge but it's a good size and is relaxing and the spa menu is full of local treatments. I had the Huki Huki – Renew, which is 105 minutes long ($265). It's described like this: "The ki plant is entwined through Hawaiian life and used to renew and cleanse the body, mind, and spirit. Includes mud wrap, energizing lomilomi massage, and scalp treatment." The masseuses are top notch and I left there wishing I could go back every day.
As you can see. the Ritz-Carlton Residences, Waikiki is a special place. It's not cheap and it's not on the beach so it's not for everyone but if you're looking for a great escape, then check it out. Room rates begin at $500.