Aloha! The first hotel I ever stayed at in Hawaii was the Hilton Hawaiian Village. I was there for my first job out of college (an Admissions Officer for what was then Marymount College Palos Verdes but has since changed to Marymount California University). I'll never forget when I arrived in the evening and it was pouring rain. When I stepped out of the taxi and into the open-air lobby I felt something like I've never felt before…like I was really alive, and like I was walking into one of those movies set in the South Pacific (I know Hawaii is in the North Pacific). I've been fortunate to stay there many times since, in the late nineties, and returned for my first time in a decade back in December.
The Hilton Hawaiian Village sits on 22 lush tropical acres and is billed as Waikiki's only beachfront resort. It now has 3,500 rooms in seven towers (two of them are timeshares). There are many reasons to stay here but below are my top eleven:
1. Location
The Hilton Hawaiian Village is 20 minutes from Honolulu International Airport (HNL) and is located on the south shore of Oahu at the very far end of Waikiki Beach. The hotel isn't technically on Waikiki Beach but it's close, and you can see Diamond Head from some of the tower rooms. It's a good place to stay if you don't want to be in the center of Waikiki as it's a good 15-20 minute walk. But there's so much going on at this hotel you don't even need to go into Waikiki.
2. It's a village
You could spend a week at the Hilton Hawaiian Village without leaving the property and you still wouldn't be able to experience everything it offers. As you'll see below they have tons of restaurants, shops and activities. Here's their resort map.

3. Dining
The Hilton Hawaiian Village has over 20 restaurants, cafes, bars, and grills, with options that span from a Benihana to a Round Table Pizza. There's even a Dairy Queen on the property. There's something for every budget including family-friendly kids' menus and beach-side grab & go.

4. Shopping
The Hilton Hawaiian Village has over 90 shops, from high-end options like Louis Vuitton to my personal favorite The Honolulu Cookie Company (I've literally spent well over $500 in gifts there and I'm not a shopper).
5. Gardens
My favorite part of the Hilton Hawaiian Village has to be its beautiful manicured gardens, waterfalls, and Koi ponds. The grounds showcase over 50 varieties of flora indigenous to Hawaii and from regions around the world such as Africa, Australia, Brazil, China, Fiji, tropical Asia, and other exotic locations. At night the property is at its best as the tiki torches line all the pathways.
6. Lagoon
The Hilton Hawaiian Village has a family-friendly lagoon, which is an ideal spot for kids to swim and paddleboard since it's so shallow. Just on the other side of the lagoon is the ocean but there are a lot of coral so it's not ideal for swimming. I suggest walking a few hundred yards down the beach if you want soft ocean sand.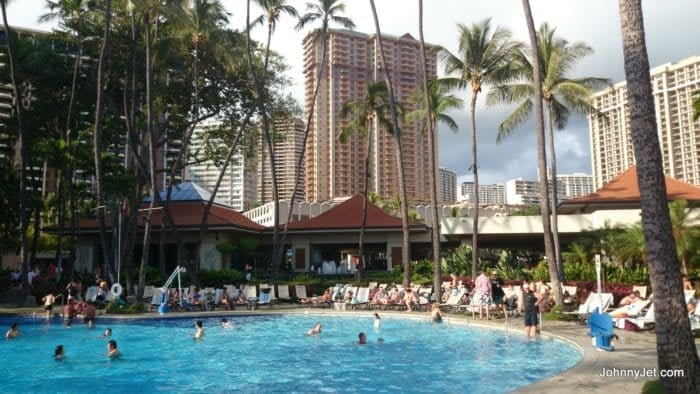 7. Pools
The Hilton Hawaiian Village has a choice of five swimming pools and a sixth for kids. The Super Pool is 10,000 square feet and the most popular since it's located between the Rainbow Tower and Ali'i Tower. Then there's the Paradise Pool, which is a 5,000-square-foot family activity pool that boasts the longest slide in Waikiki and overlooks the Duke Kahanamoku Lagoon. The Tapa Pool is a tropical pool located between the Tapa Tower and Diamond Head Tower and the Kalia Tower Pool is an infinity pool located on the fourth floor that displays a mosaic-tiled maile lei intertwined with ilima and pikake flowers. The Ali'i Tower Pool is only for guests staying in the exclusive Ali'i Tower and has a sundeck and whirlpool. The Keiki Pool is a tiered pool off the Super Pool that's shallow for kids.

8. Activities
Again, there's something for everyone, including hula and ukulele lessons, wildlife feedings, fitness classes, a resort tour, and much more! Here's a link to their daily resort activities.

9. Museum-quality art collection
The resort has exceptional art exhibits from some of Hawaii's most prestigious artists, including John Young, Hiroshi Tagami, Michael Powell, Herb Kane, James Hoyle, Luigi Fumagalli, Daniel Van Zyle, Dale Evers, and many others. They also feature great pieces from the renowned sculptor Kim Duffett, who created the life-size bronze statue of 'Iolani Luahine, the legendary hula dancer. 'Iolani Luahine was regarded as being a mystic and priestess of the sacred rite of hula. Kim's other distinguished piece is the sculpture of Alfred Aholo Apaka, who introduced Hawaii's music to worldwide audiences. You will find both works of art in the concourse next to the Tapa Tower.
10. Fireworks
Every Friday for about five minutes, the Hilton has fireworks, which are locally known as "Friday Night Fireworks." It's a fantastic service they offer to everyone in Waikiki—not just their guests. One hotelier from a competing hotel told me that all the hotels milk the Hilton's fireworks. I would too!
11. Elvis stayed here
In 1961 Elvis Presley filmed Blue Hawaii at the resort and stayed on the 14th floor of the Ocean Tower (Ali'i Tower) in the Mahele Suite. Here's a link to the Hilton Hawaiian's Village history, which includes when Conrad Hilton purchased half of the Hawaiian Village Hotel from Henry J. Kaiser.

Good to know:
The Hilton has all kinds of exotic wildlife on the property including parrots and penguins. After seeing the CNN documentary Blackfish, it's difficult for me to get excited about seeing wild animals in captivity which is why I didn't list them as a reason to stay.
This is a great hotel to hold a conference at since it has so many rooms, restaurants, and bars as well as over 150,000 feet of function space.
The exclusive Ali'i Tower is built on hallowed ground, which is another reason why it's the tower to stay in.
Room rates start at $199* per night.
As you can see, the Hilton Hawaiian Village has a lot to offer—and it's pretty much a city or a village within a village. There are usually 7,000 people on the property each day, which is a lot of people, but with 22 acres of tropical landscape to enjoy, you too might just feel like you're in your own piece of the South Pacific—just like I did.