Since I've already given you a play-by-play of our flight from New York to India via Doha, I won't repeat it since this flight was basically the same except we departed in early morning instead of late at night. However, I've created a Top 15 list including all the reasons why you would want to fly Qatar Airways (especially in business class!) with photos from both our Maldives-to-Doha and Doha-to-New York flights. One thing is for sure: Qatar Airways is an incredible airline but they do have room for improvement, which I'll tell you about as well.
15 Reasons to Fly Qatar Airways
1. Modern fleet
Qatar Airways operates one of the youngest and most modern fleets of aircraft in the skies today. They have 101 aircraft including 15 Boeing 777-300ERs, which is the plane they use for their North America routes. When you think about it, it's amazing what Qatar Airways has done since their re-launch in 1997. They now fly to over 100 destinations on six continents. Wow!  
2. Young flight crew
The flight attendants are young, attractive, and come from over 105 countries. And they take their job seriously. They wear stylish burgundy uniforms and hats for takeoff and landing. They put on black serving jackets for mealtime.
3. Excellent service
For the most part, the service was exceptional from check-in to arrival. The only complaint I have is that one or two of the flight attendants weren't very attentive. I don't even remember which flight it was but on one of them, I pressed the call button and no one came for eight minutes. On the DOH-JFK flight, I rang the call button twice and both times, someone came within 30 seconds.  After the meal service was complete, they didn't come through the cabin very often (on any of the flights, which is why I rang the call button).  They also talked loudly to one another in the galley.
4. Attention to detail
Since the planes are so new, they are really clean and they have cool details like the tray tables, which looks like marble (although they're not).
5. Fantastic food
When I was in France a couple weeks ago, I toured Servair catering (they provide the catering for tons of airlines). I asked the executive which airline has the best food and he said it has to be the Asian and Middle Eastern carriers since they have the biggest budgets. Qatar Airways has to be one of them.
6. Food on demand
You have to love an airline that offers food on demand, including buttered popcorn for watching movies.
7. Entertainment systems
Each seat has state-of-the-art entertainment systems called Oryx with over 1,000 entertainment options—movies, television, video games, and music. In business class, the screens are 17 inches and in economy, they are 10.6-inches.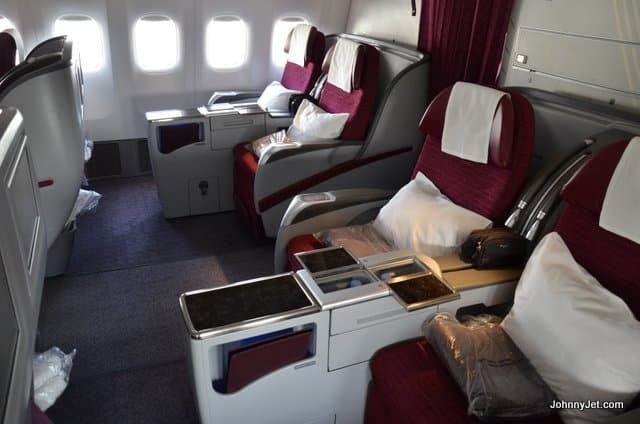 8. Comfortable seats
On the Boeing 777, coach passengers get between 32 and 34 inches of seat pitch (legroom) and seats are 18.9 inches wide. Business class passengers have 78 inches of seat pitch and 22-inch wide seats. The seats also have built-in massagers.
9. Power
There are power outlets for both plugs and USB and no adaptors are needed.
10. Mood lighting
The planes have mood lighting, which help you (or at least me) sleep better.
11. Pajamas
On long-haul flights, business class passengers are given soft his/hers, 100% cotton sleeper suits, no-slip socks and an eye mask to slip into to help you sleep better. You are free to take the pajamas home – but not the cotton-lined, pure wool blankets.
12. Luxury amenity kits
Prior to takeoff the fight attendants pass out Molton Brown amenity kits that have earplugs, lip balm and moisturizer.
13. Clean bathrooms
The bathrooms are cleaned regularly, are bright, have a full-length mirror, and are stocked with toothbrushes, toothpaste, shaving kits, and sanitary wipes.
14. Accolades
Qatar Airways has won all kinds of awards and was recently named "Airline of the Year" by Skytrax
15. Doha Airport
Qatar Airways' premium terminal is off the charts – it's my new favorite airline lounge and has everything you could think of: Comfortable chairs, three or four food stations, free Wi-Fi, showers, a kids room, family room, game room, smoking room, prayer room … you name it. Employees are all dressed to the tee like the flight attendants but are more attentive. When the new Doha airport is completed in the fall of 2012, it's going to make this city, country, and airline that much better since passengers won't need to take shuttle rides to and from the plane to the terminal, and boarding and deplaning will be much quicker.
Good to know
-Most Qatar Airways flight attendants only work two years.
-On both of our long haul flights, Natalie's entertainment system didn't work, which was annoying.
-The mid-flight snack bar has ridiculously good chocolate chip cookies and mini Godiva chocolates.
-We flew over Bahrain, Saudi Arabia and Kuwait. Then I fell asleep but woke up when we were over Ukraine. The rest of the flight took us over Sweden, Denmark, Norway, Iceland and Greenland.
-For a snack, I had salad with grilled haloumi cheese and tomatoes.
-Upon landing, flight attendants get 31 hours in a NYC but the hotel is in Long Island and not Manhattan like it used to be.
-The only time the flight was turbulent was over Greenland.
-When the seatbelt sign went off, I went to use the bathroom at the same time as the co-pilot. I told him he could go ahead but he insisted that I did. Even the pilots are trained in customer service. Impressive.