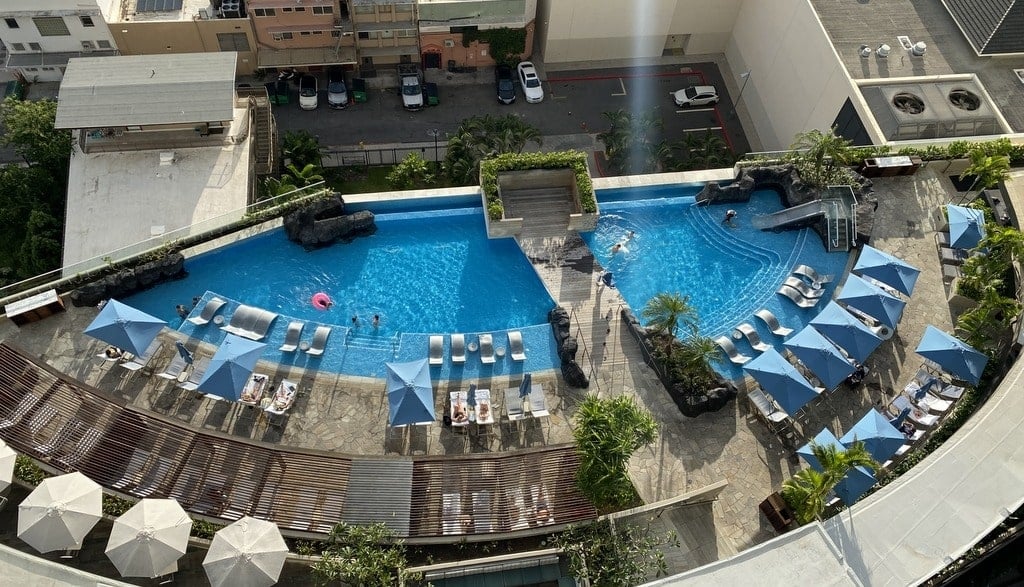 Aloha! After two long years of quarantine life, we finally made it back in Hawaii. There was a lot of planning for this trip because I wanted to make sure everything was perfect and everyone stayed safe and healthy.
To get there, we flew from Los Angeles to Honolulu aboard one of United Airlines' plush 777-300 aircrafts. At the time of booking, First Class was the same price United used to charge for economy pre-pandemic so I scooped those tickets up. You can't beat a lie-flat seat for a 5.5-hour flight. Here's my trip review.
The first four nights we spent at the Hilton Hawaiian Village, which was the first hotel I stayed at in Hawaii, when I visited in the mid '90s. So now, my daughter and I can share something special together as it was the first hotel she ever stayed at in Hawaii. Here are my 10 reasons to stay at the Hilton Hawaiian Village.
The last five nights of our trip we stayed at one of our favorite Waikiki hotels, the luxurious Ritz-Carlton Waikiki. I decided to cash in my Marriott Bonvoy Points, which saved me the $700/night rate. Marriott is about to devalue their points any day now so I figured it was time to part with them. On top of that, one of Bonvoy's best features is that if you book four nights, you get the fifth night free. Here are my 10 reasons to stay at the Ritz-Carlton Waikiki.
1. No resort fee
Need I say more? I don't think there's any charge that's more infuriating to travelers than a resort fee. They're a joke and should be illegal. When the bill came via email the morning of our departure, I winced as I opened up the attachment. I thought for sure I was going to go toe to toe with the front desk because there was no mention of a resort fee during booking or at check-in, something I've heard many horror stories about. But I was relieved that wasn't the case. Unlike many hotels, including other Ritz-Carltons, this hotel doesn't charge a resort fee.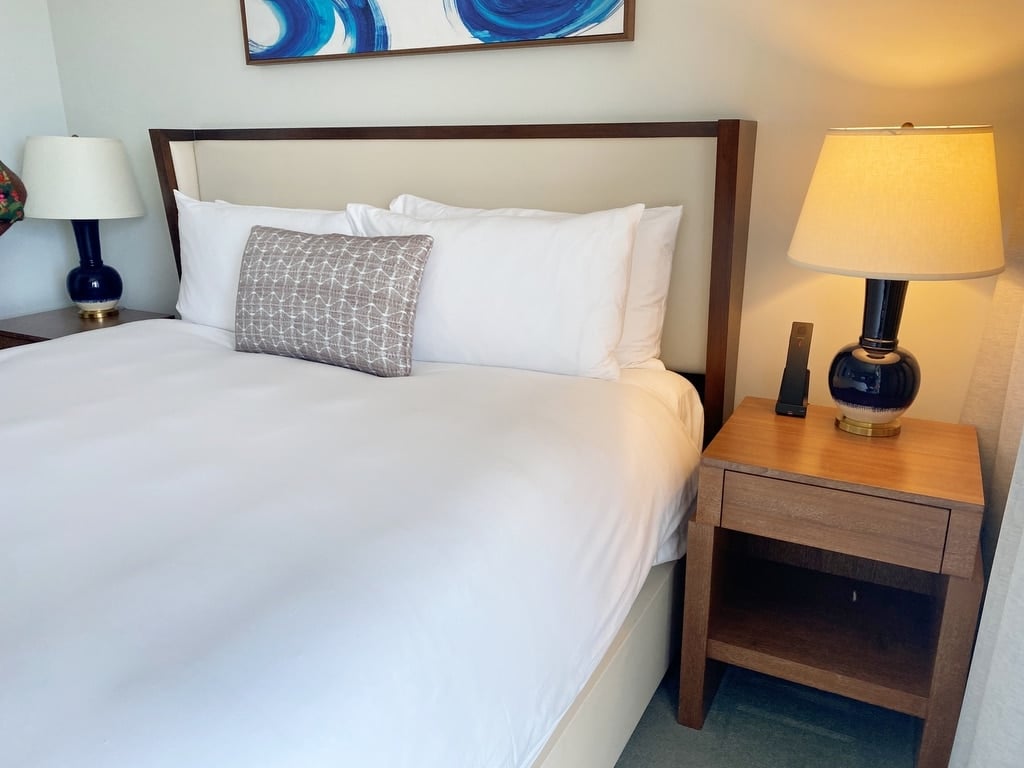 2. Luxurious rooms
The biggest selling point of this hotel are the luxurious rooms. The smallest room is a studio at 400 square feet and they go all the way up to four bedrooms at 2,988 square feet. All rooms feature ocean views, balconies, floor-to-ceiling windows, kitchens, living rooms and bathrooms with deep soaking tubs. We were in a Deluxe Ocean View Suite (624 square feet | 58 Square meters). Which has a separate bedroom with sliding glass door, full-size kitchen and a dining area for four.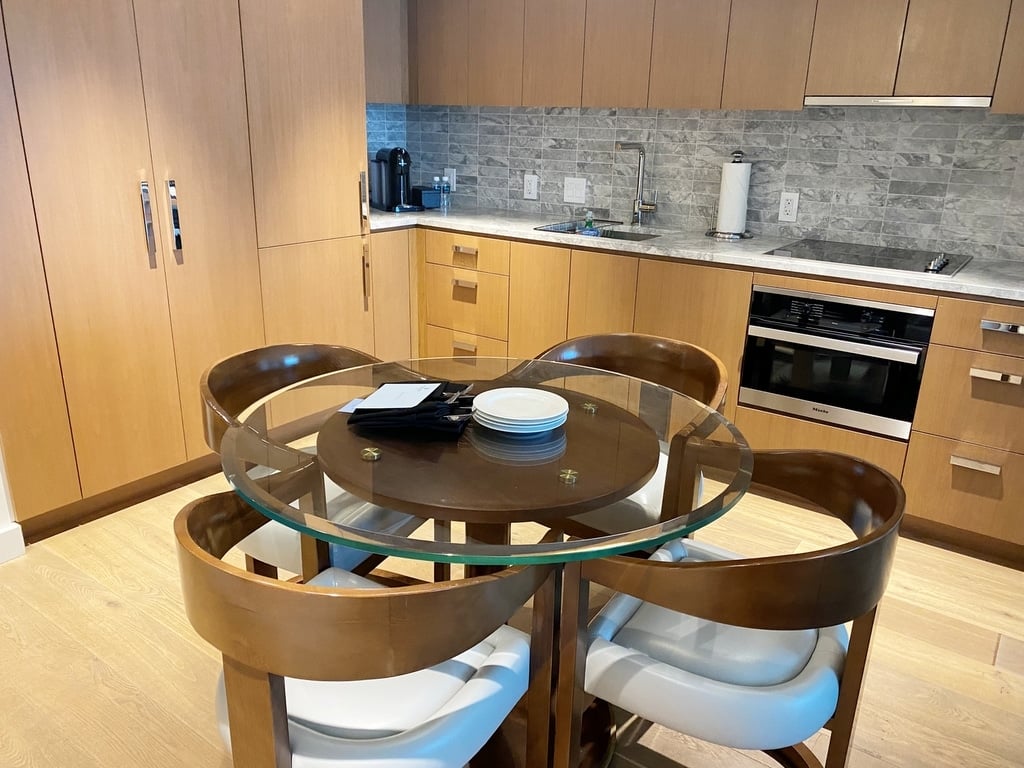 3. A fully-equipped kitchen
A full kitchen when you're traveling is a game-changer and definitely one of the big reasons to book at the Ritz-Carlton Waikiki. It's especially useful when you're traveling with kids but even if you're not, who doesn't love the convenience of a fridge, freezer, stove, microwave, coffee machine and a dining table? When you don't feel like eating out, you can hit a local market or grocery store and cook "at home".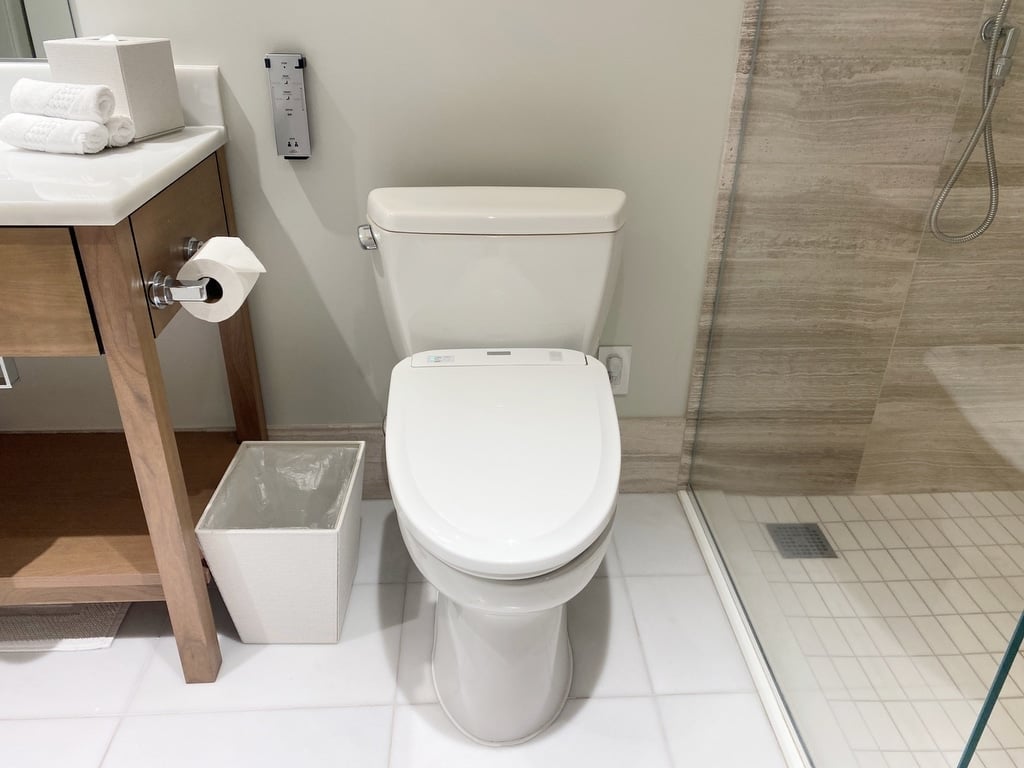 3. Toto toilet
It's not often I make the toilet a reason to check in at a hotel unless they have a Toto toilet or something comparable but if you've ever used one before, you'll understand why. Just ask my son what was one of his favorite things about the hotel is. He will say the heated toilet seat for sure. The Toto washlet is a motorized toilet that will give you a good clean and dry you off, too!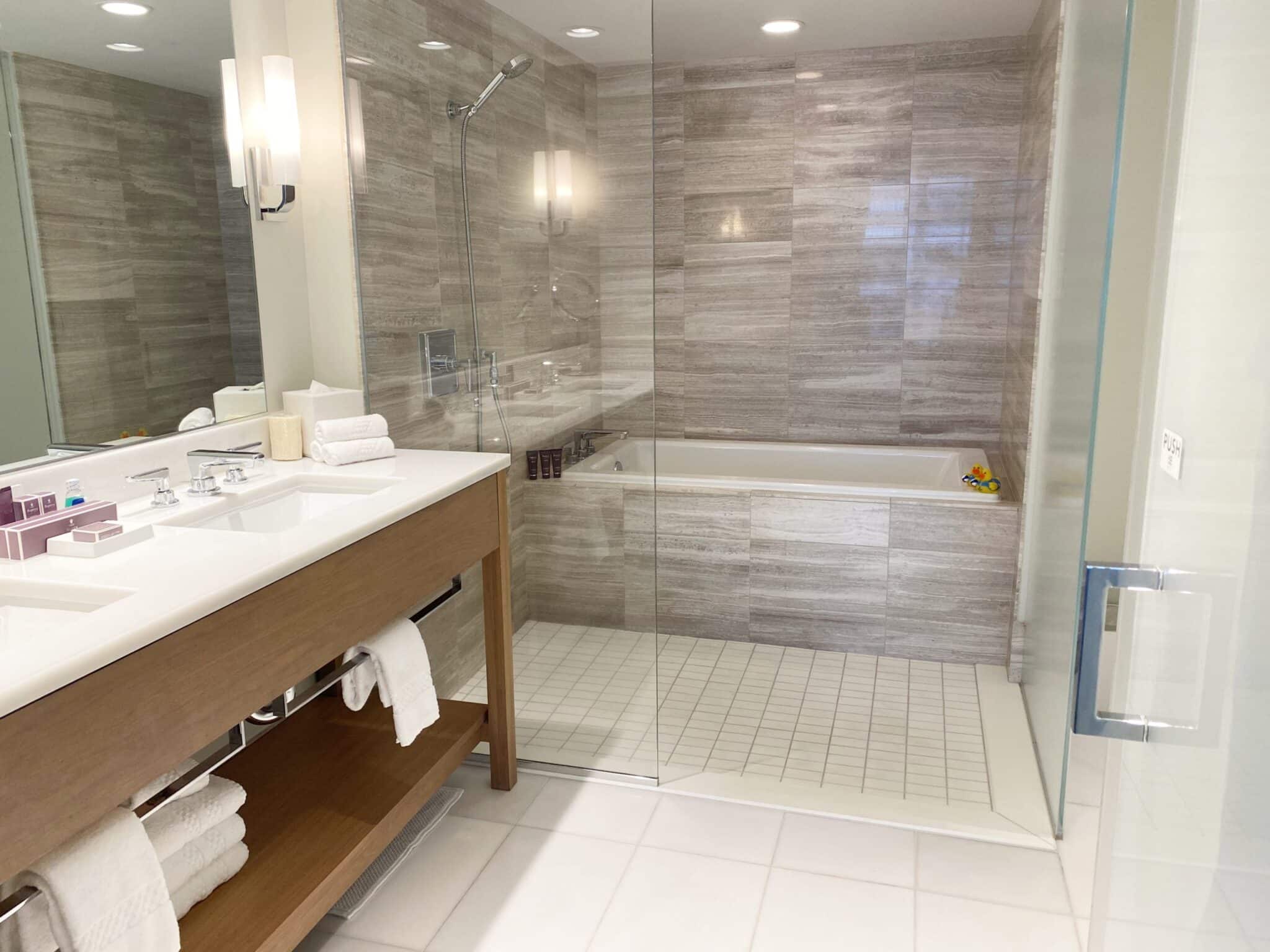 4. Deep soaking tubs and fantastic water pressure
It's remarkable to me that a hotel with so many rooms can have such strong water pressure but the Ritz-Carlton Waikiki has achieved it. Their deep soaking tubs fill up in just a couple of minutes when you put both hot and cold on full. The kids loved the combined tub and shower (we all did!); it was great to step out of the tub and rinse off in the shower with ease and not track water all over the bathroom floor.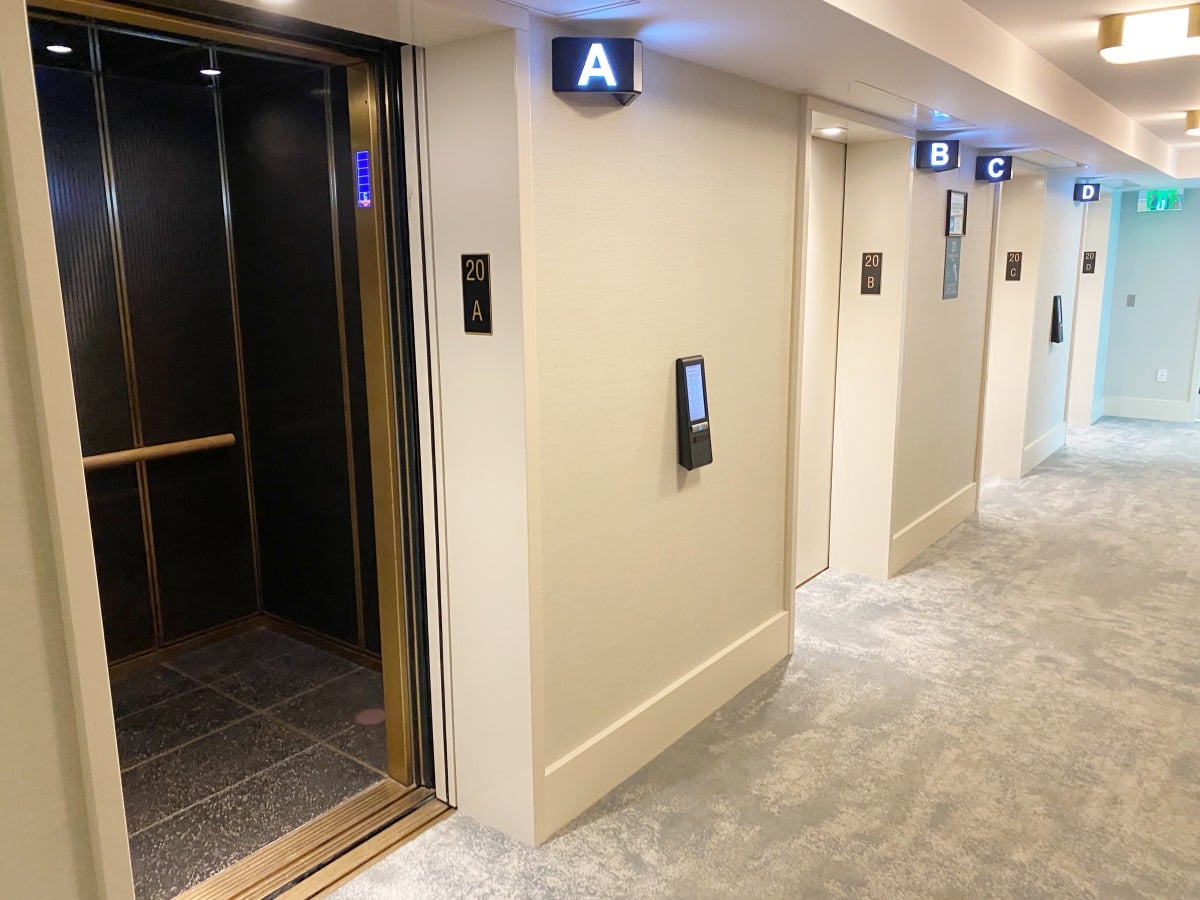 5. Elevators
Once you figure out how to use the elevators (just press the floor and touch your room key), they're really fast, never had many guests in them and show you on the upper inside panel which floors it will be stopping at. The only thing I didn't like about them is the ding they make, which I could hear when I slept on the pullout sofa in our living room because our door was close to them.
RELATED: The 5 Questions I Always Ask Hotel Front Desk Agents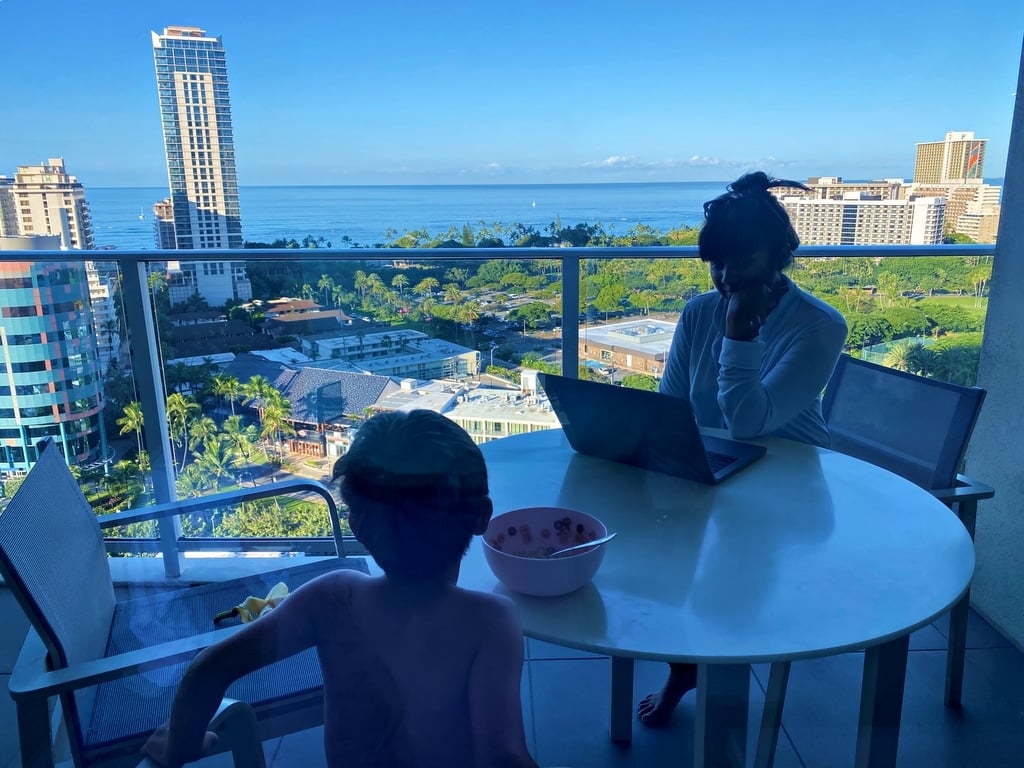 6. Spacious Lanais
Every room has a spacious lanai (balcony) with a table, chairs and loungers. There are also a couple of power outlets out there so that's where I worked on my laptop almost every morning and evening, before and after it got too hot and sunny. The kids loved having breakfast out there every morning and we enjoyed many meals and spectacular sunset views there, too.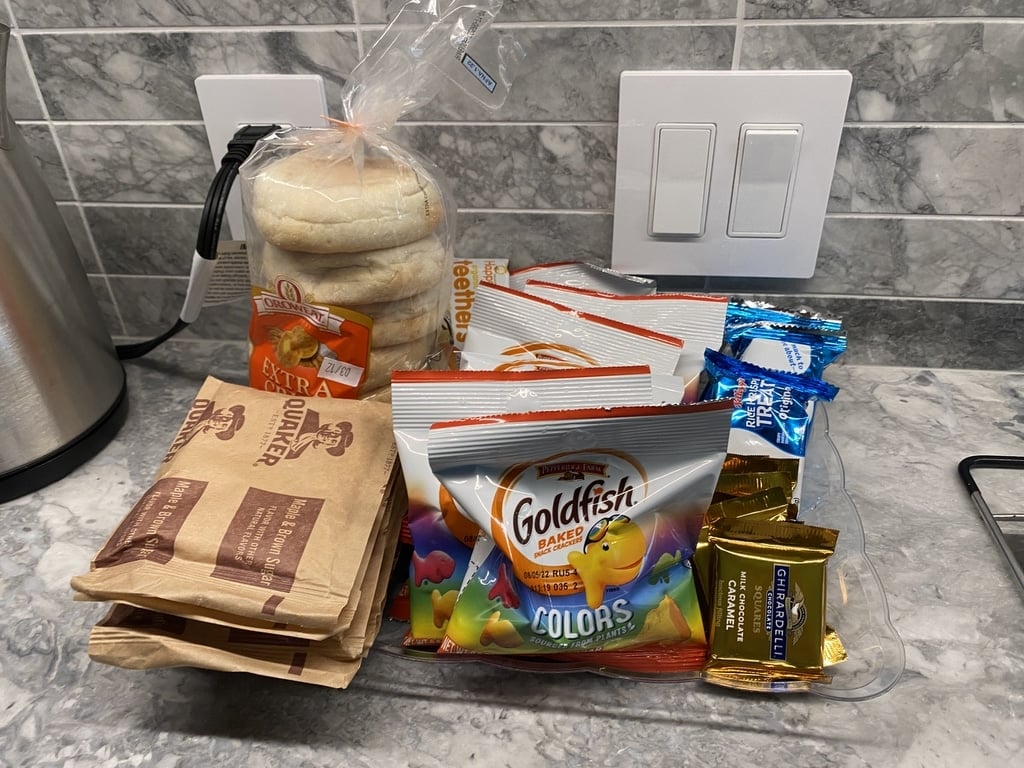 7. Fantastic housekeepers
Unlike the Hilton where we needed to schedule housekeeping the day before, the Ritz-Carlton housekeepers come every day. Of course, between the pandemic and in some cases, labor shortages, many hotels are operating differently these days. But the Ritz-Carlton Waikiki might employ the best housekeepers around. All you do is call when you're ready to go out and they come in like little elves. And we really appreciated how they went above and beyond their regular duties. One day, we came home to find all the kids snacks, which we'd left in a messy pile on the counter, tidied up and organized neatly on a tray. Our housekeeper also brought up a diaper genie for us, without us having to ask. These details really help to turn a good experience into a great one.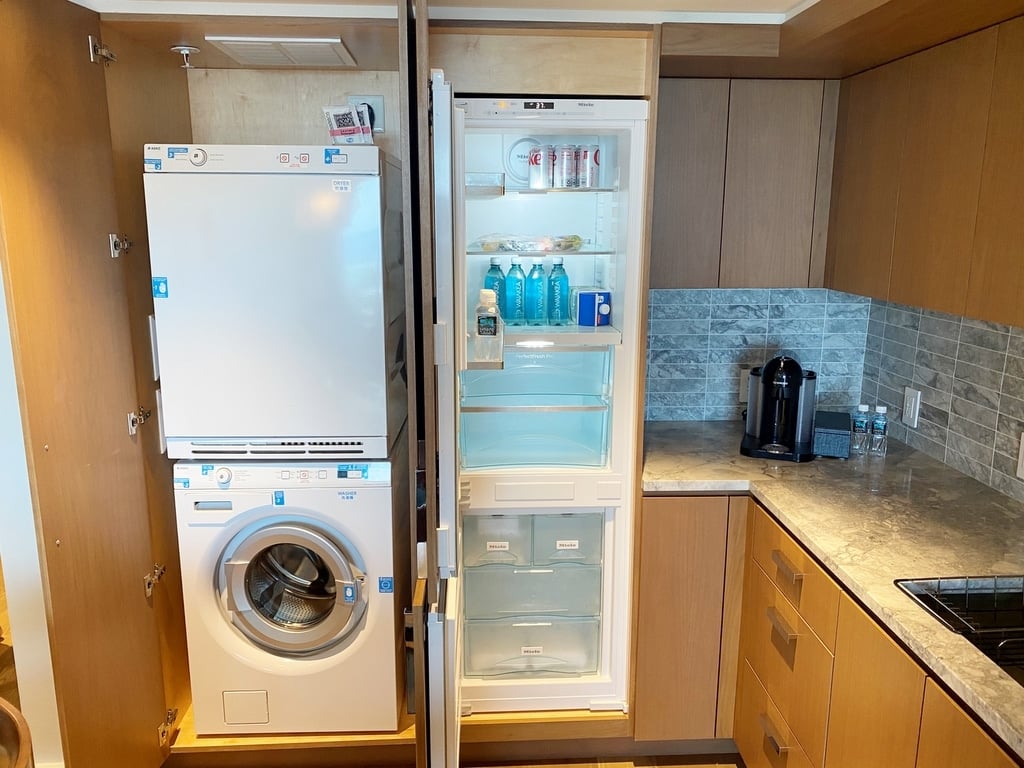 8. In-suite laundry
If you have little kids, then you know that having a washer and dryer in your room can make or break your trip. It's so nice not having to pack a ton of clothes knowing you can wash them daily, especially the kids' clothes. They seem to go through a minimum of three outfits a day. Plus, in hot destinations when you're always at the beach and pool, it's nice to be able to wash those clothes. Good to know: The hotel provides individual sized packets of powder laundry detergent so you don't need to bring your own. My wife was happy to see it was a local brand and not Tide, which she's allergic to.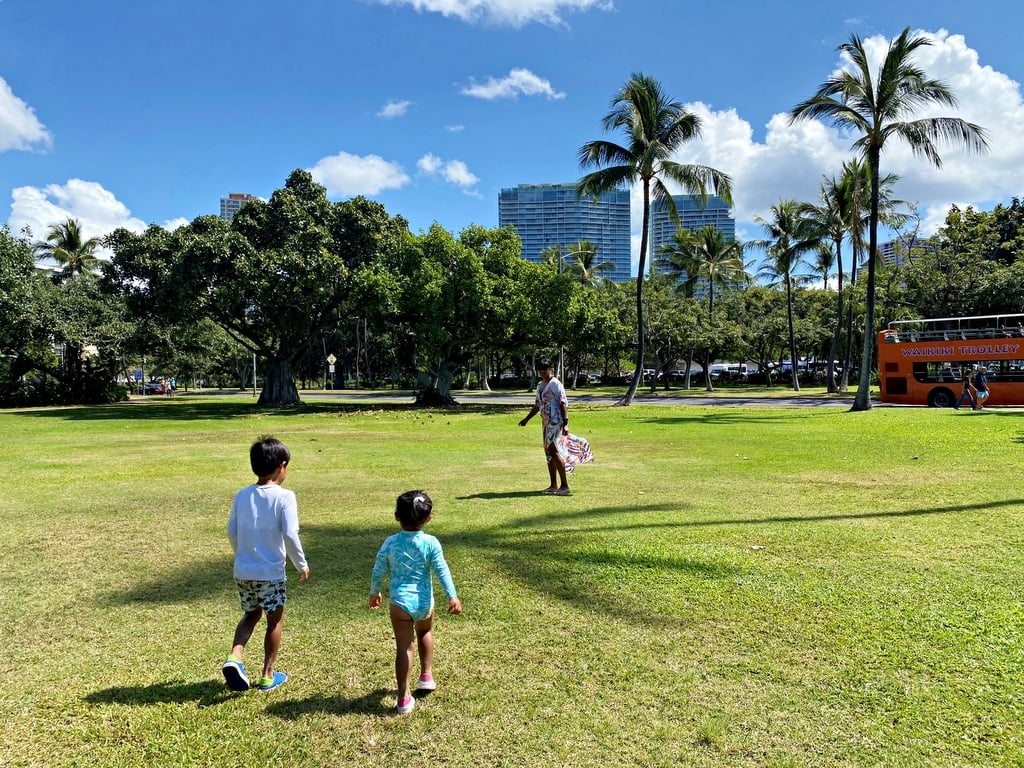 9. Location
If the hotel was directly on the beach, it would be sold out months in advance. But even though it's five blocks away (an easy 8-minute walk), I still really like the location. First of all, to get to the beach, you just have to cross one main street and then it's a pleasant stroll through the well-landscaped Fort Derussy Beach Park (the sidewalks are another story as they're uneven; Jack tripped pretty hard one night so walk on the grass).
On the plus side, with the hotel not being on the beach, you have pretty much everything you need within a five-block radius. There's a Dean & Deluca below one of the hotel's two buildings and Island Country Markets (owned by ABC Stores) in the other building. Across the street there's Longs Drugs, Tommy Bahamas Restaurant and Hard Rock Café. The Royal Hawaiian Center (RHC) is three blocks down the street, where you'll find Cheesecake Factory, Island Vintage and a whole slew of other restaurants and shops. Duke's is next to the RHC and there's a Target 1.3 miles away, which is a 30-minute walk or 10 minute ($12) Uber from the Ritz-Carlton Waikiki.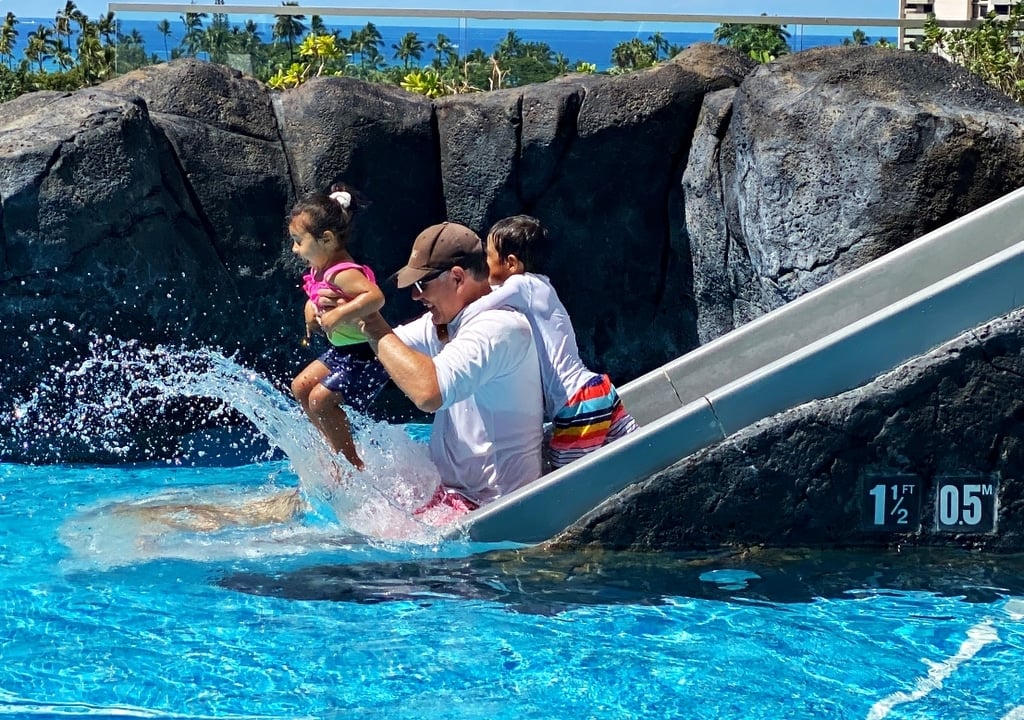 10. Pools
The hotel has three pools. One is an adult pool below the original tower and the other two are family pools below the new tower. One of those family ones has a 15-foot slide, which little kids love since it's not too scary. The best part of the pool besides, the 10 water loungers, is that they don't allow guests to hold lounge chairs for more than 15 minutes. This has always been a sticking point for me at other hotels like the Royal Hawaiian, where guests set their towels and a book, magazine or hat down on the chair at 6:30am and don't come back until later in the day so there was never a place to sit. It's crazy hotels allow this but many of them do. Anyhow, the Ritz-Carlton Waikiki does not allow this, which I appreciate and provides are more luxury experience. There are a few steps when you enter the pool that are very shallow, another reason it's so great for kids because if they can't swim, they can still splash around and have fun.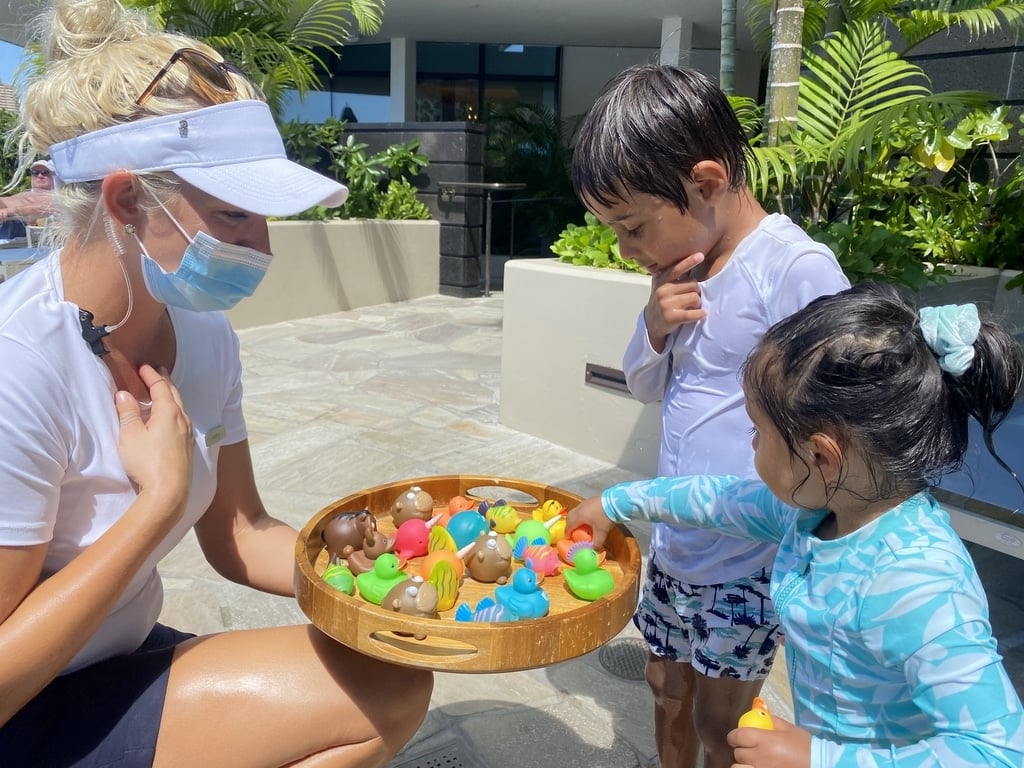 Another feature I love about the Ritz-Carlton Waikiki is that they have pool butlers who are attentive and once in a while come around with a tray of toys for the kids.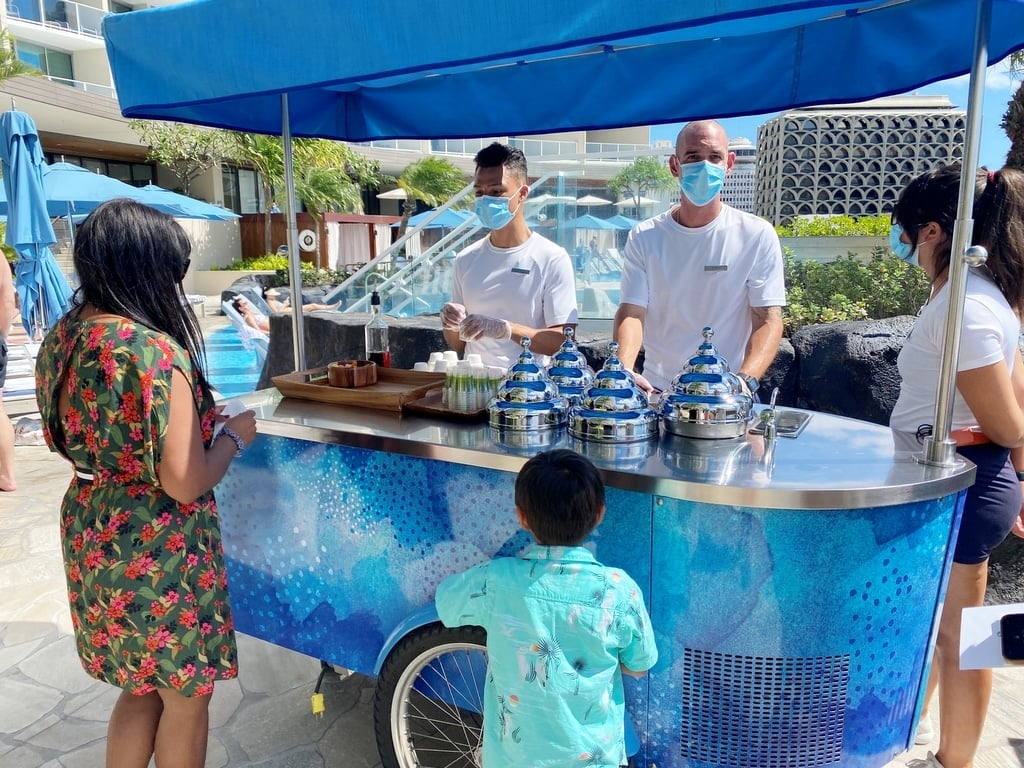 11. Free Ice Cream
Between 2pm and 2:30pm every day, the hotel wheels out an ice cream cart and dishes a shot glass size of homemade ice cream to their guests for free. It's a great idea though it would be nice if they were a little bit larger sizes – especially for the adults. We only made it down once and the flavor was a delicous mango lemonade sorbet.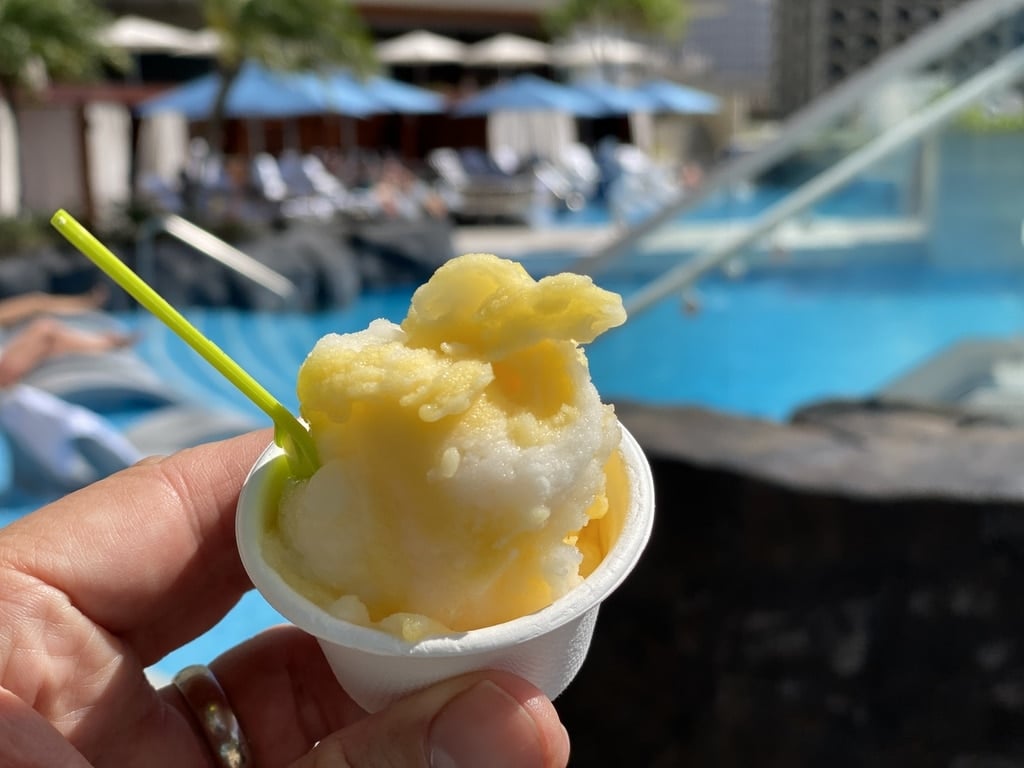 12. Lost and Found
I'll spare you from showing you a pic of my lost item so instead, above is a photo of the hotel's ice cream. I bet in a million blogs, you wouldn't find this as a reason to stay at a hotel but the Ritz-Carlton Waikiki's lost and found is impressive.
First of all, I've learned to always double check the room before leaving but I somehow missed my grind guard. I remember putting it in my carry-on bag but my wife thinks our little one pulled it out. When I arrived home, I couldn't find it anywhere and I emptied out my bag completely. I thought for sure it must have fallen out on the plane because I double-, then triple-checked the room and my Apple Watch charger fell out of my bag on the plane (the flight attendant spotted it on the floor). I was just about to file a lost and found claim with Hawaiian but decided to call the hotel. Sure enough, housekeeping had found it and it was in the notes of my reservation. They said they could send it to me overnight, I'd just have to pay for the shipping. It sure beat paying $700 for a new grind guard. Either way, it was a great learning experience and their meticulous detail and service was really amazing.
As you can probably tell, we had an incredible time and none of us wanted to leave. The Ritz-Carlton Waikiki really delivers a home away from home feeling and when it's time to leave, you won't want to, either.