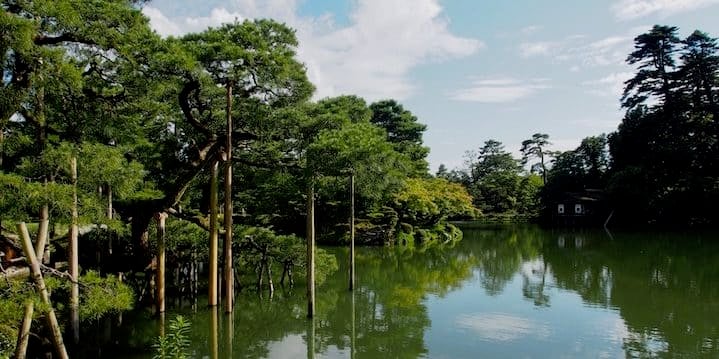 In March of this year, I dropped into Japan's Ishikawa Prefecture on a swing through the larger Chubu region. I took an ice cream for a stroll through the pooled peace of Kenrokuen, whose tallest pines were then dusted with spring snow. This month, beneath a beaming July sun and behind the lead of the Japanese tourism office, I returned to Ishikawa to tighten my focus on this verdant, tradition-rich prefecture of 1,600 square miles. Between restful sleeps on Notojiima (see below), I wrung out of it another list of reasons to ride the fast-as-the-wind Shinkansen beyond Tokyo (which remains in my eyes one of the world's best cities). These, as eleven Ishikawa highlights, are below.
What is Ishikawa Prefecture?
Ishikawa Prefecture sits on the west of Honshu, Japan's largest island and the home of Tokyo. Here it is on a map of Japan: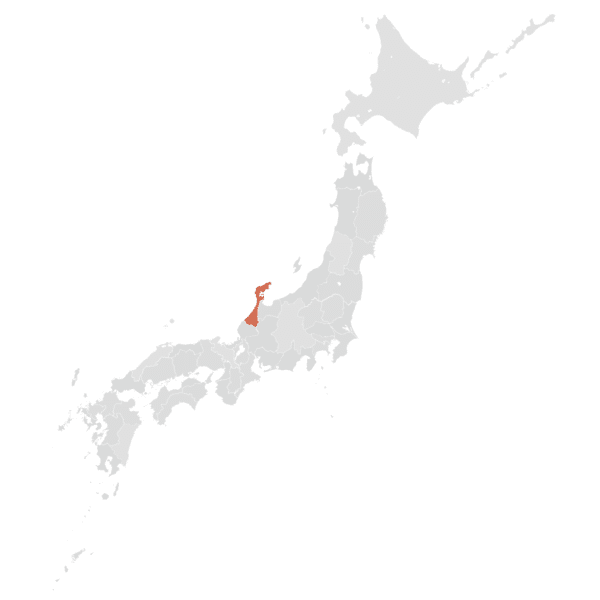 The northern half of the prefecture lists into the Sea of Japan as the Noto peninsula. The other, buoying half was once known as the Kaga Province, whose ruling Maeda family was during the shogunate years second in wealth (measured in rice) only to the shogun. For fourteen generations, the region's reputation grew on the strength its samurai (paid handsomely) and 36 traditional crafts, into which investment was poured by a leadership absent challengers and wars to fund. Today that legacy manifests for visitors as samurai museums, lacquerware workshops, and ice cream wrapped in edible gold leaf. Kanazawa, the capital of the prefecture, is 2.5 hours from Tokyo by Shinkansen. Hideki Matsui, former Yankees outfielder, hails from Ishikawa.
Getting there: To see Tokyo, Kanazawa and Kyoto in one trip, your best bet is a Hokuriku Arch Pass (¥25,000), which entitles the holder to seven days of unlimited rides on the Japan Rail network. Pick one up at the airport and you can use it immediately to transit into Tokyo.
The exchange rate: At the time this was written, $1 U.S. was trading at ¥111 (yen). See the up-to-date rate here.
Before you leave Tokyo: The ways to spend your time in Tokyo seem endless, as I wrote here, but of particular note on my fourth Japan trip were the moments and corners committed to calm, found easily in Ishikawa but also, somehow, amid the bustle of Tokyo. Two new highlights in the capital: Todoroki Valley (below) and Shinjuku Gyoen.
And for once you've departed Tokyo for deeper adventures, here are eleven things to do in Ishikawa:
1. Cycling tour of Nitojima, Notojima
Scratched into the sea beside Ishikawa's thumb-shaped Noto peninsula is Notojima ("Noto Island"), a place of legendary agriculture. To arrive on Notojima, you must take the Shinkansen to Kanazawa, another hour's JR train to Wakuraonsen, and finally a short bus onto the island over one of two bridges. It's a worthwhile journey.
New arrivals—students of agriculture among them—are inevitably drawn to the satoyama of Notojima, from which generations of residents have sourced food with an efficiency to be marveled at. Techniques gilded by the United Nations guide the hands of the island's 2,800 current residents, many of whom can be spotted coaxing plump produce out of the soil into their eighties and nineties. If you're hungry, anything from the Notojima earth or sea can be expected to be delicious.
Notojima, however, is more than an island-sized pantry in which to sit and eat. It is also an international cycling destination (see this post) with near 100 miles of hilly (west) and flat (east) terrain. The cycling tours operated by three jovial transplants marry the best of Notojima in one activity: examinations-by-bicycle of the rice paddies, overflowing vegetable patches and fish-filled waters sustained in harmony with the ecosystem here for 2,000 years. A three-hour tour runs ¥6,300 per adult. Expect yours to spin in and out of conversation with the living pillars of this remarkable community: men and women tending gardens and pooling fish.
The Koda Fire Festival: One night each late summer/fall, the 100-foot flames of the Koda Fire Festival light up the Notojima sky in celebration of the annual rice harvest. All 2,800 Notojima residents—and many more guests—come out to be a part.
2. Eat, sleep and rest at Sansuiso guesthouse, Notojima
Nights on Notojima are dark and restful. By hammock or tatami mat, you can savor them at Sansuiso guesthouse, where each of the four beautiful rooms (¥20,000 a night) can sleep a family of four. The genial owner and his family (wife, three children and mother) speak little English, communicating largely in smiles and hospitality. In summer that includes trips to a neighbor's dock to view neon-glowing crustaceans and lightning bugs in the rural blackness. The traditional hot bath, on the first of the two floors, is a great place to wind down after a day on a bicycle and before each nightly feast.
Each of these feasts is an affair to be remembered, built of Notojima-grown vegetables and rainbowed fish caught hours before in water you can see from your room. Mine included a four-foot wooden boat packed with fresh sashimi and supplementary dishes like buri ("yellowtail") with radish and sweet glaze.
If you don't speak Japanese: The smiling man behind Sansuiso told me that he is working on an English website, but for now guests that don't speak Japanese should consider bringing a guide along or speaking with a Japanese travel agency to minimize the language gap.
3. Eat sushi at Kaga Yasuke, Kanazawa
Shelved within the sushi world of Japan is Kanazawa's own sushi reputation, which includes the genesis of a worldwide phenomenon: conveyor belt sushi. At 64-year-old Kaga Yasuke, there is no machinery, no index assigning a price to items by plate color. The omakase ("chef's choice") is a selection of ten pieces (¥3,800) worked into transcendence by the nimble hands of a 50-year veteran and his daughter (her grandfather founded the place). Each stunning piece is set delicately, one at a time, in front of the eater with a request that it be eaten without edit and within three seconds to preserve the chef's intended flavors. More than 500 fish fatten themselves in Kanazawa's nearest waters. Here, they go down easy.
The meal, in order: Pickled firefly squid, kingfish, fatty tuna, oboe squid, sea bream, horse mackerel, manju (shellfish), medium tuna, salmon roe, egg omelette with shrimp paste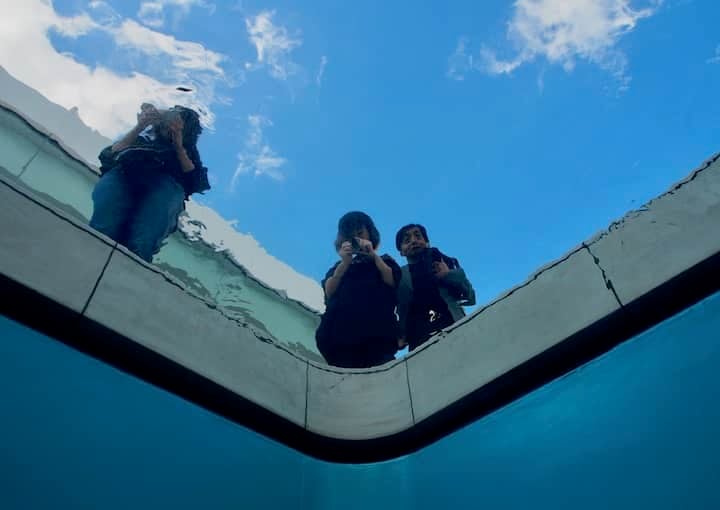 4. Visit the 21st Century Museum of Contemporary Art, Kanazawa
The "park-like" 21st Century Museum of Contemporary Art opened in 2004 on the grounds of a shuddered school. Since then, it has grown exhibition by exhibition into a modern art stalwart. Remarkably, it is both a place of pilgrimmage (a family visiting from Belgium told me as much) and an entryway into art for the uninitiated, presenting philosophical challenges and fun as compatible. Exhibits like Erlich's "The Swimming Pool" and most of all "DeathLAB: Democratizing Death" take a step out of the wall and into the dynamics and psyche of the real world. It's a steal at ¥1,000 (certain parts are even free).
5. Stroll Kenrokuen, Kanazawa
Kanazawa is given tremendous service by Kenrokuen, which as noted in my piece on Chubu is considered one of Japan's three finest gardens. In full summer bloom, its 30 acres seem to bleed green to the horizon. Its 8,600 trees stretch limb over limb for the sky. Without overstating the effects of a slow walk through a park, it is an alter at which a soul with legs in Kanazawa can submit to the moment and recalibrate. Illustrative of the significance assigned to Kenrokuen are the five gardeners whose jobs involve care only for a single 170-year-old pine. They hand-prune its needles. Kanazawa Castle, adjacent and moated beside Kenrokuen, is also worth a visit if you have time.
1 koku = 150kg of rice: In the Edo period, the measure of competing wealth was in koku, defined as the weight of the rice necessary to fill one samurai's belly for a whole year. Early on, that weight was determined to be 150kg or roughly 330lbs.
6. Eat fish at Omicho Market, Kanazawa
In Omicho Market, you must wander, wonder, eat. Amid colorful appeals to your senses and prompts for questions (like "how many squid ovaries are in this?"; answer is sometimes ten) is the stuff of day-to-day, dinner-cooking life in Kanazawa. As in any food market you should let your curiosity guide your appetite. For just a few hundred yen, I purchased and ate: a green tea soy latte (cold), baby scallops (four) on a skewer, and unagi ("freshwater eel") on a skewer. All were delicious. The unagi skewer was unforgettably good.
7. Stroll Wajima morning market, Wajima
The town of Wajima's morning market, which springs up every morning from 8am to 12pm, is roughly 1,000-years old. The offering of its 200 or so stalls is less robust than that of Omicho Market, but the history wins out. A quick walk through also offers chance to taste a handful of new treats, including egara manju (rice filled with sweet red bean). Lacquered homeware, among the finest in Japan, is abundant.
Getting around Wajima: In Wajima, you can rent e-bikes at the Wajima rail station. From the market, you might peddle to Kobo Nagaya workshop for a peek inside the dizzying world of Wajima lacquerware.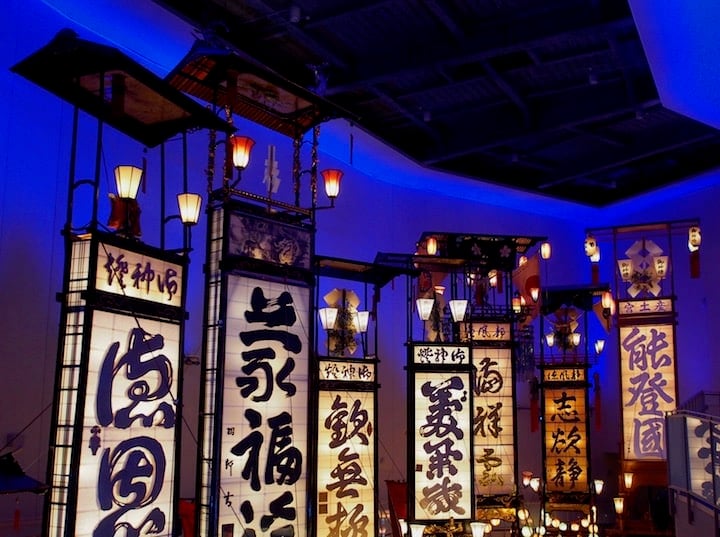 8. Kiriko Art Museum
Spiritual epiphanies lap at the premises of rock-hung Natadera Temple, one of Ishikawa's top draws. But Natadera is not the only place in the prefecture at which the regional belief system ebbs for dissemination. There are more than 200 festivals in Ishikawa between July and October, many of which pivot around towering kiriko lanterns of fifty feet or more. Take a step inside Kiriko Art Museum—part-museum, part-kiriko storage unit—to see them up close. Videos of the festivals, in which raging fires and delirious crowds pop off the screen, bring life to this critical aspect of Ishikawa.
Italian food: There's surprisingly good Italian food in Wajima. Each day at Orrizonte, a handful of available pasta dishes are scribbled onto a waist-high black menuboard. Each item—like my tagliatelle with Noto pork, cream sauce and zucchini (¥1,350)—comes with a house salad and buttery garlic bread.
9. Walk Hagashi Chaya, Kanazawa
Kanazawa's Higashi Chaya district is a great place for an after-lunch walk. Rows of wooden chaya ("teahouses," with the implication that they also host geisha) have stood two-stories tall since 1820, when the area was reshuffled as a hub of geisha-related entertainment. The old chaya are today great for pictures and effective in transporting visitors far, far from home to the romantic Japan of their imaginations. Step inside Shima Teahouse (¥500 to enter) for a closer look at the world of geisha.
Soy sauce ice cream: In Higashi Chaya, there's at least one shop selling soy sauce ice cream (¥350). Which brings me to…
10. Eat ice cream (!), Kanazawa
The Japanese love ice cream, which in its soft-serve variety they often call "soft cream." In summer the sun bounces off cones piled high with flavors like matcha, black sesame, wasabi, sake, and maron ("chestnut"). In Kanazawa—which according to at least one source is the ice cream capital of Japan—the highlights include soy sauce ice cream (pictured above), ice cream wrapped in edible gold leaf (at Gold Leaf Sakuda, among others) and ice cream engineered to never melt. I had my doubts regarding the last item, but the non-melting vanilla I ordered did not even drip in the 15 minutes I sat watching it. Impressive.
Ice cream vending machines: Vending machines can generally be trusted across Japan. Seventeen (a brand) ice cream vending machines will return a really excellent frozen treat. See more here.
11. See the Shiroyone Senmaida rice paddies, Wajima
Like Kenrokuen, the terraced, waterside hills of Shiroyone Senmaida appear in this post after a previous feature in my write-up of Chubu. See it in all seasons. In summer, its 1,004 cascading rice paddies are pooled with muddy water as fine Wajima rice pushes toward harvest. In winter, the curves of this dormant world are brought into extraordinary relief by pink-and-yellow glow LED lights. There is drama here, not to be missed.
Lastly, a note on flying to Japan: ANA (All Nippon Airways) flies direct to Japan from Chicago, Honolulu, Houston, Los Angeles, New York, San Francisco, San Jose, Seattle, and Washington, D.C. I took my LAX-HND flight aboard a 777-300 with wide seats and ANA's reliably outstanding service. I particularly appreciated the menus detailing food options—with "Recommended" stickers—from which I selected the "Simmered rock fish with soy sauce" for breakfast.
---
For more on travel to Ishikawa, visit hot-ishikawa.jp.