I just got back from an incredible 10-day safari to East Africa with Micato Safaris. If you haven't heard of Micato they are the industry leader and win all the big travel magazine awards year after year. You can learn about them here by reading my 12 reasons to choose Micato Safaris for your next African safari. My wife Natalie and I were part of a group press trip to check out four new and very different lodges. In fact, we were the very first guests to ever stay at Sir Richard Branson's Mahali Mzuri Kenya Safari Camp and the other ones had just officially opened a few months ago — including the Four Seasons Serengeti in Tanzania, which I'm here to tell you about.
I'm quite certain some people will snicker, saying that it's not really a 'safari' lodge when they learn how many rooms and how plush they are with all the comforts of home. So if you are one of those travelers who likes to rough it and sleep in a tent, then you might as well close this window before your face turns green with envy … I mean red with disbelief.
Here are 11 reasons to stay at the Four Seasons Serengeti Lodge in Tanzania: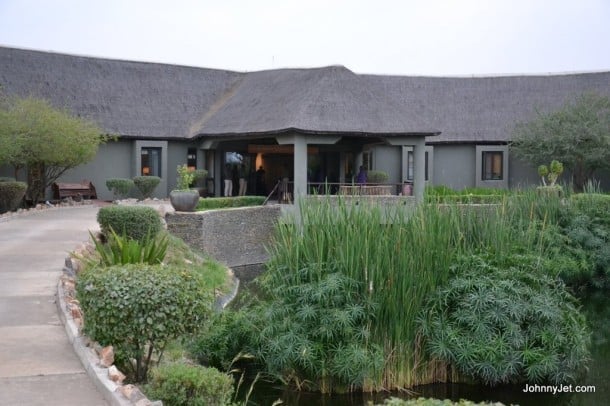 1. It's the Four Seasons
I shouldn't even list this as a reason because it's a given but just in case we have any first timers here, let's get it out of the way now.  How many bad Four Seasons hotels have you been to? I've been to one tired location and that was their original flagship property in Toronto. But they knew it that it had become outdated so they built a brand new hotel and opened last year with this gem. A pretty good rule of thumb is that if it's a new luxury hotel, no matter which brand, you know it's going to be swank; the service might not be up to par just yet, but it's going to be swank.
Good to know: The Four Seasons Serengeti Lodge is the first Four Seasons in Sub-Saharan Africa and marks the introduction of the brand to the region with two additional properties planned in the Ngorongoro Conservation Area and a beach resort on the island of Zanzibar.
2. Location
Four Seasons Serengeti is located smack in the middle of The Serengeti National Park in Tanzania. It's considered by many as the best park in Africa and is one of Tanzania's most famous natural wonders.
Good to know: The Serengeti has approximately 70 larger mammals and some 500 avifauna species. It's renowned for its large lion population and is one of the best places in the world to observe prides in their natural environment. It also hosts the largest animal migration in the world, which usually takes place when the rains end in May. The main attraction are 1.2 million wildebeest running their way to the Masai Mara in Kenya. You can learn more about the Great Migration and The Serengeti on Wikipedia.com.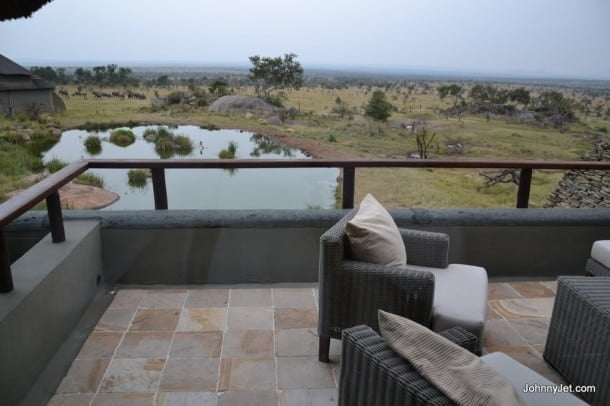 3. The animals come to you
Usually when you stay at a safari lodge, you need to go on a game drive to see any animals. Here, you still go for game drives but you really don't need to because the lodge has two watering holes (including one next to the infinity pool) so the animals literally come to you. When we arrived, we were greeted by a huge herd of elephants, which I heard stop by once a day (at no scheduled time … they're elephants!) We also saw troops of baboons, a gang of African buffalo and many others.
Good to know: Since The Serengeti is a national park, cars are not allowed to drive off road. But surprisingly, you still see plenty of game hanging out just along the side of the road. Our best spotting was at 4:45am on our way to our hot air balloon safari when we came across a lion and lioness!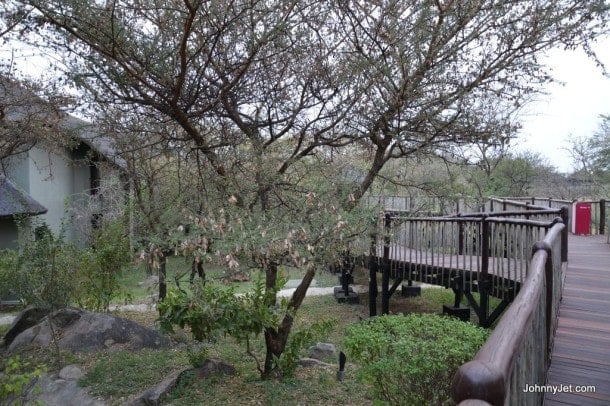 4. Safe environment
One of the most attractive aspects of the lodge is that guests will love to be immersed in the Serengeti but in a safe and somewhat controlled environment. There are elevated wooden walkways that weave throughout the property so you don't have to worry about stepping on any snakes or getting pounced on by a lion or other predators. There are Swahili guards stationed in front of every building block with flashlights at night to make sure you get to and from your room safely. The rooms are as bug-free as you can get while on a safari but you still need to leave the windows closed and lights off at night so as not to attract mosquitoes. FYI: We only had a couple of small insects in our room: one spider and a moth.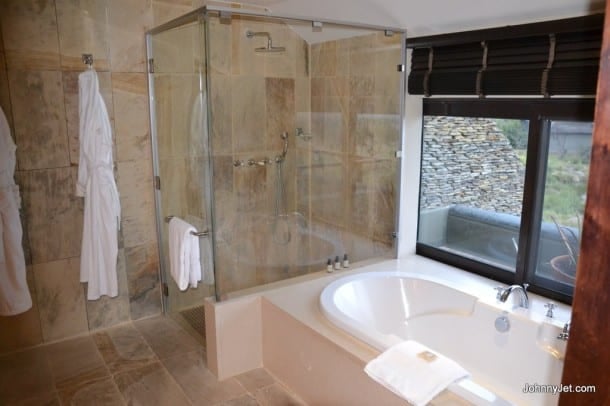 5. Comfortable rooms
There are 77 guest rooms, including 12 suites with plunge pools and five free-standing villas with private swimming pools. The design of the property and rooms reflect both contemporary African architectural style and its surrounding landscape. Each room has an elevated open-air sundeck, four post beds with mosquito netting, walk-in closets, mini-bar, hair dryers, working desk, Wi-Fi (not free), large bathrooms with a separate shower stall and deep soaking tub, a telephone and a large flat screen TV.
6. Live web cam of watering hole
I know what you're thinking … a TV on safari?! What the heck? But trust me: You won't be complaining when you turn it on and the home channel is a live stream webcam of the main watering hole so you can decide if you should get out of bed or not to look to view the game outside your window.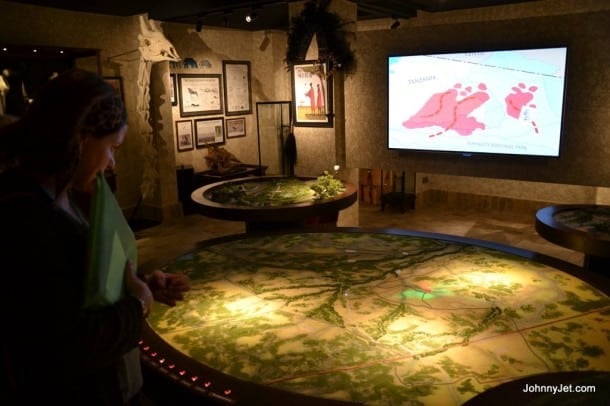 7. Discovery Center
The lodge has a state of the art Discovery Center. It's part museum exhibit, part lecture theatre and is the first lodge-based conservation research and education platform in the Serengeti. The team of experts are closely involved with a number of the Serengeti's wildlife research and conservation projects, and guests that are interested are invited to participate in some of the projects as well. One of them is using the latest photographic techniques to track and identify animals. Guests can go out on a walking safari with Oli Dreike, The Discovery Center General Manager to set the cameras up and then view the photos the following day to personally monitor the wildlife's behavior and movements around the Lodge during their stay.
Tip: Be sure to go into the Discovery Center and watch the BBC's 30-minute video on The Serengeti.
8. Kijana Klub
Guests to the Four Seasons Serengeti have to be at least eight years of age. Kids will love the Kijana Klub. The complimentary club offers children and teens a fun way to spend their time in the African bush. There's a supervised arts and crafts room and a separate film and video games area.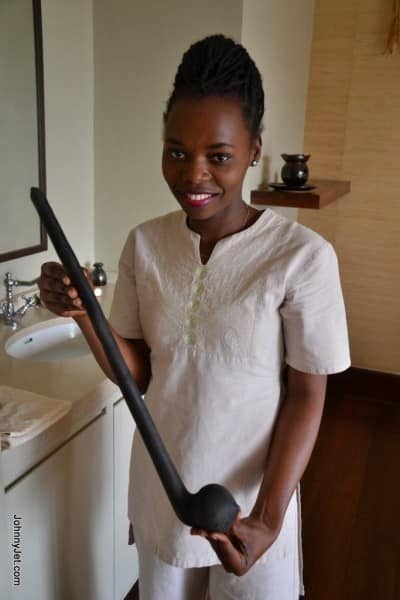 9. Spa/gym
The lodge has a free-standing spa complex with six treatment pavilions. Most of the workers are from Thailand but fortunately I had a local giving me their Signature Kifaa Massage. It's an adaptation of a full body holistic massage incorporating the use of a Rungu. A Rungu is a wooden baton that represents the warrior status for Maasai culture in East Africa. A warm baobab oil is used to nourish the skin and enhance the experience. It was out of this world and was one of the most unique and best treatments I've ever had.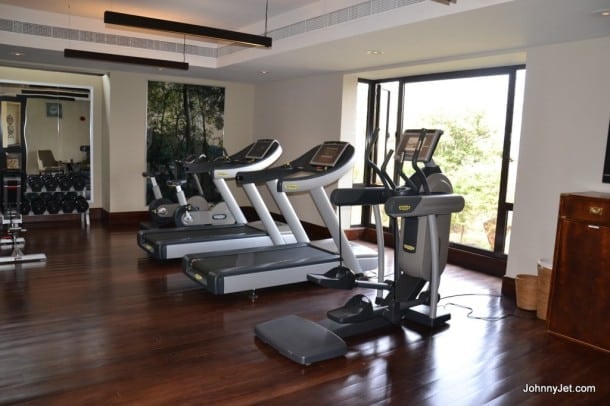 Note: There's a gym in the main building and while you might scoff, some people in our group really appreciated it after being in the bush for a week. It's nice to know you can go pump some iron and run on the treadmills or ride the bikes to work off all the delicious food you just ate.
10. Dining
Speaking of food – the lodge has three restaurants: Kula's, an international and African buffet-style restaurant; Maji Bar, an à la carte restaurant and bar; and Boma Grill, offering authentic African grilled dishes using locally sourced produce. The latter has a unique circular seating plan around an open fire pit capped off with a Masai warrior dance.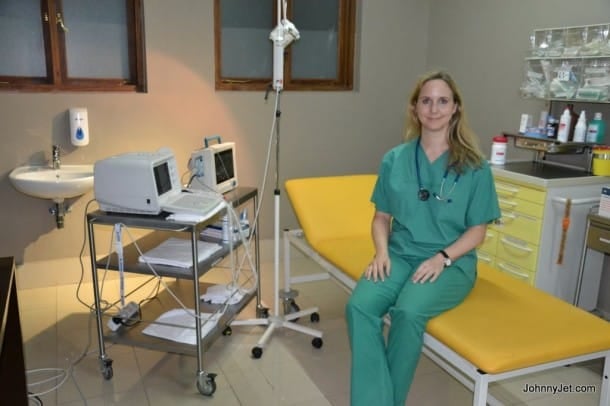 11. Doctor on 24/7
It's nice to know that there's a doctor on call 24/7 for both guests and employees. I met the German doctor who told me it's a win-win program. The German doctors, who speak fluent English, get to come here for five weeks with their families with all expenses paid but they have to be available 24/7. I was told their clinic has more capabilities than the closest hospital which is about an hour bush plane ride away. FYI: When I told her I wasn't taking any anti-malaria pills she was very surprised and suggests it for every guests staying short term.
Final verdict: The Four Seasons Serengeti isn't for everybody but it sure will be an oasis for anyone who's always wanted to go on an African safari but was too afraid of the danger elements. I expect it will also be a big hit with corporate travel managers or incentive groups, since this would be one of the ultimate places to have a conference.
TIP: Don't miss waking up at 3:45am and going on an unforgettable Serengeti Balloon Safari.
Good to Know: Interested in going on a safari? We have partnered with Cruise Planners which is a top rated travel agency to help plan your perfect trip. Contact Mike Gelman (1-800-724-5868) and tell him Johnny Jet sent you.
Related: