"Yosemite Valley, to me, is always a sunrise, a glitter of green and golden wonder in a vast edifice of stone and space." – Ansel Adams
Since Ansel Adams launched the "Yosemite" Special Edition photography series in 1958, Yosemite National Park has captivated nature lovers and photography enthusiasts around the world.
The park, one of the first protected wilderness areas in the United States, is best known for its majestic waterfalls, but it is also a testament to the power of Mother Nature. From its ancient giant sequoia trees, deep valleys, vast meadows, and powerful glaciers, the 1,200 square miles of Yosemite is breathtaking. No matter the season or the weather, there is plenty to do, see, enjoy, and of course, photograph!
On my recent trip there, the focus was winter fun. While the area has had a relatively mild winter (one trip in January had to be postponed due to no snow), it received 10 inches the weekend before my trip. Only, the day we arrived, the weather was – wait for it – 68 degrees! I couldn't believe that I was wearing a t-shirt in the High Sierras of California in winter!
During my stay, snow had certainly melted on the Valley floor, but in the higher altitudes we found the snow and were able to sample some of the many winter adventures to be had in Yosemite.
During my stay I was hoping to see the famous "Fire Fall" – when Yosemite's Horsetail Fall turns into a lava-looking flow as a result of the sun setting at just the right location and time of year. For two weeks in spring and summer, light is low during sunset thereby casting a red-orange glow over the water. The timing has to be just right and if you miss it during the 10 minutes or so the phenomenon takes place or the weather isn't ideal (i.e. cloud cover), you've missed it, as alas I did.
Fun random fact: In years past, a man-made version of the Fire Fall was a summer ritual for nearly a decade. Owners of the Glacier Point Hotel would collectively drop hot embers down a height of about 3000 feet from the top of Glacier Point to the valley below. The National Park Service ended the practice in 1968 when they felt it was contributing to unnecessary overcrowding of the park from visitors wanting to see the Fire Fall, and due to the fact that it was not a natural event.  Interestingly, the hotel burned down a year later and was never rebuilt.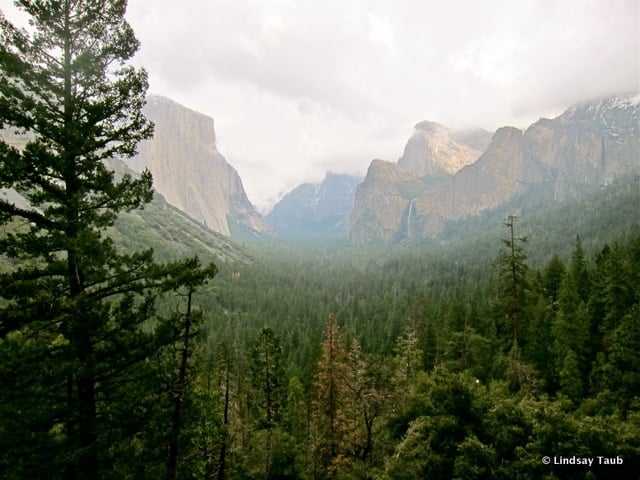 Here are some posts from my trip to help you plan your visit: