For those who love to witness humpback whales, orcas, grizzly bears, and other magnificent animals live in their own habitat, few places are better and more accessible than Campbell River, British Columbia. Found on the northeast coast of Vancouver Island, Campbell River is known as the "Salmon Capital of the World" and has become a popular hub for adventure and ecotourism activities for all ages and abilities. I recently visited the historic town to take as many wildlife tours as I could. Here are three that my sister and I recommend:
1. Grizzly bear safari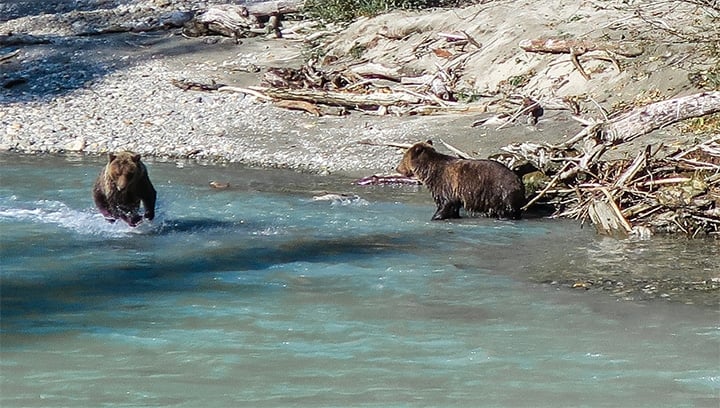 If you want to see the mighty grizzly in the wild without fearing for your life, check out a grizzly safari. There are many tours available in the Campbell River area, but I recommend Discovery Marine Safaris. The DMS team is one of the highest-rated outfits and offers grizzly safaris, whale-watching tours and even heli-tours, if you're looking to go all out. They also promote ecotourism and have a naturalist onboard each safari to talk about the wildlife and history of the areas you'll visit, which is a nice touch.
To get to the grizzlies, you'll set out from Campbell River's marina—about an hour with incredible views of beautiful seashores, forests and epic landscapes. As you're on the water for so long, there's a chance you'll see whales, but we weren't so lucky on our particular day.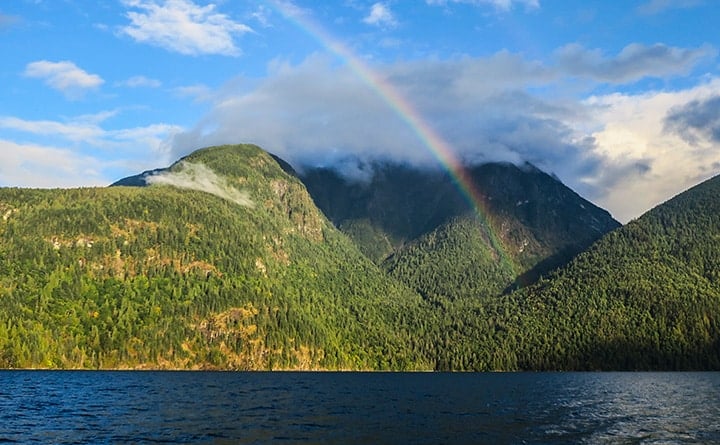 Once you arrive to Orford Bay, you're in the land of the Homalco tribe, who greeted us at the dock and led our safari. The grizzly safari consists of five stops, each with a lookout that stands 20 feet off the ground and secured by a 10-foot wall on all sides. The lookouts have been strategically placed in locations overlooking the river where grizzlies gather to feast on their favorite food, salmon. We immediately saw two grizzlies at the first stop and watched in awe as they alternated between eating fish after fish and playfully wrestling with each other. From there, we proceeded onward to the next four stops and saw nine grizzlies in total throughout the day.
2. Snorkeling with salmon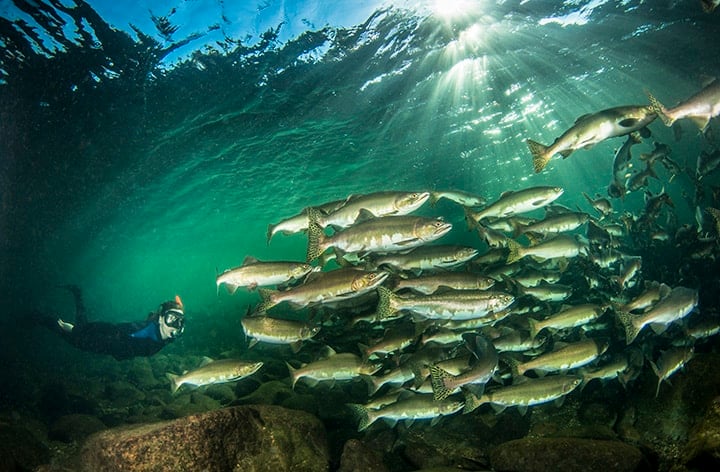 As Campbell River is the salmon capital of the world, it only makes sense that it offers salmon snorkeling tours. An experience truly unique to the area, salmon snorkeling tours are available with Destiny River Adventures and allow you to get up close and personal with all five species of Pacific salmon as well as deer, beavers, eagles, seals, and other wildlife. The season runs from July through September, and although we weren't able to salmon snorkel for ourselves (we visited in October), multiple locals reported that this was the best wildlife tour in town due to its unique nature and awesome guides. We'll definitely be back to check this out.
3. Whale-watching
Vancouver Island is one of the best places in the world to go whale-watching. Many species—from humpbacks to orcas—can be seen in the cold, calm waters off the island's coast and its narrow passages. We joined Stubbs Island Whale Watching for its landmark tour in Telegraph Cove, a historic harbor town two hours north of Campbell River. The location is perfect for seeing whales, as the Johnstone Strait, Blackfish Sound and Broughton Archipelago are home to all the whales previously mentioned in addition to Stellar sea lions, which are as big as grizzly bears at 1,200 pounds. There are also bald eagles, dolphins and more.
Once we were on the boat, it only took ten minutes to see our first humpback and its mighty tail break the surface as he prepared for a long dive. A half-hour later, after seeing ten more humpbacks, we began following a pod of orcas on the hunt for sea lions, then another group of humpbacks, and so on. The amount of animals we saw was incredible, and by the end of the three-hour tour we had seen dozens of whales, sea lions, bald eagles, and other wildlife.
So there you have it: three ways to get outdoors and experience the best wildlife in the Pacific Northwest. Have you been to Campbell River or Vancouver Island? What other wildlife tours did we miss? Share them in the comments!