While living abroad for so many years now, and as a cultural explorer myself, India has always topped my wishlist. Long before I started my globetrotting journey, it was on my radar as a Brazilian. We have always had a lot of affinity for the Indian culture. It's the land famous for its always contagiously happy people, home to the namaste spirit, and it was made even more famous in Brazil by the Emmy-winning soap opera Caminho das Indias ("India: A Love Story"). The story took the whole country, among other countries across the globe, by storm back in 2009.
When I used to dream about visiting India, the first thing that came to my mind (and the minds of most people that I know) was the serene image of a stunning sunset at the Taj Mahal. Well, let's be honest: Who doesn't want to visit one of the world's seven wonders? Taj, for the acquainted ones, is truly a marvel of architecture, with an even more enchanting story.
But when I visited Kerala, India, I did not expect that I was going to have such a remarkable life experience. It was a land for all my senses, and all five of them agreed with me. Yes, they told me.
When you hear people say, "Kerala is India for beginners," believe me when I say that the line couldn't be further from a cliché; rather, it's an honest truth. By now, I've been blessed to have visited Delhi, the country's busy capital; Agra, the home to the Taj, and, most recently, across Kerala. So here's my advice to travelers: Get to Kerala first. Why? Five reasons, namely:
1. It's a nature lover's unspoiled heaven
Being a Carioca (someone born in Rio de Janeiro), the place famously known as "the Wonderful City" and home to another world wonder, I grew curious to understand why people referred to Kerala as a "God's own country." If you love unspoiled green, and like being wowed by breathtaking landscapes, Kerala is a must. In a hectically fast-paced world, where most people live in concrete jungles battling pollution, excessive noise and endless traffic jams, Kerala is in the most literal sense of the word a paradise, one in which you can enjoy nature on its purest form. It's like these amazing promotions you see on TV, but in real life. You'll be amazed by the mountains of Munnar, be astonished by the Kerala backwaters and fall in love with Kovalam's incredible beaches.
2. The food is amazing—and fun to eat
Raise your hand if you appreciate good food. Keep it up if you like to experiment with new flavors made with fresh ingredients. Okay, now lower your hand (I don't want to cause you shoulder pain). Listen to me in plain, Latin American-accented English: You have to taste Kerala's food. The cuisine is one of the most aromatic, colorful and unique I have ever seen. While in God's own country, it's not a rare sight to see people shamelessly licking their fingers after a simple yet tastefully and unbelievably local meal.
I got to taste a very traditional dish called sadya, served on a banana leaf. This vegetarian delight is made of several small portions (over 20, sometimes) of traditional local dishes, impressively presented and eaten with your hands, and cross-legged. I'll never forget the experience. My favorite part of the meal was the later-named-by-someone-else jackfruit. It was so perfectly done. I didn't know what I was eating, yet I couldn't stop—and you know what? It did taste like chicken.
Don't forget to indulge yourself in plenty of fresh coconut water, which is everywhere. This little detail made this Carioca very happy.
3. The culture!
I must confess that I was not prepared for all that I was confronted with in Kerala's cultural environment. My introduction came when I arrived at the hotel, when I was received with a traditional presentation of the millenary Kathakali dance. The vivid colors, the elaborate costumes and the coordinated choreography had me hypnotized. I shouldn't have been surprised—after all I'm from the country of the Carnival—but I was.
Later, my group had the honor of visiting Kerala Kalamandalam, a university for art and culture. It's a city-complex exclusively dedicated to the dance, music and colors of Kerala's rich heritage. People come to the university from all over the world to study Kathakali dance, Kutiyattam (traditional Sanskrit theater), Koodiyattam (traditional temple theater), and much more. For the curious, there's an impressive variety of lessons, including in literature, vocal music, make-up, and costuming. It was so fascinating to see the modernized dedication to such deep-seeded tradition. The ceremonies and shared heritage I saw at Kerala Kalamandalam felt like the special glue that binds the locals together, from the youngsters to the older generation.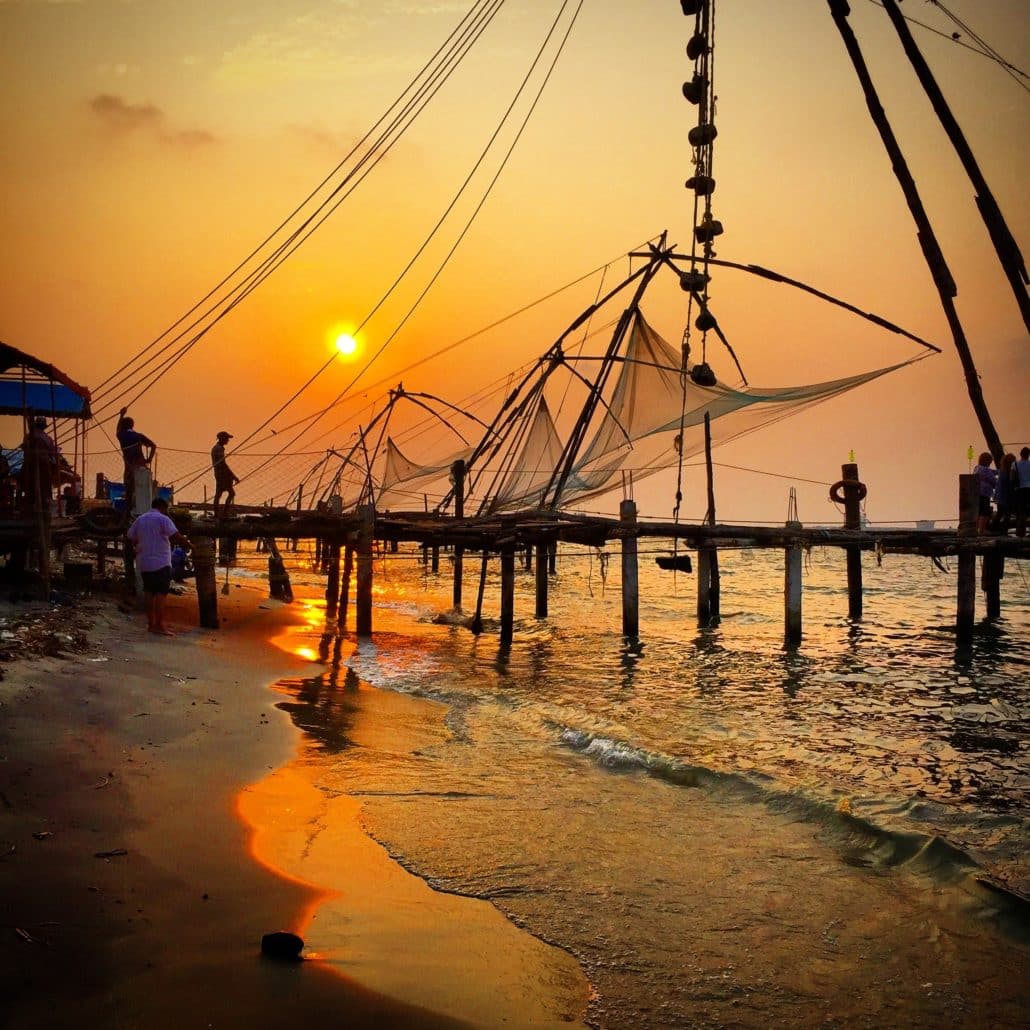 4. If you like to be pampered…
Oh boy, was spoiled in Kerala. Keralans know how to make you feel right at home. I didn't expect to find luxury in Kerala. Yes, its simplicity is its charm, but (oh yes) they deserve recognition for the special blend of nature, modernity and tradition the locals have woven for today's travelers. One of the many things the people are proud of is the Ayurveda. From food to yoga, it is typically considered one of the healthiest systems of medicine. While in Kerala, you must indulge in a Ayurveda massage treatment. During mine, I was in heaven.
5. The smiles
Perhaps the most memorable aspect of my trip. Remember when I alluded earlier to the joyful people of India? Simply and sincerely, the beautiful Keralan smile is printed on all faces regardless of the time of the day or weather. Smiles like these make all the difference in the world. People are so welcoming throughout Kerala, so sweet and ready to make you happy. They seem to make it a mission to keep you smiling. I'll forever cherish those smiles.
If you're seeking sunny adventures or simply a bit of restful shade and coconut water with the family, Kerala has it. I've been to over 50 countries, and I've lived in six, and I couldn't be more enthusiastic in my recommendation of Kerala to all who like to travel. I now understand why they call it "God's own country"—and I'm not even jealous.
For more on Carla's adventures (mostly in Portuguese), visit cariocatravelando.com.
---
For more on Kerala, India, visit keralatourism.org.