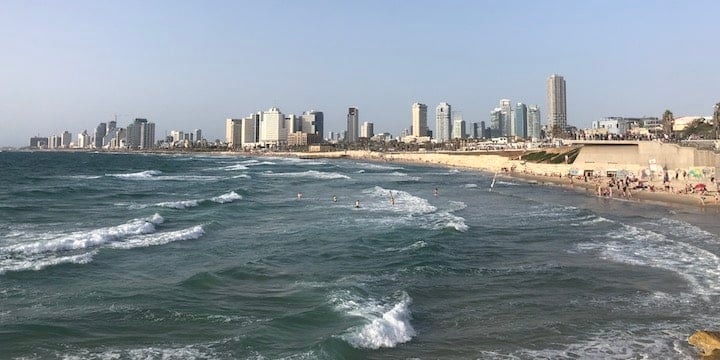 Tel Aviv, to me, may as well have been in California. It's a city of tremendous geographic heritage, with proximity to some of the world's furthest documented reaches, but in all the best ways, it felt like California.
With palms and heat and long, lively beaches, it looked like California. People seemed happy and relaxed, like in California, and the food seemed healthy, also like in California. The tech sector is massive, and globally directive, and the landmarks are less singularly iconic and more general, comprehensive draws, like the lifestyle, and the nightlife, and the energy.
But it wasn't California. I went east ten hours from JFK this June instead of west a cross-country six, and Tel Aviv proved to be all I hoped it would be. The city was beautifully walkable on the ground, and merely beautiful from any sort of height, with ribbons of white-washed Bauhaus-style buildings (commemorated by UNESCO) stretching all the way to the water or the horizon depending on your perspective. Illuminated at night, it was even elegant.
The narrative played on and again throughout the summer (and consistently for years, depending on how you hear it) paints Tel Aviv as a city in the throes of a violent crisis. In the larger scheme, political context cannot be overlooked, but the reality is that the four days I spent in Tel Aviv with my pal Brooks were borderline therapeutic. We bought overpriced Coronas (the beer scene is still blossoming; see below) and went to the beach. We ate shakshouka, and went to the beach. We kept late hours linking low-key rooftop patios to venues with pizza ovens by foot, and wove in and out of the company of film festival organizers and beer savants. It was a genuinely great and carefree time.
Tip: Israel is about the size of New Jersey, and so Tel Aviv is only an hour-and-a-half by bus from Jerusalem. Navigation between the two is easiest by way of the Egged bus, which services the route as often as every 10 minutes. I split six days across the two cities with limited effort.
A few thoughts I scribbled down from my first visit to the White City, and to Israel:
1. Israeli (passport-safe) visas
As of June 2014, Israeli immigration policy requires that American visitors to Israel simply show up with a valid U.S. passport. Stays of up to 90 days are greenlighted with a visa on-arrival, which is free. And easy.
Also of note is the fact that the visa is a 2" by 4" piece of medium-stock, blue-gradient paper—and not a stamp, sticker or other passport-invasive mark. In fact, your passport is not stamped at all. This is significant given the unwanted troubles such passport permanence has brought travelers to other—mostly Islamic—nations in the past. No need to worry about that anymore (but don't lose the visa; you need it to exit).
2. Beer & Beyond (159 Igal Alon St, +972 54-225-8505) (link)
Israeli craft beer is not quite here yet, but it's closer than you might think. The likes of Dancing Camel brewery, founded and run by an American expat, and a beer whose name translates as Ronen the Ugly Indian (a really nice IPA) offered windows into the vision of an unexpectedly inspired craft beer community in Tel Aviv, and greater Israel. Momentum is building, and there is nice stuff available if you know where to look.
Beer & Beyond is where to look. The pilot project of my friend and one-time travel companion Shakhar is less a business than an installation on human-beer relations. The store (as it is first and foremost a beer store) is actually quite small, and was tough to find, but the range of offerings is the furthest thing from small. I tasted and admired a number of beers unknown to me, and repeated the process with a few brews brought in by locals seeking the unparalleled wisdom fielded by Shakhar's famous palate.
Beer-themed tours are available (in English), as are brewing classes, on top of everything else.
3. Porter & Sons (HaArba'a St 14, +972 3-624-4355)
By all accounts, and the one that matters (Shakhar's), this is the best beer spot in Tel Aviv, and probably in all of Israel. It may even be the best in the Middle East, a region not clamoring with competition for this honor.
Inside this warmly lit space of deep browns and beer connoisseurship are something like 50 beers on tap, many representing Israel's small but growing community of craft brewers—and many more by the bottle. The food, too, is wonderful. A mysterious, polenta-based and walnut-covered appetizer may be one of the best things I've eaten in years. My "Goose Confit," as a main, was exceptional as well with a Ronen the Ugly Indian to wash it down.
Note that Porter & Sons opens at 5pm Sunday-Thursday, and at 12pm Friday and Saturday. Reservations are recommended.
4. Receipt quirks
Pay by card, and your server will bring you a receipt, true to how things work all across the Earth. But a few practices struck me as different, namely: 1) You don't seem to always need to sign, though you always should, 2) There's a space for your phone number, which you don't need to write in, and 3) There's usually no place for tips, so you need to tip in cash (10+% is recommended).
5. Save your shekels
The Israeli currency is the shekel, which as of November 2014 trades at about 3.5 shekels to 1 US dollar. Here's the link to the up-to-the-minute rate at XE.com.
Shekels may sound like a cartoon currency, but Tel Aviv, and Israel as a whole, is pretty expensive. Not prohibitively expensive, but you'll probably note it to your friend while you're there. Actually, I think a New York comparison is well-founded in the realm of price: the scale and diversity of options opens pockets of value. You just need to know where to look.
6. The Little Prince (Nachlat Benyamin 18, +972 03-528-2404) (link)
A great place to get a drink, see some music and, depending on the night, pump yourselves right into the after-hours heart of the Tel Aviv International Student Film Festival (as we did). Even without the lift of a special event, the vibe is cool here, and Tel Aviv cool with the likes of wall-projected spitting books, music from people who love finding music, and an open, holiday-light-accented patio two-or-three-floors up. You enter through what seems to be an apartment building's foyer and up its stairs, so you know.
7. Security is intense
Easy as it may be on paper, the process of traveling in and out of Israel can in practice be a bit of a balagan ("mess" in Hebrew). Security is comically intense, to degrees I have otherwise seen only in anomaly. In Israel, I was stopped before I was even off the jetbridge at Ben Guirion International and asked where I was from, how long I'd be staying, who I knew in Israel (which seems like the wrong question to me anyway), and on and on.
I for whatever reason chose to lift myself from the Orthodoxy with a pink-and-blue tie-dye T-shirt and white backwards hat, but the fact remains that all of us arriving were subjects to these "random" fits of interrogation. The same style of questioning then awaited once more before immigration, at immigration, and then in even heavier doses on our way out of the country.
I get it. And in no way should it discourage travel to Israel, but it's time-consuming. On your way out, get to the airport the recommended three hours before departure.
8. Kuli Alma (Mikveh Israel St 10, +972 3-656-5155) (link)
People go out late in Tel Aviv—and more and more, they're going to Kuli Alma until late. It's an elementally liberating handful of interwoven spaces with a palm-draped, L-shaped garden patio at its heart and an open sky above. Dark woods, inside holding close the commissioned graffiti of local artists, provide the acoustics for small productions of nightly music spun by up-and-coming DJs. There's also a brick oven cooking pizzas for all who want pizza (and are willing to pay).
Recent word from a friend tells me that it's more of a tourist spot than a local one, but it's a good time nonetheless.
9. Free Wi-Fi
Tel Aviv has earned great renown as a leader in technological services, and so for that reason it's not surprising that the city is endowed with impressive internet infrastructure. Thanks to a free public Wi-Fi network (FREE_TLV) launched by a tech-leaning government, free internet is available to citizens and visitors alike in 80 of the city's most trafficked pockets. Here's more on the campaign.
10. Cafe Bialik (Bialik St 2, +972 3-620-0832) (link)
Another website in Hebrew. Also the home of a phenomenal breakfast. I can't read the menu now, nor verify pricing or much else, but the shakshouka at Cafe Bialik was unreal. I can also express in discernible language that the largest of the available shakshouka breakfast special can be shared even by two people who love shakshouka, that it is a great value, and that Brooks and I returned here for the same order each morning after our first went so well.
Where to stay: the Rothschild 71
Where you choose to ground yourself inevitably becomes a foundation of any experience, anywhere, and that was again true in Tel Aviv. The Rothschild 71 is parked right on one of Tel Aviv's cultural arteries in Rothschild Boulevard (Sderot Rothschild), and it facilitated the sort of smooth, seamless navigation that all new destinations deserve. It was at the gateway to most non-beach experiences in Tel Aviv (with the beach still just 20 minutes away walking), and perhaps on the city's most trafficked and culturally rich road—which was particularly noticeable at night as we sought public transportation, kebabs, etc.
Built in 1934, the property is sleek, subtle and sophisticated after so many years or careful renovation and remodeling. Its white, Bauhaus-style exterior is sufficiently authentic, and its interior sufficiently comfortable. All was clean, and all was refreshing, including the bed.
It was also of note how rare a balance there is struck between the size of the hotel and the size of the rooms. While intimate in exterior presence, by room size the hotel is unusually generous. Wi-Fi is free here, and fast, which is always worth mentioning. And the service was excellent, and in particular represented as such by one of the managers, who was as candid and generous with her time as anyone I've met in hospitality.
Rooms are suites at the Rothschild, and specifically, there are five options: Studio ($198+/night), Executive Suite ($238+/night; what we had), Residence Suite ($299+/night), Penthouse Suite ($430+/night), and the most luxurious, the single rothschild suite ($750+/night). It's not hostel pricing (and there a number of hostels in Tel Aviv, many of them full of young Americans fresh off Taglit experiences), but we found our Executive Suite to be of pretty exceptional value.
Downsides? There's no pool, I guess, but that was of no consequence in the scheme of our four days. The Rothschild 71 was exceptional, and comes fully recommended. And TripAdvisor agrees.
---
For more on travel to Israel, see its State Department page.