Napa and Sonoma. Yep, we've all heard of these award-winning California wine regions, but San Luis Obispo, aka SLO wine country? Not so much.
My mom lives in Santa Cruz and I live in Los Angeles. Once a year, we find a place in central California neither of us have been before and meet in the middle for a mom-daughter getaway.
This year, we chose Avila Beach (in photo above), a dreamy, dog-friendly beachside community in SLO wine country, as our base. As we came to find out, San Luis Obispo wine country has ten distinct wine areas to visit.
We were only able to take in two in a weekend. But locals say you can do all ten at a moderate pace in roughly four days by following the handy guide available on WineCoastCountry.com.
Here are our recommendations from our weekend in SLO wine country:
Wine
From either downtown San Luis Opisbo or Avila Beach, the heart of SLO wine country (aka Edna Valley), is a 15-20 minute drive.
Edna Valley Vineyard – The Niven family were true pioneers when they started planting vineyards in the valley in the 1970s. As the oldest winery in the area, akin to Napa's Mondavi Winery, the tasting room and picnic grounds are stunning with sprawling views of the vineyards.
Baileyana Winery – Probably one of the most charming tasting rooms I've been to, Baileyana is housed in a former schoolhouse built in 1909. If you like bold California wines, you'll be pleased with their selection. Also available to taste are Tangent, Trenza, Cadre and Zocker wines—all owned by the Niven family. Grab a bottle of wine and duel it out with friends at the bocce ball court nearby.
If you're staying in Avila Beach, these first two wineries are within a 10-minute drive. The last two are in the town's central square.
Kelsey See Canyon – Wine fermented with apple juice? Yep, and many other deliciously wild concoctions are happening at the hands of innovative winemaker Jac Jacobs. These make for great gifts with names like Hot Tub Wine, Three Amigos and Secret's Out. With peacocks strutting by in all their glory, the grassy area behind the tasting rooms makes for a fun picnic locale.
Salisbury Vineyards – Also housed in a former schoolhouse, and originally built in 1905, Salisbury Vineyards excels at their white varietals. My mom and I both bought the 2009 Pinot Naturale. Make sure to check out the gallery in the adjoining room featuring many local artists' work and run by the matriarch, Maridel, of Salisbury Vineyards.
Alapay Cellars – Winemakers Scott and Rebecca Remmenga of Alapay Cellars are turning out unorthodox sips like the 2011 Lagrein or 2008 Zinfandel Port. It's definitely a scene to hang with the locals, especially on weekends. The tasting bar is jamming and if you're looking for clever wine souvenirs, Alapay Cellars' gift shop is stocked.
Cuvee Champagne Bar – As the only champagne bar in Central California, it's a must for the bubbly-lover. Cuvee carries both international (think super high-end like Veuve Cliquot) champagne and local sparkling wine. Flights are available and change daily based on executive chef Marci Lenci's whim. She also whips up delicious tapas and salads.
Dine
Kreuzberg Coffee, San Luis Obispo – I'm an official, unapologetic coffee snob and Kreuzberg Coffee has the best coffee in SLO wine country, hands down. Beyond offering a heavenly cup of java, it's a hipster hangout for intelligentsia types.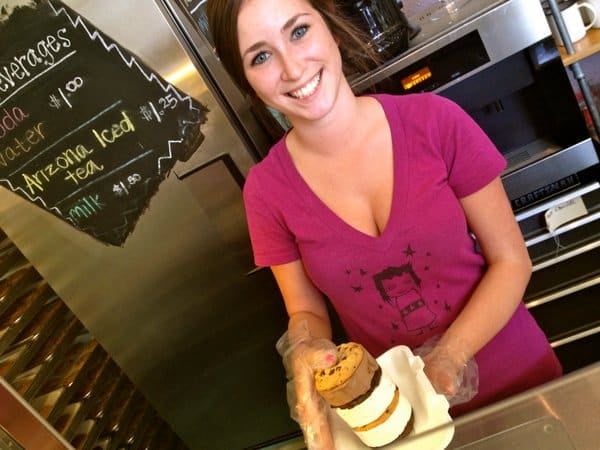 Batch, San Luis Obispo – Pick your ice cream flavor, pick your cookie and voilà: bespoke ice cream sandwiches with housemade ice cream and cookies. What could be better? Oh wait, you can top it. Multiply that euphoric experience by three with a triple decker!
Luna Red, San Luis Obispo – Luna Red is an ideal spot for a relaxing brunch on the patio or a hopping spot for dinner and drinks at night. As a cocktail critic, I thought the housemade cocktails, like the Blonde Manhattan (white whiskey, vermouth, orange bitters and benedictine) or the Moroccan (cardamom, mint, basil, gin, pomegranate vodka and citrus) were on par with any big city mixologist's concoctions. The creativity continued on with the entrees. With views of the historic San Luis Obispo mission, feasting on the kim-chi fish taco salad (in photo above), rock crab hushpuppies and the Cuban pulled pork sandwich made for a heavenly Sunday lunch.
Seaside Cafe & Bakery, Shell Beach – Red velvet and chocolate chip pancakes? Gingerbread cupcakes? Oh yeah. It's like going to Martha Stewart's personal kitchen—but on crack. Ok, not literally, but the owners Tim or Liz are bold bakers, creating zany yet delicious baked goods daily. The cafe also serves savory (eggs benedict, breakfast burritos, etc.) as well. Go early on the weekends (like before 9 a.m.) or be prepared for a wait.
Gardens of Avila, Avila Beach – Be prepared to have your taste buds blown away at Sycamore Springs hotel's restaurant. Utilizing in-season produce from the on-site garden, Los Angeles-transplant and Chef Rob Trester creates a delicate symphony of flavors, colors and unorthodox ingredients for an outstanding meal. The starters—like the roasted quinoa, baby carrots and carrot top pesto, local crab ravioli (in photo above) and the grilled asparagus, poached egg, brioche with pea tendrils—I'm still dreaming about.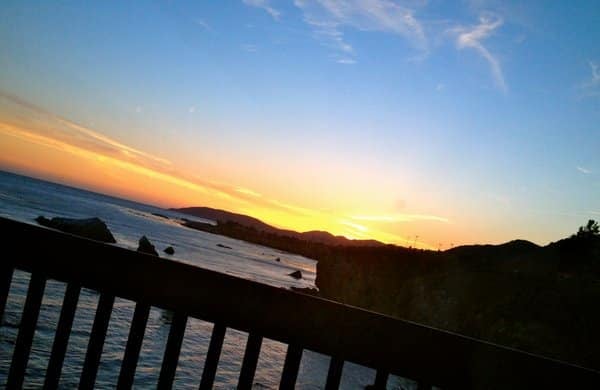 Ventana Grill, Pismo Beach – The panoramic ocean views combined with creative Mexi-Cali eats makes for an excellent happy hour or dinner locale. If you want one of the tables overlooking the ocean, make reservations far in advance, especially on the weekends. And don't miss out on the homemade tortillas with cinnamon butter or the Mexicana shrimp cocktail. Tequila lovers, you'll be pleased, as Ventana Grill has the largest selection in Central California.
Play
Bubble Gum Alley – With 1.5 million pieces of gum stuck to the walls of a small alley in San Luis Obispo, it's being considered as the next unofficial 8th Wonder of the World. And it's not just a bunch of "ABC" slimy specimens—you'll also see some rather creative works of bubble gum art as well. Head next door to Powell's Sweet Shop and stock up on supplies in order to add your chewed gum contribution.
Downtown SLO boutique shopping – As big advocates of supporting local businesses, both my mom and I were in awe of the abundance of locally owned retail stores in downtown SLO. Walk the three blocks, located on Marsh, Higuera, and Monterey streets, and treasures abound. Favorites include Romp for high-quality, European-made shoes, The Secret Garden for herb and tea blends, Mr Michaels for lux leather goods/hip SLO t-shirts and HepKat for retro-inspired clothing with pizzazz.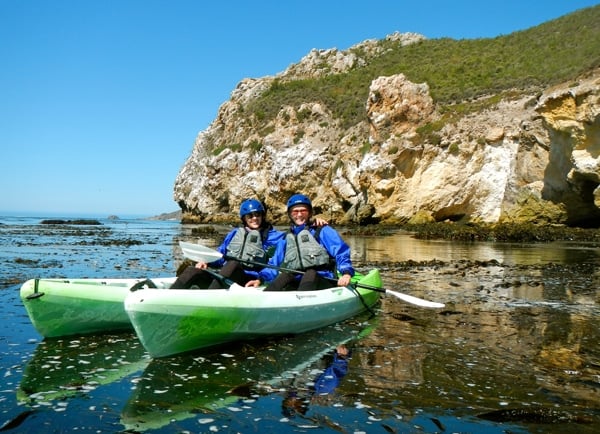 Kayaking at Fossil Point – My mom, who was gun-shy from a previous kayak spill, braved a wet suit and solo kayaked for the first time. I credit Vince Shay, owner of Avila Beach Paddlesports and kayak guide, for such a successful outdoor adventure. His enthusiasm for the sport and the natural surroundings paired with his saint-like patience was an ideal cocktail for us both to have an incredible time kayaking in the sea caves just off Avila Beach. As a nifty bonus, the $70-per-person price tag includes not only the equipment but a CD of photos of your conquests (Vince is also the photographer). He and his wife, Emily Shay, offer a unique kayak tour of Avila Beach's historic lighthouse as well.
Friday Farmers Market – Every Friday afternoon from 4 – 8 p.m in Avila Beach, the beachfront promenade transforms into a charming farmers market. Food, flower and veggie vendors abound. A live band plays while families and couples stroll the boardwalk, sampling treats and enjoying the panoramic ocean views. Based on recommendations, don't miss out on the strawberry shortcake or the fish tacos. Avila Beach's Farmers Market season is from March to September.
Stay
La Avila Fonda Hotel, Avila Beach – The hospitality, in the form of frequent complimentary snacks and friendly staff, more than makes up the gussied up budget chain-hotel room. La Avila Fonda offers a continental breakfast of fruit and freshly baked croissants, happy hour with local wine and cheese, homemade pie and ice cream at 8 P.M. and margaritas and Mexican bites at midnight. The location is stellar as well. Literally a few minutes walk and you're playing in the surf at Avila Beach or wine-tasting in the seven boutique tasting rooms across the street.
Sycamore Springs, Avila Beach – Some like it hot. And if that's you, Sycamore Springs is right up your alley. Each room's private patio comes with a hot tub fed by the property's mineral springs. If you're not a guest, there are 20 natural, private hot tubs shrouded with verdant fauna to rent by the hour.
Madonna Inn – Kitsch factor alert! How about a caveman-, safari- or antique car-themed room? The historical landmark hotel has 110 uniquely decorated rooms to choose from. The Pepto Bismal-pink hotel, hard to miss if you're driving on the 101 HWY, is a riot. But beyond the fun factor, they have the best pies in SLO country.
As a travel writer, I feel pressure (self-inflicted) to take my mom to extra special destinations. SLO wine country went beyond both my mom's and my own expectations. I absolutely loved it—friendly people, gorgeous seascapes, warm weather, stellar eats/sips and out-of-the-ordinary adventures. But don't take my word for it:
"How is it I've driven by a thousand times on my way to Los Angeles and never stopped before!? I can't stop telling all my friends about what a find Avila Beach and the surrounding area is," exclaims Christy Vogel aka my beloved mother.
For more on Avila Beach, check out Voyage Vixen's 7 Enchanting Reasons to Visit Avila Beach.
Photos by Lanee Lee with exception of kayak photo by Vince Shay.