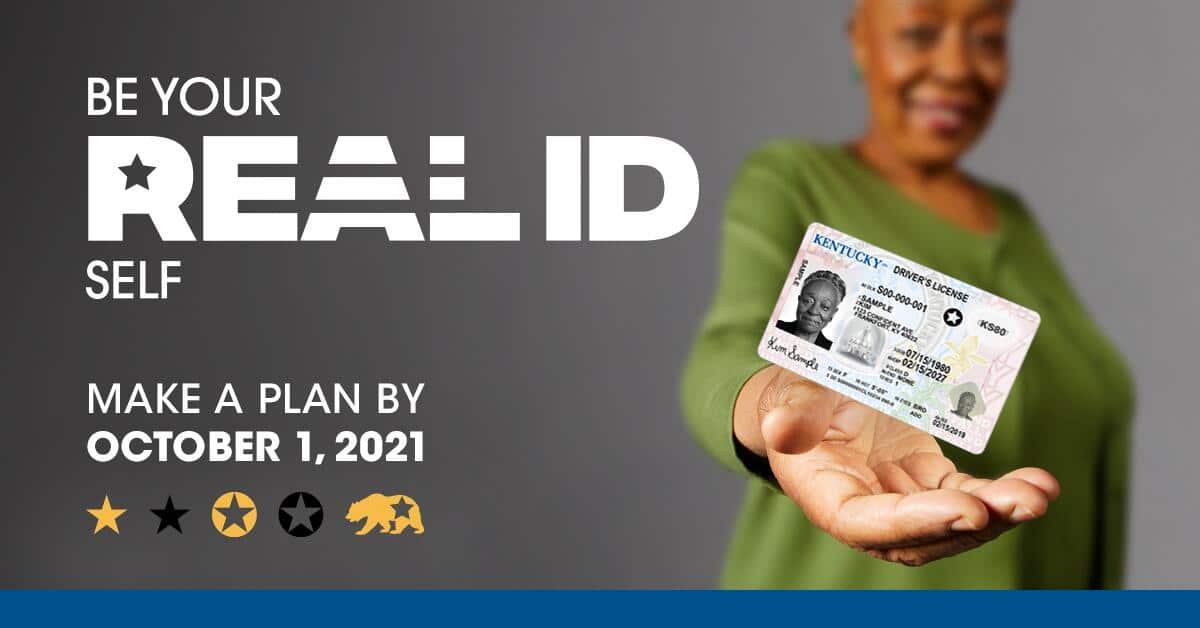 *UPDATED: DHS announced Tuesday it is extending the REAL ID full enforcement date by 19 months, from October 1, 2021, to May 3, 2023.
As vaccinations ramp up across the country, more and more Americans are expected to start traveling domestically. And after a year of being home, there's a lot of pent-up demand. But before you can hop on a plane to go see family, visit friends or just take that vacation you've been dreaming of, you'll need to make sure you have an acceptable form of identification. If you don't have a valid passport/passport card, permanent resident card, or Department of Homeland Security trusted traveler program card, such as Global Entry or Nexus and if you normally rely on your driver's license for domestic travel, you'll need to present your REAL ID.
According to ABC News, "Starting Oct. 1, any flyer over 18 will need to have a REAL ID-issued driver's license or another federally approved identification card if they are going to fly domestically. The regulation was put in place in 2005 to ensure that travelers' identity in light of the 9/11 attacks, according to the Department of Homeland Security, but only recently did all 50 states come into compliance."
That deadline is not too far away, less than six months, and according to data provided by the Department of Homeland Security, only 43% of US driver's licenses are REAL ID-compliant. The deadline was already pushed back a year because of the pandemic but many state Governors are calling on the government to extend the deadline to give Americans more time to get their REAL ID.
Tori Emerson Barnes, the executive vice president of public affairs and policy at the U.S. Travel Association, a non-profit that represents the travel industry, told ABC News that "there are millions of Americans who either aren't aware of the new rules or are stuck in a backlog at their local department of motor vehicles (DMV) that have been hindered by the pandemic. The last thing the air industry and travelers need is another delay."

What is REAL ID?
REAL ID is a national set of standards, not a national identification card. The purpose of REAL ID is to make identity documents more consistent and secure.
How do you know if your driver's license is REAL ID-compliant?
According to the TSA: Check for the star. REAL ID-compliant cards are marked with a star at the top of the card. If you're not sure, contact your state driver's license agency on how to obtain a REAL ID compliant card. For information by state, including where to obtain a REAL ID, visit the DHS REAL ID website and click your state on the map. Note: Legacy Ohio driver's licenses have a gold star marking on the card, however REAL ID compliant Ohio driver's licenses have a black cut-out star. If you are not sure whether your card is compliant, contact the Ohio driver's license issuing agency.
What do I need to get a REAL ID?
According to ABC News, REAL ID licenses require more proof of identity, such as a Social Security card, tax form or pay stub. In some states, REAL ID compliant licenses are the only form of licenses given out to residents, while others are optional.

How do I know if I'm REAL ID-ready?
If you're not sure whether you need a REAL ID, visit the Department of Homeland Security website and fill out their questionnaire to help you determine if you need one or not.