As if Mother Nature's 'once in a lifetime' Bomb Cyclone wasn't enough for travelers to deal with this morning at Seattle-Tacoma International Airport (SEA). But that storm turned out to be nothing compared to what SEA travelers had to deal with. RELATED: Holiday Travel Chaos: What to Do in Weather Delays and Flight Cancellations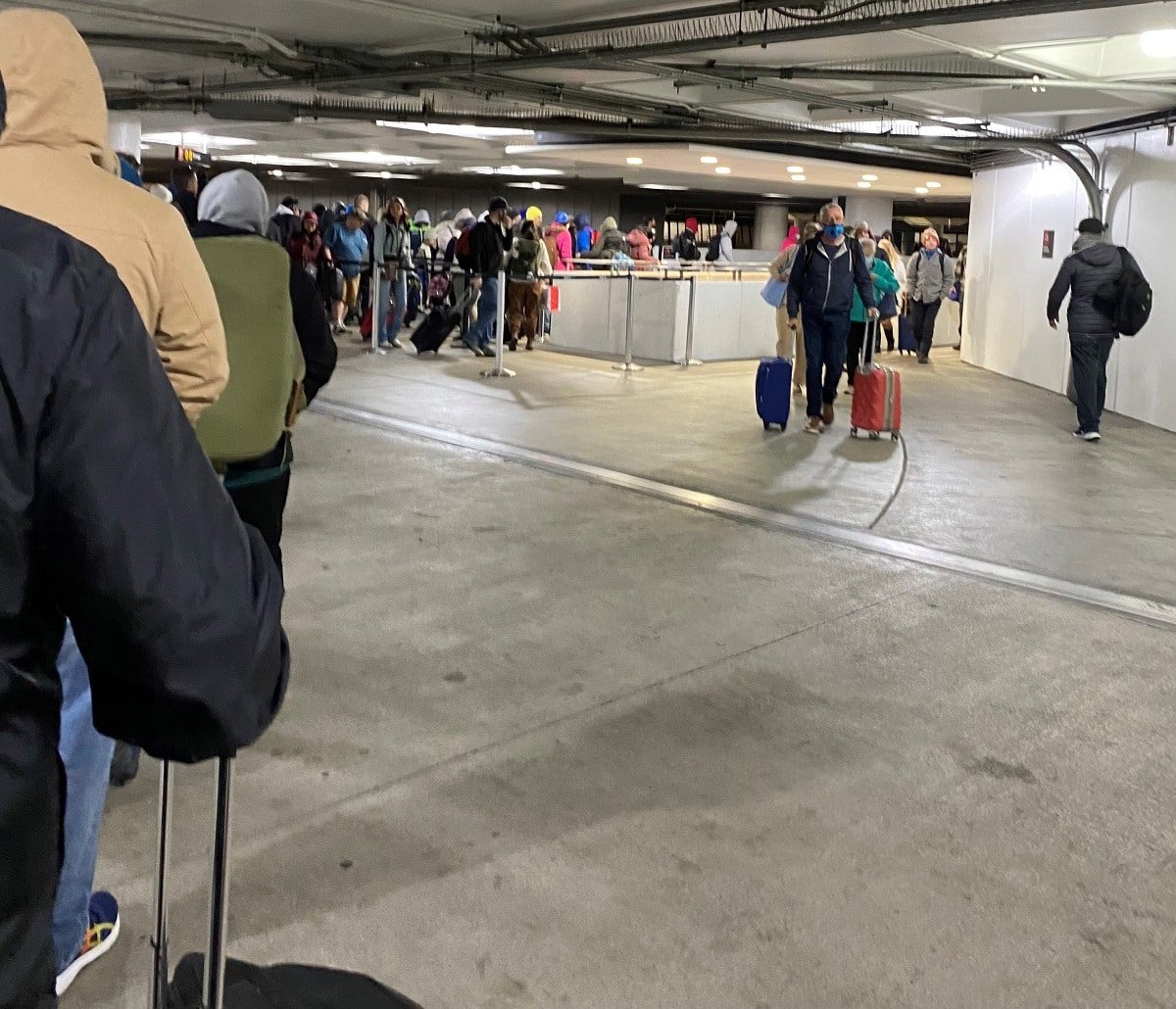 A few hours ago, my friend sent me this text and the video below: "Seattle airport has you go down to the parking garage to get to security because the security line is so long, [it] wraps all the way around in front of security, down an escalator, through a sky bridge and into a parking garage where you sit in the cold for an hour."
My friend sent me this video of Seattle's #SEA this morning. Security line snaked through the parking garage and took over 3.5 hours! She missed her flight by 30 minutes. Unfortunately, she didn't have TSA Pre, CLEAR or use SEA Spot Saver. Post coming pic.twitter.com/dra94AgeAy

— JohnnyJet (@JohnnyJet) December 22, 2022

She sent me another text and video two hours later stating: "We are in our third lane. We were in the garage for an hour and sky bridge, then we were in a stage line for the check point. Now we are in the actual security line that is going to take who knows how long. We're going to miss our flight."
She did indeed miss her flight and the good news is that she reports: "Lines have died down a lot, probably only an hour wait now and you don't have to go to the parking garage."
The bad news is: "There's over 10,000 bags that are not connected with people because of the security lines and the snow that Seattle had and this is just for Alaska Airlines."

Turns out there was a brief security breach that caused all the chaos this morning. According to the airport's Twitter handle (@FlySea): "SEA Travelers, be aware a brief security breach this morning that has impacted lines at security checkpoints. The breach has been cleared, however wait times have increased. 7:05am"
SEA Travelers, be aware a brief security breach this morning that has impacted lines at security checkpoints. The breach has been cleared, however wait times have increased. 7:05am pic.twitter.com/cCRiBGTaFS

— Seattle-Tacoma Intl. Airport (@flySEA) December 22, 2022
A local news reporter (@NewsWithKevin) tweeted: ✈️Flyers beware✈️ SEA is facing unexpected disruptions causing heavier delays today:
– Person without a ticket tried getting through TSA, causing a security breach. All checkpoints had to close temporarily, per protocol.
– Some bag-check-in belts are not working
✈️Flyers beware✈️ SEA is facing unexpected disruptions causing heavier delays today:
– Person without a ticket tried getting through TSA, causing a security breach. All checkpoints had to close temporarily, per protocol.
– Some bag-check-in belts are not working@KIRO7Seattle pic.twitter.com/8ozpNHJY4t

— Kevin Ko (@NewsWithKevin) December 22, 2022
There's not a lot travelers can do when there's a security breach. It's happened to me a couple of times including in Scotland. When a security breach happens, flights usually get severely delayed or cancelled because everyone has to go back through security, which can take hours (depending on the airport).
That's why I always advise travelers to dress warm or at least bring warm clothes in your carry-on, no matter where you're going, just in case of unforeseen circumstances like this one. I remember that time in Edinburgh, it was absolutely freezing (it was snowing) and everyone had to go out on the tarmac and there was a young couple wearing nothing but shorts and flip flops.
They must have been traveling to the Maldives or somewhere warm but shorts and flip flops, seriously? I wouldn't wear that outfit even on a Maui to Honolulu flight as flip flops aren't safe (always wear closed toes in case of an emergency) and bring a sweatshirt as air conditioning on the planes usually make the cabin quite chilly. Heck, I always keep a winter hat in my carry-on, even during the summer for this exact reason.
My advice for those traveling from Seattle or anywhere else in the U.S. is to sign up for TSA PreCheck, CLEAR and see if there's a free security reservation system in place. For example, Seattle-Tacoma International Airport offers SEA Spot Saver.
I'm not the only one who advises this. One traveler, @AniMiaOfficial, tweeted: Here is my warning: If you have to fly out of SEA this next week, plan ahead. Lately, every time there is holiday travel, there's a chance the security lines may back up into the parking garages. Dress warmly, get there early and if you can, get Precheck or Clear. Worth it here.
Here is my warning: If you have to fly out of SEA this next week, plan ahead.
Lately, every time there is holiday travel, there's a chance the security lines may back up into the parking garages.
Dress warmly, get there early and if you can, get Precheck or Clear. Worth it here.

— Ani-Mia ? (@AniMiaOfficial) December 22, 2022