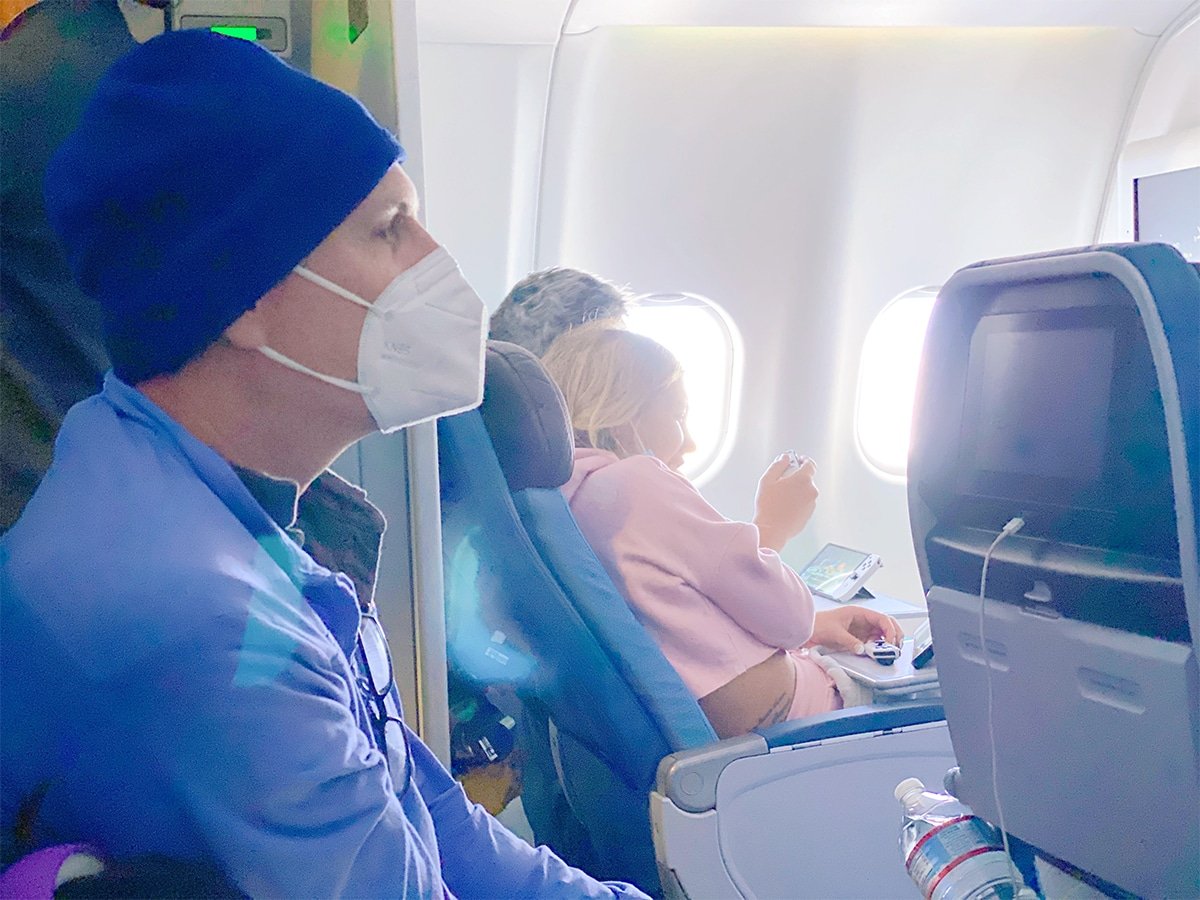 This post contains references to products from one or more of our advertisers. We may receive compensation when you click on links to those products. For an explanation of our Advertising Disclosure, visit this page.
I know, I know. We're all sick of hearing about Covid, reading about Covid and dedicating any more brain space to Covid. Unfortunately, just because we're done with Covid doesn't mean that Covid is done with us. In fact, British Airways just canceled 78 flights today due to staff being sick with COVID. 
According to a recent New York Times article, "The culprit this time is BA.2, a subvariant of the highly infectious Omicron variant. Nobody knows for sure how much havoc it will cause, but BA.2 has already led to a surge of cases in Europe and is now the dominant version of the coronavirus in the United States and around the world."
If you're planning to travel (and even if you're not), the article recommends a variety of ways to mitigate your risk, from checking the CDC's color coded community tracker, which tracks Covid cases in communities across the country, to having a back-up plan for social events and travel. Per the New York Times: "If you're planning to travel, do a little advance research into clinics and pharmacies at your destination so you know whether you can get antiviral drugs if you catch Covid-19 on your trip. Make sure you have extra funds or plenty of room on your credit card in case you need to extend your trip to recover from Covid."
However, they do go on to say that even though a new wave of Covid is expected soon, it needn't "disrupt your life or prompt you to cancel travel plans or time with friends and family. In fact, being prepared for the unexpected will allow you to keep living your life as normally as possible."
They also recommend three things you should have on hand as we prepare for a rise in Covid cases:
1. High Quality Masks
While mask mandates have been lifted across much of the country, some people still choose to wear them and even if they're not mandated again, high-quality masks have been proven to be an effective safety measure, both for yourself and your community. Check your supply of masks and stock up if you're running low. Earlier this year, we asked Dr. Nina Shapiro, author of HYPE: A Doctor's Guide to Medical Myths and Professor at the David Geffen School of Medicine at UCLA for her recommendations on Amazon to help you sift through all the options and here are the ones she recommends:
KN95 adult face mask
KF94 adult face mask
Kids KF94 face mask
2. At-Home Covid Tests
Every household in the US is entitled to two sets of four at-home Covid tests, provided by the government at no charge. (If you haven't ordered yours yet, you can order them here.) If you need more, you can order them here on Amazon.
3. A Pulse Oximeter
Back at the beginning of the pandemic, we bought a pulse oximeter on the advice of a friend who worked at the CDC. She recommended everyone keep one on hand to help monitor changes in their respiratory condition. We also talked to Dr. Shapiro about this and you can read her advice on finger pulse oximeters here. Ours proved useful throughout the pandemic but also on a trip up into the mountains. My husband was having trouble breathing due to the change in altitude and having a pulse oximeter helped us monitor his blood oxygen and let us know to take action when his level dropped to 88%, a reading that's cause for concern. A pulse oximeter is a great addition to your at-home and travel health kit. This is the pulse oximeter we have and we've been pleased with its reliable performance. Check out some other options here.