This is the third installment in a five-part series following JohnnyJet.com writer Cynthia Cunniff through her experience of touring Bohemia with Insight Vacations. Check out Part 1 and Part 2, and then stay tuned for Part 4 on Monday, June 30.
I can't think of a better way to start a visit to Prague than being taken straight from the airport to a meal at the grotto of Strahov, an 872-year-old monastic brewery. Then on to the much newer 15th-century basement that now houses AghaRTA jazz club, named after Miles Davis' album. A kicker to the night was trying absinthe (aka the green fairy)—the alcohol that sent many turn-of-the century Parisian poets, artists and writers to the loony bin. We were told by the club owner/manager that AghaRTA is the famous jazz club where President Clinton whipped out his, ahem, saxophone; it is not, and I will forgive the manager owner for his lie, as he had a few green fairies under his belt when he made the claim.
I wasn't surprised my Bohemian Rhapsody tour by Insight Vacations started with a get-in-the-local-scene bang. After years of looking down on bus tours, I had to eat crow on the Italy tour I'd taken with Insight a few months previous. It had been everything I thought it wouldn't be and nothing of the boring horrors I'd expected to have to endure. So, maybe that was a fluke? Nope. Here I was in the Czech Republic and Insight had once again saddled me up with some extraordinary folks and plied me with belly-laugh fun and off-the-beaten (and some on-the-beaten) track activities.
One of the best aspects of this Bohemian tour was traveling in the off-season. I'm a big fan of avoiding the tourist chaos of summer in Europe. Prague is known for being crowded with tourists, and there were plenty in the city even in the off-season, but nothing on this trip compared to the normal throng of shoulder-to-shoulder mobs converging on the many sites and creating endless lines.
Tip: Czech is not the easiest language for English speakers. Get online before your trip and download a translation app or two. If you're on the Insight tour you can access them with the bus Wi-Fi. If not, take the time to learn the polite stuff before you go. Throughout Bohemia there are plenty of English speakers, but as in most countries you'll be more warmly received if you make an effort to use their language.
The next day a local historical expert lead us to the 1,000-year-old Prague Castle complex. Taking into consideration how recently the communist party was in control of the what is now the Czech Republic, Prague seems to be settling in to the idea of capitalism. Near one of the perimeter walls I thought I had found an old coffee house, and then realized I was looking at a Starbucks built into the existing structure of the castle.
Standing along the edge of a vast castle courtyard, the awe-inspiring views of Prague take center stage, even over the massive gesticulating statues at the entry to the St. Vitus Cathedral. Our local guide filled us in on the history of the castle complex and its quirky little side stories. Crossing the Charles Bridge from the castle on our way to the city center, we saw artists at work, listened to live music and ended up at a glass factory where a few of us got to try our hand at the craft.  We ended up at the Old Town Square, which has a phenomenally detailed astronomical clock and cafes of all types to sit, grab a meal and people-watch.
Tip: Remember, meals are at a leisurely pace and there are no quick bites at restaurants. If you're rushed, grab something from a bakery or one of the street food vendors.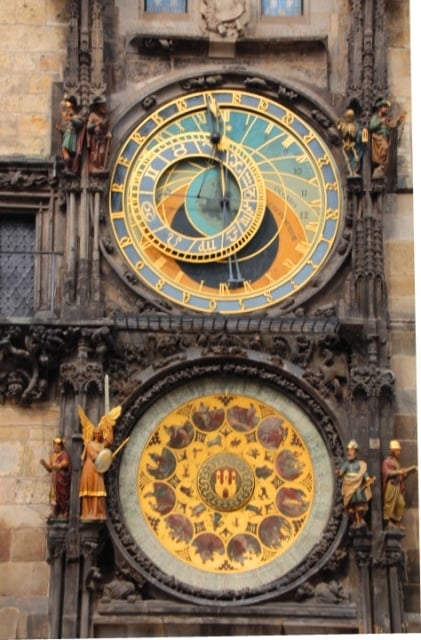 Later in the day we were given the opportunity to tour the Jewish Quarter—and it was a somber, but important part of our trip. The Nazis used Prague's Jewish Quarter as a storage point for the spoils of WWII. They believed it would one day act as a museum for a decimated culture. It does not, and instead stands as a reminder not only of suffering, but of strength and hope and is now home to the Jewish Museum of Prague.
One of the most notable parts of the Jewish Museum is the Pinkas Synagogue, which is a tribute to the 80,000 Jews murdered by the Nazis. The names of the victims are inscribed on the walls, which brings to light the horrifying amount of people whose lives were taken at the hands of evil and ignorance. Not long after Madelein Albright found out the truth of her Jewish heritage, she visited the memorial to witness her grandparents' names on the walls.
Tip: In the Pinkas Synagogue, a photography pass may be purchased at an additional cost. No pictures are allowed to be taken unless you purchase a photography pass.
Our second night in Prague we drank delicious beer perfected over the course of 500 years at U Fleku Brewery and had a homespun meal that would make any Czech grandmother proud. Aside from the fantastic beer, the highlight of the evening was an extremely cheerful accordion player who made a huge effort to speak English and worked hard to accommodate us with our song requests. The cherry on the sundae was his rousing rendition of Boney M's, "Rivers of Babylon." It was so good that two of my fellow travelers, a South African and a Canadian, got up to polka. Who knew an accordion could bring countries together?  (let's give credit to the butt kickin' beer as well)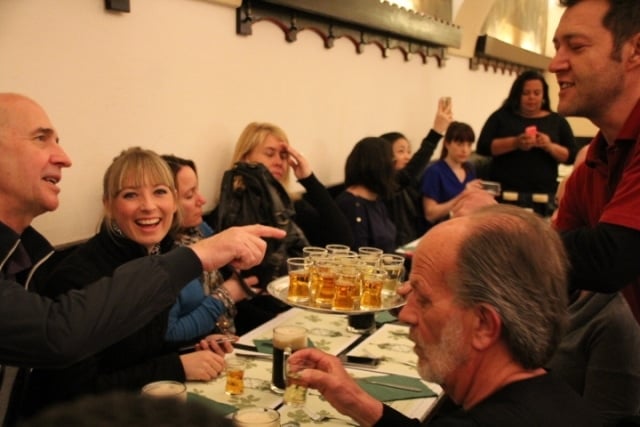 I had a quirky request founded on sheer curiosity of the obscure. It was to find the Prague Hooters and the Insight staff went out of their way to try to help me locate it (yes, there is one in Prague). Instead we got lost and found massive art pieces in a hidden alley area that looked like something out of Alice in Wonderland—a better find. Prague is like an Easter egg hunt; there are remarkable things, but you really need time to explore, go down some alleys, get lost and find the hidden gems. And if you do find the Hooters please shoot me a text – I hear it's the type of awful you can only witness first hand.
Tip: Prague has metro system with a very simple three lines of transit. 32 crowns (koruna) will buy you a single ride, or a 90-minute window of ride time. 16 Kč for a 30 minute window and a day pass costs 114 Kč. Use this currency converter for exchange rates.
Our accommodations were provided by the Art Nouveau Palace Hotel in the historic Prague city center. My room had a sweeping balcony that made me want to sing something from Evita and the décor was true to the hotel's 1909 inception. The last morning in Prague I had a cold shower, due to the fact the hot water was an extremely murky brown with sediment, which I'm sure had something to do with the street construction going on in front of the hotel. I reminded myself: I was in Prague, Czech Republic and the expectation of perfect plumbing would be very traveler-who-just-doesn't-get-it. After a night of beautifully brewed beer and singing along to an accordion, the cold shower was helpful in getting me motivated.
This is the third installment in a five-part series following JohnnyJet.com writer Cynthia Cunniff through her experience of touring Bohemia with Insight Vacations. Check out Part 1 and Part 2, and then stay tuned for Part 4 on Monday, June 30.