Whether you're Irish or not, St. Patrick's Day is one of those holidays we all like to celebrate! But if your typical celebration involves heading down to your local pub for a pint of green beer, we urge you to reconsider. Why not plan a river cruise to Ireland for an authentic celebration? Vantage offers two different river cruises to Ireland – Ireland: A Deluxe Journey to the Emerald Isle and Hidden Gems of the British Isles and Ireland. Either one of these itineraries, enjoyed any time of year, will surprise and delight you with all the natural charm and beauty that Ireland has to offer. Here's a closer look at what you'll experience.
Cliffs of Moher
The Cliffs of Moher are one of Ireland's most popular natural attractions and arguably, the most beautiful. Located in County Clare, Ireland, the Cliffs of Moher rise from 390 feet to a soaring 702 feet out of the Atlantic Ocean at their highest point. From the cliffs and from the top of a stone tower built in 1835, visitors are treated to spectacular, sweeping views of Ireland including Galway Bay.
Jameson Distillery
No trip to Dublin would be complete without a stop at the Jameson Distillery. It opened in 1997 and welcomes between 300,000 and 350,000 guests every year … and you could be one of them! The distillery is now a visitors center, although it is the original site where Jameson Irish Whiskey was distilled, up until 1971. On your tour, you'll enjoy private whiskey samplings as well as lectures about whiskeys.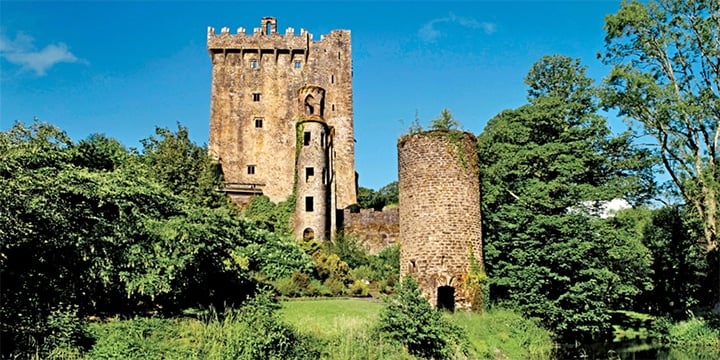 Blarney Castle
Blarney Castle, which dates back to 1446, is now a partial ruin but the legend of the Blarney Stone keeps visitors coming year after year! The Blarney Stone, also known as the Stone of Eloquence, is said to give the gift of eloquence and visitors can hang upside down over a sheer drop to kiss the stone. You'll never be at a loss for words again. While you're there, you'll tour the castle's beautiful and extensive gardens, then head on to Cobh for a home-hosted dinner.
Sheep Shearing at Rathbaun Farm
Experience life on a working farm on your visit to Rathbaun Farm, a picturesque farmhouse in Ardrahan County Galway. Here, you'll learn about typical Irish farming practices and even get a chance to get up close and personal with the mainstay of the farm, the lambs and the sheep. As a guest to the farm, you'll be invited to hand feed the new lambs and participate in a sheep-shearing demonstration. End your visit with a scone-making lesson.
Pub Crawl
There's so much to see and do in Dublin that there's no doubt your day will be jam-packed. But what better way to end the day, than with good food and even better drinks on a literary pub crawl across the city? Get ready to visit the watering hotels frequented by the Irish literati and prepare to be inspired!
WIN A RIVER CRUISE
Ready to hop on a river cruise? You could win a free deluxe river cruise for you and a friend with a value of up to $10,000! You'll enjoy the rivers, culture and cuisine of Europe on an unforgettable trip. Click here for full sweepstakes details, terms and conditions. Good luck!
This is a sponsored post but all opinions expressed within are my own.