When my wife Natalie and I were invited on ms River Voyager up the Rhine River, we didn't know what to expect. We hadn't actually heard of Vantage Deluxe World Travel before and the Boston-based company been around since 1983! That's a whole lot longer than Viking, which everyone knows, thanks to their massive advertising, most notably on PBS during the hit show Downton Abbey.

Why Vantage
The reason why many Americans of my generation have never heard of the Vantage is because they don't do a lot of advertising or marketing. The reason, according to one of their executives, is that they haven't had to, since they get a ton of repeat business from the older generations who have been going on Vantage's escorted land tours and small-ship cruise tours for decades. But the sad reality is that generation is either dying or slowing down their travels, so that's why Vantage hosted their first ever media cruise. Before their official inaugural sailing of the ms River Voyager, they invited industry folks for an abbreviated cruise up the Rhine River. Normally, the trip we took would take seven to 10 days but since it was a preview cruise, we did it in just three.

EuroAirport, With Exits to Three Countries
To break up our trip, Natalie and I spent one night in London, then flew just over an hour to Basel, Switzerland where we were met by Vantage personnel. Interestingly, the Basel airport (otherwise known as EuroAirport) is technically in France but it's very close to Germany and Switzerland, as well. You really need to pay attention when exiting the baggage claim because one exit is for those going to France and Germany while the other is for those heading to Switzerland. Luckily, our seatmate gave us the heads-up so we didn't make a mistake and have to backtrack.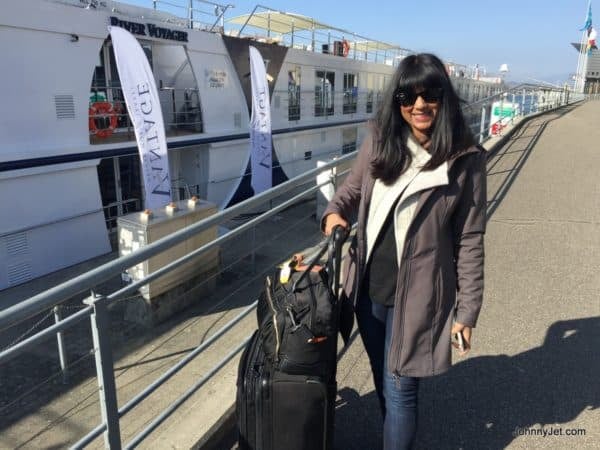 MS River Voyager
The 442-foot ms River Voyager is a 176-passenger ship (that's fewer passengers than other ships of the same size) that sails along the Danube and Rhine rivers. The ship has a lot of cool features … read on!

Ship Specs
The ms River Voyager is 442 feet long and 375 feet wide. It has 92 cabins, which includes eight singles, 12 suites, and 28 crew cabins.

Jazz-Themed
The ms River Voyager is a jazz-themed ship — from The Blue Note Lounge to the musician-named suites. For example, there's an Ella Fitzgerald suite and the hallway carpets are patterned with musical notes.

Cabins
With the exception of the suites and the single cabins, the majority of the cabins are 165 square feet. All staterooms feature hotel style single beds (for couples, they push them together). They also have a desk, vanity, and chair, plus a hairdryer.
Good to know: There's a U.S. plug in every stateroom so no worries about bringing an adapter, though I would if you want to charge more than one device.

Large Flat-Screen TVs
All the cabins feature a large flat-screen T, which has an Infotainment system offering European channels, international news channels, and movies for no extra charge.

Closets
My wife was happy with the amount of closet/storage space. There's also a dresser and plenty of space to store your luggage under your bed.

Bathrooms
The bathrooms are lovely and come with L'Occitaine de Provence amenities. Don't worry about bringing a hairdryer since they provide one. Each bathroom has a night light that doesn't go off and there's a three-inch space between the floor and the bathroom door. If you like a dark cabin like me, then don't bother looking for the on and off switch for that light – I spent 15 minutes searching before calling the receptionist and learning it doesn't go off. I had to use pillows to block the light.
Quiet Ship
Not only is the ship made with double-paned glass windows to make it a fairly quiet ship, but they also don't make announcements unless there's an emergency or a change in the scheduled program.

Top Deck
For the most part, it was too cold (mid-March) to enjoy the Solaris deck, which had a track for walking and jogging and an oversized plastic chess set.

Reading room
Next to the Blue Note Lounge is the reading room, which has a small library of books, including guide books.

Dining
There are two restaurants. The main dining room, The Bourbon Street Bistro, and the Cotton Club at the back of the ship, which has a retractable glass skylight. Just like other cruise ships, it's single seating dining with American and European favorites. What's weird is they only give you two menus per table so you need to share with your dinner companions.

Drinks
They charge for all drinks including soda, except wine is included with dinner.

Service
The passenger-to-crew ratio is better than four-to-one but the service I found was not always attentive or friendly. To be fair, it's a new ship and it was one of their first sailings so they had a lot of kinks to iron out. I think the service is a problem with all river cruises since there are so many ships on the market now, it's tough to find the exceptional employees.

Good to know: The front desk receptionist does safety checks every hour and it takes 15 minutes so if no one answers your call in the middle of the night, call back in 15 minutes.
WiFi
I think every river cruise offers free wireless internet (at least all of the ones I've been on) and this one had to be the best. Internet and cell service worked well except for a portion of the trip between Basel and Mainz.
Gym
I didn't hit the fitness room or get a massage but they offer both.
Laundry
I was disappointed that they didn't offer do-it yourself laundry like some river cruise ships but if you have laundry, you can send it out … but it's not cheap.

Bicycles
The ship provides complimentary bicycles for sightseeing…
Basel to Amsterdam
The distance from Basel to Amsterdam is 815 kilometers (509 miles) and there are just 12 locks that you need to go through, which is way better than the 70+ locks on the Danube. No doubt this is a beautiful part of the world but seeing the castle-dotted hillsides in March or early April is not exactly jaw-droppingly beautiful since the trees and flowers haven't yet bloomed.
Family Journeys
According to CruiseCritic.com: "In 2017, the company will start offering Vantage Family Journeys river cruises, open to children ages 8 and up. The trips will be planned during summer and holidays and feature a family welcome reception; arts and crafts workshops and singing sessions for kids ages 8 to 12; activities for tweens, teens and 20-somethings; a dedicated host to oversee family activities in the evenings; special ship tours; kid friendly menus; complimentary travel journals and language lessons; and visits to schools if the cruise takes place when class is in session."

Overall
The Vantage Deluxe World Travel claims that ms River Voyager is their first six-star river vessel but it's not six stars unless it's on a eight-star scale. Don't get me wrong; it's a nice ship, it's just not luxurious like some of the others. The real reason you would want to take Vantage over their competitors is for their value. As I was getting off of the ship, I had breakfast with an older couple from Virginia who had just boarded for the return cruise to Basel. They had been all over the world with Vantage including seven of their river cruises. When I asked, "Why Vantage?" they said that they get the best value for their money. And that right there is why you would want to go on a Vantage Voyager River Cruise.
The full range of itineraries for 2016 and 2017 is available at: http://www.vantagetravel.com/promo/pr2-voyager