Greetings from 35,000 feet in the air! Instead of telling you about my weekend which entailed playing lots of volleyball in Manhattan Beach and going for a spin on Peter Greenberg's boat — I thought I would inform you of how I got this one-way transcontinental ticket for just $30 and 12,500 miles.
I have frequent flier miles on a bunch of airlines since I'm not loyal to one brand or alliance. In fact, I've already flown on 20 different airlines and all three alliances since January 1, 2012. Not bad for someone who used to be afraid to fly, eh? Unlike most frequent fliers I use my miles since the airlines can change their rules or take them away at any time. But I still like to pay for tickets so I can keep my elite status (no lines, best seats in coach, free upgrades…). The key is that I know when to pay cash or when to use miles and this week I decided to share my findings:
For starters my brother is about to have his second child at any moment  and I want to be there for it or at least shortly thereafter when the baby is born. But last minute prices from Los Angeles to New York are not cheap. They are running about $380 one-way for less than 7-day advance purchases ($200 with a 7-day).  Those prices will make anyone without an expense account use miles.
I ended up checking with American (AA), Delta (DL) and United (UA) to see if they had mileage seats available. I figured I would be wasting my time when I logged onto Delta.com since they always charge double of what the others do.  I was wrong — as they were charging more than triple! Okay, so Delta doesn't give a break for one-way tickets like American and United but 40,000 miles for a one-way or roundtrip economy class ticket is pathetic. Don't you agree? I even checked with them to see if first class was the same amount since sometimes it is (at least on the other airlines) but it was 80,000.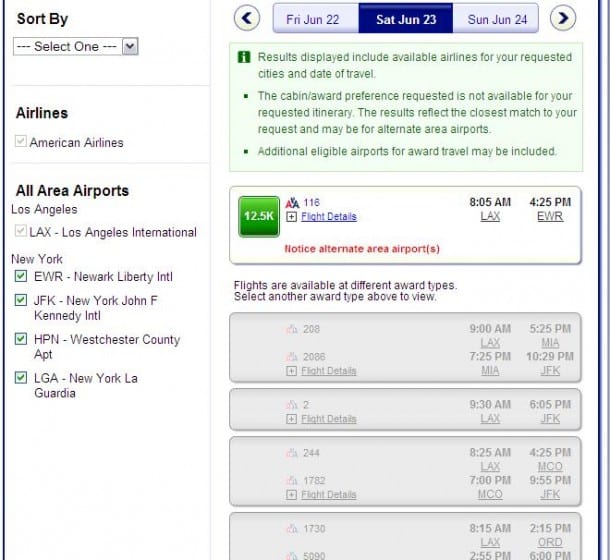 American is usually my go to carrier as they were always the easiest and cheapest to cash-in miles but ever since they filed for Chapter 11 things have changed. AA only had one ticket available to Newark for 12,500 miles and $2.50 on Saturday but nothing Sunday or Monday which is when I wanted to go.
So the winner was United. Shockingly they had tickets available on Saturday and Monday for 12,500 and $30 so I snagged it. Who knew United would have a frequent flier tickets available on their premium LAX-JFK service where every seat in coach has five extra inches of legroom. On this route they also have Wi-Fi which really helps to pass the time.
If I'm not in a hurry to be somewhere I always ask the gate agent if the flight is oversold and if they are looking for volunteers. Even if it's not, the agents appreciate the gesture because it makes their life easier and will sometimes thank you with an upgrade (very rare but it has happened to me).
This time the agent told me the flight was at capacity and not oversold, so he wouldn't need any volunteers. A few minutes later I was settled into my seat and just before they closed the door the agent reappeared and whispered in my ear "we just had a last minute 1K (mega frequent flier for United) show up and he needs a seat. Would you be willing to go on the next flight (two hours later) for a $300 travel voucher and a free upgrade (because economy was sold out)?" I said let me think about it for a second OKAY! Hello, McFly — That's easy money.
I later even offered to volunteer for my rebooked flight but unfortunately they didn't need any. Heck, I would've done it all day long and made out like a bandit.
Good to Know: When I went through LAX's Terminal 7 security I asked the TSA agent if it was always this quiet since there wasn't a line. He said sometimes but he went on to say it's always quiet between 12pm to 5pm – everyday!
Fine print: A savvy frequent flier would call each airline to see what their customer service agents can find since they usually have tricks that the computer software hasn't figured out yet.  One of them is checking all of their partner airline sites — United.com did check Star Alliance partner US Airways but nothing was available. But Delta did have a last minute special weekend deal that only subscribers to their email alerts knew about. The deal was for flights departing on Saturday and returning Monday or Tuesday for $299 roundtrip but that still doesn't beat 12,500 miles and $30, now does it?