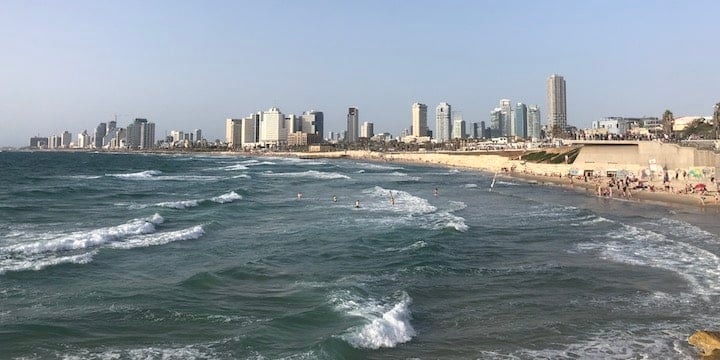 On Wednesday, May 22nd, 2019, United Airlines launched a historic route: non-stop service from Washington, D.C., (IAD) to Tel Aviv, Israel (TLV). United now offers more non-stop, year-round service between the United States and Tel Aviv than any other U.S. airline, with twice-daily flights from New York/Newark (EWR) to Tel Aviv already in operation.
This newest route—UA 72—flies three times a week (Wednesday/Friday/Sunday) from our nation's capital to Israel's economic and technological capital, in the process giving more than 80 cities across North America access to Tel Aviv via United at Dulles. The return flight, UA 73, flies TLV-IAD Tuesday/Friday/Sunday.
The thriving city of Tel Aviv on the Mediterranean is a combination of fascinating neighborhoods, from the ancient structures of Jaffa and the Bauhaus buildings of the White City to the skyscrapers that dominate the skyline. From Tel Aviv, an hour-long car/bus ride brings you to the Old City of Jerusalem. The weight of history is palpable here; the Wailing Wall, the last remaining side of the Second Temple, attracts devotees and travelers alike. A short walk brings you to the bustling Muslim Quarter, where you're gripped by the scent of spices and the sounds of merchants touting their wares. Pass a few alleyways and you approach a procession of priests carrying the holy cross to the Church of the Holy Sepulchre.
There's no place on the planet with more historic and political significance. I was fortunate enough to make my first visit to Israel on United's inaugural, less-than-11-hour flight from Washington, and on it to experience its flagship Polaris Business product.
Here's a rundown of my experience:
The flight over: UA 72 (IAD to TLV) on May 22, 2019
Getting to Dulles International Airport:
Although Uber/Lyft is a great way to reach Dulles International Airport, those who prefer public transportation can take the Silver Line on the Metrorail from downtown D.C. to the Wiehle-Reston station and then hop on the airport's Silver Line Express bus. Direct public transportation to the airport will become available via the Silver Line in 2020. The rail track is in the final phase of construction and will provide one-stop service from D.C. city center.
The lounge(s):
The inaugural flight was set to take off from Gate C1. United has three lounges near the C gates. Passengers in Polaris First or Business class departing from the airport the same day have access to the lounges. When connecting, passengers can visit upon arrival or prior to departure.
The flight was scheduled to take off at 10:30pm, and given that I was traveling from New York's LaGuardia Airport, I arrived a few hours early. The lounge at C7 advertised an Israeli wine-tasting at 7pm and I couldn't pass up that opportunity. This lounge is massive and has a well-stocked bar and plenty of seating. A combination of cushioned chairs and high chairs next to tables perfect for working filled the space. There are USB and power outlets next to most of the seating.
The lounge had a selection of healthy dining options, including salads, soups, cheese and crackers, and desserts like brownies and oatmeal raisin cookies. The staff was constantly replenishing the food trays and taking away used plates and cups.
Mounted TV screens showed departure times and other relevant information. There was fast United Wi-Fi, and I was able to get some work done. Around 5pm, one of the busiest times at the airport, the lounge became crowded and noisy, but thanks to my noise-cancelling headphones I was able to continue my work. United's lounges at Gates C4 and C17 are known to be quieter, but they only stay open until 6:30pm. The lounge at C7 stays open until 10pm.
As promised, at 7pm, United hosted a tasting of Sphera Wines from the Judean Hills. The winery specializes in fine white wines handcrafted by winemaker Doron Rav Hon. My favorites were the chardonnay and the riesling, but I knew more festivities laid ahead, so I stopped after a few sips.
Takeaway: The lounge at C7 is ideal if you only have a few hours before the flight; the one at C4 is a quieter option if you have a longer layover. Both lounges serve as quiet oases from the bustle of the airport and are ideal for catching up on work, meeting friends, and grabbing a healthy bite before your journey.
The gate:
There's Wi-Fi available for log-in or purchase at Gate C1.
Boarding and departure (and a ribbon-cutting):
Flight UA 72 (Boeing 777-200) was scheduled to depart Dulles International Airport at 10:30pm. There was a pre-flight screening prior to entering the gate. I got to the gate at 8:30pm, so I was able to go through the screening fairly quickly. Due to the significance of the route, United closed off C2 and organized a celebration, with officials from United, Dulles and the local government giving speeches. The event started around 9pm, and food and soft drinks were served. A ribbon-cutting at the gate officially launched the new route. Although we were delayed by a half-hour due to the festivities, we arrived on time at Tel Aviv's Ben Gurion Airport at 4:40pm local time.
Takeaway: We left late, but arrived on time, so it didn't really matter.
The seat:
I sat in Polaris Business seat 11D, a lie-flat aisle seat on the right of the 777-200 (in a 1-2-1 configuration). The seat had barriers on three sides to give travelers the utmost privacy. Every seat had direct aisle access. There were forward-facing and angled seats (those angled towards the aisle are not as private). Thankfully, on the way over, I was in a forward-facing, odd-numbered seat that had a console to my left, giving me plenty of seclusion. I didn't see any other passengers while sitting down. These seats are also ideal for couples who want to sit together, as the barrier between them comes down.
The seat had a small countertop, a 16-inch seatback touchscreen monitor, a small lamp, a remote control for the entertainment system, and a rotating notch for reclining the seat. A small storage compartment above the countertop was stocked with noise-canceling headphones. I was given a large, plush blanket, a smaller woven blanket, and comfortable pillows (a regular one and small memory-foam pillow for extra support). On long flights, flyers can request a mattress cushion and slippers. Those flying longer than 12 hours even get United pajamas to help them sleep in comfort.
The armrest had a button that allowed it to be moved up or down, depending on need. There was a small reading lamp in addition to the overhead light that could be dimmed. The footwell felt spacious, but there wasn't much under-seat storage. If you're traveling with a normal-sized backpack in addition to your carry-on, I suggest removing the items you need and placing the bag in the overhead compartment above the seat. The Polaris amenity kit included a toothbrush, toothpaste, a sleep mask, socks, a pen, and Sunday Riley lip balm and hand cream.
Overall, my seat was extremely comfortable and, when I was sleeping in lie-flat bed mode, it felt like a cocoon. Being in the center, other than the hum of the engines and the whispers of the flight attendants and fellow passengers, I barely felt like I was flying. The "do not disturb" sign came in really handy.
Takeaway: I was comfortable the entire flight, even during a few moments of turbulence. If you want more privacy, book an odd-numbered seat.
Service:
I was welcomed aboard by Michael, a friendly gentleman who was eager to please. Minutes later, he brought over champagne and orange juice. Flight attendant Roxanne took over afterwards and, in the hours that followed, she did a great job. She took care of everything I needed right away. After the food was served, I requested a pair of slippers and a mattress cushion, and I had them within minutes.
Takeaway: From that first drink to touchdown, the crew ensured that my in-flight experience was pleasant and memorable.
Entertainment:
The entertainment offering was vast, featuring the latest Hollywood and international hits and trending TV shows. Both were available on the seatback screen and through the United app on personal devices(download it before takeoff). United Wi-Fi was available for purchase, but I didn't log on as I decided to rest so that I could fully enjoy my time in Israel. There was also a tutorial on the screen explaining the technology. I had to scroll all the way to the end to find it, but once I did, it was easy to navigate to make the most of the Polaris experience.
Here's the entertainment offering for the night:
212 movies, with 34 new releases, from Aquaman and If Beale Street Could Talk to First Man
135 TV shows, from Fuller House to True Detective
Music, from country and jazz to pop hits
I watched The Girl in the Spider's Web in which coincidentally there was a scene filmed at Dulles. The movie took just the right amount of time from takeoff until I finished my dinner. With breakfast, I began watching First Man and didn't have time to finish as we landed shortly after the last meal was served. Between the two meals, I turned on the "do not disturb" sign and slept for a good six hours, thanks to the flat bed and privacy afforded by the barriers.
Takeaway: The entertainment offering is deep for the hours you'll be awake.
Food and drink:
Early on, Michael handed me the menu and asked what I wanted for dinner. About an hour into my movie, and following delivery of warm nuts, dinner was served on a blue table cloth.
I had the chilled appetizer: buffalo mozzarella, Kalamata olives, tomatoes, basil, and balsamic glaze. The salad included napa and red cabbage, carrot, and mango and was served with dressing and assorted warm breads.
For my entree: I opted for the ricotta salata and wild honey manicotti served with a side of brown butter cauliflower, rainbow carrots, vegetable caponata with tomato, and cranberries. I enjoyed it with a glass of Mer Soleil Chardonnay Reserve from Santa Barbara. By the time the ice cream sundae cart rolled by, I was done with my movie and could barely stay awake. For breakfast, I opted for the cheese omelet with coffee. Hot mid-flight snacks were also available upon request.
Takeaway: The meal was an excellent multi-course affair and I vowed to stay up for the sundae cart on the return flight.
Arrival at Ben Gurion Airport (TLV):
At 4:30pm local time, the flight landed at Ben Gurion Airport (TLV). Thirty minutes prior to landing, there was a mandatory "stay seated" measure implemented for security reasons. Everyone had to make sure they had finished their trips to the bathroom before that cut-off period.
Named after Israel's first Prime Minister, Ben Gurion, the airport caters to millions of travelers and is a massive, visually stunning space. Walking to immigration took 10-15 minutes. There was no United lounge at the airport, but I could've used my Polaris ticket to access the Dan Lounge (in Terminal 3, Concourse B and C, near Gates B3 and C3). A security officer asked a few questions about my stay and handed me a Blue card. Israel no longer stamps passports and instead gives out entry and exit cards. The airport had good Wi-Fi, so I was able to check my messages and email.
Takeaway: Great flight to a fascinating destination that I couldn't wait to explore.
The flight back: UA 73 on May 26, 2019
(As distinguished from the flight over.)
Security at Ben Gurion Airport:
Flights from Tel Aviv to Washington operate on Tuesday, Friday and Sunday. My return flight was scheduled for 12:20am on Sunday, May 26. We arrived at the airport around 10pm, and because of the newly added flight, United's counter agents were extremely busy and the lines were long.
The first stop involved answering a few questions about my stay for a friendly airport employee, followed by meeting the United agent to check my bag (I ended up buying and packing a Sphera riesling from the winery). The security agent was not pleased that some of the members in my media group had chocolate in their bags (a gift everyone received at the hotel; I packed mine in my checked luggage), and those who had chocolate had to go through a separate screening process.
After getting my boarding pass and a pink exit card, I proceeded to another area where I used the card to go through a gate. Afterwards, I went through security, where I only had to remove electronics and empty my pockets. By the time I was done, it was time to board, and I didn't have a chance to check out the Dan lounge.
Takeaway: Allocate at least three hours prior to departure.
The gate:
Unless otherwise noted, UA 73 leaves from the spacious Gate E9 in Terminal 3. The gate had the same Wi-Fi accessible throughout the airport.
Takeaway: Not a long walk from security.
Boarding and departure:
The flight was scheduled to depart Ben Gurion at 12:20am local time, and the first call for boarding came at about 11:30am. Cabin doors closed at 12:25am and at 12:34am, 14 minutes behind schedule, we took to the air.
Takeaway: The flight was slightly delayed, but we arrived 15 minutes early at 5:35am.
The seat:
This time, I switched my seat to accommodate a couple that wanted parallel seats. I sat in seat 10G, on the left of the plane. Since this was an even-numbered seat, I didn't have as much privacy as I'd had on the flight over. I could see the screen of the person sitting in the window seat in front of me, but I didn't find this to be much of a distraction, especially when I reclined my seat. This time, I received a hard shell amenity kit with Cowshed products and toiletries.
Takeaway: Comfortable seat, especially when I used the mattress cushion.
Service:
Roxanne and Michael (the same two) took care of me again and the service was exceptional. Since it was already late, I asked for "express dining," which allowed me to get to sleep early. Within the first hour-and-a-half, I was done with my meal and thus able to stay up for the ice cream cart.
Takeaway: Overall, the service was good again.
Entertainment:
The entertainment offering was the same. Sleep occupied most of my time on this nearly 12-hour leg, but I did manage to see Aquaman and The Upside before and during meals. I opted for some jazz music as we approached Washington for landing.
Food and drink:
The food was excellent once again, starting at 1:30am with the service of warm nuts and a beverage.
For my appetizer: Salad with mixed greens, cherry tomato, and mozzarella served with dressing and assorted warm breads. For my entree: I liked the sides that came with the "Whitefish Kebab" dish, so I opted for that without the fish (as I'm a vegetarian).
I was happy the ice cream sundae cart came soon after I finished my entree, and I went for hot fudge, butterscotch-caramel sauce, strawberries and almonds over creamy vanilla bean gelato.
And finally for breakfast: Frittata with vegetables with a side of guacamole and salsa.
Takeaway: A well-crafted and well-executed menu for morning and night.
Arrival in Washington, D.C.:
We touched down at 5:30am EST, 20 minutes ahead of schedule. I was through immigration (with Global Entry) within minutes of deplaning and was on my way back home.
Takeaway: Get Global Entry.
For more United route write-ups: In Flight on United's New Route: Newark to Newcastle (and the Lake District)
---
For more information on United's new IAD-to-TLV route, visit united.com.