Want to know how to travel in style, just like the pros? We check in with frequent fliers to find out how often they fly, their favorite destinations and what they never leave home without.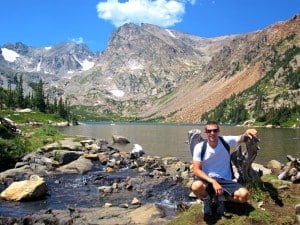 Name: Will McGough
Occupation: Travel Writer
Hometown: Mickleton, NJ
Website: Wake and Wander
Twitter: @wakeandwander
Facebook: Wake and Wander
Short bio: Will McGough is a writer focused on all types of travel, from swimming with pigs to parties in ice hotels. He is inspired by the spectrum of ways in which people live their lives in the different parts of the world. He enjoys the idea of waking up every day to new opportunities, new landscapes, and the new feelings that the former inevitably evoke. He doesn't discriminate: Massages, wine tasting, sailing, skydiving, and bed-and-breakfasts are all equally inviting. He writes daily about his travels on his blog, Wake and Wander.
How often do you fly? Several times a month.
Aisle or window: Window. Damn drink carts.
Drink of choice (in the air and on the ground): I am equal opportunity when it comes to booze. I go through phases.
5 things you bring on a plane: I'm a talker, for sure, so I don't bring much other than a notebook and laptop. When I'm not working, I'm bothering my seatmates with questions about their lives. Some days it goes better than others.
Most embarrassing/worst travel moment: I spill my drink a lot on planes, if you could call that embarrassing. Hey, that's what happens when there are no cupholders. Why are there no cupholders?
What's your dream destination? The more I learn, the more it changes, but right now it's an African Safari.
Best travel tip: Probably the best thing I've learned is that there is no benefit to sitting on the sidelines and no perks to being a wallflower.