Want to know how to travel in style, just like the pros? We check in with frequent fliers to find out how often they fly, their favorite destinations and what they never leave home without.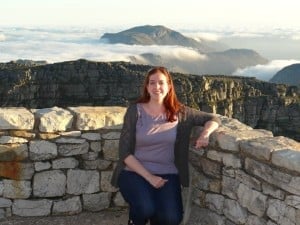 Name: Suzanne Wolko
Occupation: Financial Operations which includes corporate travel management for an investment firm
Hometown: Philadelphia, Pennsylvania
Residence: Philadelphia, Pennsylvania
College: Villanova University (undergrad) & Drexel University (MBA)
College major: BS – Accounting & MBA Finance Management
Website: philatravelgirl.com
Twitter: @philatravelgirl
Pinterest: philatravelgirl but I still don't quite understand it all.  I've created a few boards (desserts, pancakes and hotel rooms around the world). Waiting for it all to click in my head.
Google+: philatravelgirl
Instagram: philatravelgirl—such a creative outlet for me to play with at home and on travel
YouTube: PhilaTravelGirl – Flying by the Seat of My Points
Short bio: I've worked in the investment management industry for over twenty years in corporate finance. I've combined accounting and travel into a corporate travel management position in addition to my Operations Finance role at the firm. I belong to both the Global Business Travel Association as well as the Philadelphia Business Travel Association.
My day job provides me ample vacation time (as well as trips to London).
Traveling provides the opportunity for me to connect with people around the world—to reset my mind, world view, my body and my soul. I started my blog to share my stories and photos hoping to inspire others to explore near and far. Using points/miles helps lessen the costs to allow me to upgrade my travel experiences with a bit of luxury—aspirational luxury.
How often do you fly? 6-10 times a year.
How many countries have you been to? 44 countries so far.
How many continents have you been to? 6 continents.
Earliest travel memory: First family vacation to Disney when Epcot opened, it was my first flight on Eastern Airlines (I might still have the plastic wings somewhere!).
Favorite American city: My hometown of Philadelphia is pretty great with amazing food (bring stretchy pants!), art museums,  sports and oh yeah, a bit of history…
Favorite international city: Hard to choose—Paris or London both make me happy as they continue to surprise me with each visit.
Country with the meanest immigration officers: My issue is not with immigration but the security pat-downs around the world—I always get "randomly selected" for this  search (my 80% rate doesn't quite seem random to me). In this regard, CDG-Paris was the most invasive and disturbing pat-down.
Favorite World Heritage Site: Easter Island Rapa Nui National Park has been a highlight to see the Moai.
Favorite airline: British Airways has been consistent over the years and I do love the Club Kitchen for easy access to more dessert.
Favorite aircraft type: The A380 in business class on Thai was pretty awesome.
Aisle or window: Aisle generally unless new country then window.
Favorite airport lounge: Singapore SilverKris Lounge in Changi—there is a tea time trolley (with scones) that serves you at your seat.
Favorite U.S. airport: Philadelphia because it means I'm off on an adventure or returning from one.
Favorite international airport: Don't have a favorite but I spend the most time at T5 Heathrow and have a routine now, if only they had good cookies (biscuits).
Favorite hotel: The Charlotte Street Hotel in London (I'm a Firmdale Hotel fan).
Favorite cruise line: Celebrity, they welcome you with champagne and have wine kiosks with card access.
Favorite travel credit card: Starwood American Express (domestically), Chase British Airways card (my chip and sign no foreign transaction fee card)
Favorite island: Tasmania was quite surprising on my quick visit, would like to return to explore more.
Favorite beach: Don't tell my dermatologist that I actually sit in the sun at the beach (under the umbrella, with a hat and SPF50 w/zinc) but St. Lucia was beautiful.
Favorite fancy restaurant: Anywhere I can find my happy place of red meat, red wine and chocolate cake is fancy enough for me. I did enjoy the Park Hyatt Sydney for my birthday dinner—the staff were attentive, the food divine, the cake came with a candle and the views of the Opera House and Harbour were spectacular, even in the rain.
Favorite hole-in-the-wall: Good Dog Bar, Philadelphia.
Favorite bar: Traveling solo, I don't go to many bars (or remember their names) but I do love any that overlook the water, especially in the Mediterranean. 
Favorite fruit: Raspberries and bananas (both go well with chocolate desserts).
Drink of choice (in the air and on the ground): Red wine (Malbecs, Carmenere, Pinotage).
Favorite travel movie(s): Trilogy—Before Sunrise (inspired me to travel to find my Jesse; sadly still looking), Before Sunset (a love letter to Paris and a reminder that we are all a bit crazy) and Before Midnight.
Favorite travel book(s): "Heads in Beds" by Jacob Tomsky made me laugh on the flight from Seoul to Singapore—behind the scenes of hotels in New Orleans and New York. Always let the bellman take your bags!
Top 3 favorite travel newsletters/magazines/blogs: Business Traveller UK.
5 things you bring on a plane: Cashmere scarf (cold planes and head covering), Bose Headset, iPod with my airplane play lists, snack bag (cashews, sandwich, chocolate, cookies, power bars, apples) and bottled water.
What do you always seem to forget? Hairbrush (I now have an international collection).
What do you like least about travel? Paying my credit card bills when I get home.
What do you want your loved one to buy you from an airport Duty Free store? Chocolate, stroopwafels or a vintage bottle of foreign red wine.
Favorite travel app(s): WordLens (translation on the screen), TripLingo (translation/cultural info) and TripIt Pro (love that I get alerts to a delay before the gate agent)
Most embarrassing travel moment: When a hard suitcase (circa 1992) broke and came off the carousel taped up with clothes hanging out in Australia, I pointed and laughed until I realized it was mine!
Worst travel moment: My travel meltdown in the Westin Cape Town lobby.
What's your dream destination: My travel dream is eliminating the single supplement so that I can travel more and others have barrier removed so they can start traveling. 
Favorite travel charity: I recently learned of Atlantic Impact and their mission to expose inner city youth to international travel. I won a suitcase at a conference and immediately donated it to their cause—anything to get kids to learn about the world outside their neighborhood is a win/win for society.
Best travel tip: Always have emergency chocolate (cookies) in your bag for delays or just to make someone else smile.