Want to know how to travel in style, just like the pros? We check in with frequent fliers to find out how often they fly, their favorite destinations and what they never leave home without.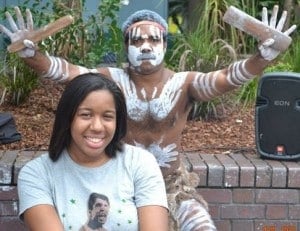 Name: Nicole Brewer
Occupation: English as a Second Language Teacher
Hometown: Detroit, MI
Residence: Busan, S. Korea
Website: iluv2globetrot
Twitter: @iluv2globetrot
Facebook: Luv.2.Globe.Trot
YouTube: Globe Trotter
Short Bio: Nicole is a graduate of the University of Michigan with a degree in Communications. She has a background in market research but is now living abroad teaching and following her dreams to globe trot the world.
How often do you fly: Once every 3 or 4 months. 
How many countries have you been to: 20
How many continents have you been to: 4
Favorite American city: Chicago
Favorite international city: Melbourne
Favorite World Heritage Site: The Taj Mahal
Favorite airline: Cathy Pacific
Aisle or window: Aisle for sure.
Favorite airport lounge: Amsterdam
Favorite U.S. airport: Detroit DTW
Favorite international airport: Singapore
Favorite hotel: The Hilton
Favorite island: Koh Samui, Thailand
Favorite fancy restaurant: The Grand Lux-Chicago
Favorite hole in the wall: Harold's Chicken- Chicago
Favorite fruit: Plums
Favorite food: Pasta
Least favorite food: Brussel sprouts
Drink of choice (In the air and on the ground): White wine
Favorite travel movie(s): Eat, Pray, Love
Favorite travel show(s): House Hunters. Travel +houses= Yes
Right now I am reading: What The Dog Saw by Malcolm Gladwell
Top 3 favorite travel newsletters/magazines: National Geographic Traveler, Matador Network, and Budget Travel
Favorite travel website(s) – besides JohnnyJet.com, of course!: Tripadvisor.com
Five things you bring on a plane: MP3, snacks, a pillow, a good book and a sleep aid just in case.
What do you always seem to forget: My umbrella
What do you want your loved one to buy you from an airport duty free store? Wine
Favorite travel iPhone app(s): Tripit
Most embarrassing/worst travel moment: The worst travel moment thus far would be not being able to access my checking account abroad while in Thailand on a solo trip by myself a couple days right before heading to the Full Moon Party on Koh Samui. I thought I'd have to cancel it as my bank in Korea did not want to allow me to "activate" international withdrawals without being in the bank. Thank God for ride or die friends who helped me get it worked out!
What's your dream destination: I'm looking forward to making it to Africa soon. There is this amazing resort in Kenya called Giraffe Manor that I hope to visit one day.
Favorite travel charity: Learning Afar. 
Best travel tip:  Be ready for the unexpected to happen generally.  Nothing always goes perfectly planned. Enjoy the ride as it comes along.