Want to know how to travel in style, just like the pros? We check in with frequent fliers to find out how often they fly, their favorite destinations and what they never leave home without.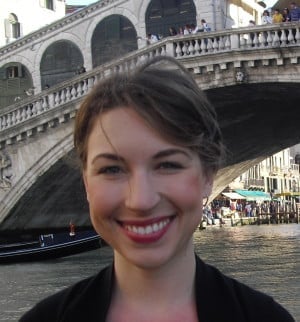 Name: Michelle Novak
Occupation: Writer: Author of "Venice," "Princess Liliana and the Dragon," "A Festival Day in Bristol," "Veleno" (coming soon), and the blog inspiredbyvenice.org
Hometown: Crystal Lake, IL
Residence: Evanston, IL
College: McHenry County College, University of Illinois at Chicago and New York University
College major: Speech & Interpersonal Communication
Website: inspiredbyvenice.org
Short bio: Michelle Novak is the author of "Venice," an interactive travel & fiction novel where you the reader decide what you would like to see and do on your trip. At the end of each chapter, you are offered exciting opportunities…you decide your fate in Venice, Italy during the famous Carnevale!
How often do you fly? About twice a year.
How many countries have you been to? 14
How many continents have you been to? 4
Earliest travel memory: Taking my first airplane from Chicago, IL to Nashville, TN with grandma! And, a road trip with my mother from Crystal Lake, IL to Myrtle Beach, SC.
Favorite American city: Chicago, it's home!
Favorite international city: Venice, Italy.
Least favorite country: I've never been to a country that I didn't like! New people, new cultures, new climates, new landscapes…I love it all. 
I have no desire to go to: Hot, humid climates are pretty rough on me. If I'm next to the ocean where I can get in a lot of swimming, then I enjoy it. Otherwise, I like a cool climate. But this won't be keeping me from any destinations; I simply love to travel.
Friendliest people in the world: The citizens of St. Lucia.
Country with the meanest immigration officers: Every train ride I've taken into Canada (at least three times), I've been questioned thoroughly, my luggage searched, and my snacks confiscated. They're secretly eating all those pilfered fruits and potato chips, I'm sure of it.
Favorite World Heritage Site: The Great Wall in China left me speechless. I don't think I realized the enormity of it. "Great" is an understatement.
Favorite airline: United and American Airlines.
Favorite aircraft type: Bigger crafts feel less turbulent, the smoother the flight the better.
Aisle or window: Window, I love to watch the world below from way above.
Favorite airport lounge: The United Airlines Red Carpet Club Lounge in O'Hare Airport, Chicago: very comfortable.
Favorite U.S. airport: Chicago O'Hare, because it means I'm close to home.
Favorite international airport: Venice Marco Polo, Italy, because it means I'm a short vaporetto ride away from this beloved destination.
Favorite hotel: The Hotel Caron de Beaumarchais in Paris. It feels like you've been transported back to the 18th century. It's also cozy, affordable and in the perfect location. I also love the Hotel Ateneo in Venice. Peaceful, wonderful canal views, convenient location, fair pricing and a nice breakfast.
Favorite cruise line: I'm not fond of taking a ship out to sea…I should never have watched Titanic.
Favorite travel credit card: American Express.
Favorite island: St. Lucia! The tropical waters, the amazing seafood, the kind people, and the fresh fruit. It's paradise!
Favorite beach: Main Beach in Crystal Lake, IL; Lighthouse Beach on Lake Michigan in Evanston, IL; the beaches of St. Lucia and Mexico in the Caribbean; and the beaches of Hong Kong.
Favorite fancy restaurant: Quince and Bistro Bordeaux in Evanston, IL, and Roka Akor in Skokie, IL.
Favorite hole-in-the-wall: Fontano's Subs in Little Italy, Chicago. Their Italian sub sandwiches are so fantastic, you could eat one every day. They fueled me through my undergraduate years at UIC. My mouth waters even now.
Favorite bar: Any bacaro in Venice, Italy. A little wine, some cheese, a few olives, some seafood…I'm set.
Favorite fruit: I like citrus fruit, especially oranges.
Favorite food: Cheese on a toasty baguette slice with honey, coconut shrimp, beet salad with goat cheese and crab rangoon.
Least favorite food: I actually don't love fruit (except tropical fruit when I travel to those destinations); I prefer vegetables. I also don't gravitate toward gelatinous, undercooked, fermented or burn-your-mouth-spicy dishes, though I do try them. You never know when you'll find your new favorite!
Drink of choice (in the air and on the ground): Water and lots of it.
Favorite travel movie(s): I think Under the Tuscan Sun is such a treat! I love seeing Paris unfold in Amelie and visiting Venice in Bread & Tulips. Though there are dozens of stunning, cinematic and deeply moving films that explore our world, I'm fond of those stories which premier upbeat and comical travel mishaps and a little bit of insight into a new city.
Favorite travel show(s): Anthony Bourdain's No Reservations. The travel, the food and all those local stories woven in; it's an excellent program.
Favorite travel book(s): Because Venice, Italy, is a place that I love to visit and write about, I'm usually reading one of many history books about that city.
Right now I am reading: "Venice Incognito: Masks in the Serene Republic" by James Johnson.
Top 3 favorite travel newsletters/magazines/blogs: thewanderfulltraveler.com, italymagazine.com and Departures magazine.
Favorite travel website(s)—besides JohnnyJet.com, of course! I like Yahoo Travel.
5 things you bring on a plane: A book, hand sanitizer, hand lotion, ChapStick, and my iPod filled with cooking episodes from Pioneer Woman and haunting tales from the show Paranormal Witness.
What do you always seem to forget? I never forget anything; I always pack too much.
What do you like least about travel? The fatigue and lack of personal space when you're en route.
What do you want your loved one to buy you from an airport Duty Free store? Whatever is a local specialty from where they are traveling!
Most embarrassing travel moment: When I was about 16, I took a trip to Mexico with family. One day, we took a special boat trip out to a little island to snorkel and have lunch. As we sat to our table, there were teeny-tiny little bowls of a green hot sauce sitting there. A woman at the next table mentioned that she'd tried it before and the sauce was apparently very, very hot. A little went a long way. Now, I can't take hot sauce, even mild is too spicy, I'm just not used to it. But for whatever reason, call it a rebellious teenage moment, I picked up a chip and put an enormous dollop of the sauce on it. A waiter saw what I was doing and actually yelled out, "No, senorita, NO!" It was too late; I ate it. I thought I wasn't going to live. I choked and suffered and choked some more. The waiter brought me a glass of goat's milk to ease my agony, but it wasn't enough. Let's just say I was not myself for the rest of the afternoon. Even the boat ride back had me incredibly queasy, not because of the waves, but because I couldn't overcome that hot sauce. I still can't comprehend how hot that was. I learned my lesson.
I'm embarrassed but I haven't been to: London.
Worst travel moment: Any time I've picked up a bug or gotten a sunburn; being sick when you're away from home is never easy. I've also had my fair share of dangerous moments, embarrassing cultural mishaps, near accidents, and extreme physical exertions as well. But, I suppose that that is a part of what makes travel amazing and molds the memories you'll make…except that time I climbed a mountain. That was the hardest thing I've ever physically done in my life and I still can't admit that the view at the top was worth it after the torture I encountered. But it's surely an amazing experience for anyone who loves it.
What's your dream destination? I'd like to take a long tour in India!
Favorite travel charity: I really admire Heifer International. You can purchase animals for families and they get training too. They can then make a business out of it, say selling wool or milk or eggs or honey. Instead of providing a single meal, you're providing a living for a family.
Best travel tip: Drink a lot of water. Oh, and put your technology away…take a break and enjoy the trip!