Want to know how to travel in style, just like the pros? We check in with frequent fliers to find out how often they fly, their favorite destinations and what they never leave home without.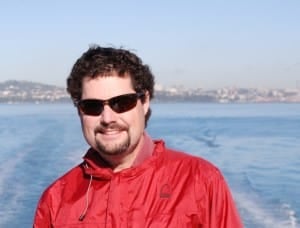 Name: Michael Shapiro 
Occupation: Journalist, editor, photographer
Hometown: New York, NY
Residence: Sonoma County, Calif.
College: UC Berkeley
College major: Political Economy
Website: michaelshapiro.net
Twitter: @shapirowrites
Short bio: Michael Shapiro is the author of "A Sense of Place: Great Travel Writers Talk About Their Craft, Lives, and Inspiration" and wrote the text for the pictorial book, "Guatemala: A Journey Through the Land of the Maya." His article on Jan Morris's Wales was a cover story for National Geographic Traveler and won the prestigious Bedford Pace Award. He also writes for Islands, The Washington Post, Los Angeles Times and San Francisco Chronicle. He writes about music and books, recent interviews include Lucinda Williams, Annie Lamott, Smokey Robinson, Amy Tan, Seal, and Barbara Kingsolver. He volunteers for ETC, an outfitter that takes disabled people on whitewater rafting trips and sea kayak adventures.
How often do you fly? A couple of times a month, on average.
How many countries have you been to? 41, I think.; I only counted once a while ago to try to fall asleep.
How many continents have you been to? 6
Earliest travel memory: When I was just shy of 2-years-old, I boarded a boat in Queens at the New York World's Fair. I remember because of the song: "It's a Small World." First air trip was to Florida at age 3—I remember ordering a bagel with "pink fish" every morning which my parents later told me was the most expensive breakfast on the menu.
Favorite American city: Other than my adopted home of San Francisco, it has to be New Orleans for its unabashed verve for life: great music, food and spirit. And New York is perfect for a jolt of adrenaline.
Favorite international city: Phnom Penh: it breaks my heart then makes my spirit soar, every time.
Least favorite country: Germany, for the train conductor in 1993 who wouldn't let me board with my bike even though it was a train designated for bikes.
I have no desire to go to: Syria, due to safety issues. If it were safe, I'd go.
Friendliest people in the world: Cambodia, because they're genuinely open and eager to get to know you.
Country with the meanest immigration officers: Israel, especially if you're traveling with no luggage on a one-way ticket. Of course they need to be thorough there.
Favorite World Heritage Site: Angkor Wat.
Favorite airline: Singapore Airlines.
Favorite aircraft type: A380. I like the space and biz class bar. I thought it was environmentally advanced, which it would be if configured to full capacity of 800+ people, but in reality it's not going to carry more than 550 with its large biz-class section.
Aisle or window: Window if it's a day flight, aisle if it's a long flight. When my wife and I fly coach, we often book seats A and C in hopes that B will remain empty. If it doesn't we can always switch with whoever lands in B.
Favorite airport lounge: Virgin's upper class lounge in London. Thai Airways first class in BKK has my favorite food.
Favorite U.S. airport: Seattle because they hire talented musicians to play in concourses.
Favorite international airport: Seoul, Korea for its stunning efficiency. Singapore's Changi is up there too.
Favorite hotel: Hotel du Vin, One Devonshire Gardens, Glasgow. They greet you with a dram of fine scotch and there's a putter, golf ball and mechanical cup in the room.
Favorite cruise line: Un-Cruise because it's all about adventure and takes 84 people max; Aqua Expeditions river cruises in SE Asia and on the Amazon are fantastic too. I've never been on a cruise with more than 100 passengers.
Favorite travel credit card: Any card that doesn't charge a foreign transaction fee. I use my Chase card for UA miles but CapitalOne let me upload a picture of my cat onto the card—I liked that.
Favorite island: Kauai.
Favorite beach: Ke'e Beach on the Na Pali coast.
Favorite fancy restaurant: Tra Vigne in St. Helena (Napa County). Not ultra-fancy just fantastic Italian food in an al fresco setting with great service. And it's not nine courses of small plates like French Laundry. Just apps, pasta, entrees (signature dish is short ribs), great wine, and dessert.
Favorite hole-in-the-wall: Sazon Peruvian restaurant in Santa Rosa, Calif.
Favorite bar: Tommy's Mexican Restaurant, whose bartender Julio Bermejo invented a margarita with just lime juice, agave syrup and pure agave tequila that became the global gold standard. Speaking of tequila, in the Jalisco town of Tequila is a bar called La Capilla (the chapel) where 90-year-old bartender Don Javier Delgado has been making his classic drink, the batanga, for decades. 
Favorite fruit: Pineapple or papaya at tropical locales.
Favorite food: Tom kha gai (Thai soup).
Least favorite food: Eggplant.
Drink of choice (in the air and on the ground): In the air: water. On the ground: a gin-and-tonic with St. George's Terroir gin or a fine single-malt scotch.
Favorite travel movie(s): Lost in Translation, Groundhog Day, Touching the Void, Away We Go.
Favorite travel show(s): Rick Steves' shows—very impressed by his recent documentary about Iran.
Favorite travel book(s): Jeff Greenwald's "The Size of the World" and just about anything by Jan Morris, Pico Iyer, Bill Bryson, or Peter Matthiessen, too many to list.
Right now I am reading: "Ready Player One"—just finished "Crazy Rich Asians," a lively insider's view of Singaporeans, by Kevin Kwan.
Top 3 favorite travel newsletters/magazines/blogs: NGT's Intelligent Travel blog and Nat Geo Traveler's site, BBC Travel, PerceptiveTravel.com.
Favorite travel website(s)—besides JohnnyJet.com, of course! Frommers.com—I enjoy reading Arthur Frommer's dispatches, almost 60 years after he wrote "Europe on $5 a Day," FlyerTalk message boards from WebFlyer, Kayak.com, and too many others to list.
5 things you bring on a plane: Neck pillow, books or e-reader, eye mask, headphones, and on long flights: Jet Ease tablets (to reduce jetlag).
What do you always seem to forget? Earplugs.
What do you like least about travel? Rude flight attendants, mostly on US carriers, though I realize their job is tough.
What do you want your loved one to buy you from an airport Duty Free store? Any fine local booze that I can't get at home.
Favorite travel app(s): Kauai Revealed.
Most embarrassing travel moment: Shortly after meeting the family that would be my hosts in Jerusalem, they fed me lunch and I promptly puked. See: eggplant.
I'm embarrassed but I haven't been to: Nepal.
Worst travel moment: Planning (in 1990) to hook up with a gal in Costa Rica but not finding her—we had gone to two different hotels with the same name, and this was before the days of easy contact via email or phone.
What's your dream destination? Palau or the Maldives, hope to get there before the rising tides do.
Favorite travel charity: 100friends.org.
Best travel tip: Leaving behind preconceptions and bring a headlamp to light your way.