Want to know how to travel in style, just like the pros? We check in with frequent fliers to find out how often they fly, their favorite destinations and what they never leave home without.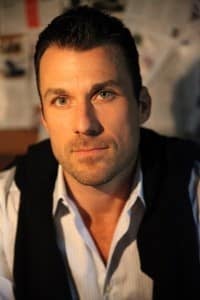 Name: Michael Martin
Occupation: Editor/Writer
Hometown: Sacramento, CA
Residence: Hollywood Hills, CA
Website: jetsetreport.com
Twitter: @JetSetReport
Facebook: JetSetReport
Pinterest: JetSetReport
Short bio: Editor of online travel magazine, JetSetReport, and author of Lost in Hotels book series. I oversee the daily operations of the website from editorial and management to oversight of our premium VIP Liste concierge service that assists high-end travelers with on the ground planning of restaurants, nightlife and entertainment in 120+ travel markets. Previously, I was a US Editor for Hachette Filipacchi UK and columnist for AOL in Los Angeles where I began my writing career.
How often do you fly? About twice a month.
How many countries have you been to? 35+
How many continents have you been to? 6
Favorite American city: New York.
Favorite international city: Tokyo.
Least favorite country: Bahamas.
Favorite World Heritage Site: Historic Centre of Mexico City and Xochimilco.
Favorite airline: Air France, front of the place; Lufthansa, back/bottom of the plane.
Aisle or window: Window, I hate being knocked.
Favorite U.S. airport: San Francisco, reminds me of my father picking me up at 1 am in a rainstorm after I snuck off to Europe at 17 and ran out of money. Today, it has the best and most convenient in-terminal dining options of any US airport.
Favorite international airport: London, simply for Fast-Trak.
Favorite airport lounge: Air France's La Première Lounge at CDG.
Favorite hotel: Il Pelicano.
Favorite cruise line: Doesn't exist.
Favorite island: Fernando de Noronha.
Favorite fancy restaurant: Atelier Crenn—SF.
Favorite hole in the wall: 242 Sushi—Laguna Beach.
Favorite fruit: Passionfruit that's not overly ripe.
Favorite food: Cold terrine of foie gras with warm toast points.
Least favorite food: Lobster.
Drink of choice (in the air and on the ground): White wine or a local sparkling water. Coca-Cola Light when in Europe.
Favorite travel movie(s): The Talented Mr. Ripley.
Favorite travel show(s): Anthony Bourdain, if only because he tries things that I would normally avoid. I don't mind reruns of Lifestyle of the Rich and Famous either.
Favorite travel book(s): "Lost in Hotels" – M. Martin for obvious reasons.
Right now I am reading: "Former People: The Final Days of the Russian Aristocracy."
5 things you bring on a plane: A pen, vintage carry-on, my own headphones, Kindle, British monthlies.
What do you always seem to forget? My passport number.
What do you want your loved one to buy you from an airport Duty Free store? Newest Hermes cologne, local olive oil if pertinent.
Favorite travel iPhone app(s): Google—it's the first step in finding everything I ever want without going between other apps.
Most embarrassing/worst travel moment: Forgetting my Yellow Fever certificate, boarding a SA flight from GRU to JNB on Christmas Day.
What's your dream destination? The Hajj in Mecca.
Favorite travel website(s)—besides JohnnyJet.com, of course! Note Bene, Hotelchatter, Wallpaper.
Best travel tip: Never visit a place for the first time with a group of friends. Friends at home don't always translate to friends while traveling. Some of my worst travel experiences have been with my closest friends. Luckily the friendships always survive but only once we get back home.